I only know two things about Turmeric.  It's a good for you, and it makes food bright yellow.
Why is it good for you?
Well.  I'm not completely sure.  But I know that it has antioxidants, which fight free radicals.  And everybody knows that those guys are bad news. Free radicals remind me of The Warriors (trailer below).  They're like a bunch of rival street gangs in a battle to take over the city.
It's probably safe to say the I don't understand free radicals either, but I do love making food bright yellow.
That is reason enough to break out the Turmeric.  Lately, I've been using it to make a Turmeric infused broth.  My broth is based on a recipe I found on Feasting at Home.  Once I have this soup base, I add in anything I have in the fridge.  Meat, veggies, tofu, whatever I've got handy.
Purple kale is a personal favorite, because the purple and green look great against the yellow broth. It tastes good too, of course, but look at how good those colors look together.
Come on.
Kale happens to be a superfood, so when it teams up with Turmeric they are practically unstoppable.
Those scrappy free radicals won't stand a chance!
Print
Low Carb Keto Turmeric Broth with Chicken & Kale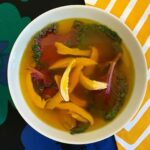 This recipe for low carb turmeric broth is very versatile. It's a great base for any kind of soup you can come up with.
Author:
Prep Time:

10

Cook Time:

40

Total Time:

50 minutes

Yield:

6 servings

Category:

Entree

Cuisine:

American
Ingredients
2 tablespoons extra virgin olive oil
2 shallots
2 tablespoons fresh ginger
5 cloves garlic
1 teaspoon coriander
3 teaspoons turmeric
1 teaspoon cumin
6 cups broth (chicken or vegetable)
2 cups water
1 dried chili pepper (very optional)
1 teaspoon vinegar (any kind but balsamic)
1/2 bunch of kale
1 1/2 cups cooked chicken (rotisserie chicken is perfect for this)
1 teaspoon salt (but use less salt if you go with rotisserie chicken)
Instructions
1.  Peel the fresh ginger, garlic and shallots.
2.  Chop them up roughly. A food processor or professional blender can be used for this step.
3.  Saute the ginger, garlic and shallot mixture in olive oil for 7 minutes.
4.  Add the turmeric, cumin and coriander and saute for another minute.
5.  Add in 6 cups of broth, 2 cups of water and 1 teaspoon vinegar. Drop in a nice chili pepper in if you like that sort of thing.
6.  Simmer for 15 minutes or so.
7.  Strain out the aromatics and the chili pepper with a sieve.
8.  Return the broth to a simmer.
9.  Add in kale and simmer for 15 minutes until it wilts.
10.  Add the cooked chicken and cook just enough to warm it.
Nutrition
Serving Size:

6

Calories:

98

Fat:

4

Carbohydrates:

2

Fiber:

1

Protein:

13
Keywords: Low Carn Turmeric Broth, Keto Turmeric, Paleo Turmeric Broth
If you liked this low carb soup recipe, then you might like my recipes for Chicken Sausage and Shrimp Gumbo, Chili Con Carne or Chicken Ramen Noodle Soup.
3