Happy Father's Day everybody!
I thought I'd make some non low carb normal food to celebrate the day.  So I made up a batch of beef and vegetable hand pies for my husband.  (Meat pies are kind of a big deal around our house.)
But before we get too far into the food talk, I want to share a really funny dad video that I saw a few years back.  I think about it every Fathers Day.  It's a rap called "The Dad's Life".  (video below)
Some favorite lines:
"I got gas station glasses, don't care what the masses, think about me and my sweet goatee.
I'm rockin my Dockers with a cuff and a crease, I got my St. John's Bay and a clip for my piece. (Shows cel clip on his belt.)
…It's the Dad Life, yea it's the Dad Life, I take my daughy to the potty, its' the Dad Life."
It's funny because it's true.
So dads really do deserve a celebration.
And these meat pies are just the thing.  They are easy, yet time consuming to make, so they are something you only break out on special occasions.
I took a short cut and used pre-made pie crusts for this recipe.  They taste better than anything I could make, if I'm being honest.  The beef filling is pretty basic: ground beef, garlic, onions, potatoes, carrots and paprika.  Once you've got your pie crust and your filling, then comes the tedious part.  You need to cut circles in the dough, fill it with the meat mixture and seal it with a fork.  Hopefully you'll have some children around to help with this part.  And like the dads rap, "With kids like mine, everybody wants to be me."
Happy Father's Day!
Print
Beef and Vegetable Hand Pies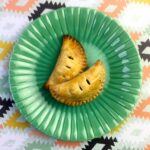 These beef and vegetable hand pies make the perfect weeknight dinner.
Author:
Prep Time:

20

Cook Time:

35

Total Time:

55 minutes

Yield:

4 servings

Category:

Entree

Cuisine:

English
Ingredients
1 tablespoon extra virgin olive oil
1 small yellow onion, diced medium
2 garlic cloves, minced
1/2 pound ground beef
1 tablespoon paprika
1 small potato, diced small
2 carrots, diced small
coarse salt and ground pepper
2 sheets pre-made pie crust
1 large egg
Instructions
1.  Preheat oven to 400 degrees F and cover a cookie sheet with parchment paper.
2.  In a large skillet, heat oil over medium-high. Add onion, season with salt and pepper, and cook until translucent, 5 minutes. Add garlic and cook until fragrant, 30 seconds.
3.  Add beef and cook, breaking up meat with a wooden spoon, until browned, 5 minutes. Stir in paprika, potatoes and carrots. Cook until the potatoes and carrots soften, about 10 more minutes. Season to taste with salt and pepper and remove from heat.
4.  On a lightly floured work surface, gently roll out the pie crusts and use a rolling pin to smooth out the creases. Using a glass or a circular cookie cutter, cut out circles from the dough. I used a 3 1/2″ wide circle and it made 16 small pies. You can make them as big as you like though. Roll up the unused scraps of dough, roll it out and repeat the process.
5.  Fill each circle of dough with a spoonful of the meat and vegetable mixture.
6.  Fold the dough in half and seal the edges with the tines of a fork.
7.  Make an egg wash by whisking together 1 egg and 1 tablespoon water. Brush each pie with the egg mixture.
8.  Transfer to the parchment-lined cookie sheet and bake until the crust is golden, 20 to 25 minutes.
9.  Let cool 10 minutes before serving.
Nutrition
Calories:

430

Fat:

34

Carbohydrates:

37

Fiber:

3

Protein:

19
Keywords: Hand Pie, Beef Hand Pie, Meat Pie
3