These Keto gummy bears have zero carbs, so they make great low carb treats. And you can eat all the sugar free gummies that you like, with zero guilt.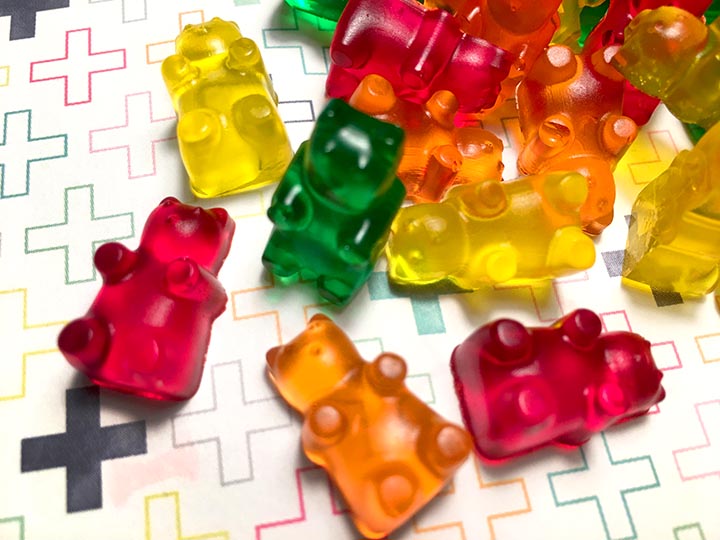 I'm going to be straight with you.
There aren't that many times when the foods that I make for my kids intersect with the low carb meals that I make for myself. But my kids do make one exception. They will happily eat the sugar free gummy bears that I make at home. Have they guessed that these gummy bears are sugar free? They have not.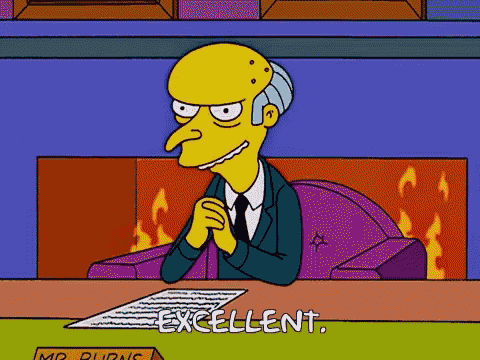 So, you are saying that gummy bears are Keto friendly?
Normal sugary gummy bears are out of the question obviously, but these sugar free gummies are literally a zero carb food. A lot of Keto foods say they are zero carb, but actually have some amount that is less than 1g. Not so with these Keto gummy bears. Zero carbs actually means zero carbs.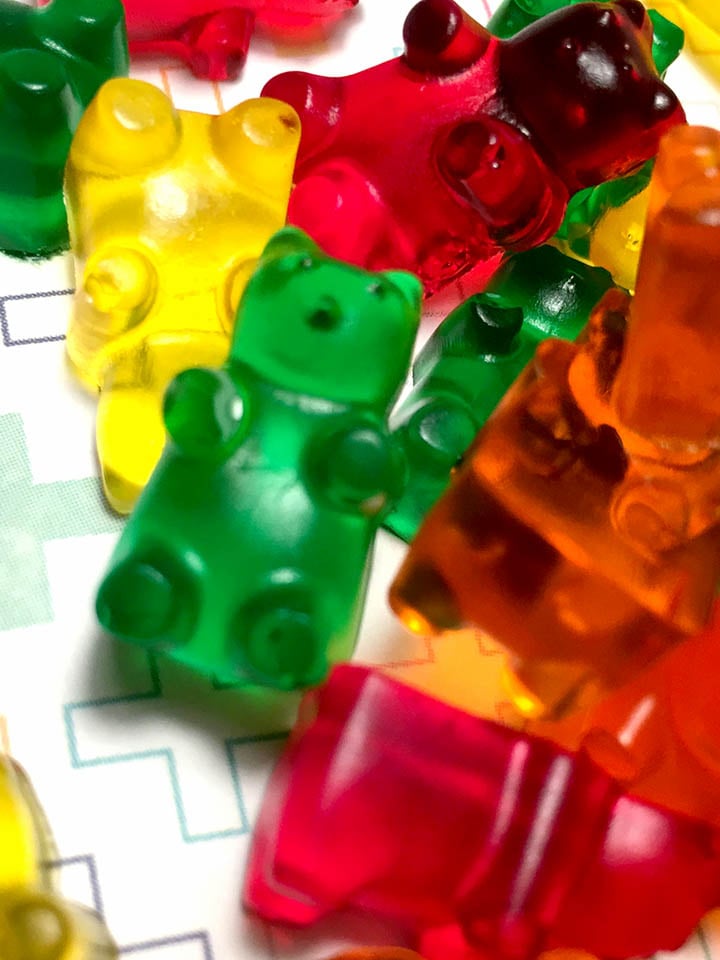 How do you make homemade Keto gummy bears?
It's actually quite easy to make your own sugar free gummies at home. You'll need Sugar Free Jello, Knox Unflavored Gelatine and a gummy bear candy mold. You dissolve the two kinds of gelatin in water over the stove and then fill the wells of the candy mold with a pipette that should come with the mold. Chill them for 30 minutes in the refrigerator and you are good to go.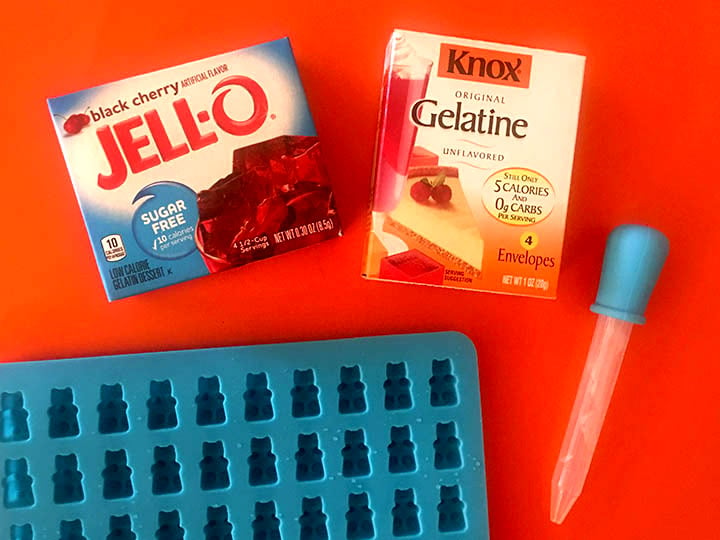 But won't the Keto police come after me for eating gummy candy made from Sugar Free Jello?
Oh, probably. But they get up at arms if you so much as nibble on a carrot. The amount of Maltodextrin and Aspartame in these sugar free gummies is infinitesimal. So they can just take a chill pill.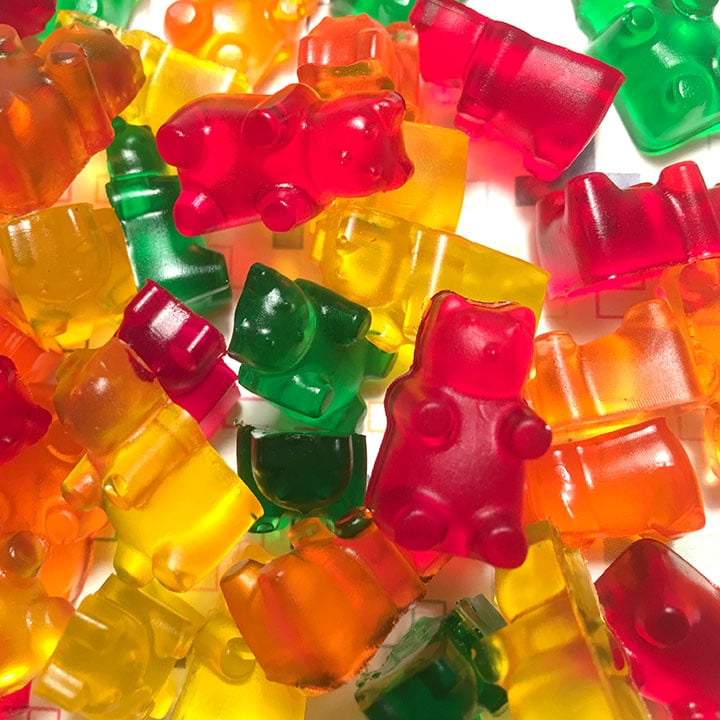 Where can you buy gummy bear molds?
You can find all sorts of fun candy molds on Amazon. In addition to the sugar free gummy bears, you can make gummy worms and gummy monsters. Just make sure that the mold you pick comes with a pipette (a.k.a. an eye dropper) to use to fill the wells.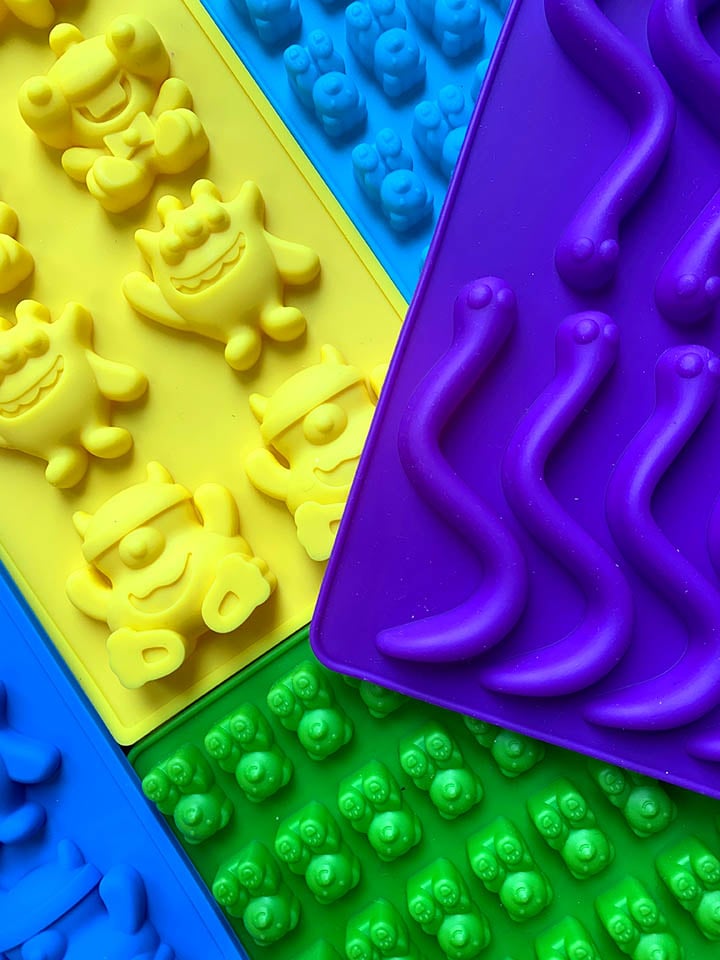 Ok, now it's time for me to get back to my favorite pastime: fooling children.
Good bye.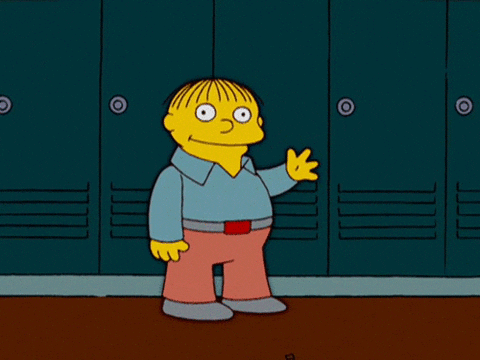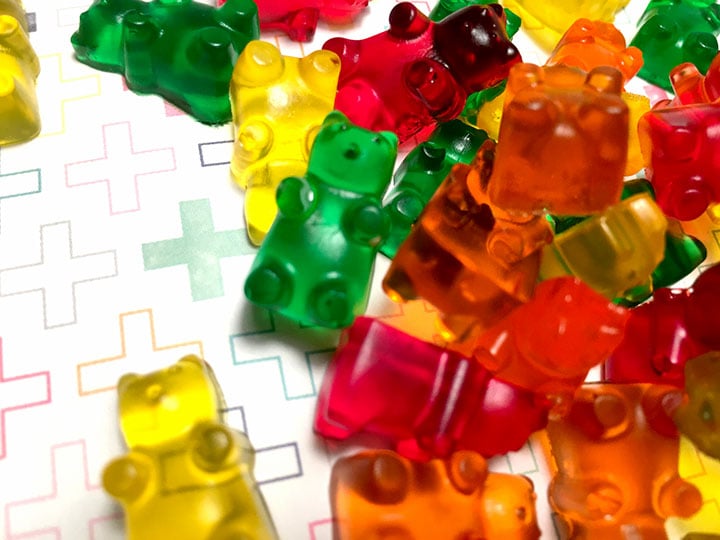 Print
Sugar Free Keto Gummy Bears
These sugar free gummies have zero carbs so they make a great Keto treat for kids and adults both.
Author: Resolution Eats
Prep Time:

5

Cook Time:

5

Total Time:

10 minutes

Category:

Candy

Method:

Stovetop

Cuisine:

American
1

 (.3oz) package Sugar Free Jello

1

 envelope Knox unfavored gelatine

⅓ cup

 cold water
Instructions
1.  Mix together the Jello, unflavored gelatine and water in a medium sized saucepan.
2.  Cook over low heat until fully dissolved, about 2 minutes.
3.  Fill the wells of a candy mold with the Jello, using a pipette.  Do this right after cooking, or else the mixture will gell before you can add it to the candy molds.
4.  Refrigerate for 30 minutes until fully gelled. Remove gummies from the mold and serve.  Can be stored in a resealable container in the refrigerator for 2 weeks or for 1 week at room temperature on the counter.  
Notes
Updated 8-23-2019  The last few times I've made these gummies, I've dissolved 1 tablespoon of powdered erythritol along with the Jello and unflavored gelatin.  The gummies are plenty sweet without this added sweetener, but I feel like it masks the taste of aspartame from the Sugar Free Jello.  And it makes the candy taste more like the super sweet gummies that you buy at the store.  
Nutrition
Serving Size:

10 gummies

Calories:

7

Fat:

0

Carbohydrates:

0

Fiber:

0

Protein:

<1
Keywords: Keto Gummy Bears, Sugar Free Gummy Bears, Sugar Free Gummies, Sugar Free Gummies Recipe