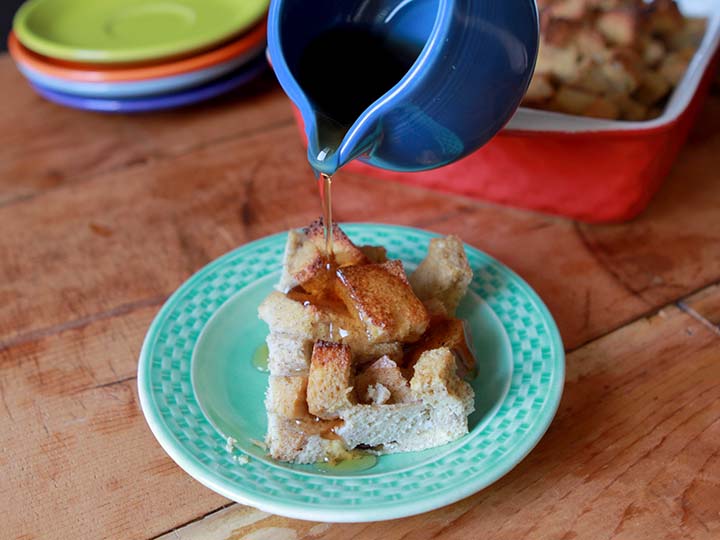 Welcome, low carb travelers.
Today's recipe is brought to you by the number zero. That's how many net carbs there are in a slice of this low carb bread that I just found. It's called ThinSlim Zero Carb Bread and it is simply a delight.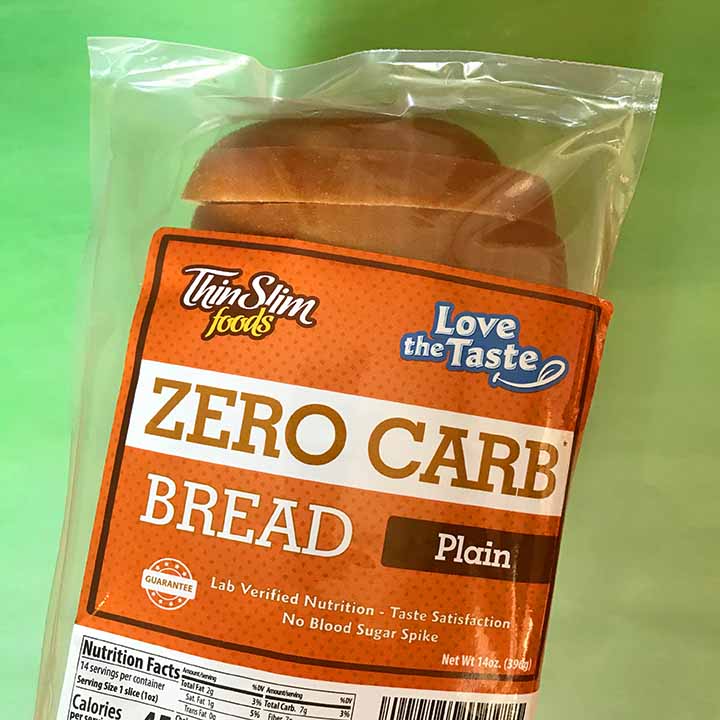 What makes this bread zero net carb is that each slice has 7g carbs and 7g fiber and as we all know, seven minus seven equals zero. Zilch. Nada.
But just as a reminder, net carbs are the carbs that your body processes and uses for energy. Fiber isn't counted in the net carb count because it passes through your digestive system without breaking down. So your body processes this bread very slowly, without any spikes in blood sugar.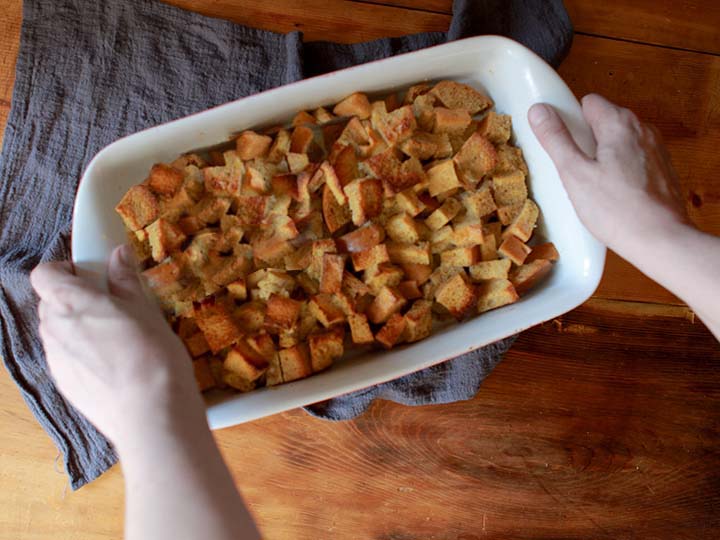 And I probably should have led with this, but this bread tastes really good.
You are not going to mistake it for a slice of Wonder Bread, but it truly is quite good. And so for today's recipe, I decided to go for pure bread-based comfort food. I made a low carb French toast breakfast casserole that is very similar to one that my Mom makes every Christmas morning. Only this one has just 1g net carbs per serving.
It's a Christmas miracle!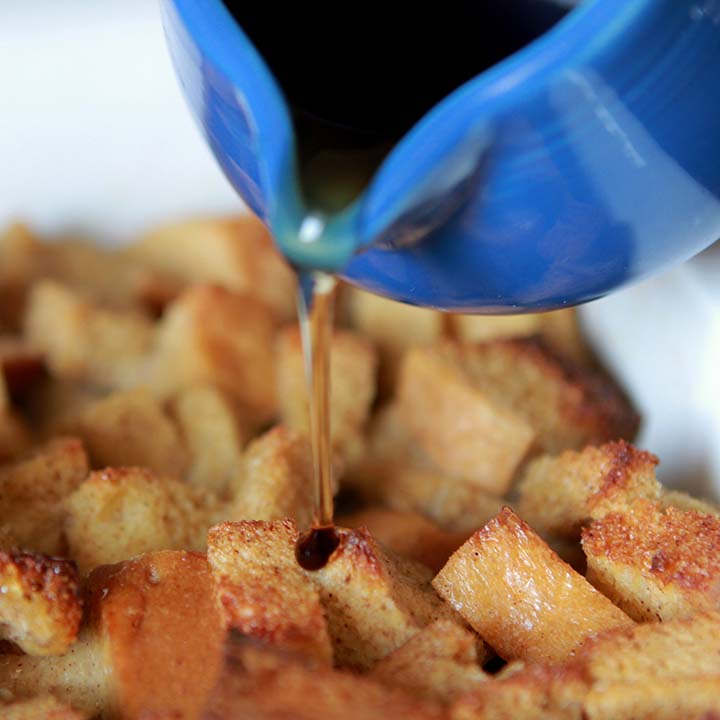 Print
French Toast Breakfast Casserole [Low Carb & Keto]]

This sweet breakfast casserole is a low carb take on classic French Toast.  The recipe uses ThinSlim Zero Carb Bread as its base and a low carb custard filling, so each serving has just 1g net carb.
Author: Resolution Eats
Prep Time:

10

Cook Time:

60

Total Time:

1 hour 10 minutes

Yield:

9

slices

1

x
Category:

Dessert

Method:

Baked

Cuisine:

American
Scale
Ingredients
6 large eggs
1/4 cup Swerve or equivalent granulated sweetener
1 cup heavy whipping cream
1 cup water
1 teaspoon ground cinnamon
1 teaspoon vanilla extract
12 slices ThinSlim Zero Carb Bread, cut into 1/2 inch cubes
Sugar Free Pancake Syrup, a desired
Instructions
1.  Pre-heat oven to 350 degrees and find an 8×8 inch or 9×9 inch baking dish that will fit inside a large roasting pan.  Grease the smaller baking pan liberally.  Fill the larger pan halfway with water and put it in the oven to pre-heat.
2.  In a large bowl, whisk together eggs and sweetener.
3.  In a medium sauce pan, mix together cream, water, vanilla extract and cinnamon.  Cook over Low heat, until small bubbles begin to form around the edges of the pan, stirring frequently.  This should take 5-6 minutes.
4.  Temper the eggs by quickly whisking 1/2 cup of the cream mixture into the eggs.  Whisk the egg and cream mixture into the sauce pan and cook, stirring constantly, for 2 minutes more.
5.  In a large bowl, mix together the 1/2 inch cubes of bread with the custard mixture until bread is fully covered  Allow to sit and absorb for 10 minutes.  Pour into the prepared baking pan.
6.  Put the smaller baking pan into the hot water filled roasting pan.
7.  Bake for 40-50 minutes until browned on top.  Allow to cool for 20 minutes before cutting into 9 pieces. 
8.  Either pour sugar-free pancake syrup over the top of the casserole, or serve it on the side.   
Nutrition
Serving Size:

i slice

Calories:

207

Fat:

16

Carbohydrates:

11

Fiber:

10

Protein:

15
Keywords: Low Carb Breakfast Casserole, Low Carb French Toast, Low Carb French Toast Casserole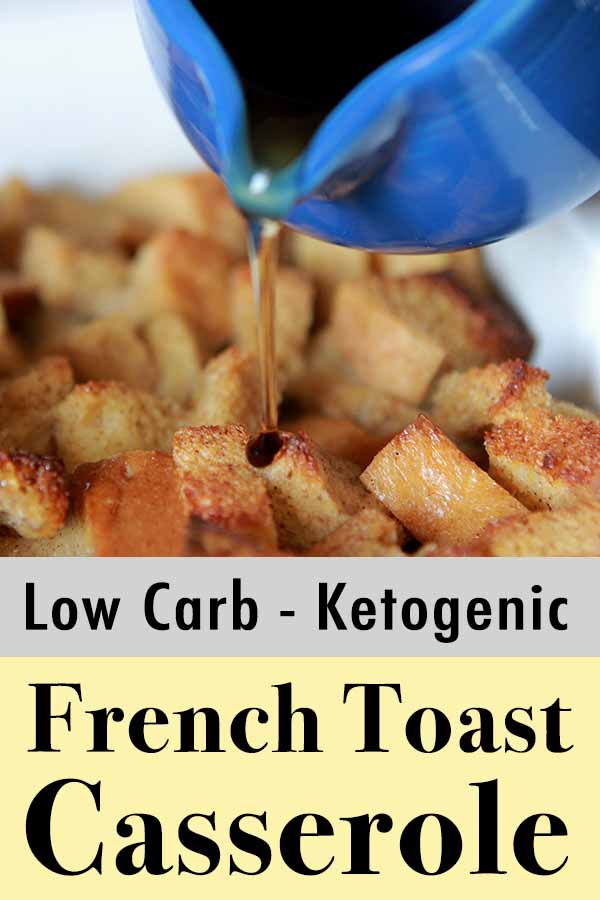 10