I've been hankering for candy lately.
Andes Candies, to be exact. Andes Candies are these fancy after-dinner mints that we used to eat as kids.  But back then, I thought they were called Andy's Candies.
Turns out I was half right.  Back in 1920, a fellow named Andrew Kanelos opened a little candy shop in Chicago and called it Andy's Candies.  At first, it went great.  People loved the candy he made, but there was just one problem: the name.  Men didn't want to buy their wives chocolates with another guy's name on them.  This is 1920's Chicago, remember.  I'm picturing mobsters arguing with poor Mr. Kanelos.
"I just wanna buy my gal a box a chocolates!  Who's dis mook named Andy? "
Luckily, Andy knew how to pivot, and so Andy's Candies became Andes Candies.  "The peak of all candies!"  And I have to say that this was not hyperbole.  His chocolates really are the pinnacle of candies.
Hence my hankering for thin mints.  But when I looked up the nutritional info for Andes Candies, I realized that it's got a whopping 25g of carbohydrate per serving.  Not cool Andy!  Not cool.
But fear not, I've come up with a low carb version of the candy that you can make at home.
It's dairy-free, sugar-free and only has 3 net carbs per serving.  It is, in short, very cool.
You're going to need some very specific ingredients for this recipe.  The hard to find items are the Swerve Sweetener and the Coconut Butter.  I bought them on Amazon, but you can usually find them in health food stores.  Another option is to make your own coconut butter from unsweetened coconut flakes.  (It's just like making your own almond butter from almonds.)
You'll also need some chocolate molds.  Again, I hit up Amazon, but an easy alternative is to use mini cupcake liners.
Once you've gathered all your supplies, then you're ready to make your Low Carb Andes Candies.  Wow, that's a mouthful though isn't it?  I think I'll just call them Emmy's Candies.
What could go wrong with a name like that?
Print
Low Carb Keto Andes Candies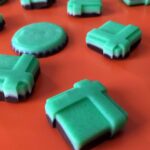 These low carb thin mint candies are based on Ande's Candies.
Author:
Prep Time:

35

Cook Time:

15

Total Time:

50 minutes

Yield:

48 candies

Category:

Dessert

Cuisine:

American
Ingredients
peppermint layer:
1/4 cup coconut butter
1/4 cup coconut oil
2 tablespoons Powdered Swerve sweetener or equivalent powdered sweetener*
1 1/2 teaspoon peppermint extract
10 drops green food coloring
chocolate layer:
1/4 cup coconut butter
1 oz unsweetened baker's chocolate
6 tablespoons Powdered Swerve or powdered equivalent sweetener*
1/4 cup cocoa powder
1/2 teaspoon peppermint extract
Instructions
For the Peppermint Layer:
1.  Combine the coconut butter and coconut oil in a small saucepan over low heat.
2.  Stir until melted and then add the Swerve. Sir until completely melted and smooth.
3.  Remove from heat and mix in the peppermint extract and green food coloring.
4.  Pour the mixture into a chocolate mold or mini cupcake liners. Each candy should have a 1/2 teaspoon of the peppermint mixture.
5.  Freeze for 20 minutes and then make the chocolate layer.
For the Chocolate Layer:
6.  Combine the coconut butter and unsweetened chocolate together in bowl set over a pan of simmering water.  Stir until it melts, and then remove from heat.
7.  Stir in the Swerve sweetener, then stir in cocoa powder, until smooth.
8.  Add the peppermint extract.
9.  Fill the remainder of the chocolate molds with a 1/2 teaspoon of the dark chocolate mixture. It should be the consistency of fudge, so just gently push it into each mold.
10.  Freeze for 15 minutes until it sets. And then store in the refrigerator.
Notes
*You can make any sweetener into powder by blending it in a blender or coffee grinder.
Nutrition
Serving Size:

2 candies

Calories:

63

Fat:

6

Carbohydrates:

1

Fiber:

<1

Protein:

1
Keywords: Low Carb Thin Mint, Keto Thin Mint, Sugar-Free Thin Mint
If you liked this low carb candy recipe, then you might like my recipes for Caramels, Gummy Bears or Chocolate Coconut Candies.
5