You might get a kick out of this.
I just found this holiday yule log video of Ron Swanson, from Parks and Rec, drinking whiskey by a crackling fireplace.  (below)  It is 10 hours long, so you've got a whole day of yuletide ambiance right here.  It's incredibly festive.
I was thinking about Ron Swanson today as I cooked the bacon for this candy recipe.
(A running gag on Parks and Rec is that he has stashes of bacon hidden all over the office.)  Caramel Pecan Brittle would have been delicious enough on its own, but bacon really puts it over the top.  It's the perfect blend of sweet and salty.
Believe it or not, I've never made much candy before today.
As a diabetic, I usually avoid the stuff altogether.  But this brittle is different.  It was much easier to make than I was expecting and when I substituted in sugar-free sweetener, the carb count went down to only 2g net carbs.  Outstanding. But I've already eaten too much of this addictive brittle.
Time to stash it away for another day.
Print
Low Carb Keto Bacon Pecan Brittle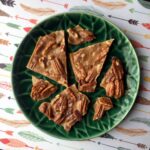 This low carb bacon pecan brittle is a tasty candy with only 2g net carbs per serving.
Author:
Prep Time:

5

Cook Time:

15

Total Time:

20 minutes

Yield:

8 servings

Category:

Dessert

Cuisine:

American
Ingredients
1 cup pecan halves
1/4 cup butter
1/2 cup Swerve or equivalent granulated sweetener
2 teaspoons vanilla extract
3 slices bacon
Instructions
1.  Cover a casserole dish with parchment paper.
2.  Place the 3 slices of bacon in a cold frying pan. Cook over low heat for 6-8 minutes, turning halfway through. Make the bacon crispy. Drain on a paper towel and crumble into bacon bits.
3.  Add the butter, sweetener and vanilla to a small saucepan and cook over medium heat until dissolved.
4.  Add in the bacon and pecans and bring to a boil. Lower the heat to low and boil for 2-3 minutes, stirring constantly. It's easy to burn the caramel so stop as soon as it becomes a rich brown color.
5.  Pour into the parchment covered casserole dish. Smooth out the nuts so they are evenly distributed.
6.  Chill in the refrigerator until set, about 1 hour.
7.  Chop into roughly 8 pieces.
Nutrition
Calories:

174

Fat:

37

Carbohydrates:

6

Fiber:

4

Protein:

6
Keywords: Low Carb Pecan Brittle, Keto Pecan Brittle, Sugar-Free Pecan Brittle
2