I've been reading a lot about the health benefits of gelatin lately.
I know that gelatin and bone broth are good for me, but I can't help but think about this skit by Studio C called "Naturally".  (video below)  It's these two health food nuts sparring over who has the healthiest diet.
Some favorite excerpts:
"Sometimes I eat meat from depressed bears because their psychological issues are good for my skin."
"Well, I bet you've never tried this. It's dark chocolate that is so dark it's made of 10% cacao and 90% the dirt the beans were grown in."
It's really funny.  And oddly familiar if you read a lot of health food blogs like I do.
But gelatin really is good for you, and these low carb fresh berry gummies are a great way to get more into your diet.
The gummies taste just like bites of really good berry jam, only in a handy holdable form.  They are packed full of fresh blueberries and raspberries so they make for a great low carb dessert or snack.  Just promise me that you won't brag about how healthy they are to random people in the supermarket.
Best to just keep this healthy gelatin goodness to yourself.
Print
Low Carb Keto Fresh Berry Gummies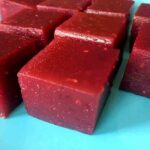 Low carb fresh berry gummies are yummy snacks with only 3g net carbs per serving.
Author:
Prep Time:

10

Cook Time:

5

Total Time:

15 minutes

Yield:

16 servings

Category:

Dessert

Cuisine:

American
Ingredients
cooking spray
4 envelopes (3 tablespoons) Knox Unflavored Gelatine
1/4 cup water
3 tablespoons fresh lemon juice (1 lemon)
2 cups blueberries
2 cups raspberries
1 cup water
3/4 cup Swerve or equivalent granulated sweetener
Instructions
1.  Spray an 8 x 8 inch pan with cooking spray
2.  Combine unflavored gelatine and 1/4 cup cold water in a small bowl.  Mix to soften the gelatine.
3.  Add the berries and 1 cup water to a medium saucepan and bring to a boil.  Boil for 5 minutes or until all the berries have popped and released their juices.
4.  Stir in the sweetener and mix to dissolve.
5.  Stir in softened gelatine and mix to dissolve.
6.  Blend in a blender until smooth and uniform in consistency.  Test for sweetness and add more sweetener if desired.
7.  Add to the pan and chill in the refrigerator for 3 hours.
8.  Cut into 1 x 1 inch squares.
Nutrition
Serving Size:

4 gummies

Calories:

24

Fat:

<1

Carbohydrates:

5

Fiber:

2

Protein:

1
Keywords: Low Carb Berry Gummies, Keto Berry Gummies, Paleo Berry Gummies
You'll need this specialty ingredient:
If you liked this gummy candy recipe, then you might like my recipes for Gummy Bears, Raspberry Cream Gummies, or Creamsicle Gummies.
5