For today's recipe we're going to take this classic Swedish meal: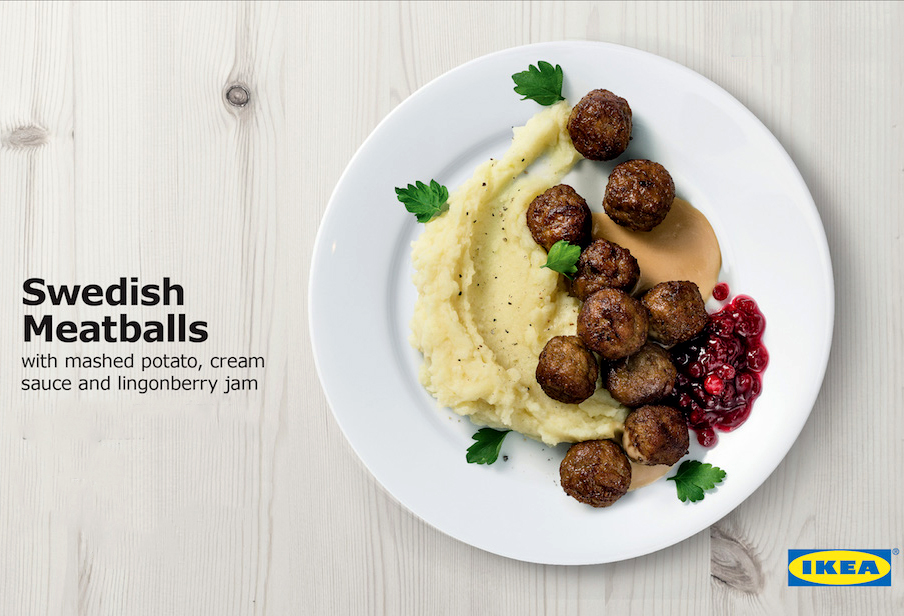 And use it as an inspiration for this low carb meal: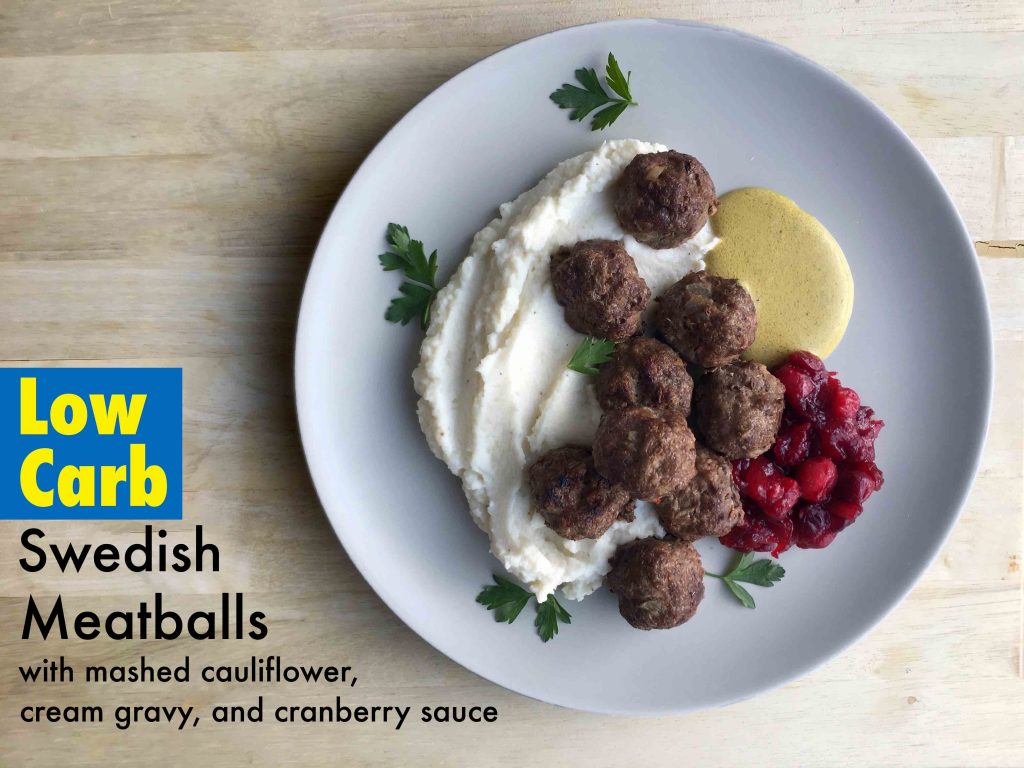 The IKEA meatball meal is one of my all time favorites.
It's fast, it's cheap and it tastes great.  But now that I'm on a low carb diet, the joys of this meal have been denied to me.  Well phooey.  Phooey, I say!  So this morning I set out to replace my precious meatball meal with a low carb alternative.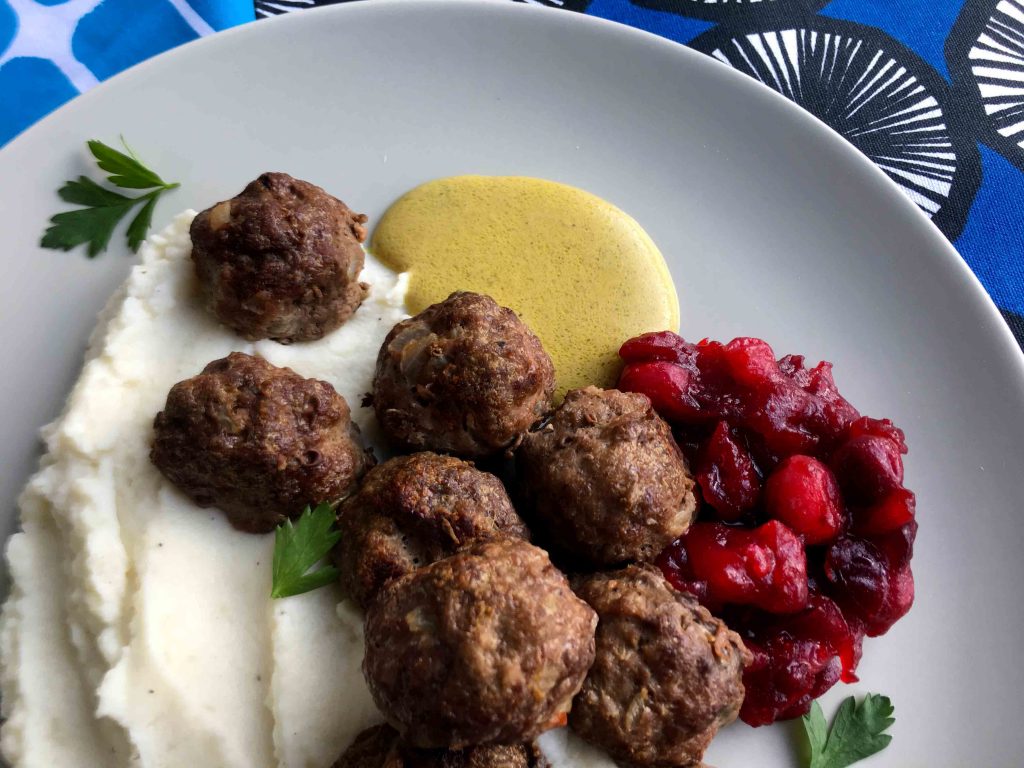 I started with the meatballs and gravy.
I found a great recipe for Swedish Meatballs on Low Carb Maven.  But I had to dumb down the spices quite a bit for my version, because IKEA's meatballs and gravy are nothing if not delightfully bland.  Then I moved on to the mashed potatoes.  They were easily swapped for mashed cauliflower.  And finally, the Lingonberry sauce.  This was a little tricky since I've never seen a lingonberry in a store here.  But cranberries, I can do, so that became a sugar-free cranberry sauce.  Done and done.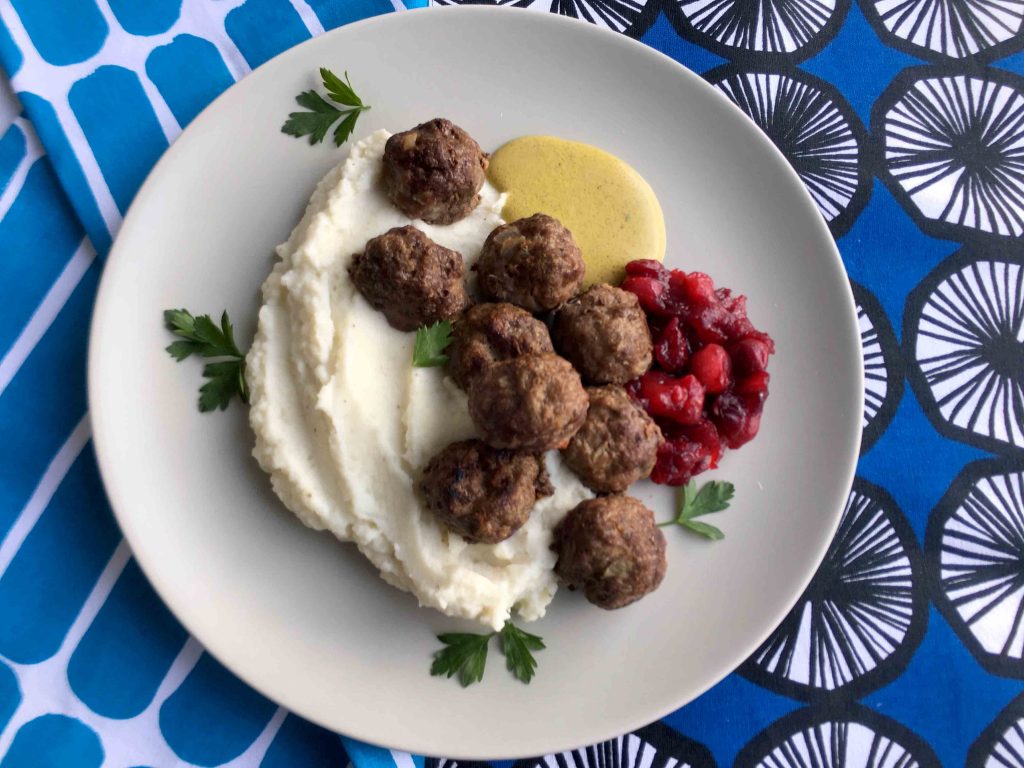 And it came out great.
The low carb version tastes every bit as good as the original.  But the IKEA meal has about 60g net carb per serving, and mine only has 7g.
Pretty sweet!  Ganska söt!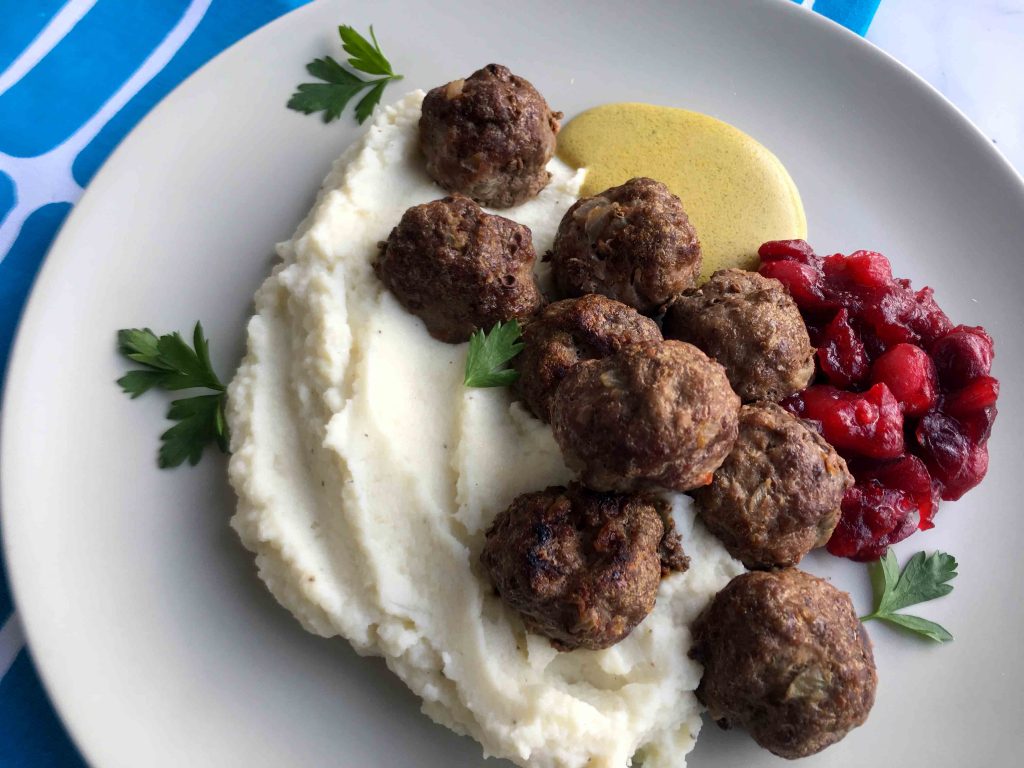 Low Carb Swedish Meatballs And Cream Gravy
Ingredients
meatballs:
2 pounds lean ground beef

2 large eggs

3/4 cup shallot, minced

1/4 cup heavy cream

1 teaspoon Worcestershire sauce

1 tablespoon Swerve or equivalent granulated sweetener

1/2 teaspoon pepper

1/4 teaspoon salt

6 teaspoons extra virgin olive oil divided
gravy:
4 oz cream cheese

1 1/2 cups unsalted beef broth

1 cup heavy cream

1/4 teaspoon turmeric

1 teaspoon Swerve or equivalent sweetener

1/4 teaspoon salt

1/8 teaspoon pepper

chopped parsley for garnish
Instructions
Meatballs:
1.  In a large frying pan, heat two teaspoons of oil over medium-high heat until hot. Add the minced shallots and saute until soft, about 3 minutes.
2.  Add the shallots, eggs, ground beef, cream, Worcestershire Sauce, sweetener, salt and pepper to large bowl and mix with a hand mixer until completely combined and light and fluffy.
3.  Using a tablespoon measure, scoop the meatball mixture, roll into a ball and place onto a foil lined sheet pan.
4.  In the same pan in which the onions were sauteed, heat about 2 teaspoons of oil over medium high heat. Add half of the meatballs turning each one three times, at about 2 minutes per side.
5.  Remove the meatballs to the sheet pan; lift up half of the foil and place them on the clean sheet pan. Add the rest of the oil to the saute pan and cook the remaining half of the meatballs. Remove the meatballs to the sheet pan.
Cream Sauce:
6.  Heat the cream cheese in the microwave for 1 minute. Pour 1/4 cup of the beef broth into the pan, turning the heat to medium high. Scrape up all of the brown bits on the bottom and sides of the pan. Add the cream cheese and try to blend it as best as you can. Add the cream and stir.
7.  Put the sauce from the pan into a blender and add the rest of the beef broth. Blend until smooth and add it back to the pan.
8.  Add the turmeric, sweetener, salt and pepper. Simmer the sauce until it reduces and thickens to your liking, 5 – 10 minutes.
SERINGS: 6
PREP TIME: 15 MIN   COOK TIME: 25 MIN
NUTRITIONAL INFO: Serving Size: 10 meatballs Calories 639 Fat 49g Protein 44g Carbs 3g Fiber 0g Net Carbs 3g
Low Carb Cauliflower Mashed Potatoes
Ingredients
1 medium head cauliflower

1 tablespoon cream cheese, softened

3 tablespoons unsalted butter

salt and pepper to taste
Instructions
1.  Set a stockpot of water to boil over high heat.
2.  Clean and cut cauliflower into small pieces. Cook in boiling water for about 6 minutes, or until well done. Drain well and pat cooked cauliflower very dry between several layers of paper towels.
3.  In a high powered blender, or a food processor, puree the hot cauliflower with the cream cheese and butter until almost smooth. Salt and pepper to taste.
SERVINGS: 6
PREP TIME: 10 MIN   COOK TIME: 5 MIN
NUTRITIONAL INFO: Servings: 6 Calories 91 Fat 7g Protein 2g Carbs 5g Fiber 2g Net Carbs 3g
Low Carb Faux Lingonberry Sauce
Ingredients
1 (12oz) bag fresh cranberries

1/2 cup Swerve or equivalent granulated sweetener plus

2 tablespoons Swerve or equivalent granulated sweetener

1/4 cup water
Instructions
1.  Mix the water, cranberries and sweetener together in a small sauce pan.
2.  Heat on medium high until boiling. Boil for 8-10 minutes until the sauce has thickened and the cranberries have all popped. Taste for sweetness and add more sweetener as desired.
3.  Remove from the stove, transfer to a bowl and chill in the refrigerator.
SERVINGS: 8
PREP TIME: 5 MIN   COOK TIME: 10 MIN
NUTRITIONAL INFO: Servings: 8 Serving Size: 1/4 cup Calories 9 Fat <1g Protein <1g Carbs 2g Fiber 1g Net Carbs 1g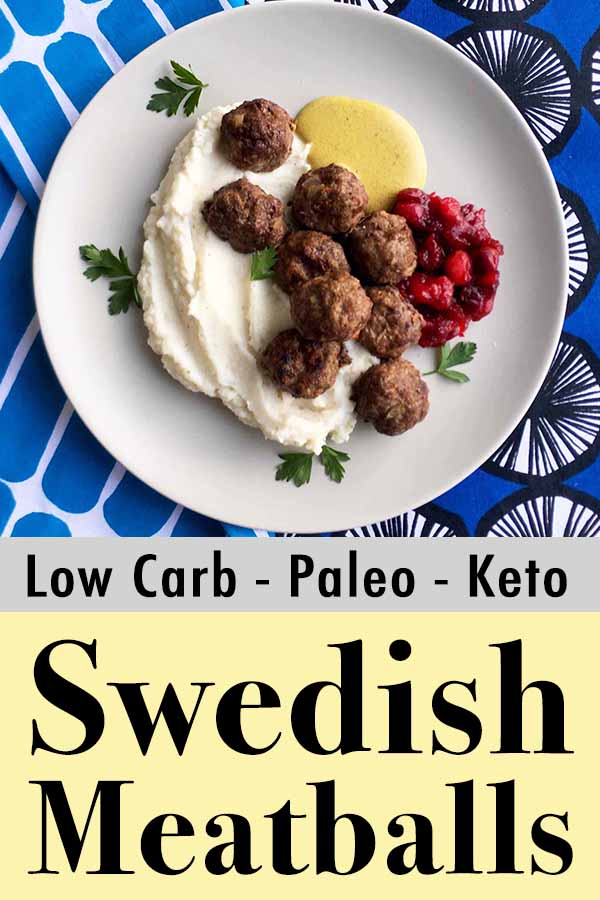 9