These low carb and Keto black and white cookies are the perfect blend of vanilla and chocolate. And each cookie has just 4g net carbs.
"I love the black and white, two races of flavor living side by side in harmony." -Jerry Seinfeld
He was referring, of course, to the black and white cookie, a classic New York City dessert. In Seinfeld's view, the cookie was all about equality and racial harmony. (video below) But in this, like so many things, Jerry Seinfeld was completely wrong.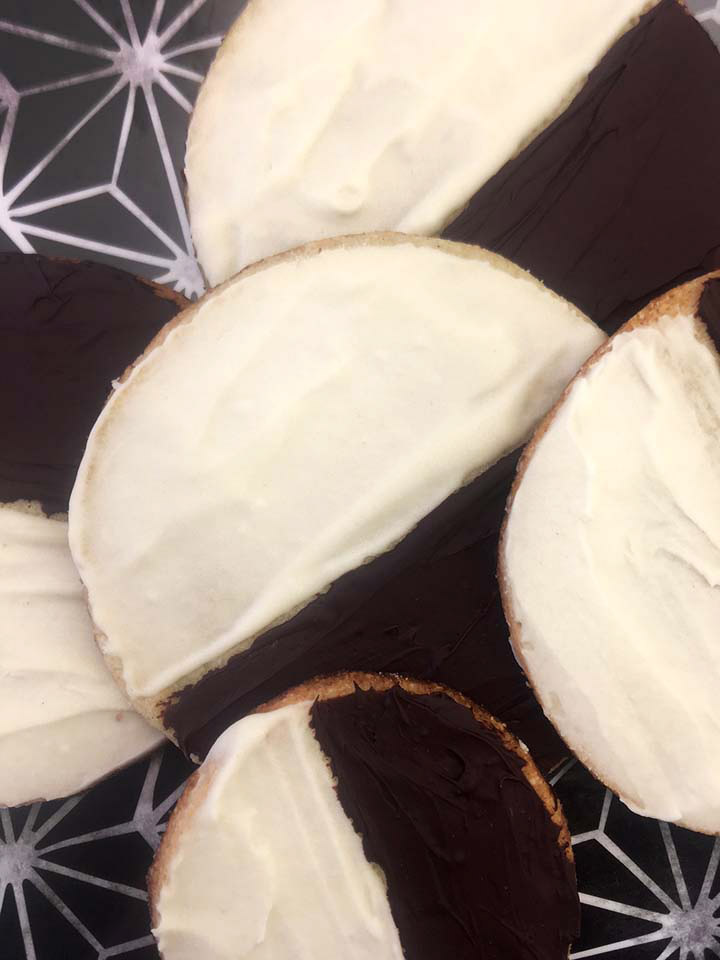 The black and white cookie actually harkens back to the turn of the last century.
A culinary trend in the late 1800's was putting contrasting colors together in foods. And bakers liked matching dark and light elements in one dessert, like chocolate frosting layers in a vanilla cake. According to food historian Stephen Schmidt, "The black and white thing: That was a very popular conceit right around that time. There were all kinds of cakes that had dark and light layers, cakes with red and light layers and even red, light, and dark layers." So the black and white cookie was the intersection of vanilla and chocolate frosting. And it remains that way to this day.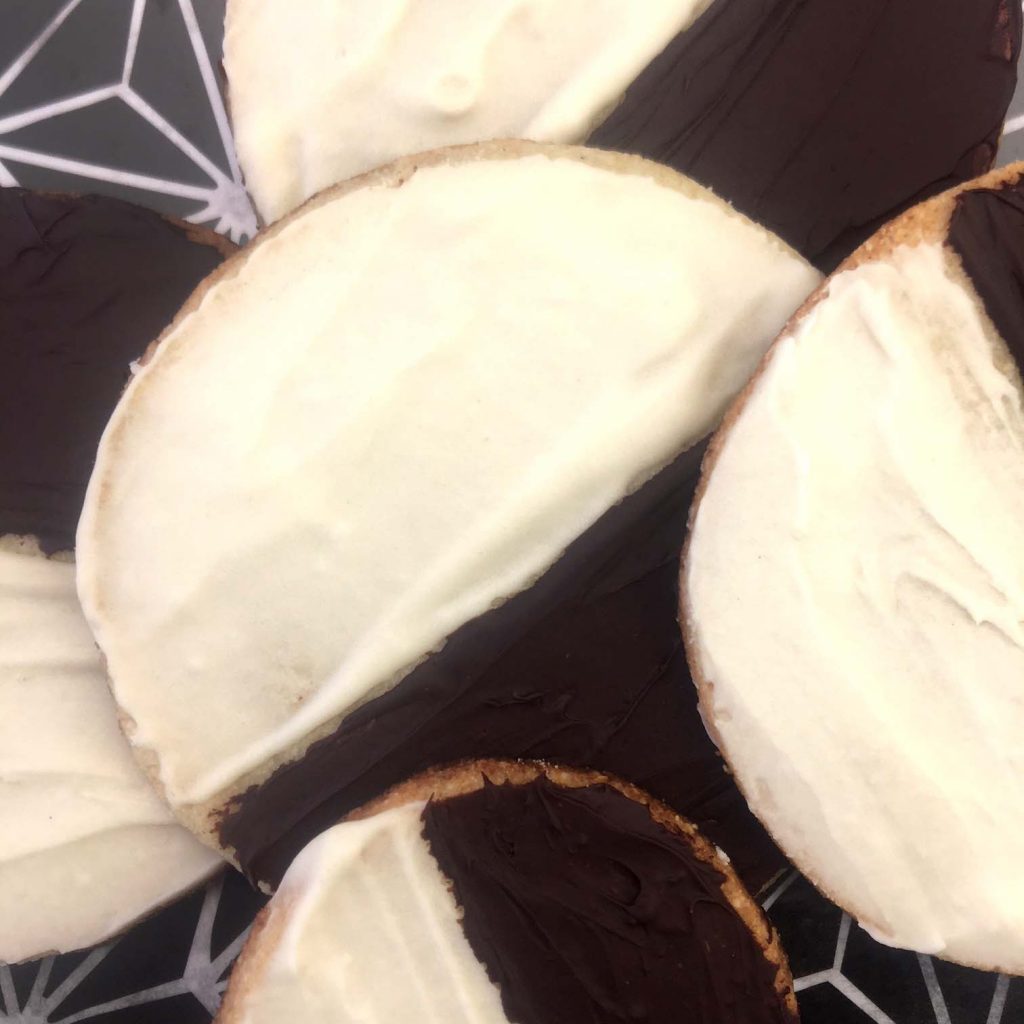 The low carb black and white cookies we're going to make today bring the dessert into the 21st century.
They are simple shortbread cookies made from a mixture of almond flour, coconut flour and butter. And each large cookie has just 4g net carbs. So they are sugar free, gluten free, guilt free cookies fit for the low carb diets of this century. And while it's true that they weren't created to promote racial harmony, Seinfeld was right about one thing:
"If people would only look to the cookie, all our problems would be solved." Jerry Seinfeld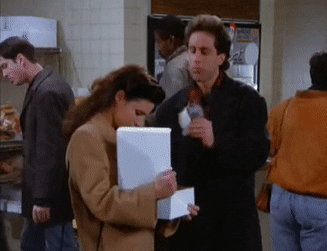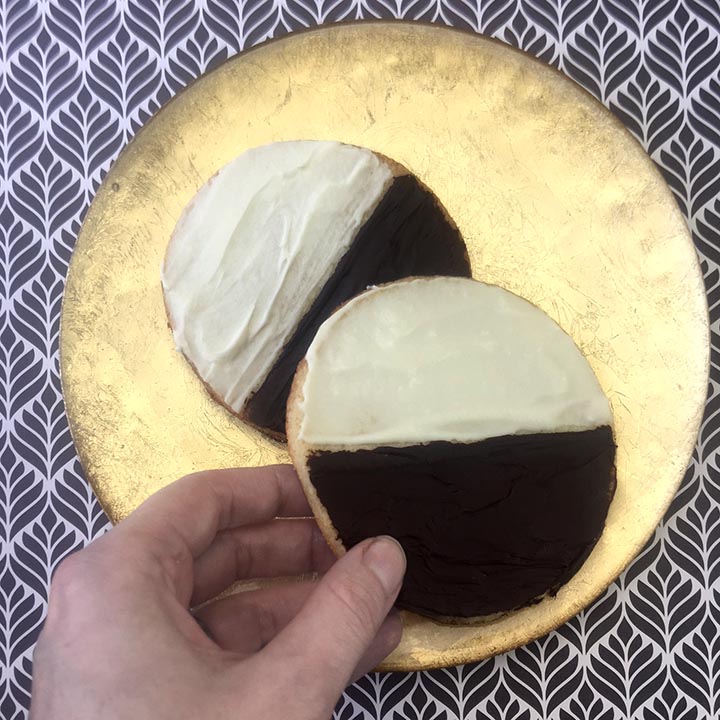 Print
Low Carb Keto Black and White Cookies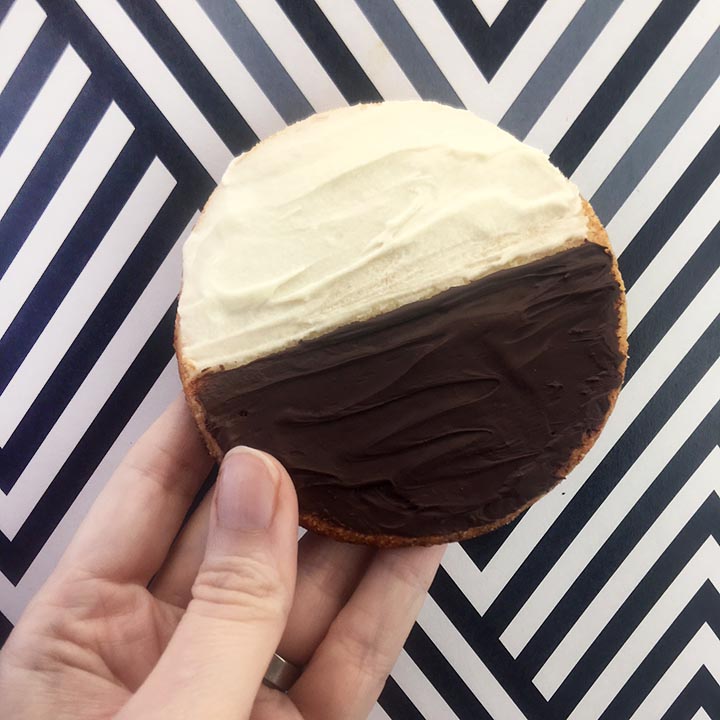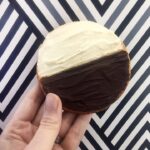 These low carb black and white cookies are the perfect blend of vanilla and chocolate.  And each cookie has just 4g net carbs.
Author: Resolution Eats
Prep Time:

10

Cook Time:

18

Total Time:

28 minutes

Yield:

7

cookies

1

x
Category:

Dessert

Cuisine:

American
Instructions
 Preheat oven to 350 degrees F and cover a large cookie sheet with parchment paper.  Make enough room in your freezer to store a cookie sheet.
Mix dry ingredients together in a large sized bowl.
Mix in softened butter and vanilla extract with an electric mixer until a dough forms.
Roll the dough into a ball and place it between two sheets of parchment paper.  Roll out the dough to between 1/8 – 1/4 inch thick.
Place dough in the freezer for 10 minutes until it is stiff and easier to cut with cookie cutters.  Use a 3 1/2 inch wide circle cookie cutter to cut into circles.  Place the circles of dough onto the parchment covered cookie sheet.
Bake for 7-9 minutes until edges are just beginning to brown.
Roll up the remaining dough, and repeat the steps to get 2 more cookies out of it.
The cookies will be very soft when they come out of the oven.  Cool on the cookie sheet for at least 1 hour until completely cooled before frosting.
Mix together heavy whipping cream and powdered sweetener until smooth and spreadable.  If it's too wet to spread, then add more sweetener and if it's too stiff, then add more cream.  Spread the white frosting over half of the cookies.  Place the cookies in the freezer for 10 minutes to harden the frosting.
Place chocolate chips in a small microwave safe bowl.  Microwave in 30 second increments, stirring after each increment, until completely melted and smooth, about 60-90 seconds.
Remove cookies from the freezer and spread chocolate over the other half of the cookie.  Place in the freezer for 10 minutes to harden the frosting.
Notes
*If you take these cookies to a party, make sure to clearly mark that they contains nut.  Most people don't expect cookies to use almond flour, so people with nut allergies might inadvertently eat them. 
Nutrition
Serving Size:

1 cookie

Calories:

238

Fat:

22

Carbohydrates:

9

Fiber:

5

Protein:

4
Keywords: Low Carb Black and White Cookie, Keto Black and White Cookie, Sugar-Free Black and White Cookie
If you liked these low carb cookies, then you might like my recipes for Compost, Molasses or Peanut Butter Cookies.
I've included links to the specialty ingredients used in this recipe. You should know that these are Amazon Associates links, so I'll receive a small commission if you buy something.

6