"Oh baby baby it's a wild world. And it's hard to get by just upon a smile." -Cat Stevens
It's a rainy Fall day here in Pittsburgh, and I've spent the morning cooking Indian curry and listening to old Cat Stevens tunes. So it's been a pretty mellow day so far.

The Cat Stevens song "Wild World" has always been a favorite of mine. (video below)
I read that when it came out in 1970, there was some speculation that the song was about Patti D'Arbanville, an actress he had been dating. But no. Cat Stevens said that it was just a song about himself. About "leaving, the sadness of leaving, and the anticipation of what lies beyond." Yep, very mellow.
But the curry recipe I am about to share is anything but mellow.
This low carb curry is nice and spicy. I based the recipe on a great one for South Indian Spicy Egg Curry that I found on Curry Trail. I had never heard of a hard boiled egg curry before, but there it was, in all it's eggy deliciousness. You need quite a few Indian spices and a little bit of patience to make this dish, but it's definitely worth the trouble. Plus, your house will smell just wonderful as you cook it.
Ok, it's time to get back to my Cat Stevens jam.


Print
Low Carb Keto Egg Curry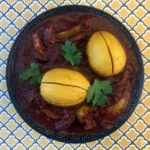 This a low carb take on a South Indian Spicy Egg Curry. It's really good.
Author: Resolution Eats
Prep Time:

15

Cook Time:

40

Total Time:

55 minutes

Yield:

5

servings

1

x
Category:

Entree

Cuisine:

South Indian
Scale
Ingredients
Curry Spice Blend:
1/4 teaspoon ground cayenne pepper
1/4 teaspoon black pepper
1 teaspoon salt
1 teaspoon ground turmeric
1 tablespoon chili powder
1 tablespoon coriander
1 tablespoon garam masala
5 large eggs, hard boiled
3 tablespoons extra virgin olive oil, divided
1 tablespoon chili powder
1 teaspoon ground turmeric
1/2 teaspoon ground cinnamon
1/8 teaspoon ground clove
1 cup red onion, sliced thin
1 cup yellow bell pepper, sliced thin
3 cloves garlic, minced
2 teaspoons fresh ginger, peeled and minced
1 (15oz) can crushed tomatoes
1 cup water
Instructions
1.  Mix together all ingredients of the curry spice blend and set aside.  You'll also be using other spices as needed in the recipe.
2.  Place eggs in a medium sized sauce pan and cover with cold water by 1 inch. Bring to a boil over Medium-High heat, then cover, remove from the heat and set aside 8 minutes. Drain, cool in ice water and peel.  Cut four slits into the whites of the eggs.  
3.  Heat 2 tablespoons oil over Medium-High heat in a large skillet.  Add 1 teaspoon turmeric and 1 tablespoon chili powder and lower the heat to Low.  The spice and oil will form a paste.  Add eggs to the pan and cook for 2 minutes until the eggs are coated in the spices.  Remove eggs from the pan and set aside.
4.  Add 1/2 teaspoon cinnamon and 1/8 teaspoon ground cloves to the pan along with the onions and peppers.  Cook over Medium heat until softened, 5 minutes.
5.  Push the onions and peppers to the side of the pan and add remaining 1 tablespoon oil to the pan.  Add garlic and ginger and cook for 1 minute.  Push the onions and peppers back to the center of the pan and cook for another 5 minutes.
6.  Add curry spice blend and crushed tomatoes and cook until thickened, 5 minutes.  
7.  Add water and bring to a boil.  Simmer on Low for 5 minutes.  
8.  Taste the curry and adjust spices as desired.
9.  Add eggs back to the pan, cover with curry and cook for several minutes on Low heat.
Nutrition
Calories:

276

Fat:

12

Carbohydrates:

14

Fiber:

4

Protein:

41
Keywords: Low Carb Egg Curry, Keto Egg Curry, Paleo Egg Curry
3