Oh my gosh, I just did the stupidest thing.
I was cutting a hot pepper and accidentally got some of the seeds in my coffee. Then I drank it and got the surprise of my life. My throat is still on fire. So, word of advice: don't do that.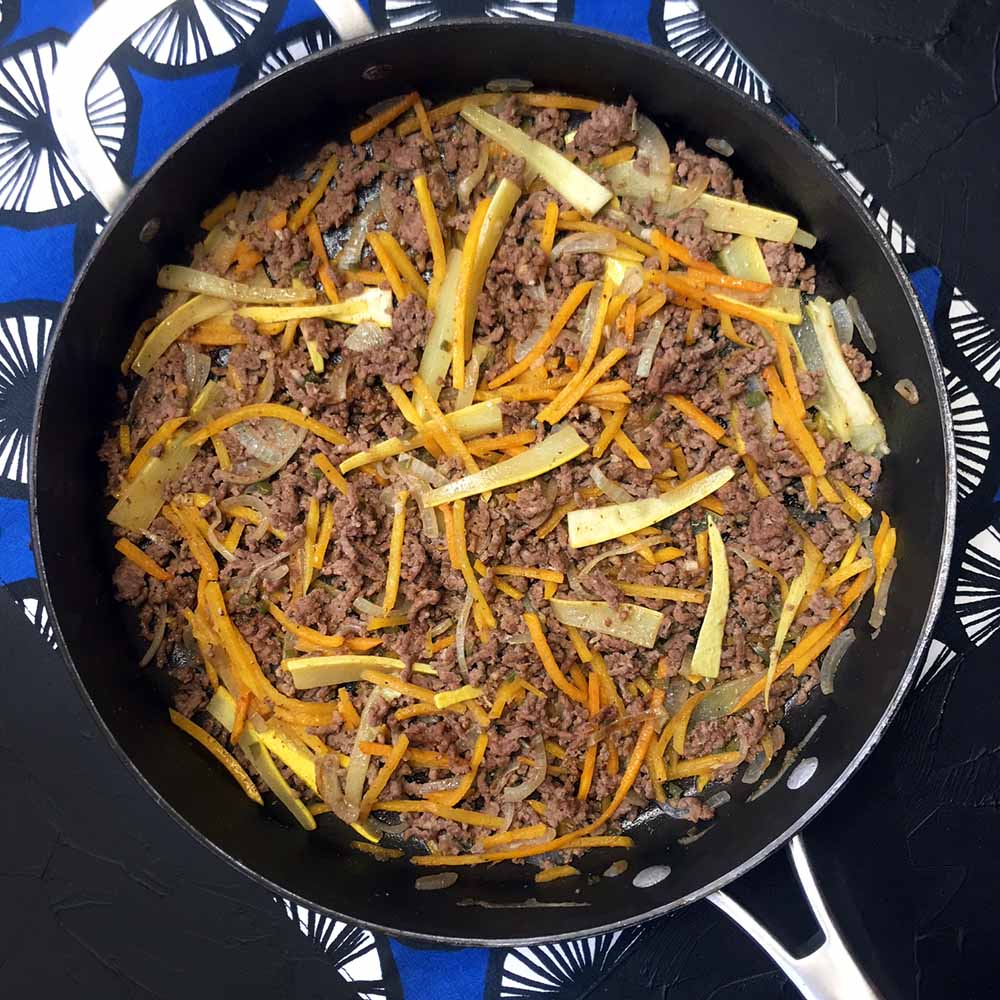 Today's recipe for spicy ground beef with squash noodles goes out to my Dad.
He was in charge of cooking lunch for us kids and he came up with the darnedest things. He'd stretch out dinner from the night before by adding in scrambled eggs and rice. And oh the things he could do with Campbell's Chunky Soup. But he is best known for his innovative use of ground beef. He was always putting it where it didn't belong. A classic Dad lunch was ground beef mixed with creamed corn. Yum.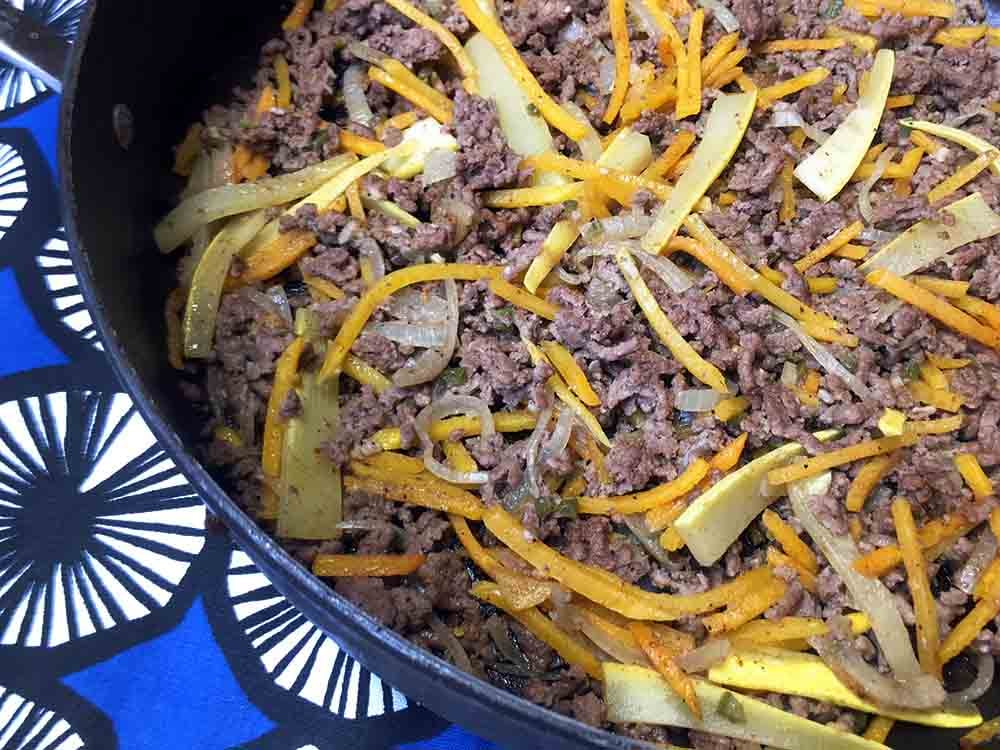 Well, today's recipe is a little less avant-garde.
It's a one skillet meal made from ground beef, onions, garlic, butternut squash, yellow squash and a hot pepper. The result is a very tasty low carb meal with only 7g net carbs per serving. I based the recipe on a great one for Spicy Ground Beef and Butternut Squash that I found on My Heart Beets. For my low carb version, I cut back on the butternut squash, because it's relatively high in carbohydrate, and added in some yellow squash instead. And I julienned the squash to make it feel a little bit like noodles. It really is a shame that we can't eat creamed corn on a low carb diet though.
It's the only way the dish could be improved.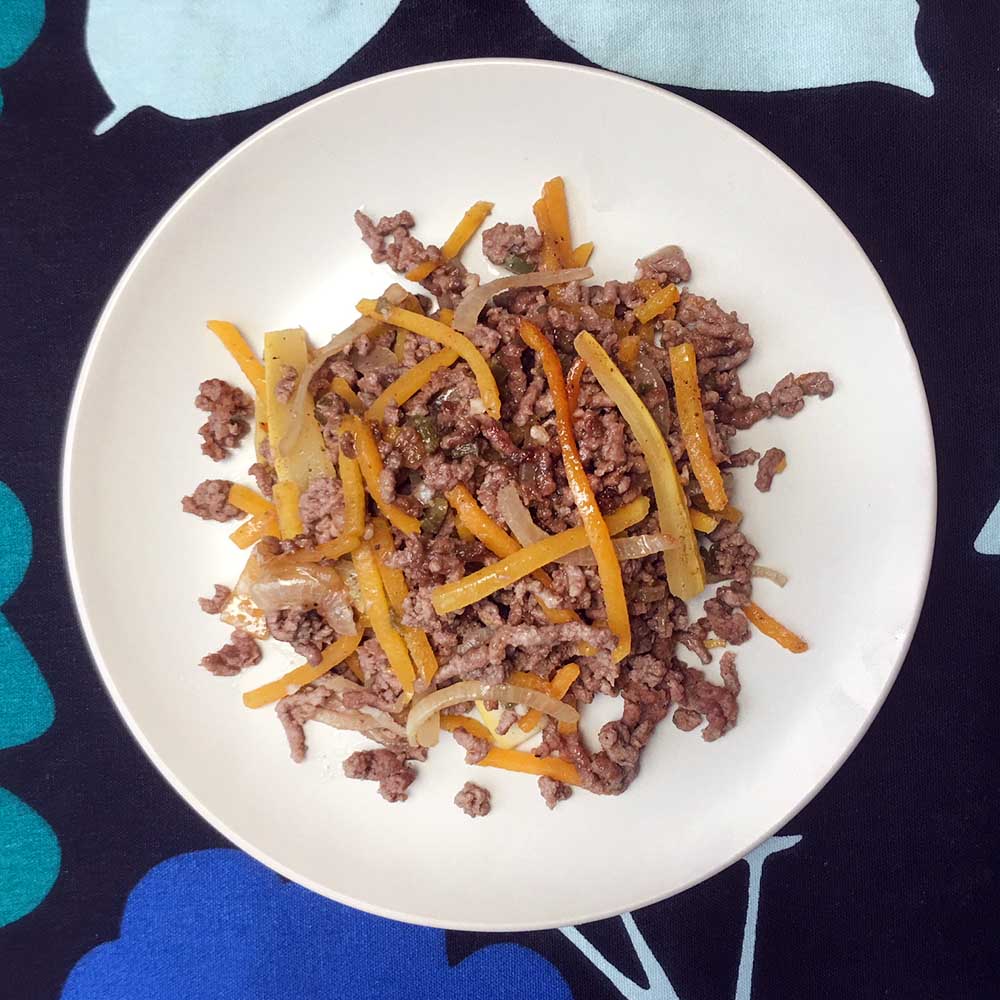 Print
Low Carb Keto Spicy Ground Beef with Squash Noodles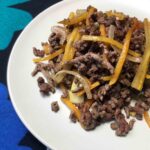 This recipe for low carb keto spicy ground beef with squash noodles is an easy meal that you can make in 1 pan in 30 minutes.
Author: Resolution Eats
Prep Time:

10

Cook Time:

20

Total Time:

30 minutes

Yield:

4

1

x
Category:

Entree

Cuisine:

American
Scale
Ingredients
2 tablespoons extra virgin olive oil
1 serrano pepper, minced
1/2 cup onion, julienned
3 cloves garlic, minced
1 pound ground beef
1 cup butternut squash, peeled and julienned
1 cup yellow squash, unpeeled and julienned
1 teaspoon salt
1 teaspoon ground paprika
1/2 teaspoon ground cumin
1/2 teaspoon black pepper
Instructions
1.  In a large skillet, heat olive oil over Medium heat.
2.  Add hot pepper and onions and cook until softened and beginning to brown, 6-7 minutes.
3.  Add garlic and ground beef and cook until beef is browned, 3-4 minutes.  Drain any fat from the pan.
4.  Add yellow squash, butternut squash, salt, paprika, cumin and black pepper.  Lower the heat to Medium Low and cover.  Cook for 10 minutes.
5.  Serve immediately.
Nutrition
Calories:

345

Fat:

22

Carbohydrates:

9

Fiber:

2

Protein:

31
Keywords: ground beef, butternut squash, one pan dinner
7