Whoa, weird.
In honor of today's cheesecake recipe, I just looked up the lyrics to the Golden Girls theme song.  (The Golden Girls who often gabbed and ate cheesecake when they couldn't sleep.  Fun fact: Bea Arthur detested cheesecake.  Can you imagine?)  Anyway, I found out that there are a couple more verses that didn't make the title sequence.
There is:
   "And when we both get older with walking canes and hair of gray, have no fear even when it's hard to hear.  I will stand here close and say, thank you for being a friend."
And next stop, the great beyond:
"And when we die and float away into the night, the Milky Way, you'll hear me call as we ascend.  I'll say your name then once again, thank you for being a friend."
It's definitely on topic, but it's still funny to imagine Blanch Devoro sashaying into that long good night.
It reminds me of this funny Golden Girls spoof.  (video below)
It's the title sequence reimagined as a show about aging super heroes.  You've got Superman as Blanch, Aquaman as Rose, Batman as Dorothy and of course, Robin as Sofia.  It's just stellar.
Also stellar, is this recipe for Low Carb Lemon Ricotta Cheesecake. 
It is yet another low carb recipe that could go head to head with the regular sugary version and come out on top.  And if you are on a low carb/ high fat diet, then you don't need to feel guilty about eating it at 3am.  Also, the topping is completely optional.  If you skip it, the net carb count goes from 8g down to 6g.  Pretty good for a dessert that is normally 50g.
Now this is a New York style cheesecake, which means that it will take a whole lot longer to cook than a regular cheesecake. 
That's because you are cooking it slowly and then letting it slowly cool in the oven.  This is to keep the cheesecake from collapsing in the middle like normal homemade cheesecakes.  But if you find a 4 hour and 45 minute wait time to be too egregious, then you can bake it at 300 degrees for one hour and let it fall.  No judgement.
I would never judge a pal and a confidant.
Print
Low Carb Keto Lemon Ricotta Cheesecake with Cranberry Topping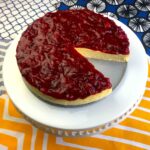 This recipe is a low carb sugar-free cheesecake topped with a zesty cranberry sauce.
Author:
Prep Time:

15

Cook Time:

4:45

Total Time:

5 hours

Yield:

8 slices

Category:

Dessert

Cuisine:

American
Ingredients
24 oz cream cheese (3 packages), softened
1 cup extra-fine whole milk ricotta cheese
1/2 cup full fat sour cream
1/2 cup Swerve or equivalent sweetener
1/3 cup heavy cream
1 tablespoon vanilla extract
1 tablespoon fresh lemon juice
2 teaspoons lemon zest
2 large eggs
3 large egg yolks
cranberry sauce (optional):
1 (12oz) bag of fresh cranberries
3/4 cup Swerve or equivalent sweetener
1/4 cup water
Instructions
1.  Preheat oven to 400 degrees F and spray a springform pan with cooking spray. If your pan isn't waterproof, you'll need to tape the bottom edges of the pan to keep the water bath from getting in.
2.  In a shallow roasting pan big enough to fit the cake pan, pour about 1-inch of water and place it on the center rack of the oven to preheat.
3.  Add the ricotta cheese to a high powered blender or food processor and process for 1 minute until smooth. Add in the cream cheese and process until well mixed.
4.  In the bowl of an electric mixer, mix the cream cheese, ricotta, sour cream and sweetener on low speed for about 1 minute until well blended.
5.  In a separate bowl, using a wire whisk, mix heavy cream, vanilla, lemon juice, eggs, and egg yolks until blended.
6.  Turn the mixer on medium speed, and slowly pour the egg mixture into the cream cheese mixture. Beat until just blended. Be careful not to over-whip the batter.
7.  Pour batter into the greased springform pan. Place pan into the heated water bath.
8.  Bake for 15 minutes, and then lower the oven temperature to 275 degrees F.
9.  Continue baking for 1 1/2 hours, or until top is light golden brown and cake is pulling away from the sides of the pan.
10.  Turn the oven off when finished cooking and leave the cake in the oven to cool for 3 more hours. This keeps the cheesecake from collapsing down.
11.  Remove the cake from the water bath, cover and refrigerate until set, about 4 hours.  Cheesecakes taste best at room temperature, so set the cheesecake out on the counter for 20-30 minutes before serving.  Carefully remove the sides of the spring form pan.
For the cranberry sauce:
13.  Bring the cranberries, sweetener and water to a boil in a small saucepan on medium high heat. Turn the heat down to medium and stir until the berries have all popped, about 8-10 minutes. Taste for sweetness and add more sweetener if needed.
14.  Top the cheesecake with the cranberry sauce.
15.  Store in the refrigerator.
Nutrition
Calories:

465

Fat:

42

Carbohydrates:

9

Fiber:

1

Protein:

11
Keywords: Low Carb Cranberry Cheesecake, Keto Cranberry Cheesecake, Low Carb Ricotta Cheesecake, Keto Ricotta Cheesecake
You'll need this specialty ingredient:
3