These low carb and Keto stuffed cabbage rolls are pure comfort food. And each serving has just 9g net carbs.

I found something very strange as I was researching this stuffed cabbage recipe.

It's a video that is so bizarre, so puzzling, that I am not even sure where to begin.
It seems to be some sort of comedic cooking show about cabbage rolls.  (video above)
It follows the exploits of a hearty Russian woman named Sveta Lana.  She kind of looks like the Wendy's girl if she was dressed up as a sexy chef for Halloween.   She begins the show by telling us that the first step is to get the cabbage leaves naked and steam them.  Then, out of nowhere, there is a cut away to her, naked in a hot tub, surrounded by cabbage leaves.  There are other cut aways to whimsical creatures made out of vegetables and at a certain point a chicken randomly walks by.
It's absolute mayhem.

But you know what, if you want to know how to make cabbage rolls, there are worse ways to learn.
You'll get the basics anyway.  I'm going to share a low carb version of stuffed cabbage rolls.  I've swapped out the rice for riced cauliflower, but otherwise, it's the same basic recipe.  My only warning is that this recipe will definitely stink up your house.  We used to make these cabbage rolls when I was a kid and it smelled like cabbage for days afterwards.  And those rolls didn't even have cauliflower.  So, just proceed with care.
In your video choices as well as your cookery.
Print
Low Carb Keto Stuffed Cabbage Rolls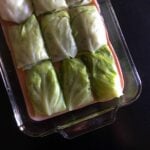 These low carb stuffed cabbage rolls are pure comfort food. And each serving has just 9g net carbs.
Author: Resolution Eats
Prep Time:

30

Cook Time:

1:00

Total Time:

1 hour 30 minutes

Yield:

4

servings

1

x
Category:

Entree

Cuisine:

Polish
Scale
Ingredients
stuffed cabbages:
1 head of cabbage
2 cups cauliflower, riced
1/2 pound ground beef
1/4 cup fresh parsley, chopped
1 clove garlic, minced
1 large egg
1/2 teaspoon salt
1/4 teaspoon black pepper
1/2 teaspoon dried oregano
sauce:
1 cup tomato sauce
1/4 cup sour cream
1/4 cup water
1 tablespoon Swerve or equivalent sweetener
Instructions
1.  Core the cabbage and pull off the first layer of outer leaves.
2.  In a large soup pot, cook the whole head of cabbage in enough boiling water to cover about 3 minutes or just until outer leaves are softened. Remove cabbage from water; remove as many leaves as can easily be removed. Return cabbage to water; repeat process until 12 leaves are removed.
3.  Process cauliflower in food processor until it is finely chopped, about the size of rice.
4.  Mix the parsley, beef, garlic, salt and raw cauliflower in a medium sized bowl. Beat the egg and mix in well.
5.  Mix up the tomato sauce, water, sour cream and sweetener in a small bowl. Pour half of the tomato sauce into a standard 9 x 13 inch casserole dish.
6.  Lay a cabbage leaf flat on the counter. Slash the bottom vein if it doesn't seem pliable. Add 2 tablespoons of the meat mixture to the cabbage and roll up like a burrito. Add the cabbage roll to the casserole dish.
7.  Repeat until you've run out of filling. Cover the rolls in the remaining sauce.
8.  Bake at 350 degrees F for 1 hour, turning the cabbage rolls halfway through.
Nutrition
Serving Size:

3 rolls

Calories:

229

Fat:

12

Carbohydrates:

16

Fiber:

7

Protein:

23
Keywords: Low Carb Cabbage Rolls, Keto Cabbage Rolls, Paleo Cabbage Rolls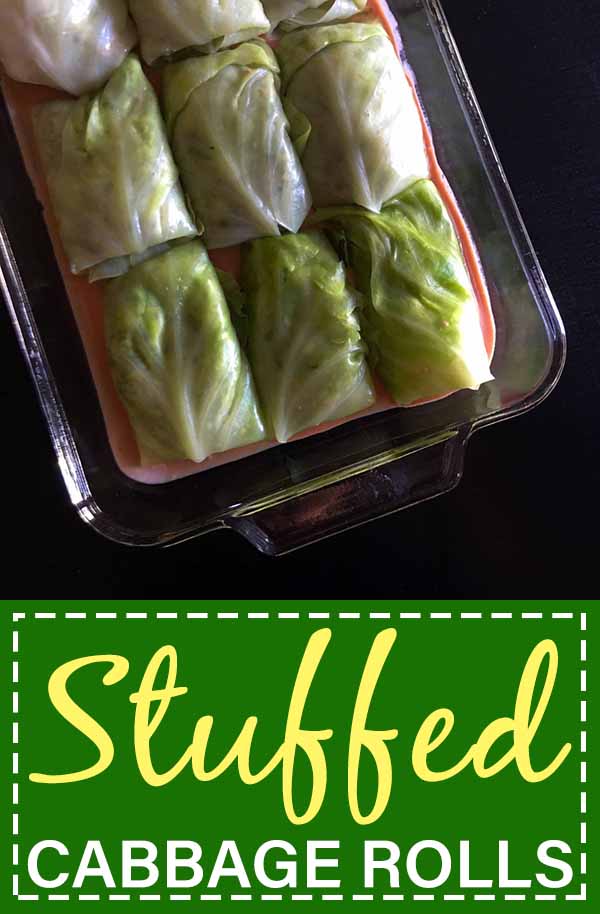 184