I was thinking about trail mix the other day.
Or GORP, if you go in for acronyms.  Good Old Peanuts and Raisins.
When you're on a low carb diet, you can eat the Peanuts, but the Raisins, not so much.
Those little buggers have about 27g of carbohydrate per 1/4 cup serving, so they are a definite no-go.  But without dried fruit, you have no GORP.  All you've got is a handful of nuts.
So what to do?
If you are me, then you will make raisins out of squash. It's not as crazy as it sounds.  Low carb cooks have been making fake apples from zucchini for some time now.  My recipe just takes these recipes one step further.
You'll need Yellow Squash, Sweetener, Ginger, Cinnamon & Lemon
Start by cutting out the seeds of the yellow squash.  It's easiest to slice around the seeds like this.  Dice the rest.
The next step is where the magic happens.
It's time to make a  vegetable taste like a fruit.  To do this, you'll need to infuse lemon, sweetener and spice into the squash.  Saute the squash for about 5 minutes in oil.  Then add the sweetener and spices and cook for another 5 minutes.
Now that you've got your fake fruit, all you need to do is dry it out.  You can use your microwave for this.  Arrange the squash on a plate and cook for 20 minutes on 30% cook strength.  (Or the defrost setting, if you don't have the option of 30%.)  Keep an eye on them for the last 5 minutes, in case the small pieces begin to burn.  Then you've gone far enough.
So there you go: low carb raisins with 5g net carbs per 1/4 cup serving.
GORP all around!
Print
How to make Low Carb Keto Raisins out of Squash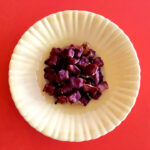 You can make your own low carb raisins out of yellow squash. Weird but true.
Author:
Prep Time:

10

Cook Time:

20

Total Time:

30 minutes

Yield:

4 servings

Category:

Snack

Cuisine:

American
Ingredients
2 tablespoons cooking oil
4 cup yellow squash, diced
1 1/2 tablespoons lemon juice
5 tablespoons Swerve or equivalent granulated sweetener
1 1/2 tablespoon ground cinnamon
1/2 teaspoon ground ginger
Instructions
1.  Remove seeds from the squash and dice.
2.  Saute in oil for 5 minutes
3.  Add sweetener and spices and cook for another 5 minutes.
4.  Microwave for 20 minutes at 30% power (or defrost setting) until dried and raisin-like.
Nutrition
Calories:

147

Fat:

6

Carbohydrates:

3

Fiber:

1

Protein:

2
Keywords: Low Carb Raisins, Keto Raisins, Paleo Raisins
You'll need this specialty ingredient:
If you liked these yellow squash raisins, then you might like my Mock Apple Cobbler, Mock Apple Butter or Mock Apple Coffee Cake.
3