Real Low Carb Rye Bread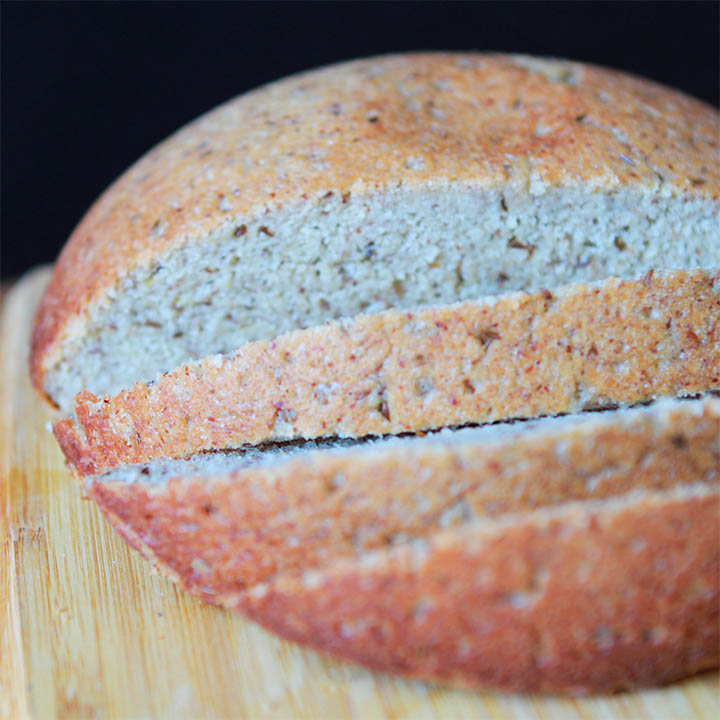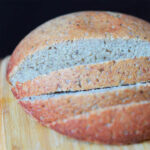 If you are looking for the best low carb yeast bread on all of the Internet then look no further.  This low carb version of traditional rye bread will knock your socks off.  And each slice has just 7g net carbs. 
Author: Resolution Eats
Prep Time:

80

Cook Time:

45

Total Time:

2 hours 5 minutes

Yield:

12

slices

1

x
Category:

Bread

Method:

Baked

Cuisine:

American
Scale
Ingredients
2 1/4 cups warm (like bath water) water, divided
6 tablespoons butter, melted
2 teaspoons sugar*
2 envelopes (4 1/2 teaspoons) active dry yeast
1/4 teaspoon ground ginger
2 cups vital wheat gluten
2 cups super fine almond flour
1/4 cup dark rye flour
1 1/2 teaspoon salt
1 tablespoon baking powder
1/4 cup Swerve or equivalent granulated sweetener
1 tablespoon caraway seeds
1/2 tablespoon melted butter to brush over the top of the dough.
1.  Liberally grease an 8, 9 or 10 inch wide glass or metal bowl with butter.  Use the most rounded bowl that you have.
2.  Mix together 1/2 cup warm water, sugar, ginger and yeast in a large bowl and cover the bowl with a towel.  After 7-10 minutes the mixture should be frothy with small bubbles.  If it is not frothy, then the yeast has died and you need to start over with new yeast.
3.  Sift together remaining dry ingredients except the caraway seeds.
4.  Mix together the frothy yeast mixture, 6 tablespoons melted butter and remaining 1 3/4 cup warm water.
5.  Slowly mix the dry ingredients into the wet ingredients and stir well to combine.  Mix in caraway seeds.
6.  The dough should be sticky and rather wet, but you should be able to knead it.  But if it's too dry to knead then add a little water and if it's too wet to knead you can add a little more almond flour.  Knead the dough for 3 minutes.
7.  Form the dough into a ball and place it in the greased bowl. 
8.  Preheat the oven for 2-3 minutes until it reaches 100-110 degrees.  Cover the bowl with a towel and place the bowl of dough in the oven to rise for 1 hour.  It will not rise very much at all.  That's ok because it will rise when you bake it.  Remove the bowl from the oven.  Brush the top of the dough with 1/2 tablespoon melted butter.
9.   Pre-heat oven to 350 degrees F and bake for 35-45 minutes.  Loosely cover the bread with a piece of foil at minute 20 to keep the bread from browning too much.  Bake until the internal temperature reaches 200 – 210 degrees F and a wooden skewer in the middle of the loaf comes out clean.
10.  Cool in the bowl for 10 minutes.  Then place a large cutting board on top of the bowl.  Invert the bowl to release the loaf from the bowl.
11.  Wait until fully cooled before cutting.
Notes
*The sugar is converted to alcohol and carbon dioxide in the fermentation (proofing) process, so the carbohydrate is cancelled out.
TO MAKE THIS BREAD IN A LOAF PAN:
Follow steps 1 through 8.  Then take the risen bread dough out of the oven and place it on the counter.  Use your fist to punch the air out of the dough, 3-4 times.  Roll the dough into a loaf shape and place it in a greased loaf pan.  Allow to rise for 45 more minutes.  Then resume the recipe for steps 9-12.  
Nutrition
Serving Size:

1 slice

Calories:

268

Fat:

16

Carbohydrates:

11

Fiber:

4

Protein:

21
Keywords: Low Carb Rye Bread, Real Low Carb Bread, Low Carb Yeast Bread