This Keto Chicken Enchiladas recipe uses cauliflower tortillas to keep the carb count down and the veggie count up.

Today I'm going to share a simplified Keto version of Mexico's National Dish, the famous Chicken Mole Enchilada.
Enchiladas are a traditional Mexican dish that actually dates all the way back to the Mayans. Corn tortillas, called tlaxcalli, were common back then. The dish was originally an empty corn tortilla dipped in chili sauce. But then people started stuffing the tortillas with various meats and cheeses, and the enchilada became the dish we know today.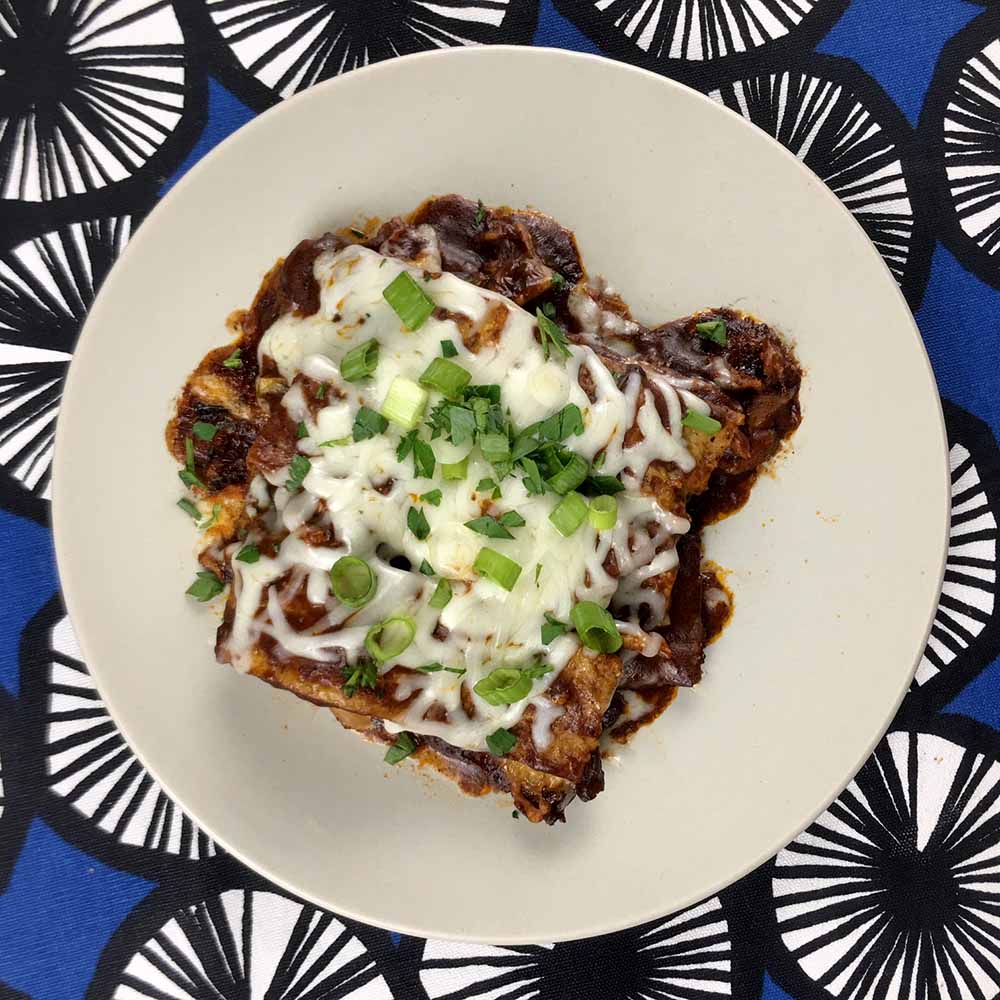 Let's talk mole sauce for these Keto Chicken Enchiladas.
You can put all kinds of things in a mole sauce, and some have up to 30 ingredients.  But the one we are making today has about half that. The ingredients for this Keto mole sauce are: extra virgin olive oil, arrowroot powder, chili powder, tomato sauce, water, oregano, cumin, cinnamon, salt, cayenne pepper, Lily's Sugar-Free Chocolate Chips, and Swerve Granular
There is chocolate in this mole sauce?!
Chocolate is actually the secret ingredient in this Keto mole sauce. Chocolate and love.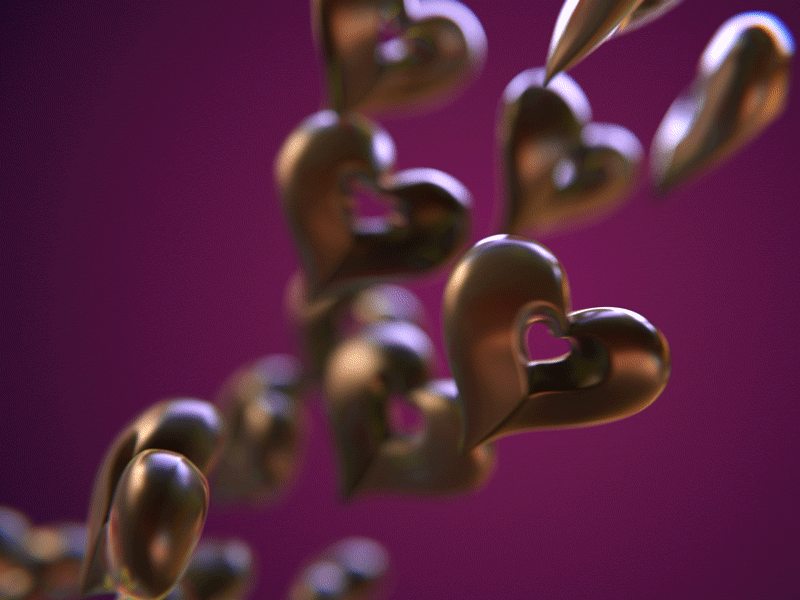 Aren't tortillas high in carbs?
Well. Yes. But instead of regular high carb tortillas, we're going to make our own low carb tlaxcalli out of cauliflower and eggs. That will take the carb count down to just 8g net carbs per serving.
So I think you should stop whatever you are doing and make this recipe for Keto Chicken Mole Enchiladas.
Vamonos!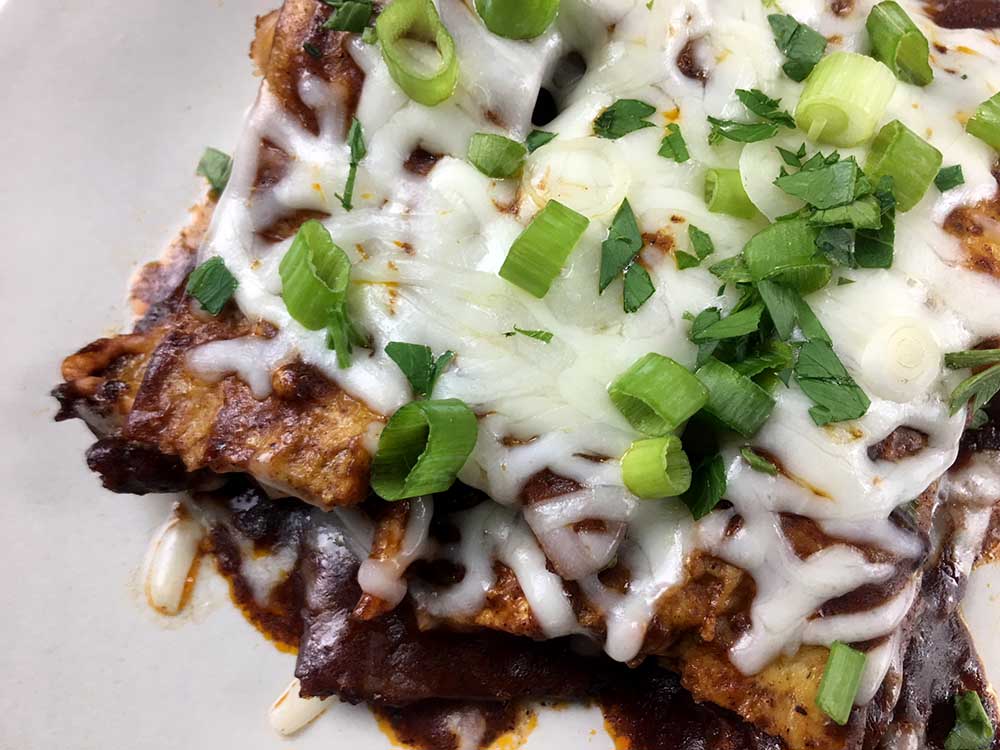 Print
📋 Recipe
Keto Chicken Mole Enchiladas
This recipe for chicken mole enchilada casserole uses cauliflower tortillas to keep the carb count down and the veggie count up.
Author: Emily Krill
Prep Time:

20

Cook Time:

1:10

Total Time:

1 hour 30 minutes

Yield:

8

1

x
Category:

Entree

Cuisine:

Mexican

Diet:

Diabetic
Cauliflower Tortillas
4

cups

cauliflower, riced

4

large eggs, beaten

½ teaspoon

salt

¼ teaspoon

black pepper
Mole Sauce:
Instructions
Step 1.  Cut a medium-sized cauliflower into florets.  Use a food processor or high-powered blender to process the cauliflower until it is in pieces a little smaller than grains of rice.  Measure out 4 cups packed.
Step 2.  Add to a medium microwave-safe bowl and microwave for 2 minutes.  Give it a stir and then cook for another 2 minutes.  Set aside to cool until cool enough to handle.
Step 3.  As it is cooling, make your mole sauce.  In a large skillet, heat olive oil over medium-high heat.  Add chili and arrowroot powders and cook for 2 minutes.  
Step 4.  Add tomato sauce, water, oregano, cumin, cinnamon, salt, and cayenne pepper, if using.  Bring to a low boil and simmer for 10 minutes until thickened, stirring occasionally.  Add in chocolate chips and sweetener and stir until melted and combined.  Test for flavor and adjust seasoning if desired.
Step 5.  Preheat oven to 375 degrees F and cover a large 11 x 17-inch cookie sheet with parchment paper.
Step 6.  Add the cooled cauliflower to a clean tea towel and twist it until the liquid is released from the cauliflower rice.  This will take some effort.  You should get about a cup of the liquid out.
Step 7.  Add cauliflower, eggs, salt, and pepper back to the medium-sized bowl and mix well.
Step 8.  Spread the cauliflower mixture over the bottom of the prepared cookie sheet from edge to edge in a large rectangle.  It might be thin in places, that's ok.  
Step 9.  Bake the cauliflower tortillas for 15-17 minutes until browned around the edges.  Allow to cool on the cookie sheet for a few minutes then cut the sheet of cauliflower in half.  Then cut perpendicular to that in 1 ½ inch strips.  
Step 10.  Use a standard 9 x 13-inch casserole dish to assemble your enchilada casserole.
Step 11.  Add a few spoonfuls of mole sauce to the bottom of the casserole dish and spread it around to cover the whole bottom.  
Step 12.  Add half of the cauliflower tortilla strips.  There will be a little bit of space between each one.
Step 13.  Spread half of the chicken over the tortilla strips.  Add half of the remaining mole sauce and then half of the mozzarella cheese.  Repeat with remaining ingredients.
Step 14.  Cover the casserole loosely with aluminum foil and bake at 375 degrees F for 30 minutes.  
Step 15.  Remove aluminum foil and cook for another 5 minutes until cheese on top starts to brown and mole sauce is bubbling.  
Step 16.  Allow to cool in the pan for at least 15 minutes before cutting.  
Nutrition
Calories:

323

Fat:

21

Carbohydrates:

13

Fiber:

5

Cholesterol:

26
Keywords: Low Carb Enchilada Casserole, Keto Enchilada Casserole, Paleo Enchilada Casserole