These Keto sauerkraut and sausage balls make the perfect appetizer or snack. And each of these yummy fried sausage balls has just 1g net carb.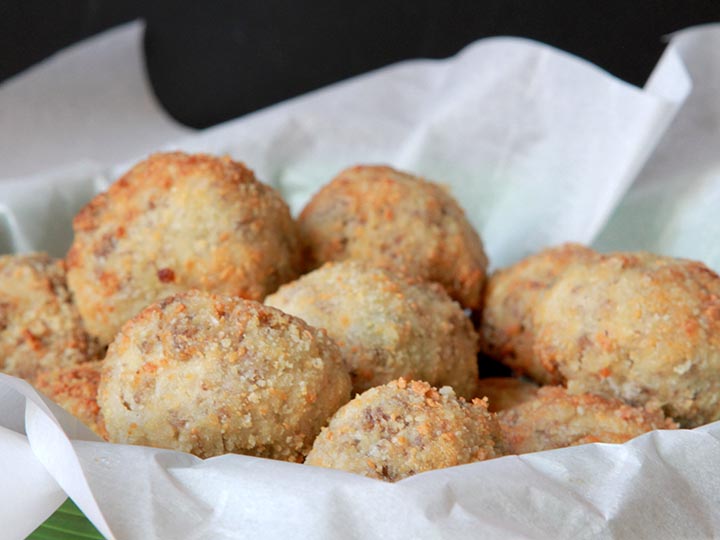 I heard about the tastiest thing yesterday.
My sister has been road tripping out West and she came across these appetizers called sauerkraut balls.
And then I was like, "Wait- what is a sauerkraut ball?"
She told me that sauerkraut balls are a kind of croquette made from a mixture of sauerkraut, cream cheese, and sausage that is breaded and fried. I was immediately sold, so I set out to make a low carb version of this bewitching appetizer.
But honestly, she had me at sauerkraut.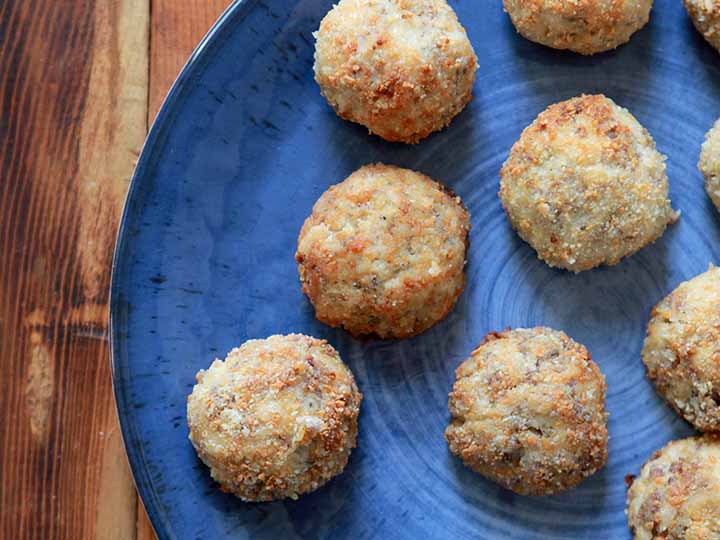 Is sauerkraut low carb? Is sausage Keto?
Yes to both. Sauerkraut is great to eat on a Keto or low carb diet because it's made from fermented cabbage. Sauerkraut only has 3 grams of net carbohydrate per cup. And sausage is very low carb with just 1 gram of carbohydrate. That 1 gram comes from the sugar used to cure the sausage.
So if you can find sugar-free breakfast sausage to use, then all the better.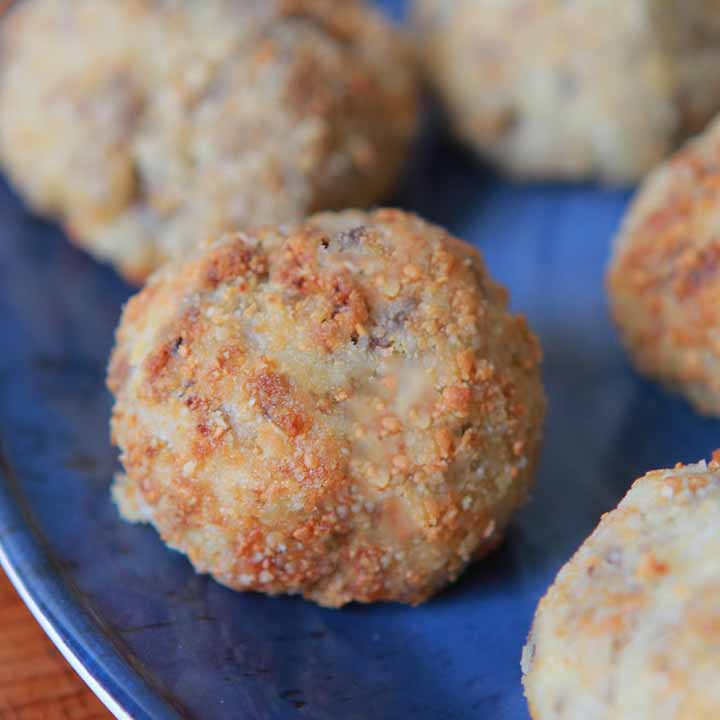 Plus, the sauerkraut fermentation process eats up the natural sugar.
So the amount of net carbs in 1 cup of sauerkraut is actually just 2g. And, obviously, no sane person would sit down and eat a whole cup of sauerkraut, so the amount of carbs in a normal (1 ounce) serving of sauerkraut is nearly zero.
It's a free food.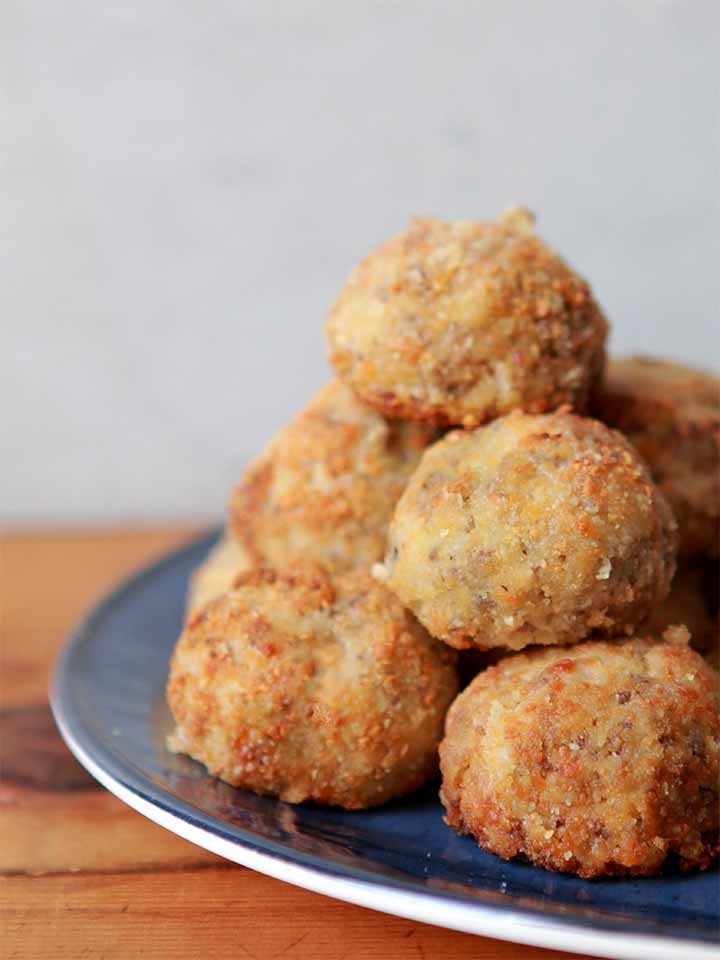 So how do you make this sauerkraut and sausage ball recipe low carb?
We are all set with the sauerkraut and sausage, and the remaining ingredients are just cream cheese and breading. Cream cheese is allowed on low carb and Keto diets, so no troubles there.
That just leaves small matter of the breading.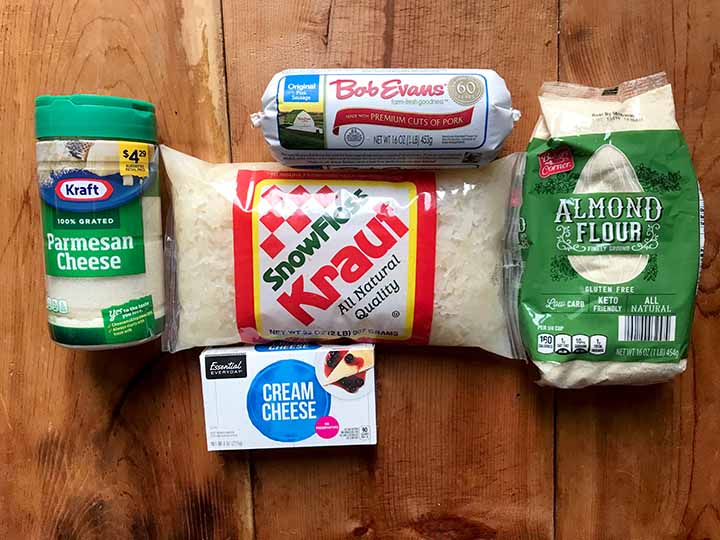 How do you make low carb breading?
There are a couple different ways to make low carb gluten-free breading. Breading ingredients are usually confined to: almond flour, parmesan cheese, coconut flour and ground pork rinds. So for this gluten-free sausage ball recipe, I used a mixture of parmesan cheese and super fine almond flour.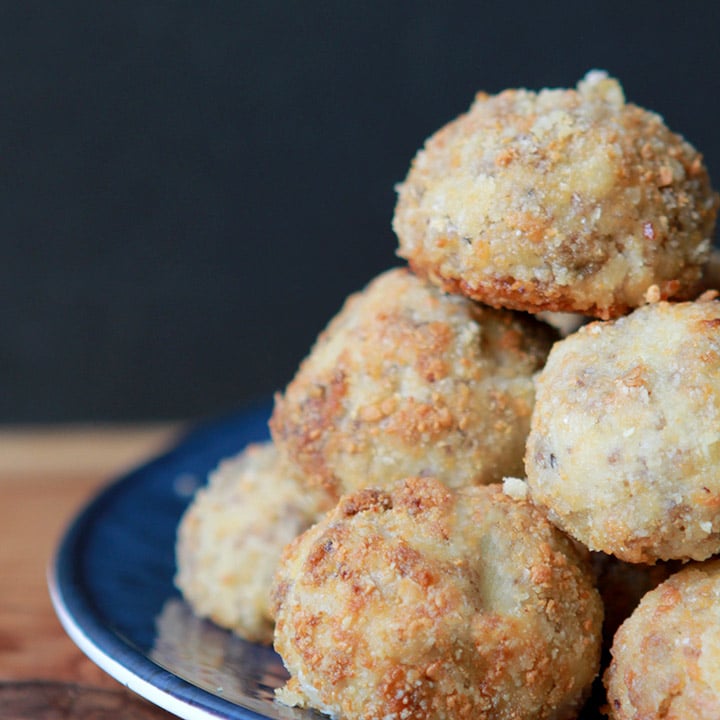 How do you cook these Keto sauerkraut balls?
Sauerkraut balls are often fried in oil, but I don't recommend that you do that. Better to spray them with cooking oil and bake them in the oven, or cook them in an air fryer. There is a lot less fuss and quite a bit less mess when you bake them in the oven or fry them in an air fryer.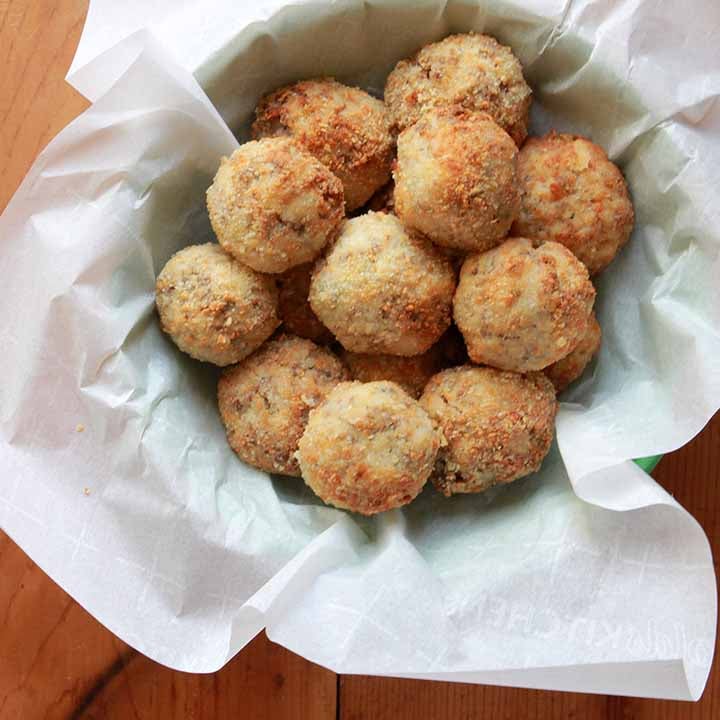 Can you make your own sauerkraut?
Absolutely. All you need is a cabbage and a container of salt and one week of your life, and homemade sauerkraut can be yours. Here's an easy recipe for homemade sauerkraut from The Real Food Dietitians.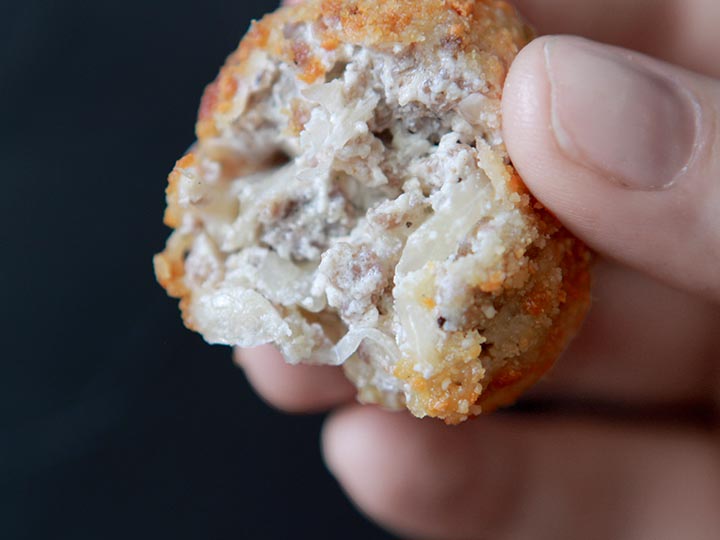 Any final sauerkraut and sausage ball recipe thoughts, tips, musings?
I think that just about does it. But, I'm not sure that I mentioned how delicious these low carb sauerkraut and sausage balls turned out. They are absolutely fabulous. And each ball has just 1g net carbs.
So bon appetit, everybody!
Sauerkraut and sausage balls all around.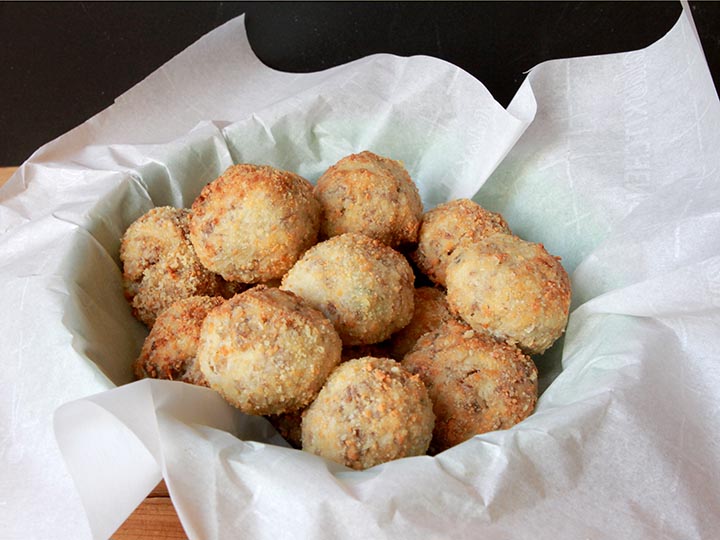 Print
📋 Recipe
Sauerkraut and Sausage Balls
These sauerkraut and sausage balls make the perfect appetizer or snack. 
Author: Emily Krill
Prep Time:

10

Cook Time:

40

Total Time:

50 minutes

Yield:

20

balls

1

x
Category:

Appetizer

Method:

Baked

Cuisine:

American

Diet:

Gluten Free
8

oz

full fat cream cheese

2

cups

sauerkraut, drained

1

pound

pork, turkey or chicken breakfast sausage

6 tablespoons

grated parmesan cheese

6 tablespoons

almond flour
Instructions
Step 1.  Drain the sauerkraut well in a colander.  
Step 2.  In a large skillet, over Medium-High heat, cook the sausage until browned and cooked through, 4-5 minutes.
Step 3.  Add cream cheese and drained sauerkraut to the pan and mix well to combine.  
Step 4.  Transfer to a resealable container and chill in the freezer until firm enough to scoop, 1 hour.  Every 10 minutes, give it a good stir. 
Step 5.  Pre-heat oven to 375 degrees F and cover a large cookie sheet with parchment paper.
Step 6.  Use a cookie scoop or soup spoon to scoop out the filling and place it on the cookie sheet.  Then roll each scoop into a 1-inch wide ball.
Step 7.  In a shallow bowl, mix together almond flour and parmesan cheese.  Roll the balls in the breading and place them back on the cookie sheet.  Spray the balls with cooking spray. 
Oven Method: Bake for 25-30 minutes until golden brown.  Allow to cool on the cookie sheet for 30 minutes before serving.
Air Fryer Method:  Add sauerkraut balls to the basket of the air fryer in three batches.  Fry for 8-10 minutes at 350 degrees F.  Use a spoon to carefully remove each sauerkraut ball from the air fryer and place them back onto the cookie sheet.  They will be delicate until they have cooled for 30 minutes.
Notes
THERE ARE STEP-BY-STEP PHOTOGRAPHS BELOW THE RECIPE
Nutrition
Serving Size:

2 balls

Calories:

191

Fat:

15

Carbohydrates:

4

Fiber:

2

Protein:

13
Keywords: Sauerkraut Balls, Low Carb Sauerkraut Balls, Keto Sauerkraut Balls, Gluten Free Sausage Balls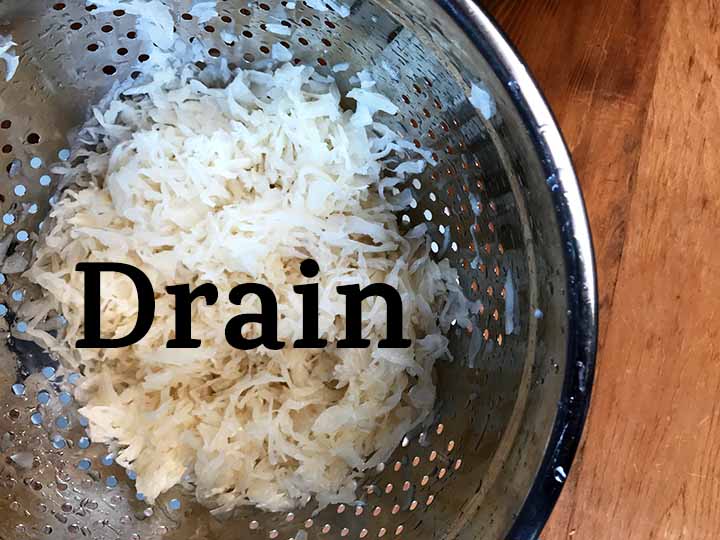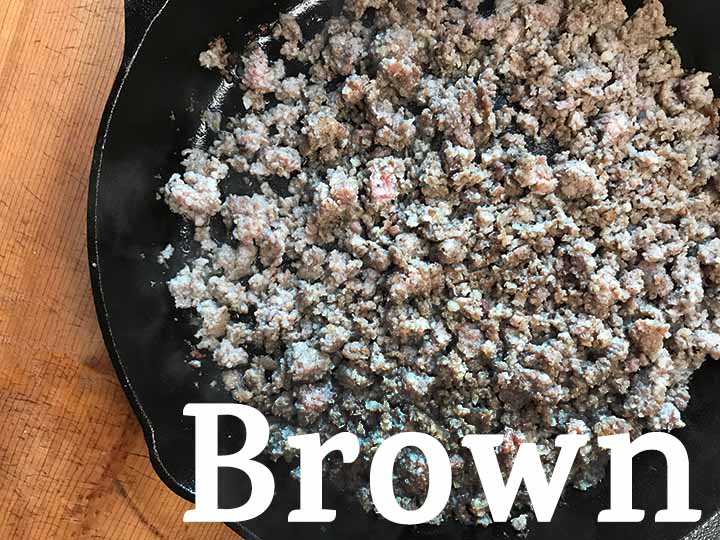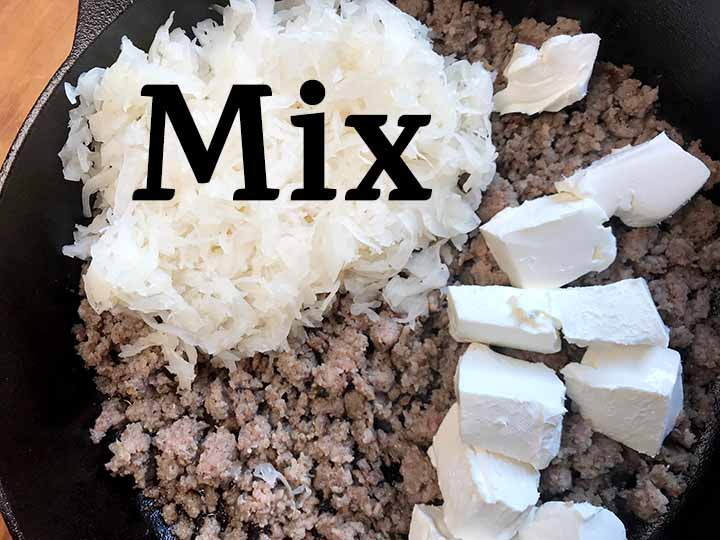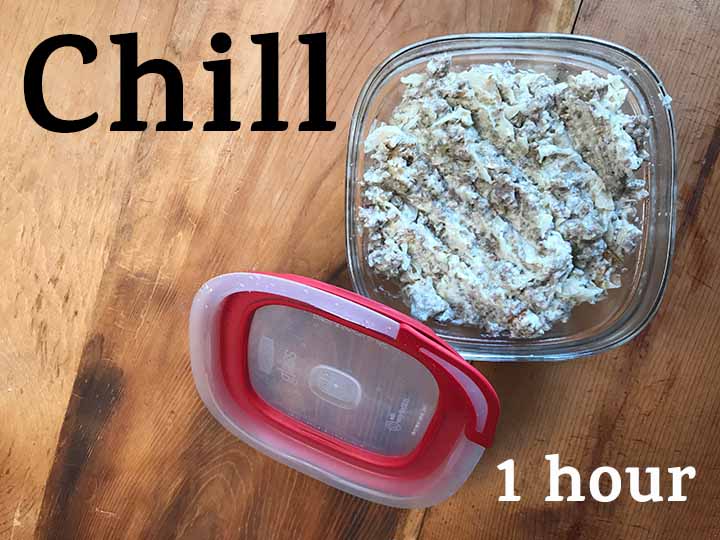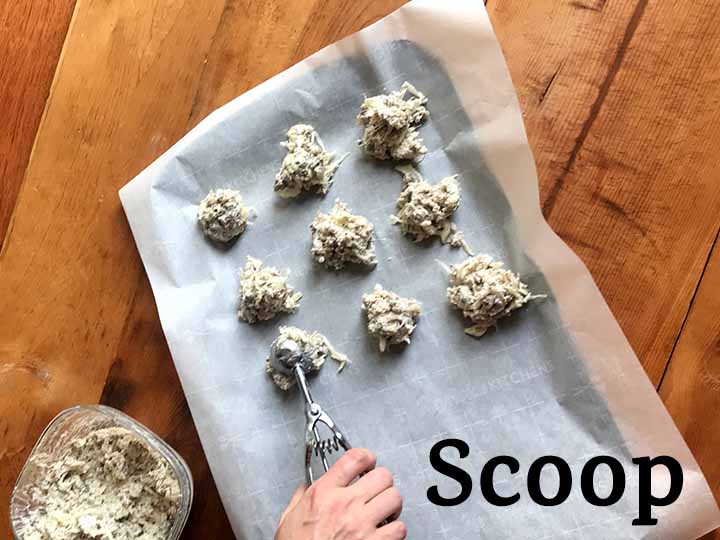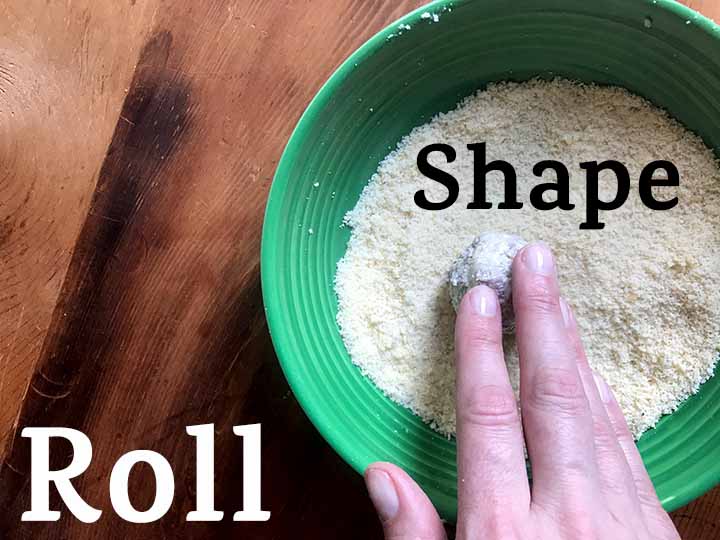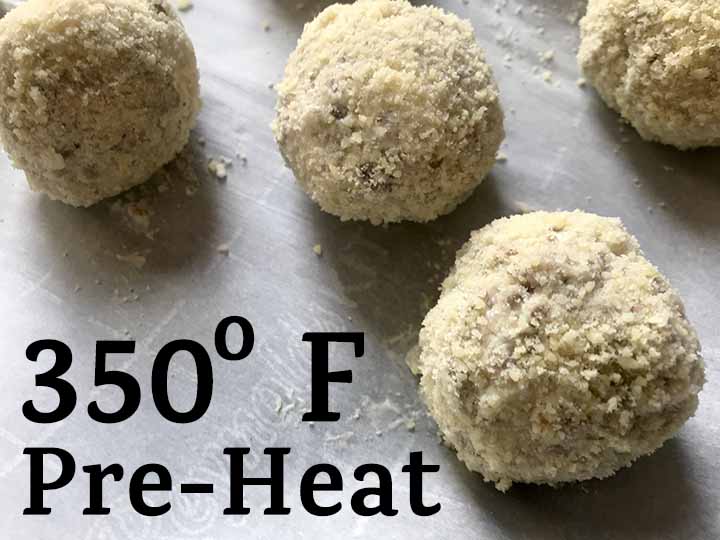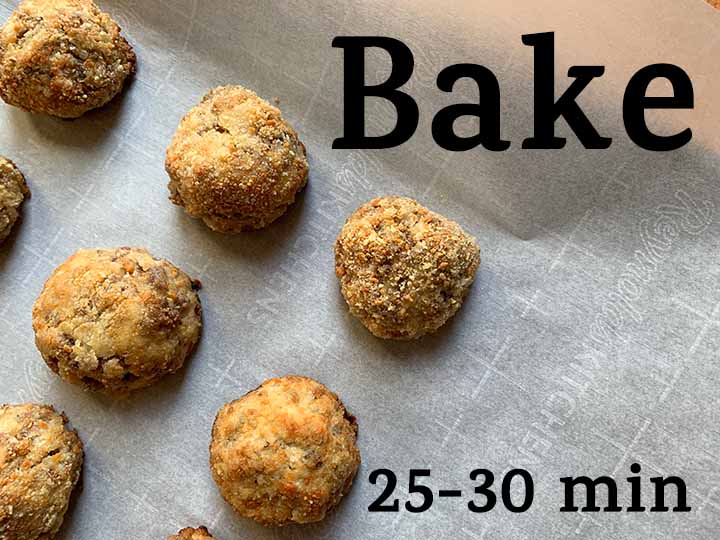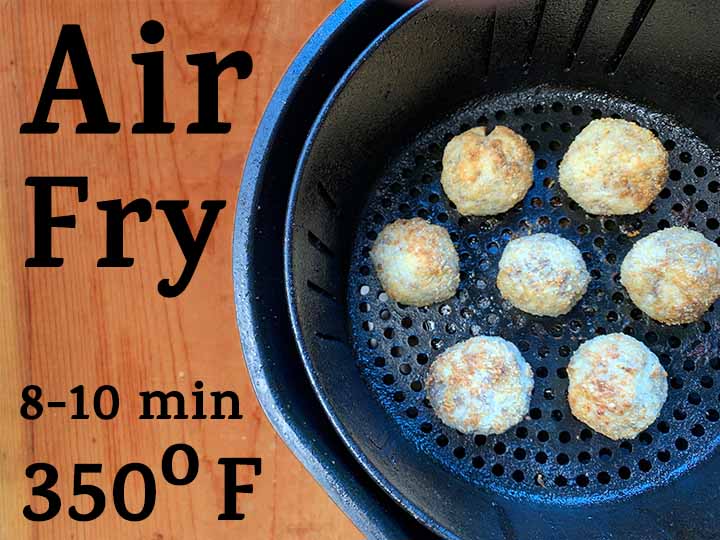 If you liked these low carb appetizers, then you might like my recipes for Korean Chicken Wings, Fried Pickles or Antipasto Skewers.