This recipe is for a real low carb and Keto yeast bread with only 5g net carbs per slice. It's the best low carb bread you will ever eat.
Greetings internet friends.
I have a confession to make.  You see that picture of a round loaf of bread with an artfully arranged napkin?  Well, that napkin is hiding the hunk of bread that I cut off as so as it came out of the oven.  And you know what?  I'm not sorry.  I'd do it again.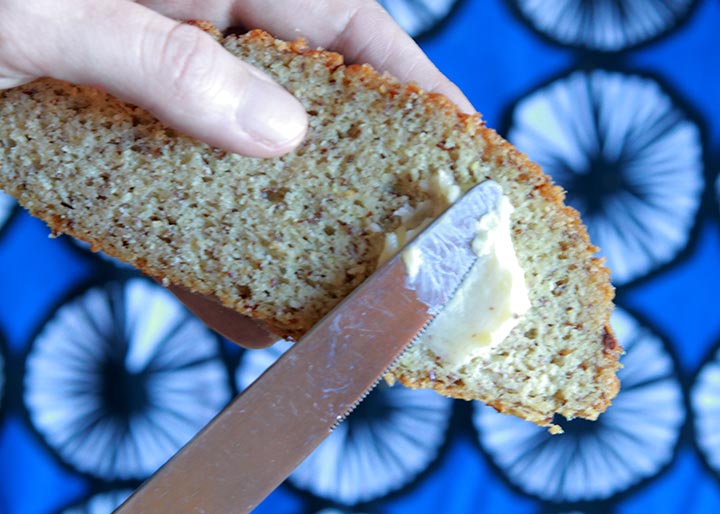 So I'm going to share the recipe for this low carb and keto farmer's bread, but first I want to take a moment to crow about it a little bit.
I went to great lengths coming up with this recipe.  I tried out every low carb yeast bread recipe that I could find online.  But each one failed in some way.  Most just didn't rise, but several did rise but ended up as heavy as a brick.  Literally, you could could build a wall with these loaves of bread.  I felt like a bread baking failure.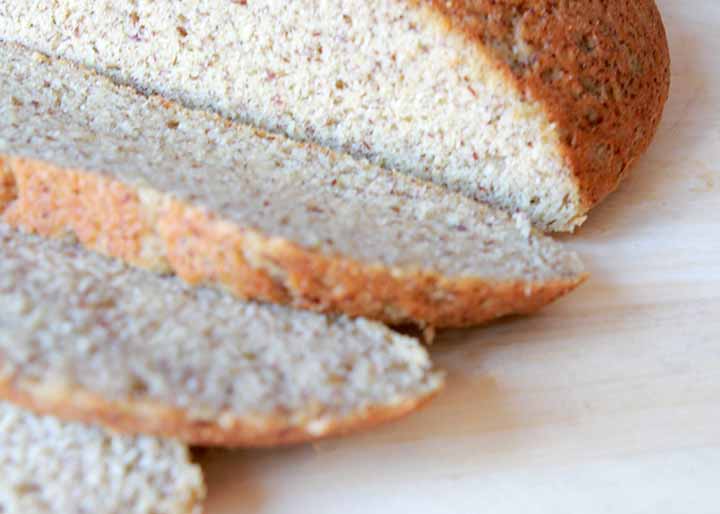 But ultimately, this recipe was born from all my failures.
I blended together a few recipes, swapped out some low carb ingredients and before I knew it, I had a loaf of bread that I could brag about.  This very bread you are looking at.  The one with the hunk cut out of it.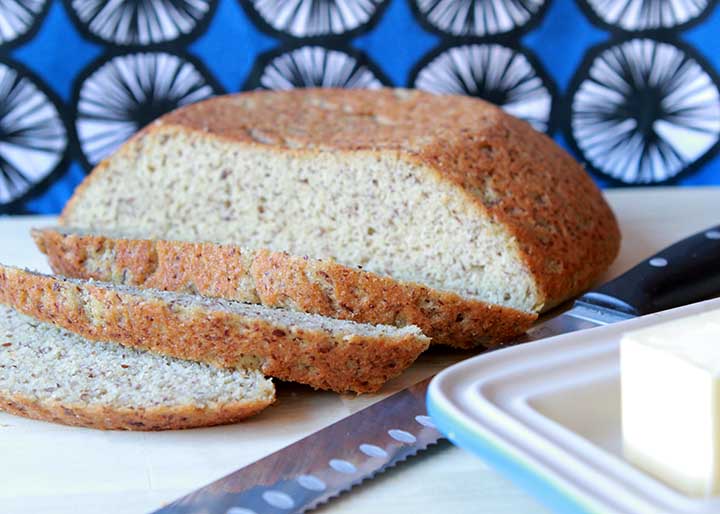 The recipe I am about to share is a real yeast bread with a lovely crust and an elastic and chewy center.
This bread is truly a thing of beauty.  And each slice has just 5g net carbs, so you can afford to eat a slice or two and stay on your low carb diet.  My husband and I may have eaten half a loaf today.
And we'd do it again in a heartbeat.
Update:
Many of you have asked if this bread could be made in a loaf pan.  Well good news.  I had a chance to go back and work on the recipe today and was able to reconfigure the recipe to work in a loaf pan.  Instructions are in the Notes section of the recipe.

Print
Low Carb Farmer's Yeast Bread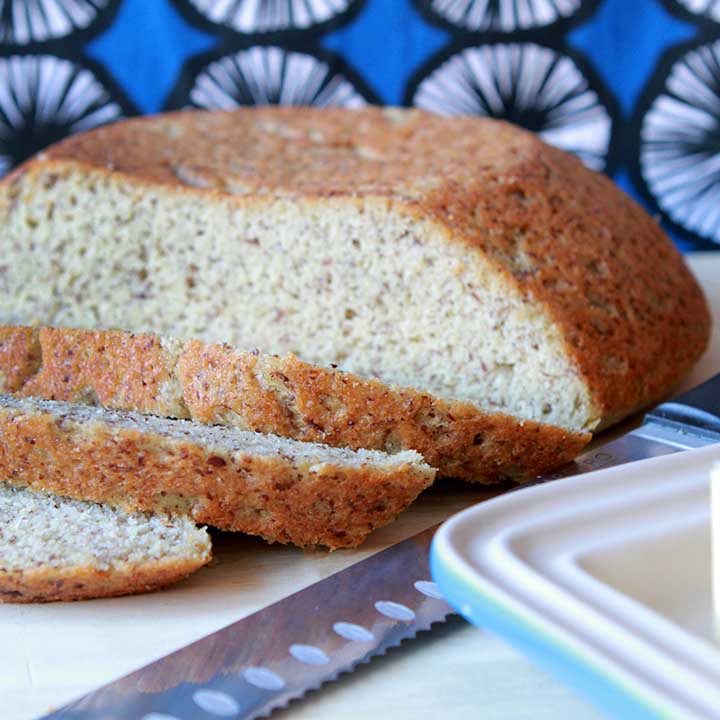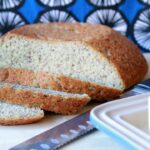 This recipe is for a real low carb and keto yeast bread with only 5g net carbs per slice.  It's the best low carb bread you will ever eat.
Author: Resolution Eats
Prep Time:

80

Cook Time:

45

Total Time:

2 hours 5 minutes

Yield:

12

slices

1

x
Category:

Bread

Cuisine:

American
2 1/4 cup warm (like bath water) water, divided
2 teaspoons sugar*
2 envelopes (4 1/2 teaspoons) active dry yeast
2 cups vital wheat gluten
2 cups super fine almond flour
1/2 cup flaxseed meal, ground in a blender for 2 minutes
1 teaspoon salt
3 teaspoons baking powder
6 tablespoons olive oil
1/2 tablespoon butter, melted
Instructions
Liberally grease a 10 inch wide glass or metal bowl with butter.
Add a 1/2 cup warm water to another large bowl and mix in sugar until dissolved.  Mix in yeast and cover the bowl with a towel.  After 7-10 minutes the mixture should be frothy with small bubbles.  If it is not frothy, then the yeast is dead and you need to start over with fresh yeast.
As you are waiting for the yeast to proof, mix together all dry ingredients in a large bowl.  Sift the dry ingredients through a sifter or a sieve.
Add remaining 1 3/4 cup water and olive oil to the frothy yeast mixture and stir to combine.
Slowly add the dry ingredients to the wet and stir with a wooden spoon until fully combined.
The dough should be sticky and rather wet.  If it is too dry to knead, then add a little bit more water.  Knead the dough for 3 minutes.  Do not over knead.
Form the dough into a ball and place in the greased bowl.
Preheat the oven for 2-3 minutes until the temperature reaches 100-110 degrees.  Cover the bowl with a towel and place in the warm oven to rise for 1 hour.  Remove from the oven.
Preheat the oven to 350 degrees F and melt the butter in a small bowl in the microwave.  Brush the butter over the top of the dough.
Place the bowl in the oven and bake for 35-45 minutes until the internal temperature reaches 190-200 degrees F.  The closer to 200 degrees that you get, the thicker the crust.
Cool in the bowl for 10 minutes.  Then place a large cutting board over the bowl.  Invert the bowl to release the bread.
Cool completely before cutting.
Notes
* The sugar is converted to alcohol and carbon dioxide in the fermentation process, so the carbohydrates are cancelled out.
TO MAKE THIS BREAD IN A LOAF PAN:
Follow steps 1 through 8.  Then take the risen bread dough out of the oven and place it on the counter.  Use your fist to punch the air out of the dough, 3-4 times.  Roll the dough into a loaf shape and place it in a greased loaf pan.  Allow to rise for 45 more minutes.  Then resume the recipe for steps 9-12.  
Nutrition
Serving Size:

1 slice

Calories:

280

Fat:

19

Carbohydrates:

9

Fiber:

4

Protein:

21
Keywords: Low Carb Yeast Bread, Keto Yeast Bread, Low Carb Farmer's Bread, Keto Farmer's Bread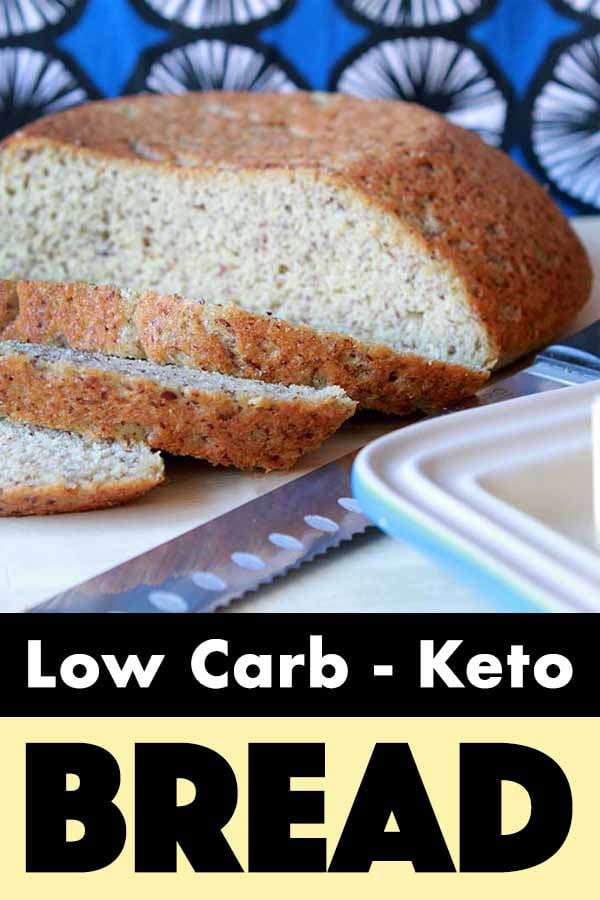 Processing…
Success! You're on the list.
Whoops! There was an error and we couldn't process your subscription. Please reload the page and try again.
592