This Keto Yeast Dough Pizza Crust is the real deal. It's a yeast leavened low carb bread dough that is the perfect backdrop for any kind of pizza topping. And each slice has just 4g net carbs.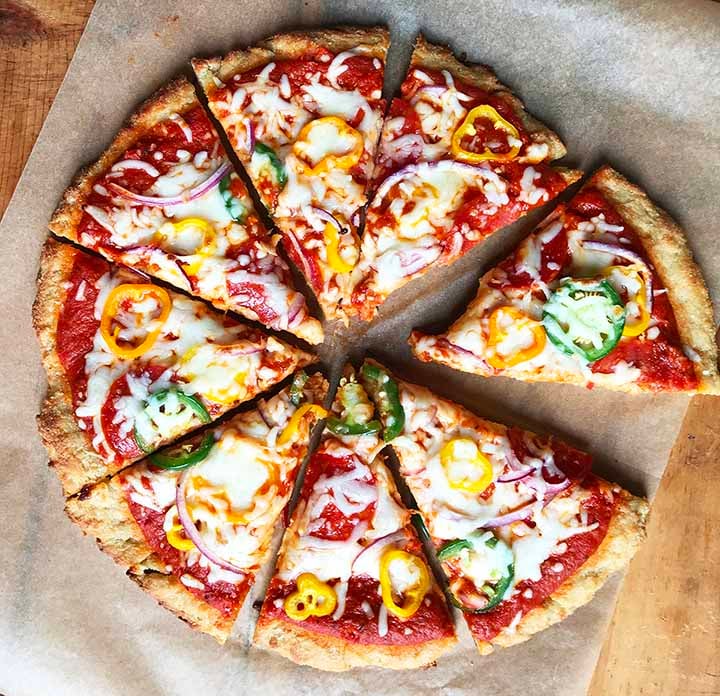 Picture it.
The year was 1991, and out of nowhere, something new starts showing up in grocery stores. It's called a Boboli Italian Bread Shell and it's a pre-made pizza crust that you top with your own toppings and make in your very own home.
It might not sound so important now, but I really do remember it being a pretty big deal when it first came out.
Boboli had these commercials that starred an excitable Italian named Vittorio. (Video above) There was always this back and forth between Vittorio and his mother, who yelled unhelpful advice from off screen. They were quite a pair.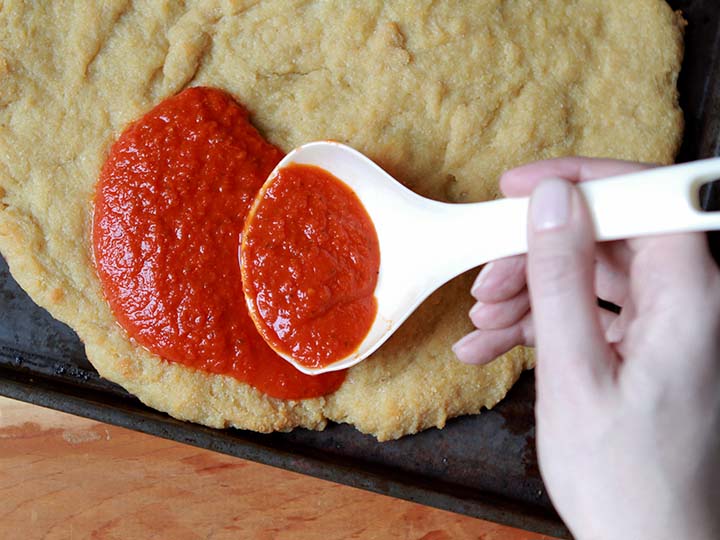 Today's Keto Yeast Dough Pizza Crust recipe is quite a bit like Boboli crusts, except this one has a fraction of the carbs.
This is a recipe for a real low carb yeast dough pizza crust that you can make from the privacy of your own home. Top it with tomato sauce, cheese and your favorite toppings and bake it up. Soon your house will smell like you are in an authentic Italian pizzeria.
LOW CARB TOPPING IDEAS:
Great Keto toppings include: onions, tomatoes, green peppers, roasted red peppers, ham, sausage, bacon, pepperoni, mushrooms, spinach, prosciutto, fresh basil, garlic, eggplant, hot peppers, olives, salami, parmesan cheese, pecorino cheese, fresh mozzarella and chicken. Aside from pineapple and corn, you can use just about any pizza topping on this low carb pizza.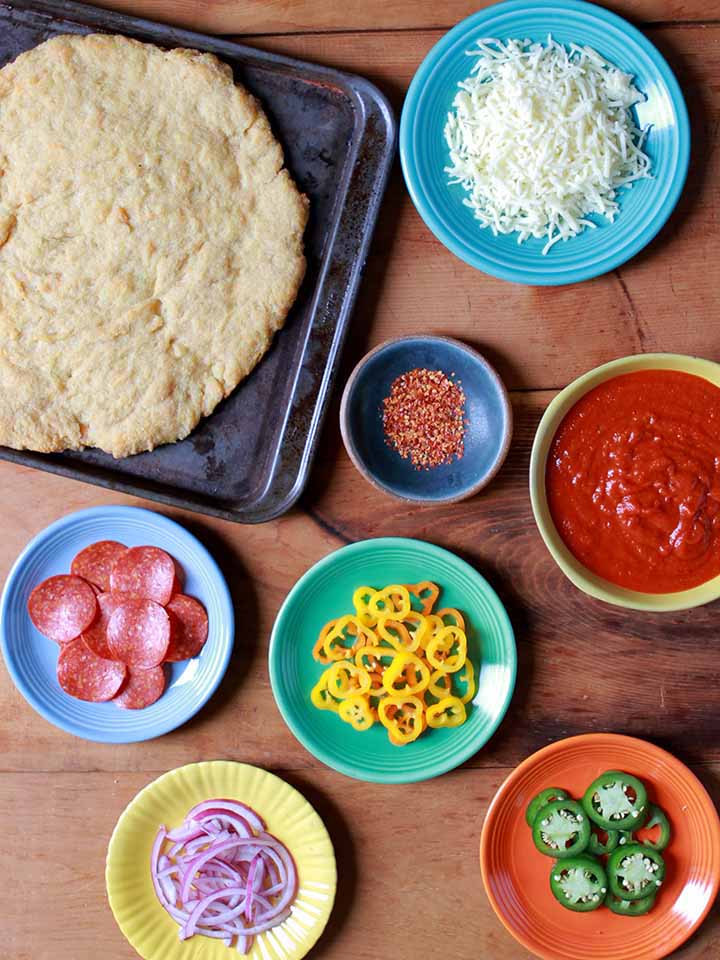 Now, this recipe isn't necessarily quick or easy, but it is real pizza, so it's worth a little perseverance and grit.
You'll be making a yeast bread dough, so you'll need to proof the yeast, mix up the dough, knead the dough and let it rise before baking it in the oven. The pizza crust is primarily made from almond flour and vital wheat gluten. This combination of gluten and yeast makes this low carb pizza crust the closest to the real thing that I've ever tasted.
So watch out cauliflower crust pizza.
Your days are numbered, my friend.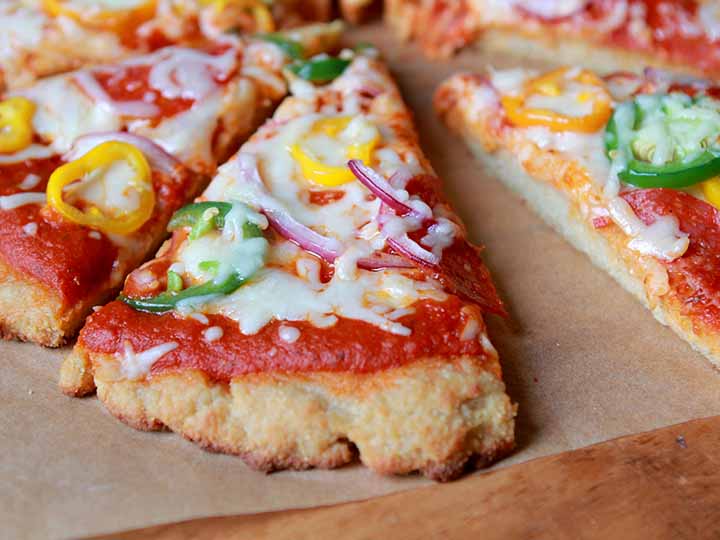 Print
Keto Yeast Dough Pizza Crust
This Keto Yeast Dough Pizza Crust recipe is the real deal.  It's a yeast leavened bread dough that is the perfect backdrop for any kind of pizza topping.  And each slice has just 4g net carbs.
Author: Resolution Eats
Prep Time:

75

Cook Time:

33

Total Time:

1 hour 48 minutes

Yield:

8

slices

1

x
Category:

Entree

Method:

Baked

Cuisine:

Italian
1 cup plus 2 tablespoons warm (like bath water) water, divided
1 teaspoon sugar*
½ teaspoon ground ginger
1 envelope (2 ¼ teaspoons) active dry yeast
1 cup vital wheat gluten
1 ¼ cup super fine almond flour
½ teaspoon salt
1 ½ teaspoon baking powder
3 tablespoons extra virgin olive oil
½ tablespoon butter, melted
Instructions
1.  Cover a large cookie sheet with parchment paper.
2.  Add ½ cup warm water to a large bowl and mix in sugar until dissolved.  Gently mix in ginger and yeast and cover the bowl with a towel.  After 7-10 minutes, the mixture should be frothy with small bubbles.  If it is not frothy, then the yeast is dead and you need to start over with fresh yeast.
3.  As you are waiting for the yeast to proof, you can mix together all of the dry ingredients.  Sift all dry ingredients together into a medium sized bowl.
4.  Add remaining ½ cup plus 2 tablespoons warm water and olive oil to the yeast mixture and stir to combine.
5.  Slowly add the dry ingredients to the wet and stir with a wooden spoon or dough hooks until fully combined. 
6.  The dough should be sticky and rather wet.  If it is too dry to knead, then add a little more water.  Knead the dough for 3 minutes.
7.  Form the dough into a ball and place it on the parchment covered cookie sheet.  Press down on the dough with your fingers and the heels of your hands and form it into a large circular crust.  It should be about 11 inches wide. 
8.  Pre-heat the oven for 2 minutes until the temperature reaches 100-110 degrees F.  Place the crust in the warm oven and allow to rise for 45 minutes.
9.  Remove from the oven and pre-heat the oven to 375 degrees F. 
10.  Brush the crust with melted butter and bake for 12-15 minutes until crust is firm and just beginning to brown.
11.  Remove the crust from the oven and turn the heat up to 450 degrees F.
12.  Top your pizza with whatever you like and then pop it back into the 450 degree oven for another 6-8 minutes until the crust has browned and the cheese has melted.
13.  Allow the pizza to cool on the pan for 10 minutes before cutting into 8 slices. 
Notes
*The sugar is converted to alcohol and carbon dioxide in the fermentation process, so the carbohydrates are cancelled out.
Nutrition
Serving Size:

1 slice

Calories:

216

Fat:

15

Carbohydrates:

7

Fiber:

3

Protein:

16
Keywords: Low Carb Yeast Pizza Crust, Keto Yeast Pizza Crust, Low Carb Pizza, Keto Pizza
If you liked this low carb yeast bread recipe, then you might like my recipes for Farmer's Bread, Rustic Italian Bread or Rye Bread.