This recipe for baked Greek Meatballs with Tzatziki Sauce makes for the perfect party appetizer.

I just had the best lunch.
Though technically an appetizer, these baked Greek Meatballs with Tzatziki Sauce made a wonderful meal. (Did I eat the leftover Tzatziki Sauce with a spoon?)
Yes I did.
Over lunch, I finally watched the trailer for the new Captain Marvel movie. (below)
And I have to say, it looks like it's going to be epic. The film takes place in the 1990's, a fact that is brought home in the first shots of the trailer, when Captain Marvel falls from the sky and lands in a Blockbuster Video. Samuel L. Jackson is in this one but they've magically de-aged him by about 20 years. And Brie Larson looks like she can more than handle the role of Captain Marvel. She definitely brings the awesome sauce to picture.
But speaking of awesome sauce…
This Greek Tzatziki sauce turned out really well too. It's a simple combination of cucumber, Greek yogurt, lemon juice, olive oil and dried dill, but it makes for a very refreshing side to the baked Greek Meatballs.
And the meatballs themselves are a thing of beauty.
I added almond flour to lighten them up, and water to steam the meat. The result is a nice tender baked Meatball and Tzatziki Sauce combo with only 2g net carbs per serving. But enough about food.
Now I need to watch the Captain Marvel trailer a few dozen more times in search of Easter eggs.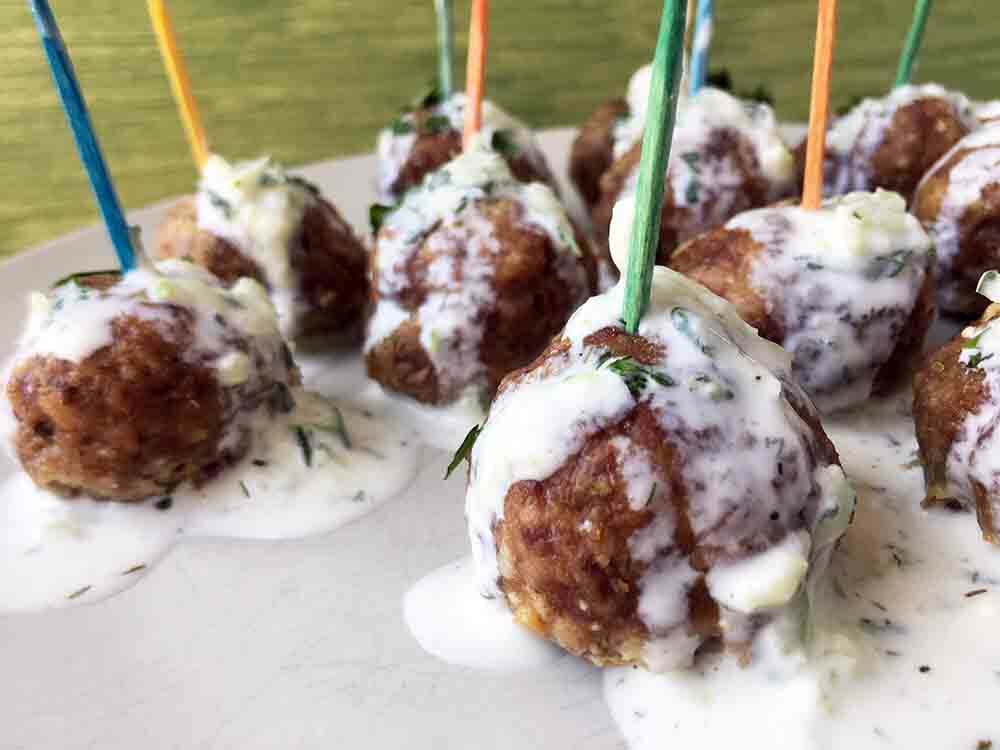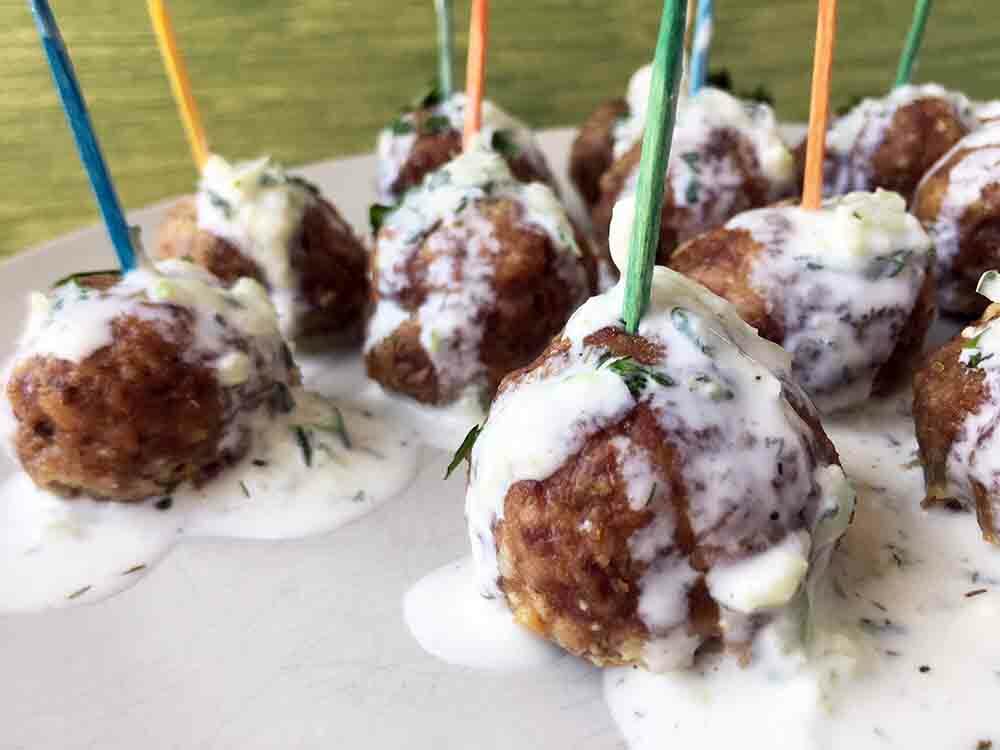 Print
Baked Greek Meatballs with Tzatziki Sauce
This recipe for baked Greek Meatballs with Tzatziki Sauce makes for the perfect party appetizer.
Author: Resolution Eats
Prep Time:

15

Cook Time:

20

Total Time:

35 minutes

Yield:

26

meatballs and 2 cups tzatziki sauce

1

x
Category:

Appetizer

Cuisine:

Greek
Meatballs:
1 ½ pounds ground beef or lamb
2 cloves garlic, minced
1 teaspoon dried oregano
½ teaspoon dried rosemary, crushed
½ teaspoon ground cumin
½ teaspoon dried thyme
¾ teaspoon salt
¼ teaspoon black pepper
¾ cup grated parmesan cheese
½ cup super fine almond flour
½ cup warm water
2 large eggs, beaten
Tzatziki Sauce:
1 cup full fat Greek Yogurt
1 English Cumber, grated with the skin left on
1 teaspoon fresh lemon juice
1 teaspoon olive oil
½ teaspoon salt
¼ teaspoon black pepper
¼ teaspoon dried dill
Instructions
1.  Preheat oven to 350 degrees F and cover 2 large cookie sheets with aluminum foil.
2.  Mix all the meatball ingredients together in a large bowl.  Squish the mixture through your fingers until it is smooth and combined.
3.  Scoop out rounded tablespoons of the mixture and roll them into balls.  Place the meatballs on the prepared cookie sheets.
4.  Bake the meatballs for 20 minutes until browned and cooked through.  Carefully remove the fat surrounding each meatball with a spoon.  Spear each meatball with a toothpick.
5.  Grate cucumber into a medium sized bowl.  Mix in remaining tzatziki ingredients until fully combined.  
6.  Either drizzle tzatziki sauce over meatballs or serve the sauce on the side.
Nutrition
Serving Size:

2 meatballs and 2 ½ tablespoons tzatziki sauce

Calories:

186

Fat:

11

Carbohydrates:

3

Fiber:

1

Protein:

19
Keywords: Low Carb Greek Meatballs, Keto Greek Meatballs, Low Carb Tzatziki Sauce, Keto Tzatziki Sauce
If you liked this low carb ground beef recipe, then you might like my recipes for Stuffed Peppers, Beef Tamales or Meatloaf.