These tasty Keto Christmas Cookies have got just 1g net carbs each. They are gluten-free, sugar-free, grain-free, low carb, and out of this world.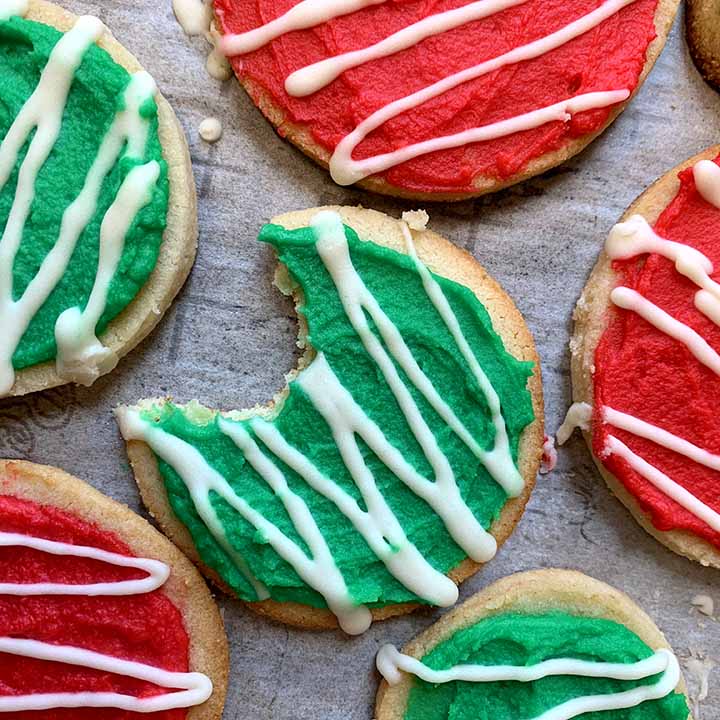 Jump to:
🎵"I'm dreaming of a white Christmas, just like the ones I used to know." Bing Crosby 🎵
Season's greetings 👋
Today I'm going to share a sugar-free recipe for Keto Christmas Cookies, a holiday treat that is a must-have on any self-respecting cookie tray. So put White Christmas on repeat, and let's take a trip back to holidays past.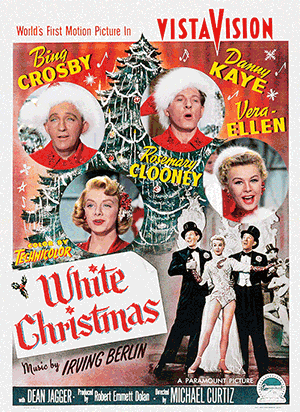 But first, a fun fact about the song White Christmas, because I can't resist. 🎅
Did you know that it is the largest grossing single of all time, selling more than 50 million copies? It's true. It's in the Guinness Book of World Records and everything. You might think that that honor would go to Michael Jackson or the Beatles or Elton John, but you would be off by tens of millions of copies.
Nope, a Christmas song, written by a Jew, is the biggest grossing song in the history of music.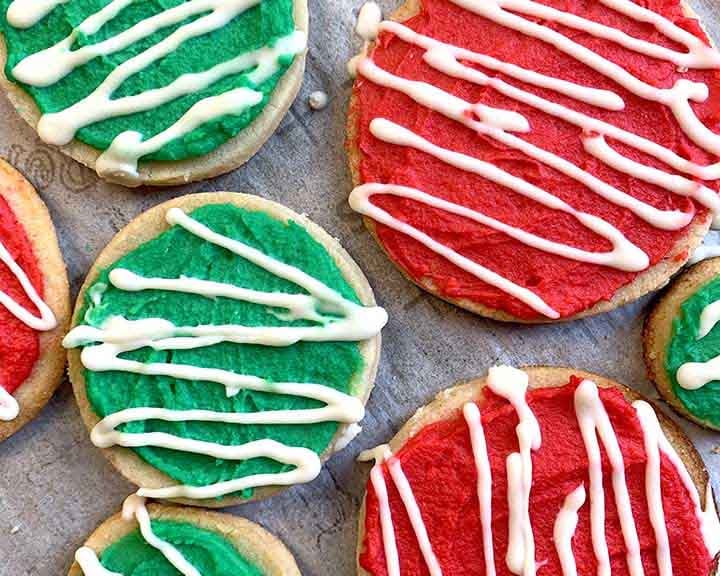 The Christmas Cookie recipe that I am going to share with you today is sugar-free, gluten-free, and grain-free. (It is all the frees!) It only takes 35 minutes to whip these babies up and each cookie has just 116 calories and 1 gram of net carbohydrate. So if you are on a low carb or Keto diet, these cookies are the way to go.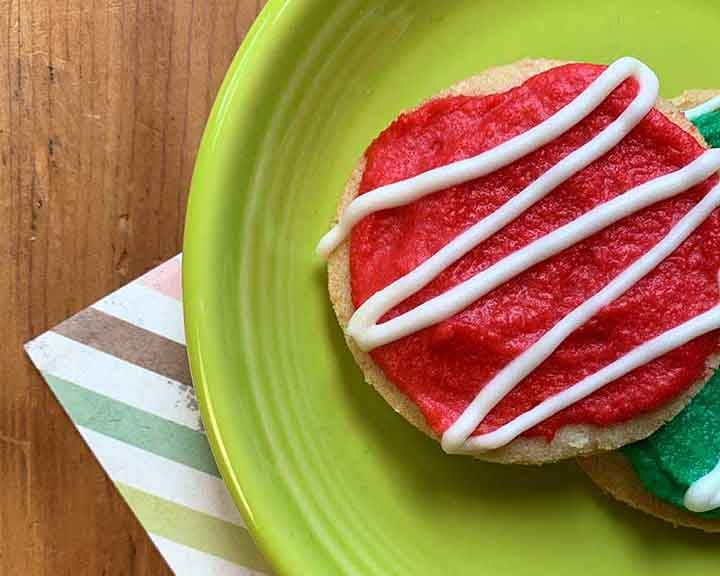 🥣 Ingredients
almond extract
butter
baking powder
heavy whipping cream
red and green food coloring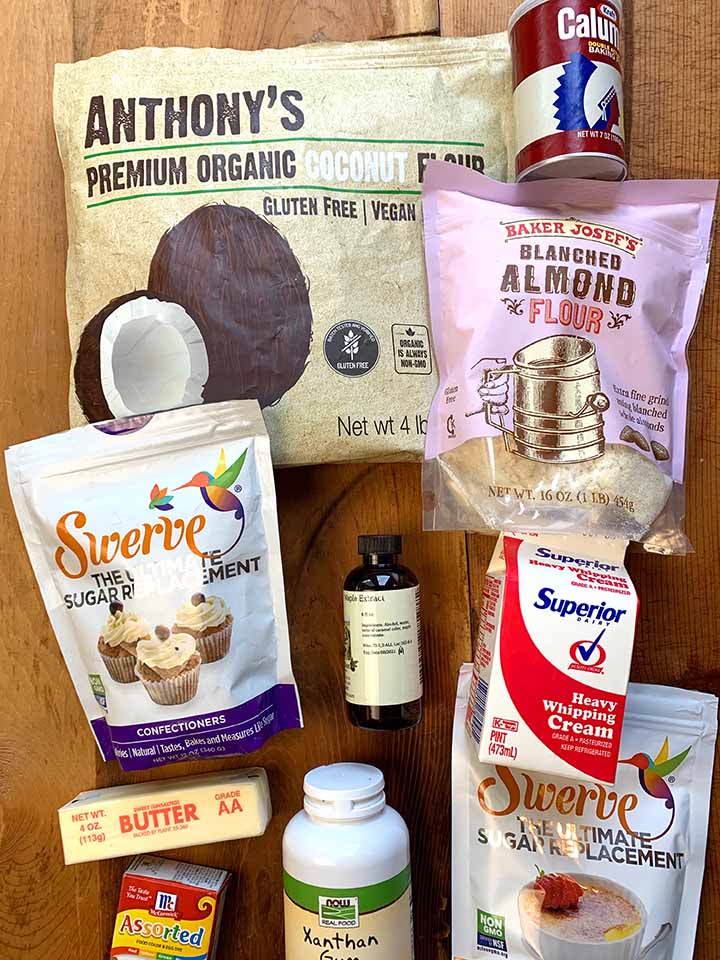 💰 Specialty Ingredients
👩‍🍳 Tips and Tricks
You should know that the cookies come out of the oven quite soft. So don't touch them until they have cooled for at least an hour. They'll be crisped and firm by then. But until then, hands off the cookies.
And the icing goes onto the cooled cookies pretty wet. Let the icing dry out for 2 hours before stacking the cookies on a serving plate or airtight container. To store the cookies, stack the cookies in the container in layers that are separated with parchment paper to keep the frosting from getting smooshed.
Only use circular cookie cutters, or cut into squares. I tried to make some more complicated shapes and it did not end well. So just stick with simple shapes.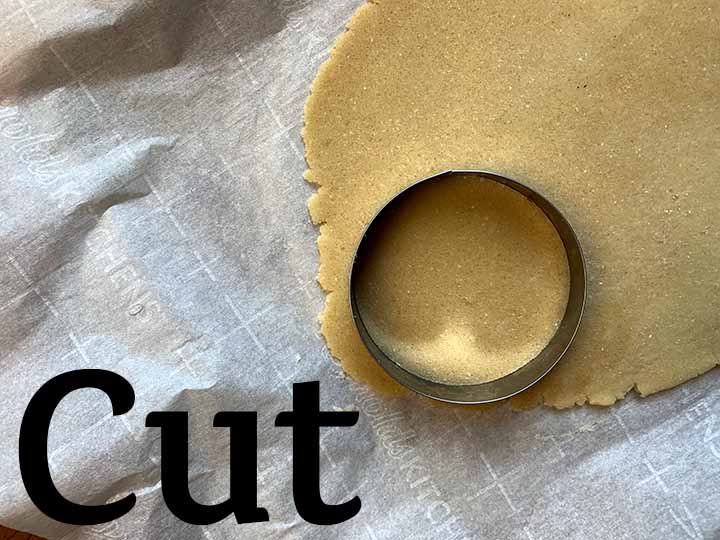 More tips, more tricks
But this dessert contains nuts, so you need to label it accordingly. If you are going to be feeding a crowd, you should write a label so that every one knows what is in the cookies. People don't expect cookies to be made from almond flour, so someone with a nut allergy might accidentally eat a cookie. So just take care.
I used two kitchen items to frost the cookies. I used a rubber spatula to spread the red and green icing onto each cookie. Then I put the thinner white frosting into a plastic bottle with a very small spout. These bottles look like ketchup bottles, but the smaller spout makes it easy to get nice thin lines. Alternately, you can add the white frosting to an icing bag and use a small tip. You can also just use a spoon to drizzle the frosting, but it will be less uniform and less precise.
These Keto Christmas Cookies need to be stored in an airtight container. They last for 3 days at room temperature. Or you can freeze the unfrosted cookies for up to 6 months. You can also wrap the uncooked dough in plastic wrap and store it in the refrigerator for up to 5 days.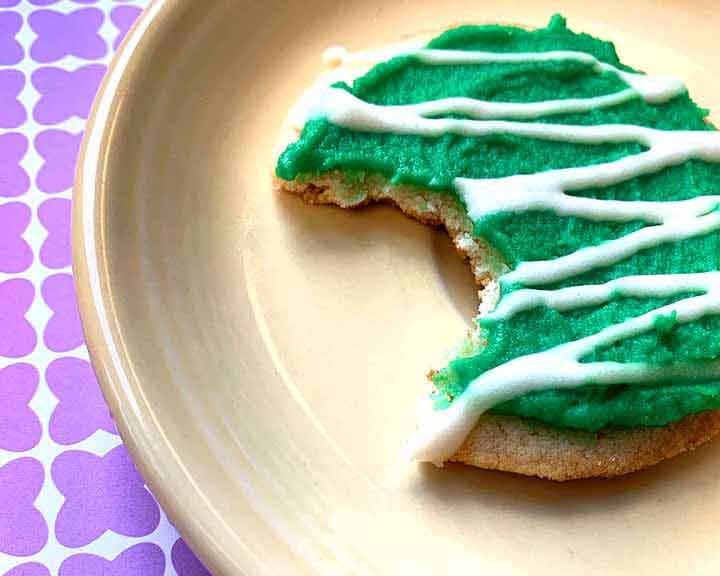 🔪 To make bite sized cookies
For this recipe, I used mixed sizes of circular cookie cutters.  So the cookies were either 6 ½, 5 ½ or 3 ½ cm wide.  When I bring these Keto Christmas cookies to a party, I like using the smallest or second smallest size.  You can also cut them into small squares for little bite sized cookies. That way, people can pile up a few more cookies on their dessert plates without feeling too bad about it. 
If you like these Christmas cookies, then you might like to try some other treats like my Ketogenic Cupcakes or my Keto Donut recipe.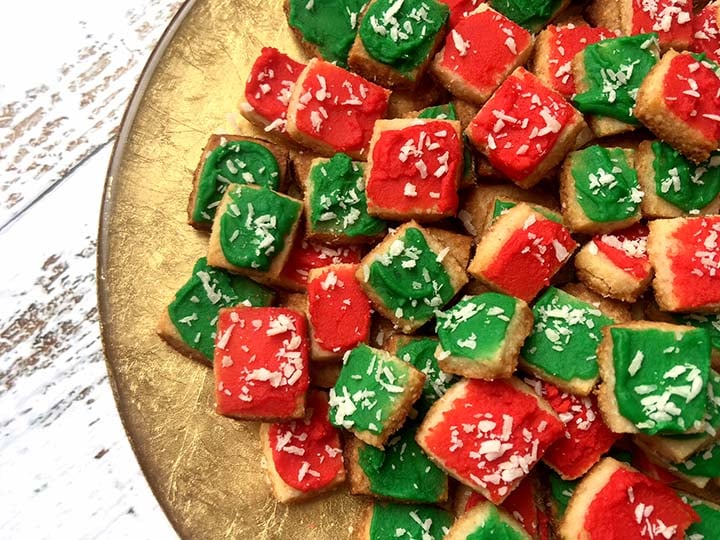 Phew! You got all that? 🤶
Don't worry, there won't be a test. It's actually very easy to make these Keto Christmas Cookies, and it will only take you a little over half an hour. Then you'll have a batch of delicious sugar-free cookies with only 1g net carbs each.
Now all you need is a White Christmas. 🎄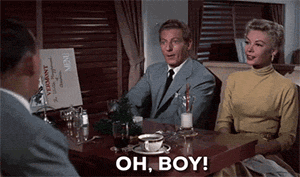 Print
📋 Recipe
Colorful Keto Christmas Cookies
These tasty Keto Christmas Cookies have got just 1g net carbs each. They are gluten-free, sugar-free, low carb, and out of this world.
Author: Emily Krill
Prep Time:

15

Cook Time:

20

Total Time:

35 minutes

Yield:

26

cookies

1

x
Category:

Dessert

Method:

Baked

Cuisine:

American
shortbread cookies:
frosting:
5 ¾ teaspoons

heavy whipping cream, divided

1 ¼

cup

Swerve Confectioners, divided

½ teaspoon

green food coloring

½ teaspoon

red food coloring
Instructions
Step 1.  Mix the dry ingredients in a large bowl.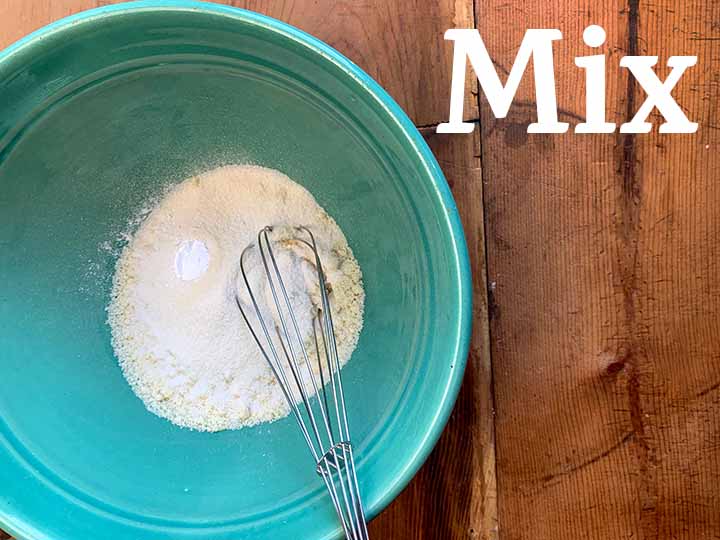 Step 2.  Add the softened butter and almond extract and beat with an electric mixer until combined.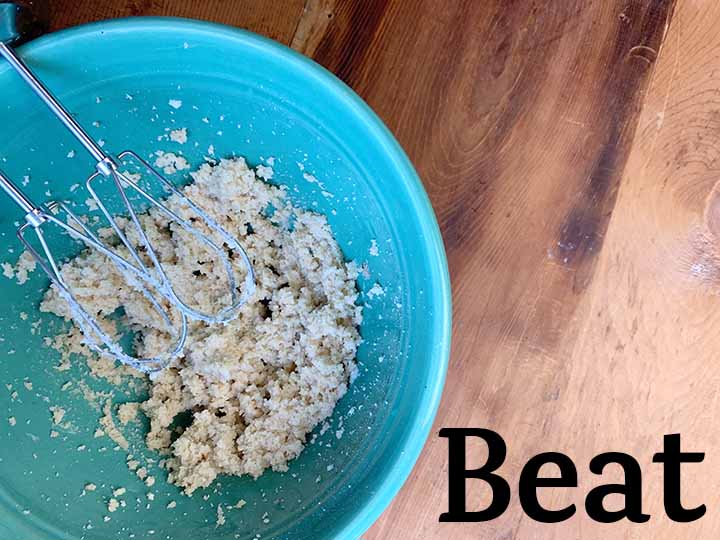 Step 3. Use your hands to form it into 2 balls.  Set one ball of dough aside.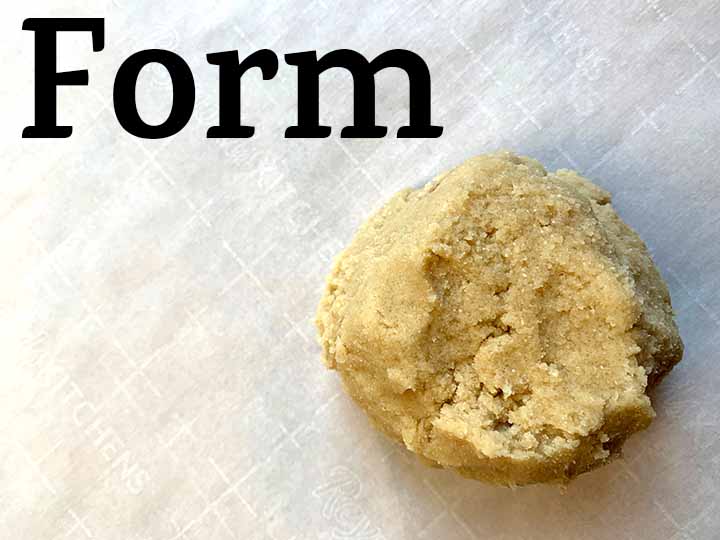 Step 4.  Roll out the other ball of dough between 2 sheets of parchment or wax paper to ¼ inch thick.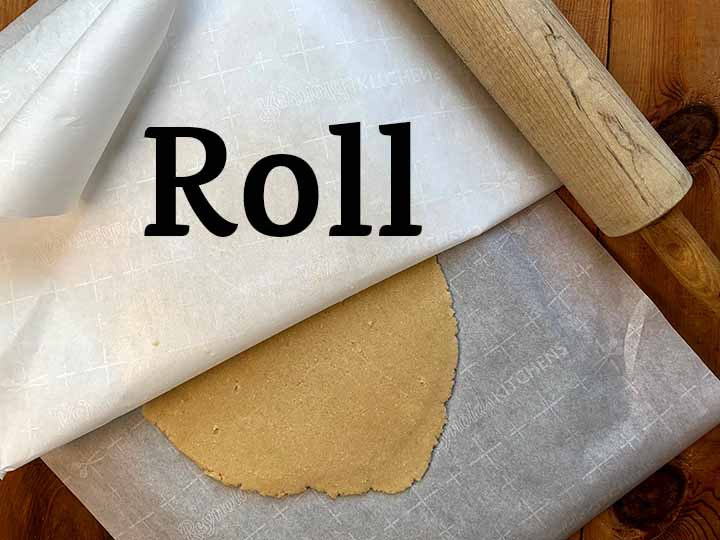 Step 5.  Place the rolled-out dough in the freezer for 10 minutes to make it firmer and easier to work with.  As soon as the dough goes into the refrigerator, pre-heat the oven.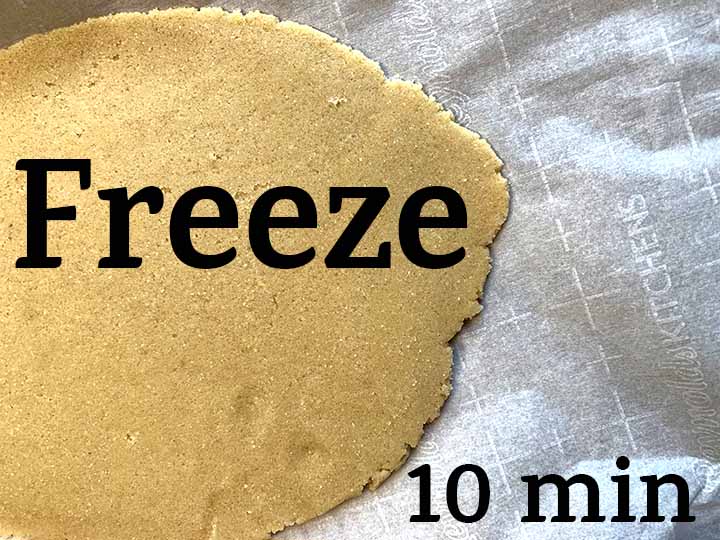 Step 6.  Preheat the oven to 350 degrees F and cover 2 cookie sheets with parchment paper.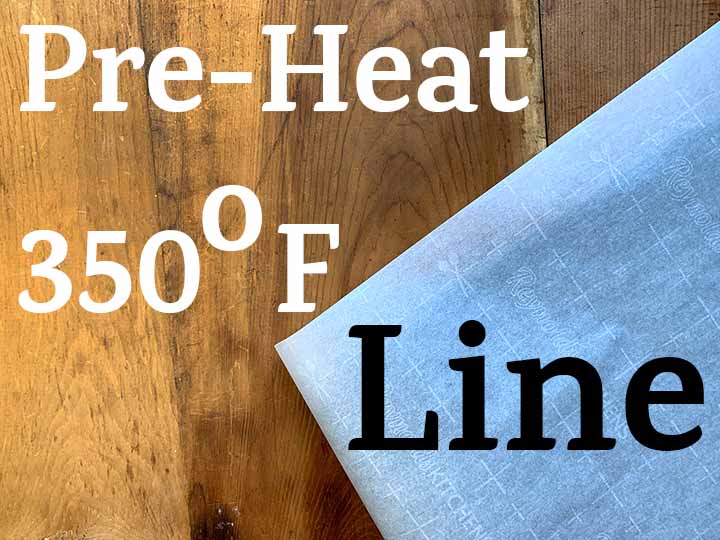 Step 7.  Cut your cookies with a circular cookie cutter or cut into squares or diamonds.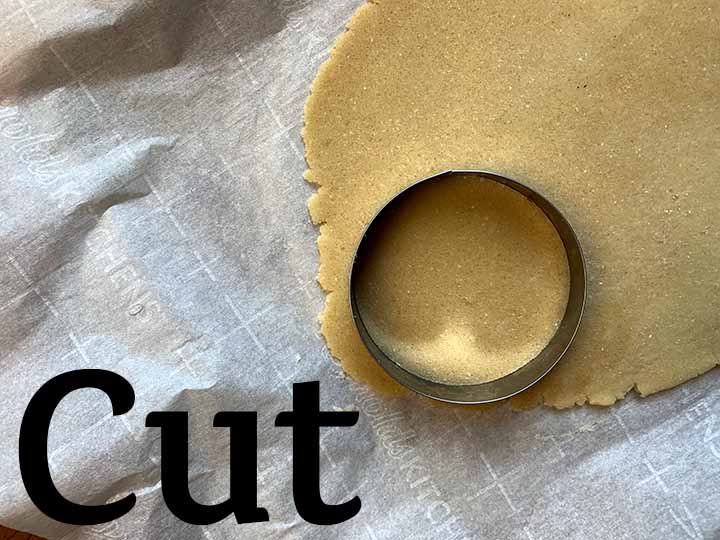 Step 8.  Place cookies on the parchment-covered cookie sheet and bake for 7-9 minutes or until the edges just begin to brown.  The cookies will be very soft when they come out of the oven, so don't touch them until they have cooled and firmed up.  Repeat steps 4-8 with the remaining ball of dough.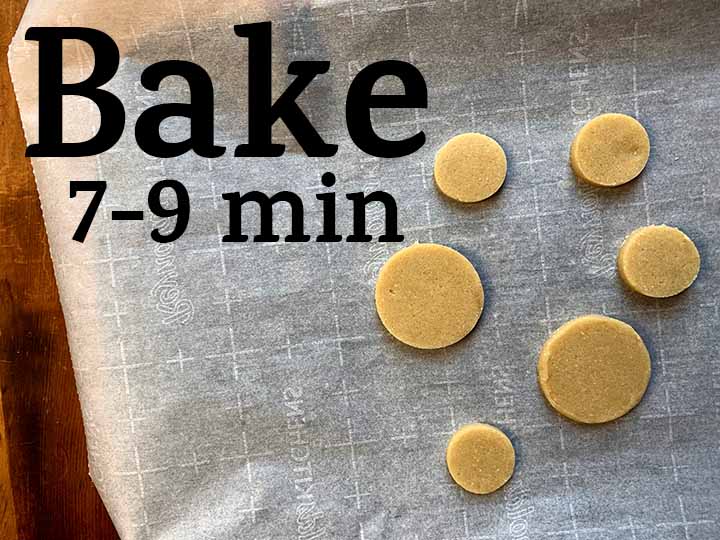 Step 9.  Let the cookies cool completely before icing them, 1-2 hours.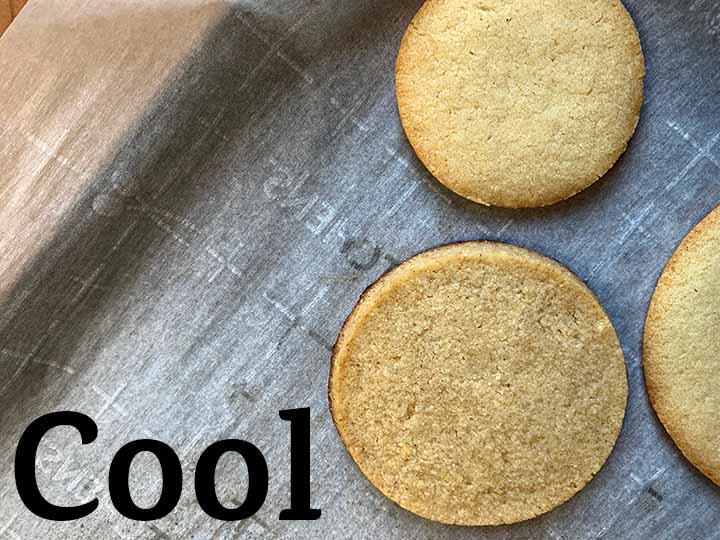 Step 10.  To make the icing, get out three small bowls.  In one bowl, mix together ½ cup Swerve Confectioners, 2 teaspoons heavy whipping cream, and ½ teaspoon red food coloring.  In another bowl, mix together ½ cup Swerve Confectioners, 2 teaspoons heavy whipping cream, and ½ teaspoon green food coloring.  And in the last bowl, mix together ¼ cup Swerve Confectioners and 1 ¾ teaspoon heavy whipping cream.  The colored frosting should be spreadable and the white frosting should be thin enough that you can drizzle it.  If not, then add more sweetener or heavy whipping cream as needed until it reaches the right consistency.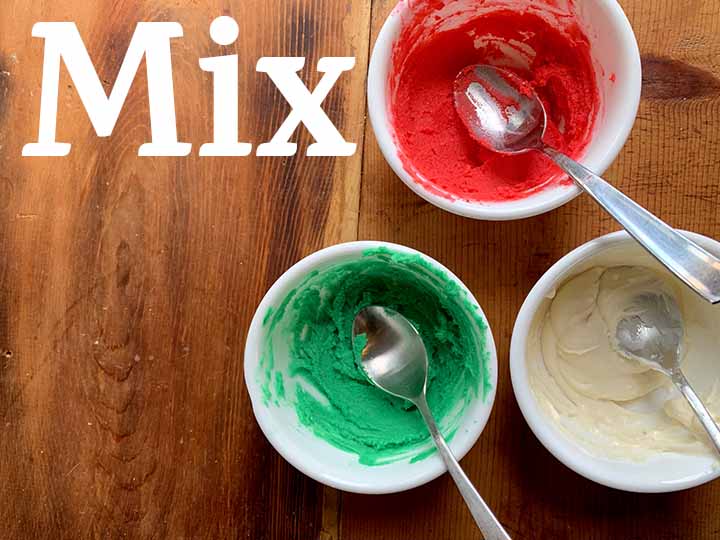 Step 11.  Use the red and green icings to ice the cookies with a rubber spatula.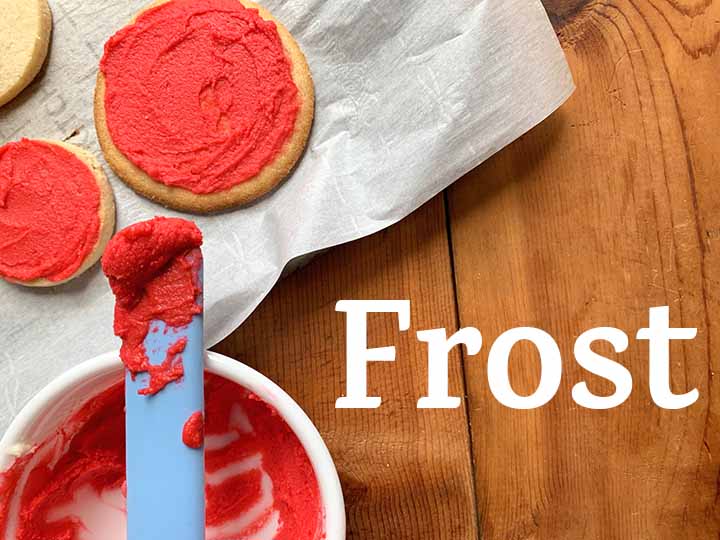 Step 12.  Get out the remaining bowl of white frosting.  Add frosting to a squirt bottle with a small spout or an icing bag with a small tip.  Drizzle the white frosting in back and forth motions over the red and green cookies.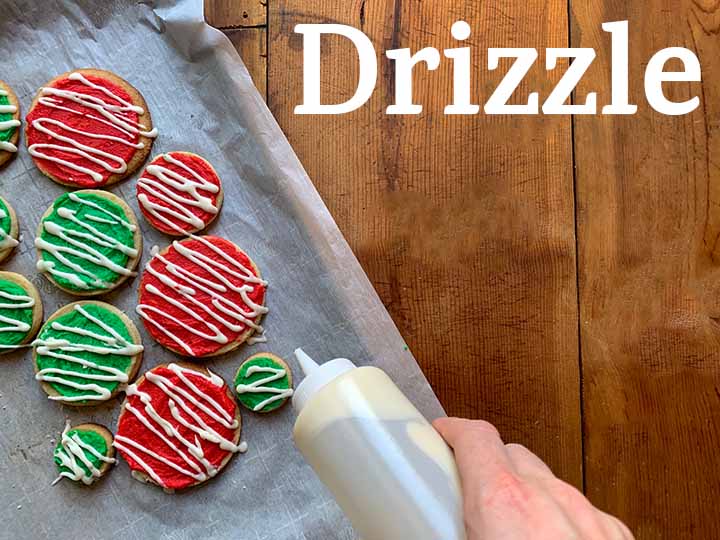 Step 13.  Allow the frosting on the cookies to dry out for about 1-2 hours before serving.  Store in an airtight container for up to 3 days at room temperature.  Stack the cookies in the container in layers that are separated with parchment paper to keep the frosting from getting smooshed.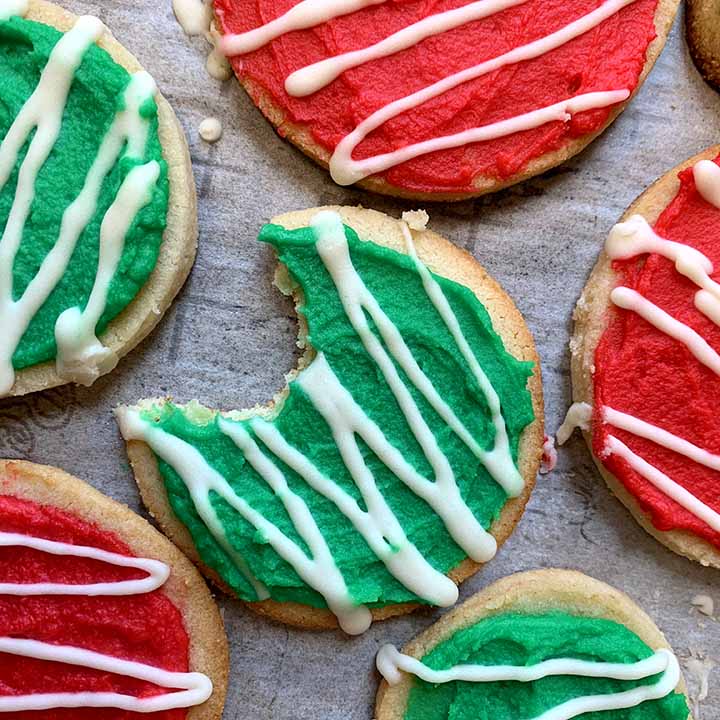 Equipment
Notes
*If you take these cookies to a party, make sure to clearly mark that they contain nuts.  Most people don't expect a cookie to use almond flour, so people with nut allergies might inadvertently eat one.  
Nutrition
Serving Size:

1 medium sized cookie

Calories:

116

Fat:

11

Carbohydrates:

3

Fiber:

2

Protein:

2
Keywords: Keto Christmas Cookies, Low Carb Christmas Cookies, Gluten Free Christmas Cookies
For more specialty ingredients, hustle your bustles over to my Keto Pantry.
And for more cooking tools, check out the Cook Shop.