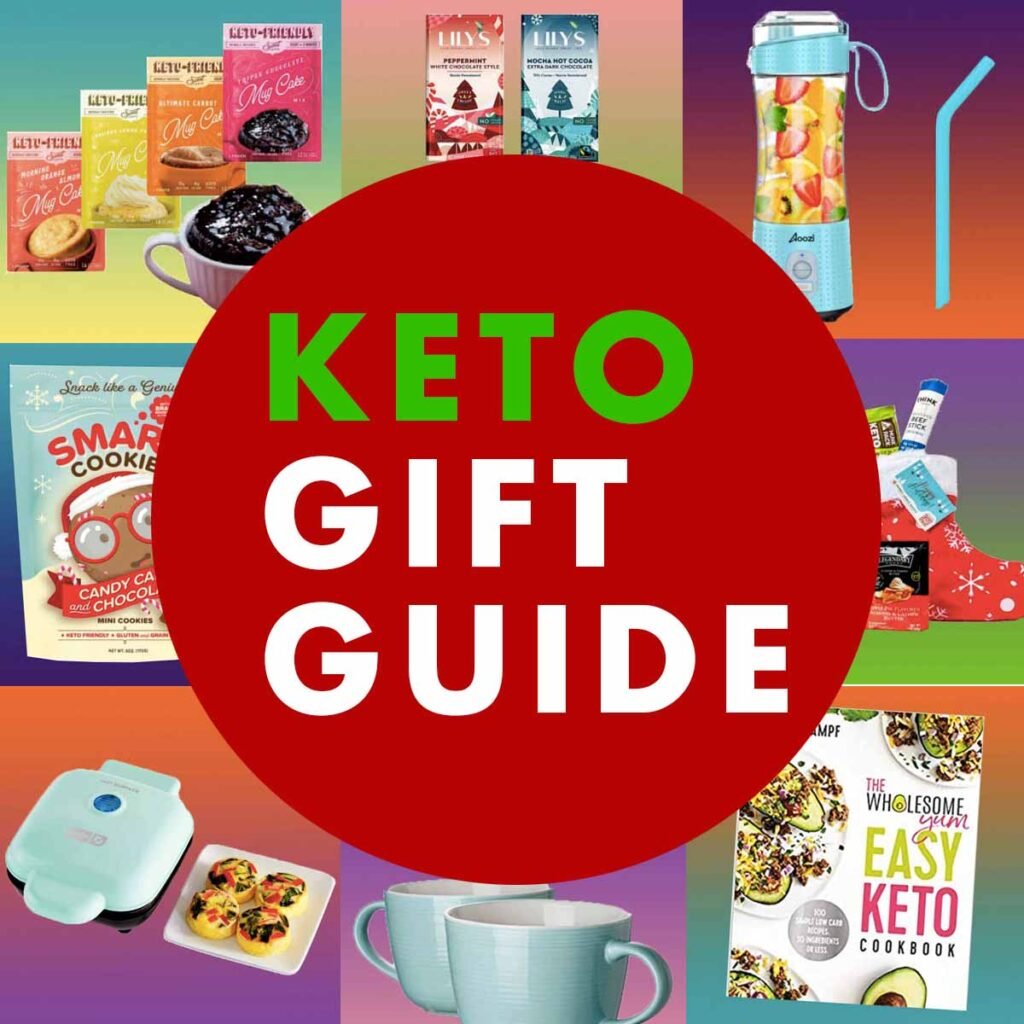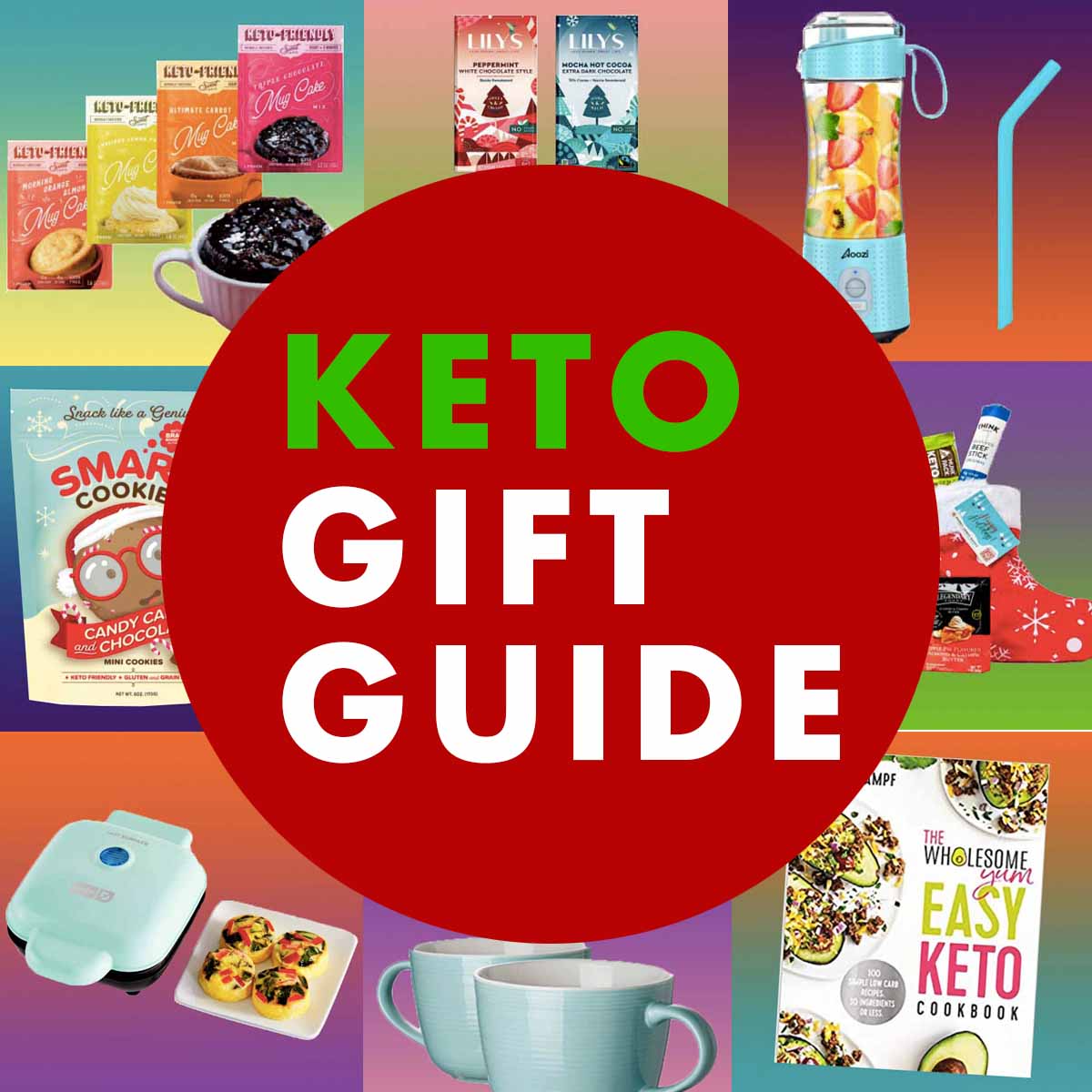 Greetings holiday shoppers 👋
I'm here with a whole mess of Keto gifts for the low carb dieters in your life.  Now, I should warn you, buying Keto-friendly gifts is a slippery slope.  You are basically saying "I love you, here's a gift that will help you lose weight."  
So it takes a certain amount of finesse to pull these gifts off.  But often, after people lose a significant amount of weight on Keto, they sing its praises to the rooftops. So if you know anybody that fits that description, then these are the perfect gifts to give them this year.  
So here they are, 11 great gifts for Keto dieters, in order of price.


Avocado Slicing and Storage Set
You know how much we Keto dieters love our avocados, so this tool is pretty darn handy. It's one of those "I-didn't-know-that-was-a-thing" things. It slices, pits, and scoops out avocados and then stores the leftover halves so they won't go brown as quickly. Genius. And unlike most gifts, odds are your friend or family member doesn't have one of these yet. It costs $11.
The Wholesome Yum Easy Keto Cookbook: 100 Simple Low Carb Recipes with 10 Ingredients or Less
This cookbook features 100 super simple, is-it-really-keto-it-doesn't-taste-Keto recipes including flourless chocolate chip peanut butter waffles, sheet pan sausage breakfast sandwiches, crispy keto chicken fingers, spaghetti squash ramen soup, and keto garlic breadsticks.  Pretty much every dish you've missed is made Keto in this delightful yet useful cookbook.  It costs $12.  
Candy Cane and Chocolate Smart! Cookies
This bag of Keto cookies is simply adorable.  And the low price and festive bag make it a great party host gift or stocking stuffer.  In addition to Chocolate Peppermint, they make Chocolate Chip, Birthday Cake, and White Chocolate & Raspberry cookies too. The cookies are sugar-free, grain-free, dairy-free, and gluten-free.  They are all of the best frees!  They cost $14 per bag.
Lily's Sugar-Free 70% Dark Chocolate Chocolate Bar Sampler
Lily's is the end-all-be-all of naturally-sweetened sugar-free chocolate.  They make all kinds of candy bars and chocolate chips for low carb dieters.  The sampler includes Extra Dark Chocolate, Blood Orange Extra Dark Chocolate, Salted Caramel Extra Dark Chocolate, and Sea Salt Extra Dark Chocolate.  They make milk and white chocolate bars as well.  The sampler of 4 bars costs $20.
Portable Personal Size Blender
This is a cord-free USB-charged mini blender that you can take with you when you go out and about.  Keto dieters love their Keto shakes, so this is a great gift for people on the go.  The blender is mini but it is also mighty with long battery life and powerful blades.  And you can make a Keto shake in about 30 seconds flat.  Not too shabby for a little guy.  This blender costs $25.
Righteous Felon Biltong Beef Jerky
These Keto snacks make great Keto gifts just for the names alone.  The packaging is quite festive, and you can't beat names like Darth Garlic, Nelson ManDilla, and Ancho Villa.  These tasty meat snacks have zero sugar and 16 grams of protein.  It's a low-calorie low-carb snack that any Keto dieter would love to munch on. And it makes a great stocking stuffer because the bag is so beautifully designed that you don't need to wrap it.  It costs $20 for 3 bags.
Keto Snack Filled Stocking
Talk about a stocking stuffer!  This giant Keto snack-filled sock is pretty nifty.  It's got sweet chocolate, candied nuts, a chewy almond butter granola bar, savory chocolate chip cookie dough, sugar-free dark chocolate bark, and more.  And it has solid brands like Legendary, Keto Farms, ChocZero, Think Jerky, Munk Pack, and Bubbas.  I can vouch for these brands because I've sampled the treats myself (being a food blogger is hard, I know.). This giant treat-filled sock costs $25, and if you love them twice as much you can buy a larger snack box for $47.
Dash Deluxe Sous Vide Style Egg Bite Maker
If you love the Sous Vide Egg Bites that Starbucks makes, but hate the high carb count, then this baby is for you.  It makes soft and savory egg bites with very little carbohydrate.  These Keto snacks are great grab-and-go protein boosts.  This little appliance costs $24.
Mug Cake Mixes + 2 Large Mugs
Now, this is what you might call a multi-part concept gift.  These mug cake mixes make individually sized quick sweet treats, and the mugs can be used to make them in.  This is the perfect gift for friends who are doing Keto but have a sweet tooth.  And it's two mugs, so it's something you can do together. The mug and mug cake combo costs $28.
Cocktail Shaker Set
Fun fact about Keto: you can drink all the hard liquor that you want.  Within reason, of course.  So this cocktail shaker set is a somewhat fancy, but very useful Keto gift.  It is made up of a Stainless Steel Martini Shaker with 2 Stemmed Cocktail Glasses and a Double Jigger. It's another gift that you both can use together.  Martini anyone?  This set costs $35.
DIY Homemade Gin Kit
In keeping with this theme, you can't go wrong with a bottle of booze. Keep it to just spirits and you are golden. But here is an idea for the more enterprising loved ones in your life: a do-it-yourself gin kit. It's a home cooking project with a lovely end result. Plus you can drink the spoils of their labors the next time you see them. Win-win. This homemade gin kit costs $46.
Mercer Genesis Knives
Like diet-related gifts, knives require a certain amount of familiarity to pull off. You need to know someone pretty well before giving them a knife. But your friends and family will thank you for it because there is nothing more useful in the kitchen than a sharp knife. And you only really need three: a paring knife, a utility knife, and a chef's knife. Mercer's Genesis line is beautifully made and reasonably priced. Their paring, utility, and chef's knives range in price from $17-$36 and you can buy a set with a magnetic wooden board for $119.
Duo Crisp 11-in-1 Instant Pot
Ok, I thought I'd throw a big-ticket item for the Keto dieters in your life who deserve a really big gift this year.  It's this all-in-one wunderkind of an appliance that is a pressure cooker, air fryer, oven, steamer, saute pan, dehydrator, Sous Vide, broiler, roaster, and 2 more things that I can't recall at the moment.  The only thing this machine doesn't do is wash your dishes afterward.  The smaller 6-quart Instant Pot costs $100 and the larger 8-quart costs $140.  
And so ends my list of gift ideas for Keto dieters.
Hope you found something wonderful for the Keto dieter in your life.  These gifts are thoughtful, yet easy on the wallet. And I'm sure your friends and family will love and appreciate anything that you pick out for them.
But if you still haven't found the perfect gift, then you can check out my Keto Pantry and Cook Shop for more food and cookware ideas.  
Happy gifting! 😉