When you taste this Keto Deep Dish Pizza, you'll be singing, "That's Amore". It's got a real yeast bread thick crust and only 5g net carbs per slice.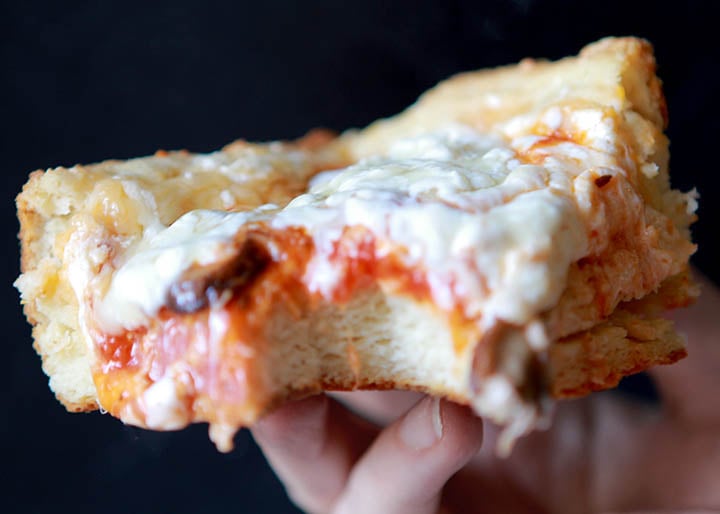 "When the moon hits your eye, like a big pizza pie, that's amore.
When the world seems to shine like you've had too much wine, that's amore." - Dean Martin
Greetings low carb pizza lovers. I just baked up a lovely Chicago Style Keto Deep Dish Pizza. It's a mouthful to say and a handful to eat. And I must warn you, if you make this pizza pie, then you will likely have Dean Martin's classic song, "That's Amore" stuck in your head the whole time. I know I did. And I can't sing "That's Amore" without thinking about the movie Moonstruck. So I had to look up my favorite scene. (Video below)
In the scene, Cher wakes up in bed with Nicolas Cage and completely freaks out. As anyone would.
Cage plays a one-handed guy named Ronny, the brother of Johny, the man that Cher is about to marry. So sleeping together was a terrible idea, especially given the spate of bad luck that has followed Cher's character all her life. But it can't be helped, because Ronny is in love with her. Which brings us to my favorite moment, when Ronny expresses his love and Cher slaps him in the face and yells, "Snap out of it!". Sometimes that's just what you gotta do to get someone's attention.
It's just like making this Keto Deep Dish Pizza, now that I think about it.
It's got a real yeast bread crust, so you'll need to slap the dough around a little bit to get the gluten up and going. This dough has a really nice rise to it, thanks to the low carb flour that I used. It's called the Carbquik Baking Mix and it's the closest thing to real flour that I've worked with so far. And each serving has just 2g net carbs, so that's a plus too. It's made from wheat though, so if you are gluten intolerant then you should steer clear. (You could try my Sausage or Chicken Crust Pizza instead, though.)
But I bet you are wondering how the pizza crust tastes.
I'm happy to report that this low carb deep dish crust tastes great. The classic crust is thick and bready and is just the slightest bit undercooked in the middle just like real Chicago Style pizza. But unlike normal deep dish pizza, which can have as much as 120g carbs per slice, this Keto Deep Dish Pizza Pie has just 5g net carbs per slice.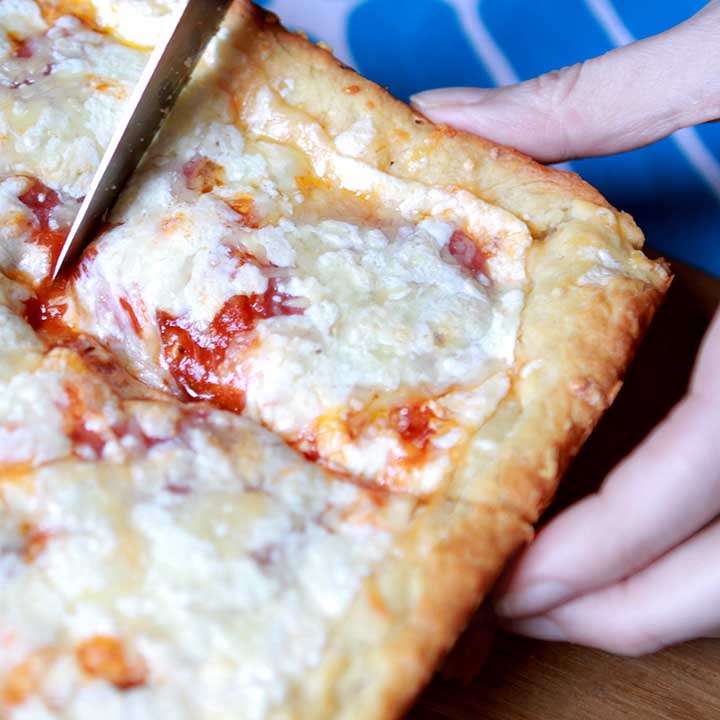 Now, you can fill your low carb deep dish pizza with just about any pizza topping you want.
For this recipe, I used mushrooms and pepperoni, but feel free to be less boring. As long as you stay away from Hawaiian-style pizza, then you're good. So good, in fact, that you may just fall in love with this deep dish pizza.
Because that's amore!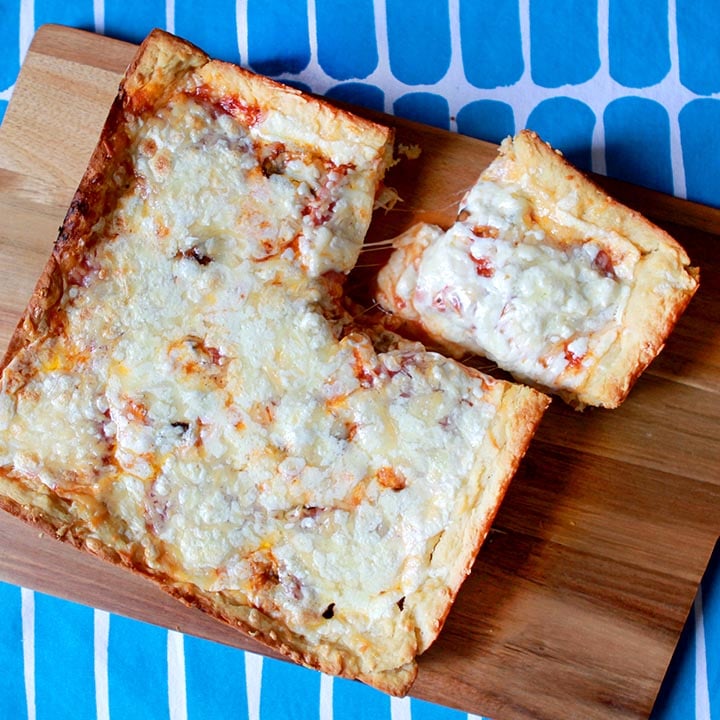 Print
📋 Recipe
Keto Deep Dish Pizza
When you taste this Keto Deep Dish Pizza, you'll be singing, "That's Amore".  It's got a real yeast bread thick crust and only 5g net carbs per slice.
Author: Emily Krill
Prep Time:

95

Cook Time:

38

Total Time:

2 hours 13 minutes

Yield:

6

slices

1

x
Category:

Entree

Method:

Oven

Cuisine:

Italian

Diet:

Diabetic
Pizza:
1

envelope (2 ¼ teaspoons) activated dry yeast

1

cup

warm water, divided

1 teaspoon

sugar*

¼

cup

extra virgin olive oil

2 ¾

to

3 ¼

cups

Carbquik Baking Mix
Toppings:
1 tablespoon

+

1 teaspoon

olive oil, divided

1 ⅓

cup

shredded mozzarella cheese, divided

¾

cup

Rao's Tomato Sauce or equivalent sugar-free tomato sauce

4

oz

sliced mushrooms

9

slices pepperoni

¼

cup

parmesan cheese cooking spray
Instructions
Step 1.  Grease an 8 x 8 or 9 x 9-inch baking pan.
Step 2.  In a large bowl, dissolve sugar in ½ cup warm (like bath water) water.  Stir in yeast, cover, and allow to ferment until frothy with small bubbles, 10 minutes.  If the yeast isn't frothy, then that means it's dead and you'll need to start over with fresh yeast.   
Step 3.  Mix in ¼ cup olive oil and remaining ½ cup water.
Step 4.  Add in 2 cups Carbquick in ¼ cup increments, stirring until fully combined.  Stir in remaining ¾ cup Carbquik.  Keep adding more until a kneadable dough forms.
Step 5.  Knead dough for 8-10 minutes until elastic and smooth.  There will be coconut flake-sized chunks of Carbquik in the dough.  That's ok.  
Step 6.  Put the dough into a large greased bowl and turn over to grease both sides of the dough.  Cover bowl with a towel.  Preheat oven for 3 minutes until temperature reads 100-110 degrees.  Turn off heat and place the dough into the warm oven to rise for 1 hour.
Step 7.  Remove the dough from the oven and preheat the oven to 400 degrees F.
Step 8.  Take a rolling pin and roll the dough out into a square shape about the size of the pan.  Place the dough inside the pan and press it into and up the sides of the pan.  The outer crust should go about ½ inch up the sides of the pan.  Brush the crust with olive oil.
Step 9.  Add 1 tablespoon olive oil to a large skillet and heat over Medium heat.  Saute mushrooms until softened, 8 minutes.
Step 10.  Add 1 cup mozzarella cheese on top of the pizza.  Spread tomato sauce over the cheese.  Add mushrooms and pepperoni and then top with the remaining mozzarella and parmesan cheese.
Step 11.  Spray a piece of aluminum foil with cooking spray and cover the pan loosely with it.
Step 12.  Bake pizza for 25 minutes and then remove aluminum foil. 13.  Bake for another 5-8 minutes until the cheese and crust have browned a little.  The internal temperature of the crust should reach 200 degrees F.
Step 13.  Serve immediately with extra tomato sauce on the side for dipping.
Notes
*The sugar will be converted to alcohol and carbon dioxide in the fermentation process so the carbohydrates are cancelled out.  The sugar has been left out of the nutritional info.
Nutrition
Serving Size:

1 slice

Calories:

369

Fat:

30

Carbohydrates:

27

Fiber:

22

Protein:

20
Keywords: Low Carb Deep Dish Pizza, Keto Deep Dish Pizza, Low Carb Chicago Style Pizza, Keto Chicago Style Pizza