This is a recipe for real yeast-risen Keto Flat Bread. It's low carb Ciabatta with only 5g net carbs per serving.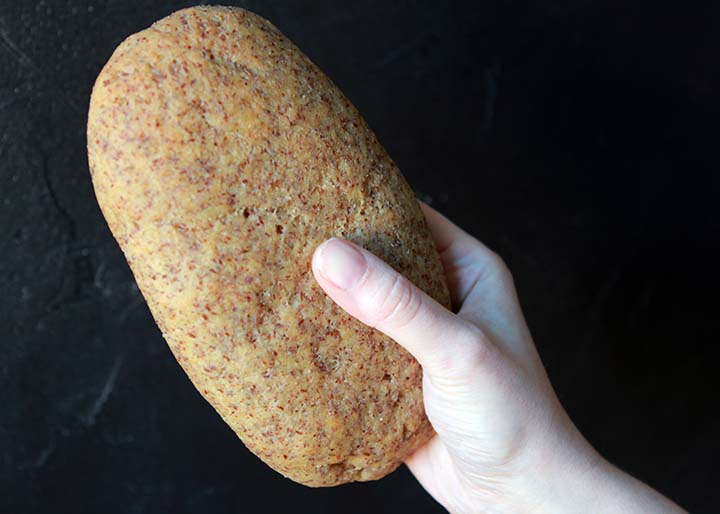 Greetings Keto Flat Bread lovers.
It's not always easy to be on a low carb or keto diet when all around you, people are mindlessly consuming bread. Wonderful, chewy, crusty, carb-filled bread. But that changes right now. That changes today, my friends. Because today I am going to share my recipe for Keto Flat Bread.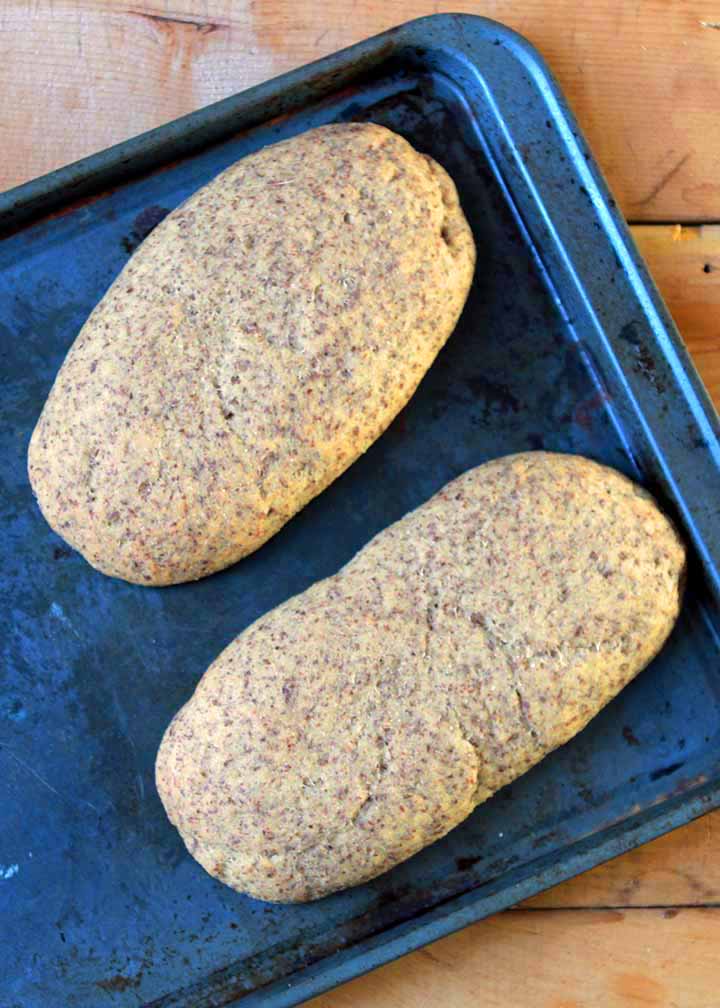 But first, I think we should put on some tunes to get us in the mood.
The image below is a link to a Youtube playlist of Dean Martin's Greatest Italian songs. You've got classic songs like "Mambo Italiana" and "That's Amore". So hit play and let's make some Italian bread, shall we?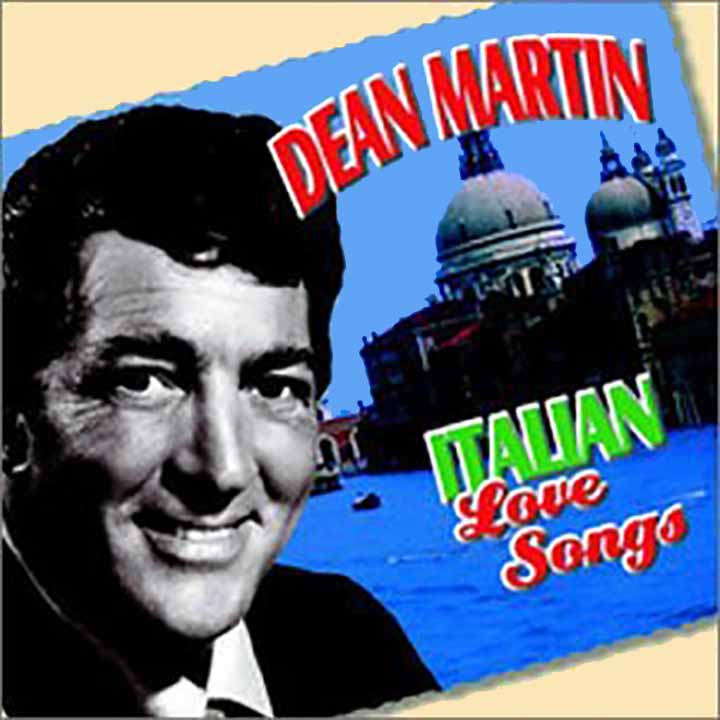 The first step of making yeast bread is arguably the most important.
You need to "proof" the yeast by mixing it with warm water and sugar and waiting for 10 minutes until the top becomes frothy with small bubbles. (See image below) It should be similar to the head on a draft beer. If the yeast mixture isn't frothy, then the yeast is dead and you'll need to start over with fresh yeast. Do not proceed if the yeast doesn't proof, because it will be a complete waste of very expensive ingredients.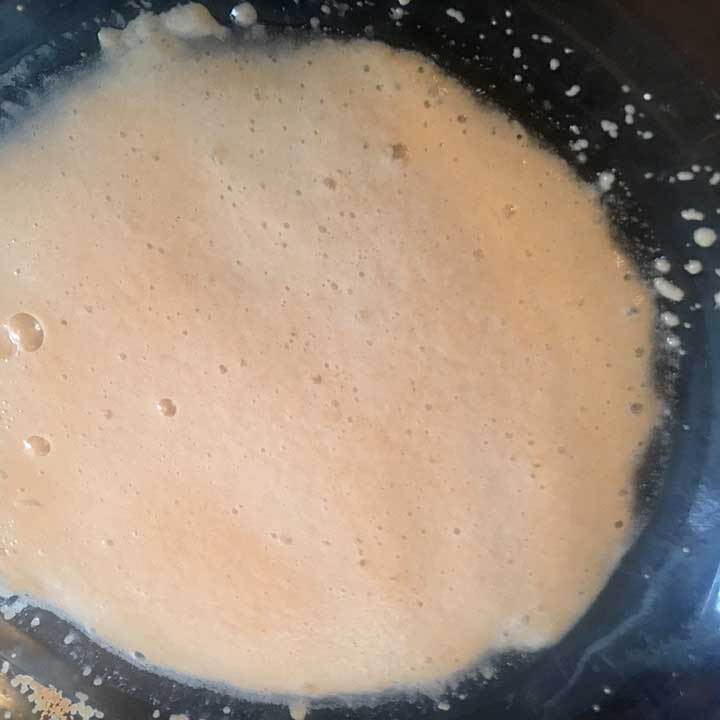 Now, you might have been given pause by the inclusion of sugar in the recipe.
But lucky for us, the sugar is converted to alcohol and carbon dioxide in the fermentation process, so the carbohydrates are canceled out. The carbon dioxide is what gives the bread those wonderful bubbles and sets this yeast bread apart from other low carb egg and almond flour based breads.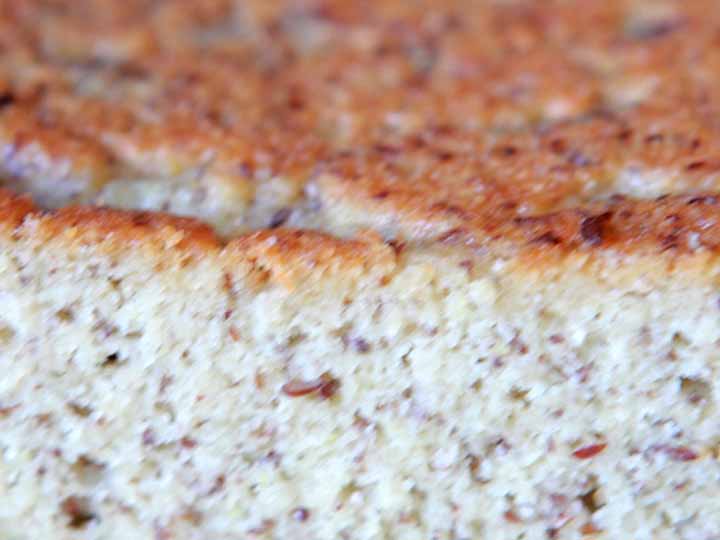 Once you get through proofing the yeast, then it's smooth sailing from then on out.
You mix up the rest of the ingredients and give the dough a good 3 minute knead to combine them. (Don't over-knead!) You split the dough in half and form it into loaves. They need to rise for an hour and then they are ready for the oven. Bake them up and soon your house will be filled with the glorious smell of fresh bread.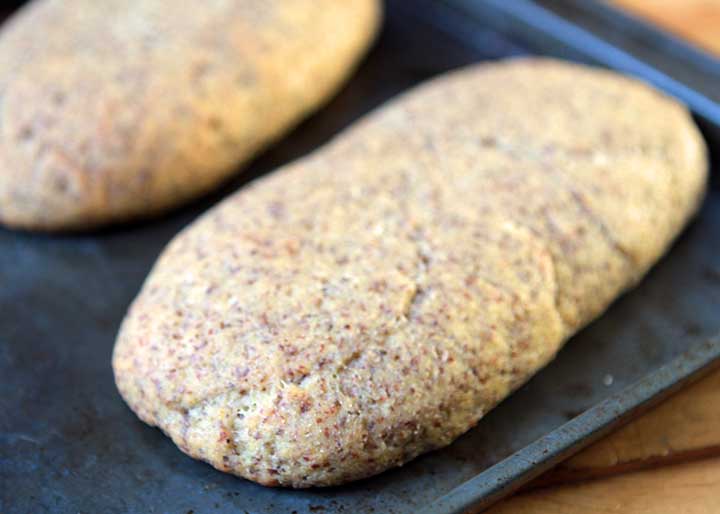 So there you have it.
You are about to have a couple of loaves of real yeast-risen Keto Flat Bread with only 5g net carbs per slice. And like I said before, it really helps the recipe to be listening to the velvety tones of Mister Dean Martin while you bake the bread. It's optional but highly recommended.
Ciao bella!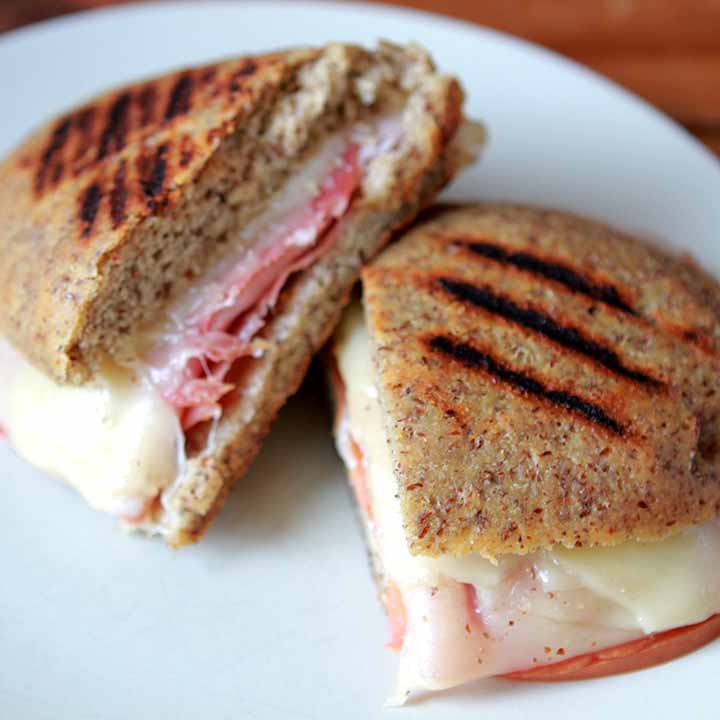 Print
📋 Recipe
Keto Flat Breaad
This is a recipe for real yeast-risen Keto Flat Bread.  It's got just 5g net carbs per serving.
Author: Emily Krill
Prep Time:

110

Cook Time:

40

Total Time:

2 hours 30 minutes

Yield:

6

servings

1

x
Category:

Bread

Cuisine:

Italian

Diet:

Diabetic
1

cup

plus

2

tablespoons

warm water, divided

1 teaspoon

sugar*

1

envelope (2 ¼ teaspoons) active dry yeast

1

cup

vital wheat gluten

1

cup

almond flour

¼

cup

flaxseed meal

¾ teaspoon

salt

1 ½ teaspoon

baking powder

3 tablespoons

extra virgin olive oil

1 tablespoon

butter, melted
Instructions
Step 1.  In a small bowl, mix together ½ cup warm (like bath water) water, sugar, and yeast.  Cover the bowl and allow to sit until frothy with small bubbles, about 10 minutes.  If the yeast isn't frothy then the yeast is dead and you'll need to start over with fresh yeast.
Step 2.  In a large bowl, mix together the remaining dry ingredients.  Sift them through a sifter or sieve.
Step 3.  Mix together the yeast mixture, remaining ½ cup plus 2 tablespoons water and 3 tablespoons olive oil. 
Step 4.  Either use a stand mixer with a paddle attachment or a wooden spoon to mix the dough together.  Slowly add the dry ingredients to the wet until fully combined.
Step 5.  The dough should be sticky and rather wet.  If it is too dry to knead, then add a little bit more water.  Knead the dough for 3 minutes with your hands or a dough hook on the stand mixer.
Step 6.  Divide the dough in half and form it into 2 tube shapes.  The dough loaves should be about 2 ½ x 7 inches.  Place the loaves onto a greased cookie sheet.    
Step 7.  Preheat oven for 2-3 minutes until temperature reaches 100-110 degrees F.  Turn the oven off and put the dough in the warm oven to rise for 1 hour.  At the end of the hour, the loaves should have risen to about 3 ½ x 8 inches.
Step 8.  Preheat oven to 350 degrees F.
Step 9.  Brush the top of the loaves with melted butter.  Bake for 15 minutes and then take the bread out of the oven and brush with butter.  Bake for another 10-15 minutes until the internal temperature reads between 190-200 degrees F.  Put the thermometer all the way into the side of the loaf to get the most accurate reading. The closer you get to 200 degrees, the crustier the loaves will be.
Step 10.  Allow to cool on the pan for 1 hour before cutting each loaf in half horizontally and then into thirds.
Notes
*The sugar will be converted to alcohol and carbon dioxide in the fermentation process so the carbohydrates are cancelled out. The sugar has been left out of the nutritional info.
Nutrition
Serving Size:

⅓ of a loaf

Calories:

286

Fat:

19

Carbohydrates:

9

Fiber:

4

Protein:

21
Keywords: low carb ciabatta, keto ciabatta, low carb flat bread, keto flat bread