This recipe for Ham and Cheese Keto Panini is a tasty Italian cooked sandwich. It's made with real yeast bread for a more authentic taste. And each slice of panini has just 6g net carbs.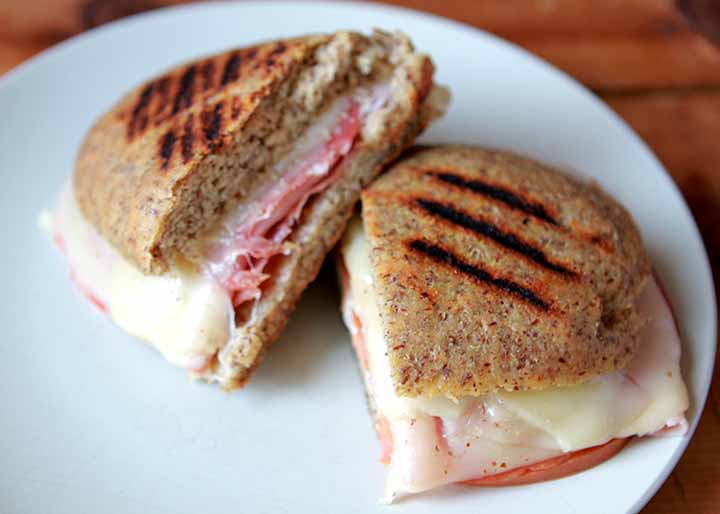 Buongiorno Principessa!
Today I'm going to share a low carb and keto recipe for the classic Italian sandwich: the Panini.  I should warn you though, that I'm going to ask you to make the low carb loaves of bread from scratch, so it will take about 2 ½ hours to make.  But it will be more than worth the effort because you will end up with a Keto Panini that could go toe to toe with a normal high carb panini, and come out on top.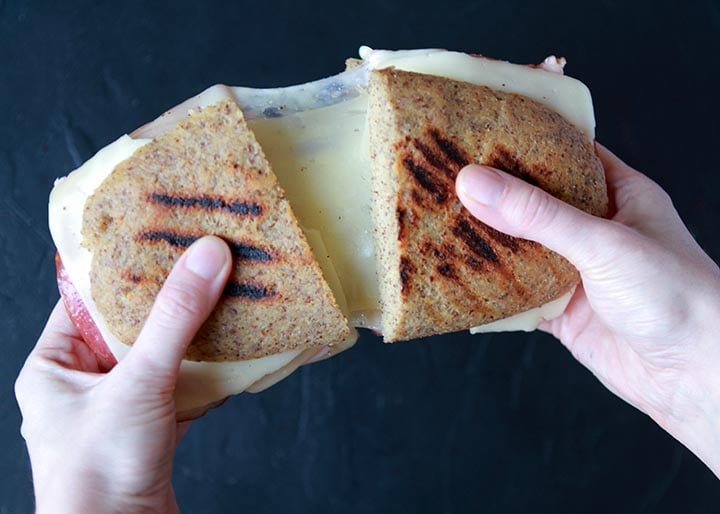 Still with me? Ok, let's start with the Keto Flat Bread.
The small loaves of bread that you see below are real yeast rolls made using almond flour, vital wheat gluten, and flaxseed meal in place of white flour.  Because it is real bread, you'll need to mix up the dough, knead it for a few minutes and then let it rise for an hour or so.  Then it goes into the oven and comes out as a wonderful smelling, perfectly chewy, and all-around tasty loaf of bread.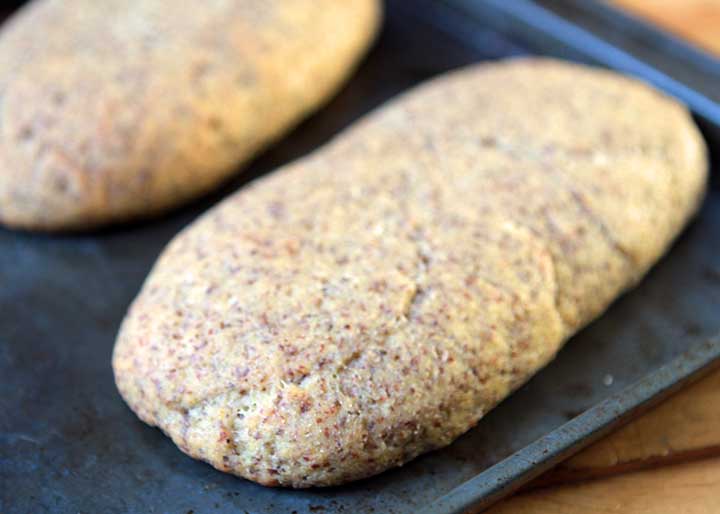 Once you've got your low carb yeast bread, next come the Keto Panini fillings.
For this recipe, I was going for an Italian vibe, so I filled my Keto Panini with mozzarella cheese, ham, and soppressata salami.  But you can fill them with just about anything.  If you can dream it, you can put it in a panini.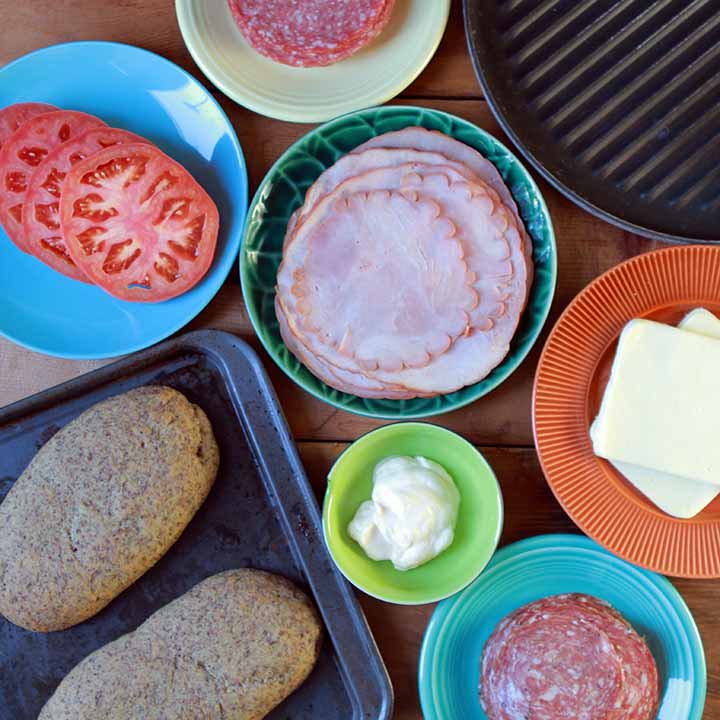 Last of all, you'll need a skillet or, even better, a sandwich press.
I know that sandwich presses haven't got much use lately, now that you are on a low carb diet.  But if you've got one, then by all means, dust it off and use it to make this low carb panini sandwich.  You won't be sorry you spent the time it took to make it because, at the end of the day, you'll have a real Keto Panini with just 6g net carbs. 
So trust me on this one, you won't be disappointed.

Print
📋 Recipe
Keto Panini
This recipe for Keto Ham and Cheese Panini is a tasty Italian cooked sandwich.  It's made with real yeast bread for a more authentic taste.  And each slice of panini has just 6g net carbs.
Author: Emily Krill
Prep Time:

110

Cook Time:

40

Total Time:

2 hours 30 minutes

Yield:

6

slices of panini

1

x
Category:

Entree

Cuisine:

Italian
Yeast Bread Rolls:
1

cup

plus

2

tablespoons

warm water, divided

1 teaspoon

sugar*

1

envelope (2 ¼ teaspoons) active dry yeast

1

cup

vital wheat gluten

1

cup

super fine almond flour

¼

cup

flaxseed meal

¾ teaspoon

salt

1 ½ teaspoon

baking powder

3 ½ tablespoons

extra virgin olive oil, divided
Panini Fillings:
½ tablespoon

extra virgin olive oil

8

slices (6 oz) mozzarella cheese

8

slices (5 oz) sliced ham

8

slices (5 oz) sopressata salami

4

thin slices tomato (

½

a tomato)
Instructions
Step 1.  In a small bowl, mix together ½ cup warm (like bath water) water, sugar and yeast.  Cover the bowl and allow to sit until frothy with small bubbles, about 10 minutes.  If the yeast isn't frothy then the yeast is dead and you'll need to start over with fresh yeast.
Step 2.  In a large bowl, mix together remaining dry ingredients.  Sift them through a sifter or sieve.
Step 3.  Mix together the yeast mixture, remaining ½ cup plus 2 tablespoons water and 3 tablespoons olive oil.  Add the wet ingredients into the dry ingredients and mix well until a wet dough forms.
Step 4.  Knead the dough for 3 minutes until it's well combined.  Don't over knead.
Step 5.  Divide the dough in half and form it into 2 tube shapes.  The dough loaves should be about 2 ½ x 7 inches.  Place the loaves onto a greased cookie sheet.    
Step 6.  Preheat oven for 2-3 minutes until temperature reaches 100-110 degrees F.  Put the dough in the warm oven to rise for 1 hour.  At the end of the hour, the loaves should have risen to about 3 ½ x 8 inches.
Step 7.  Preheat oven to 350 degrees F.
Step 8.  Brush the top of the loaves with the remaining ½ tablespoon olive oil.  Bake for 15 minutes and then take the bread out of the oven and brush with olive oil again.  Bake for another 10-15 minutes until the internal temperature reads between 200-210 degrees F.  Put the thermometer all the way into the side of the loaf to get the most accurate reading.
Step 9.  Allow to cool for ½ hour before cutting each loaf in half horizontally.
Step 10.  Brush outside of the loaves with olive oil.
Step 11.  Layer the panini fillings inside the loaves.  First ½ of the cheese, then ½ of the sopressata, then all of the ham, ½ of the sopressata, all of the tomato slices and remaining cheese slices.
Step 12.  Cook in panini press or in a skillet on the stove for about 10 minutes at Low heat, until cheese is melted and the meat is warmed through.  If using the stove, then it should be about 3-5 minutes per side.  But keep checking in to make sure the bread isn't burning.
Step 13.  Cut each sandwich into thirds and serve immediately.       
Notes
*The sugar will be converted to alcohol and carbon dioxide in the fermentation process so the carbohydrates are cancelled out. The sugar has been left out of the nutritional info.
Nutrition
Serving Size:

1 slice

Calories:

439

Fat:

30

Carbohydrates:

10

Fiber:

4

Protein:

35
Keywords: Low Carb Panini, Keto Panini, Low Carb Ham and Cheese Panini, Keto Ham and Cheese Panini