This Keto egg custard pie is a creamy velvety dessert with only 186 calories and 2g net carbs per slice.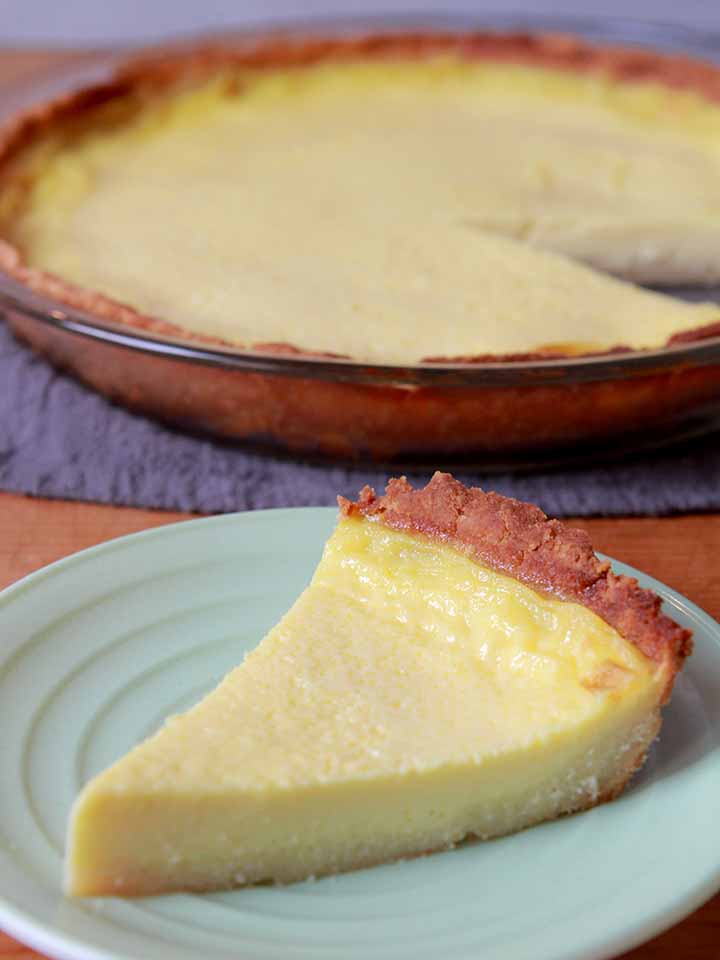 I saw a funny meme the other day.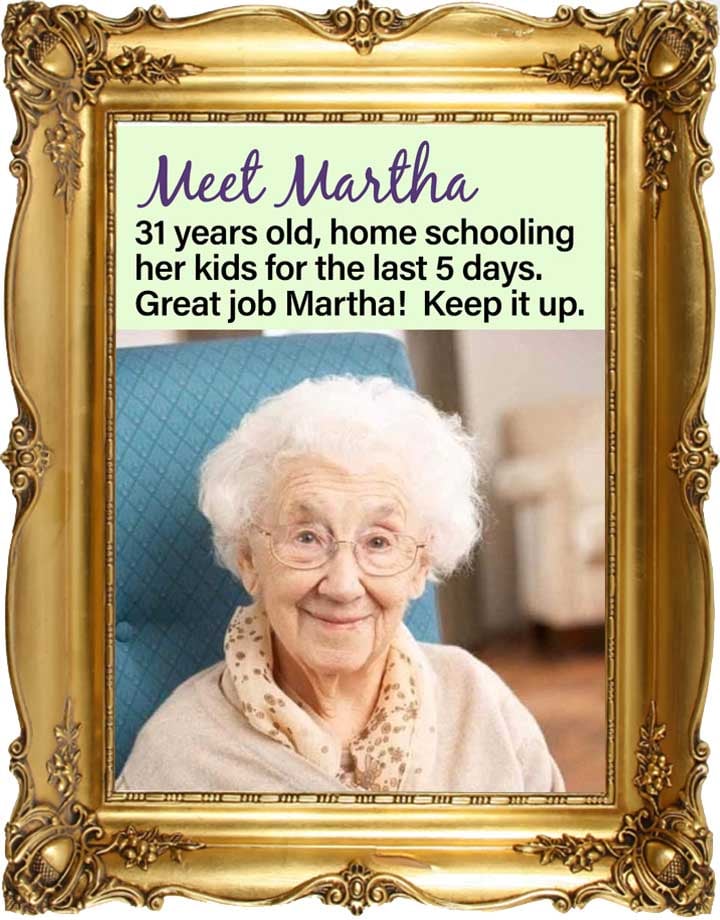 It's actually Day 50 at home with the kids.
And I'm not going to lie, it's a daily challenge. But every morning the kids do this great Youtube work-out called "P.E. with Joe". Then we somehow muddle through the day.
Like so many people during lockdown, I've taken a deep dive into "comfort food".
It's the food I remember eating as a kid. I've been making low carb versions of my Dad's meatloaf, and my Mom's tuna noodle casserole. And for the last week, I've been working on a low carb version on one of my Grandmother's signature dishes: egg custard pie.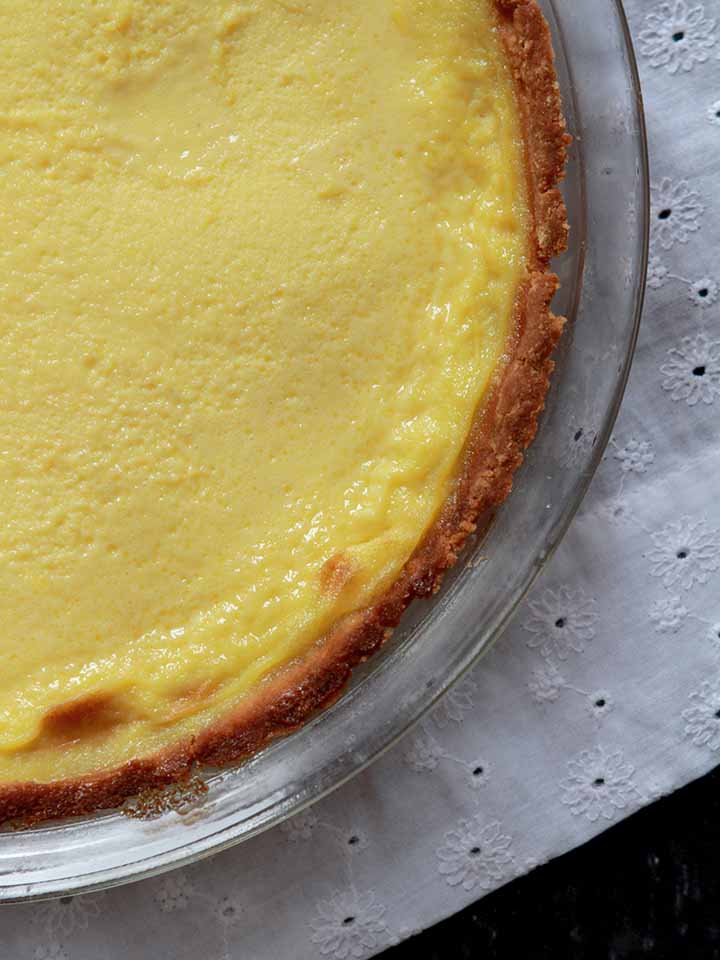 This grandmotherly Keto egg custard pie is actually pretty simple to make.
It's got a 5 ingredient press-in crust made from almond and coconut flour. And it's filled with a mixture of eggs, heavy whipping cream, sweetener and vanilla. No need to cook the filling before baking it. Just whisk everything together and pour it into the pre-baked crust.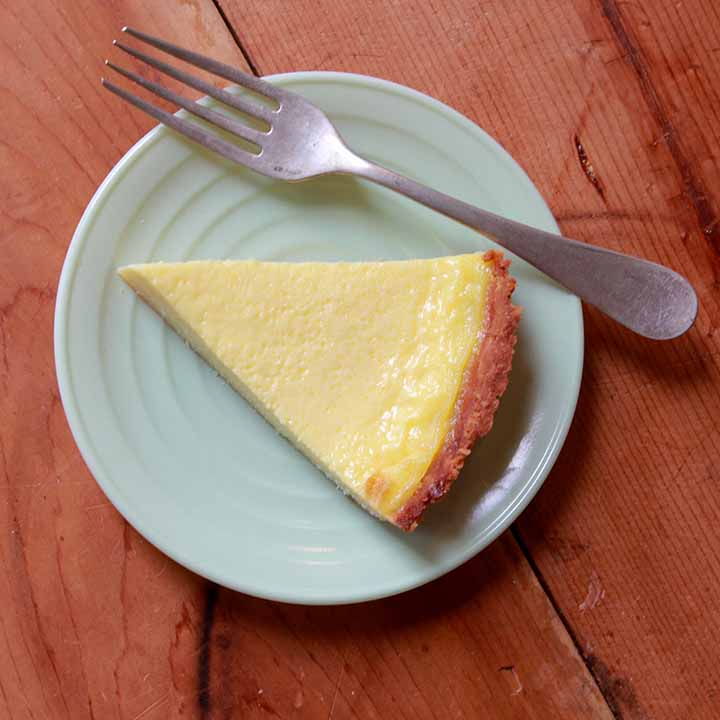 Crustwise, you are going to want to have some sort of crust protector to keep it from browning too much.
You can buy a metal crust protecter shield on Amazon for about $6. Or you can make your own out of aluminum foil. Use a sharpie marker to trace the inside edge of your pie pan. Then trace the outer edge. Cut out the middle circle and around the outer edge, adding about a ½ inch more outside than the outer line. Then place the protector on top of the crust and scrunch it around the sides of the pan to keep it in place.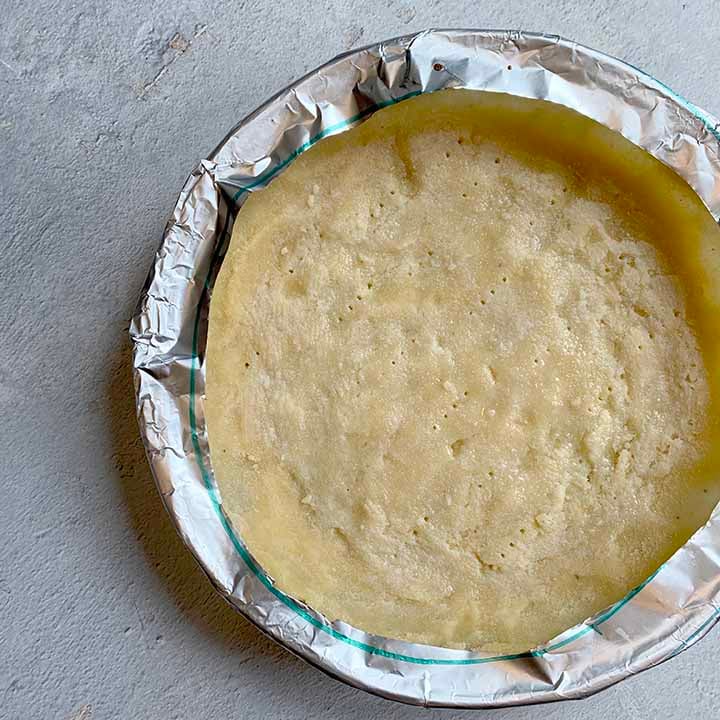 We should talk about the small matter of nutmeg.
Personally, I'm not a fan of adding nutmeg to cream dishes like egg custard and cream sauces. Just not my thing. But if you like it, then I won't judge. Just give the custard a few shakes of spice before it goes into the oven.
And there is no shame in a little food coloring.
The natural color of the custard is a pale off white, but feel free to add a couple drops of yellow food coloring to amp up the eggy color. You eat with your eyes as well as your tastebuds, don't forget.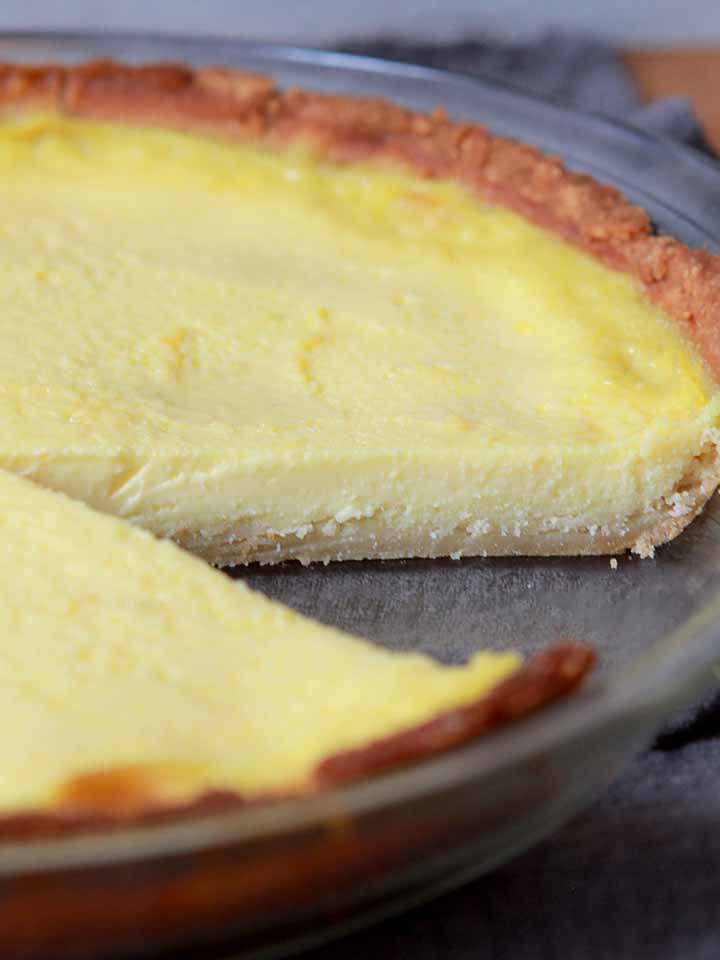 Berries make a nice accompaniment to the Keto egg custard pie as well.
You can add frozen berries directly to the custard before it bakes. Frozen berries will take a little longer to release their juices, so the custard has time to thicken. Or you could arrange fresh berries on top of the cooked pie before serving.
But the pie is quite lovely on its own.
And if you are a parent, it's the perfect reward at the end of long day of homeschooling.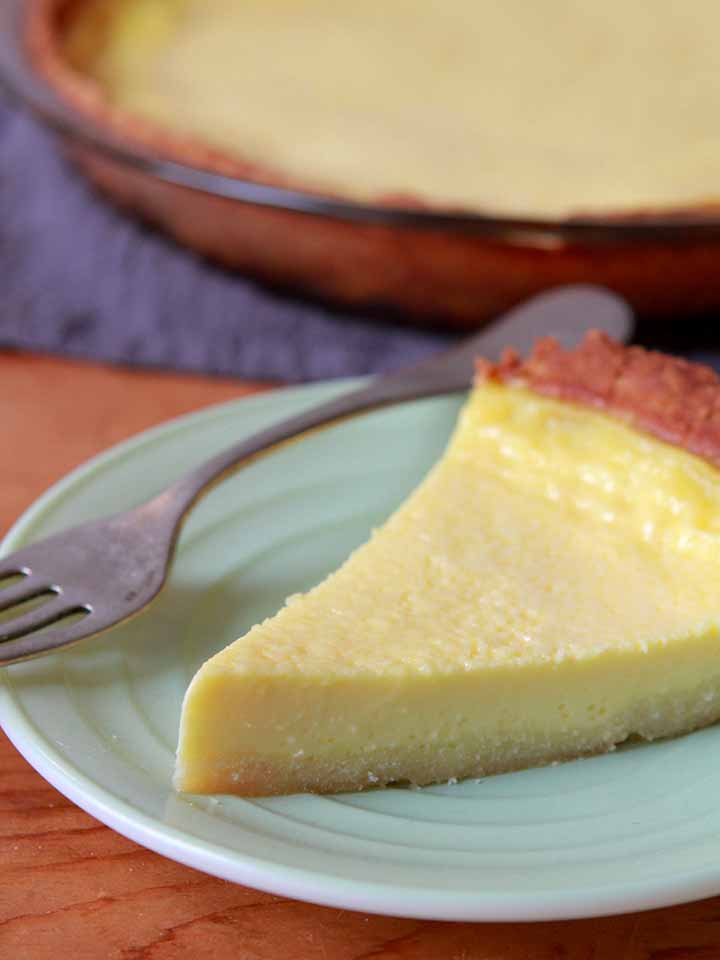 Print
Keto Egg Custard Pie
This Keto egg custard pie is a creamy velvety dessert with only 186 calories and 2g net carbs per slice.
Author: Resolution Eats
Prep Time:

10

Cook Time:

50

Total Time:

1 hour

Yield:

12

slices

1

x
Category:

Dessert

Method:

Baked

Cuisine:

American

Diet:

Diabetic
Crust:
½ cup super fine almond flour*
½ cup coconut flour
¼ teaspoon salt
2 tablespoons Swerve or equivalent granulated sweetener
¼ cup butter, melted
1 large egg, beaten
1 large egg white
Custard Filling:
1 large egg yolk
2 large eggs, beaten
⅓ cup Swerve or equivalent granulated sweetener
1 ¼ cup heavy whipping cream
¼ cup water
1 teaspoon vanilla extract
¼ teaspoon salt
4 drops yellow food coloring, optional
2 sprinkles nutmeg, optional
Instructions
1.  Use a pie plate and a metal crust protecter.  To make your own crust protecter, use a Sharpie to trace the inside bottom of the pie plate onto a sheet of aluminum foil.  Trace the outer edge of the pie plate.  Cut out the inner circle, and then cut out the outer circle, leaving and extra ½ inch in width.
2.  Set oven to 400 degrees F.
3.  In a medium sized bowl, combine almond flour, coconut flour, salt and sweetener.  Mix in melted butter.  Mix in egg until a dough forms.  Press the dough into the bottom and sides of the pie plate.  Use a fork to poke the bottom of the crust about 12 times to let the hot air out.  Brush the crust with egg white.  Cover the crust with the crust protecter and scrunch down the sides if using aluminum foil.
4.  Bake for 10 minutes until just lightly browned.  Remove from oven and lower the heat to 320 degrees F.
5.  Mix all filling ingredients and pour into the crust.  Sprinkle nutmeg on top if desired.  Bake until top of the custard is firm with just a slight jiggle in the middle, 45-50 minutes.  Start checking in at minute 30, as the cooking time will change depending on how deep your pie pan is.  
6.  Cool to room temperature and serve or chill for 2 hours in the refrigerator.  Can be stored in the refrigerator for 2-3 days.
Notes
*If you take this pie to a party, make sure to clearly mark that it contains nuts.  Most people don't expect a pie crust to use almond flour, so people with nut allergies might inadvertently eat it. 
Nutrition
Serving Size:

1 slice

Calories:

186

Fat:

17

Carbohydrates:

4

Fiber:

2

Protein:

4
Keywords: Keto Egg Custard Pie, Low Carb Egg Custard Pie, Gluten Free Egg Custard Pie