This Keto Eggs Benedict recipe is a healthy low carb breakfast with only 2g net carbs per serving. So throw out those stale old English Muffins and let's get started.

Greetings low carb dieters and sometime history buffs.
Today I'm going to share a very special old timey recipe with you.  It's a fabulous breakfast that goes by the name Eggs Benedict.
What are Eggs Benedict?
This classic American breakfast is an English Muffin topped with a poached egg, Canadian bacon and a lovely Hollandaise sauce. It's a salty savory morning feast.
Who invented Eggs Benedict?
It all began in the Waldorf Astoria Hotel. In 1894, Lemuel Benedict, a Wall Street broker suffering from a hangover, ordered "some buttered toast, crisp bacon, two poached eggs, and a hooker of Hollandaise sauce".   (I guess ordering a hooker had a different meaning back then). 
The maître d'hôtel at the time was the famous Oscar Tschirky, inventor of the Waldorf Salad. Oscar was so impressed by Lemuel's order that he varied it slightly by replacing the toast with an English muffin and the crisp bacon with Canadian bacon, and then added it to the menu, calling it Eggs Benedict.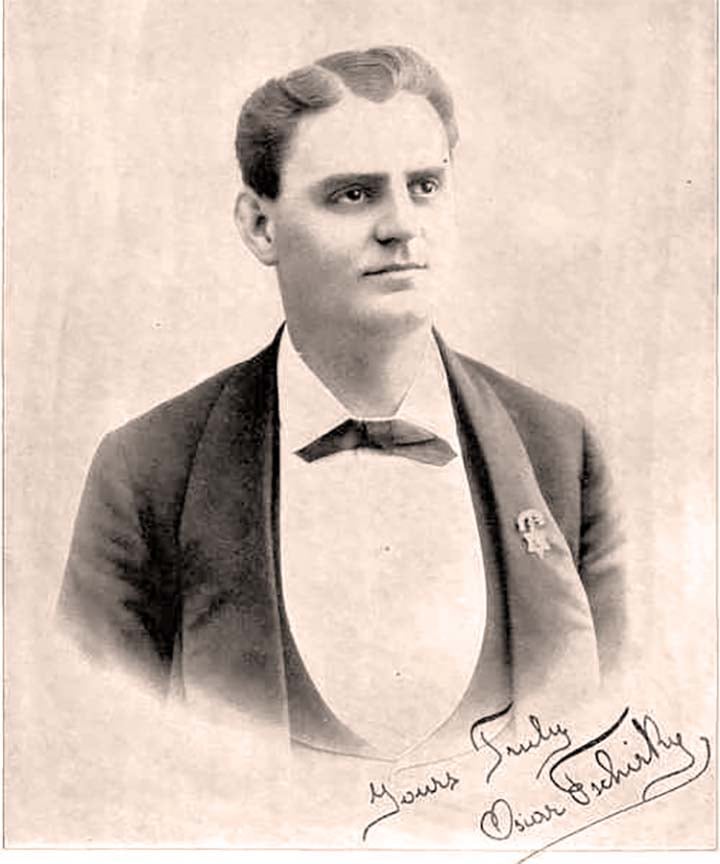 But is Eggs Benedict Keto?
Heavens no!  It's all fine until you get to the English Muffin.  Those things are deadly if you are on a Keto diet.  So tempting.  But fear not, this low carb Eggs Benedict recipe uses a baked cauliflower rounds, so it's only got a measly 2g of carbohydrate per serving.
What are the ingredients of this Keto Eggs Benedict?
To make this low carb Benedict, you'll need: cauliflower rice, fresh parsley, sharp cheddar cheese, eggs, Dijon mustard, fresh lemon juice, butter and Canadian bacon.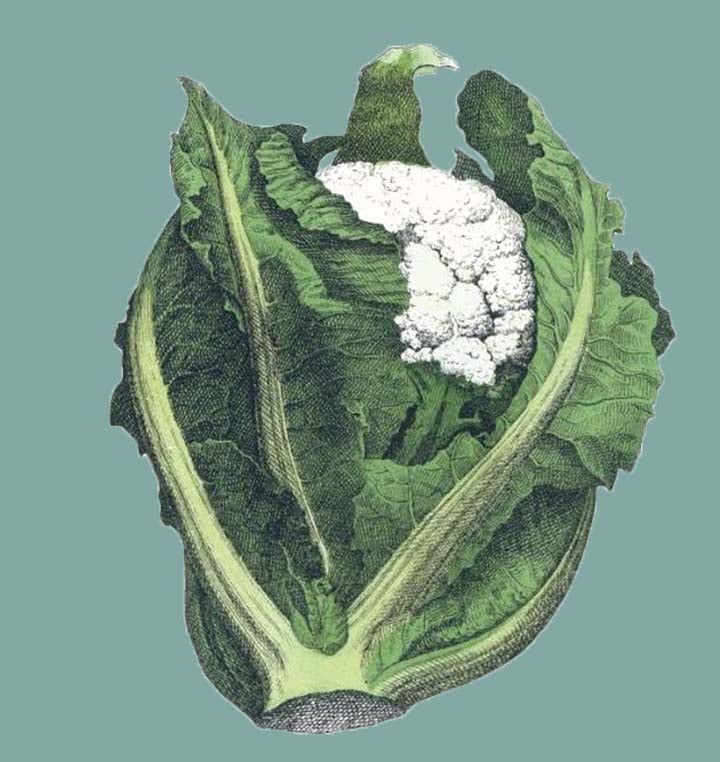 Why use cauliflower rounds in this recipe?
You know what they say on Keto: "When in doubt, make it with cauliflower". Substituting high carb English Muffins with low carb cauliflower is a healthy way to get your veggies in. And while English muffins are gluten filled carb traps, these cauliflower rounds have just 2g net carbs.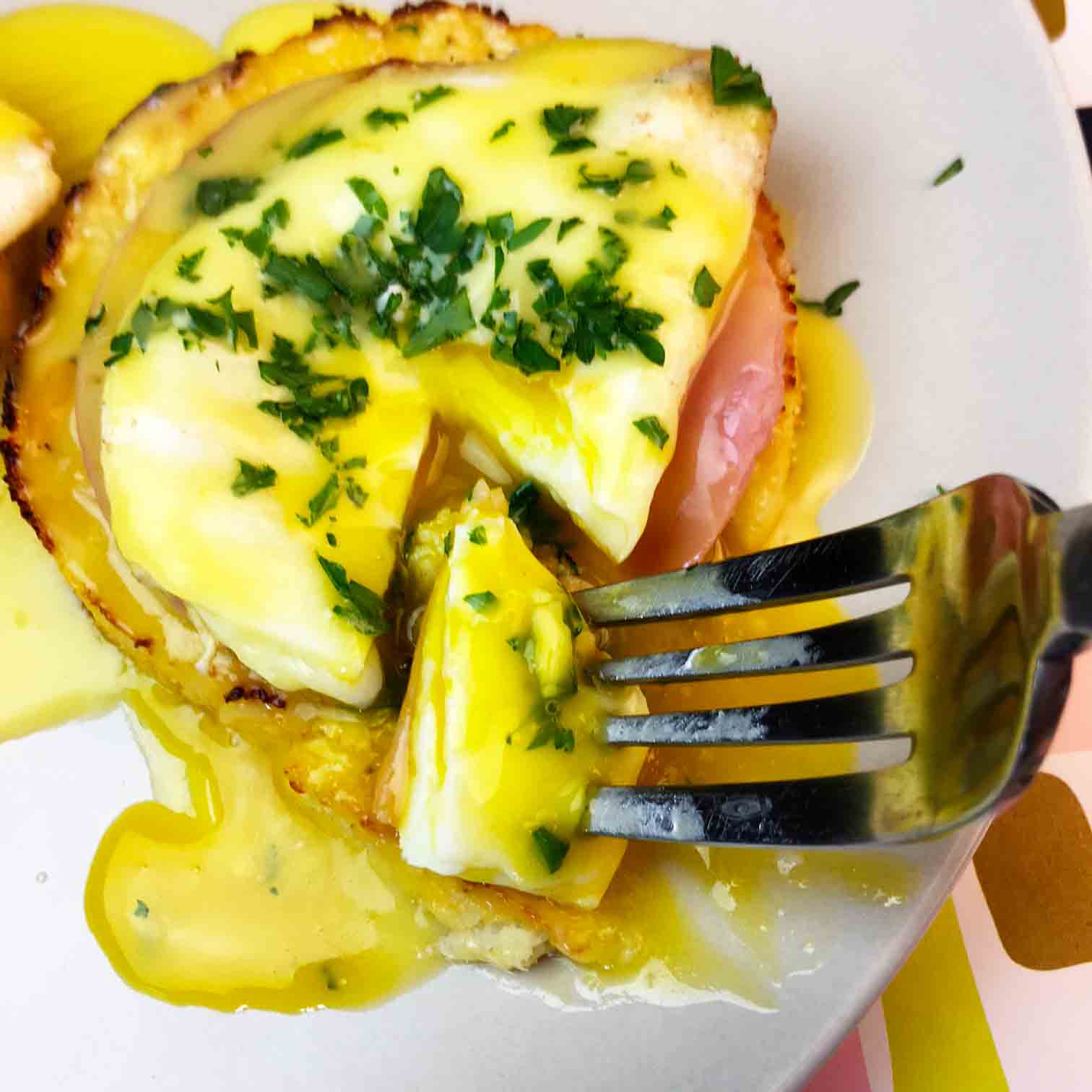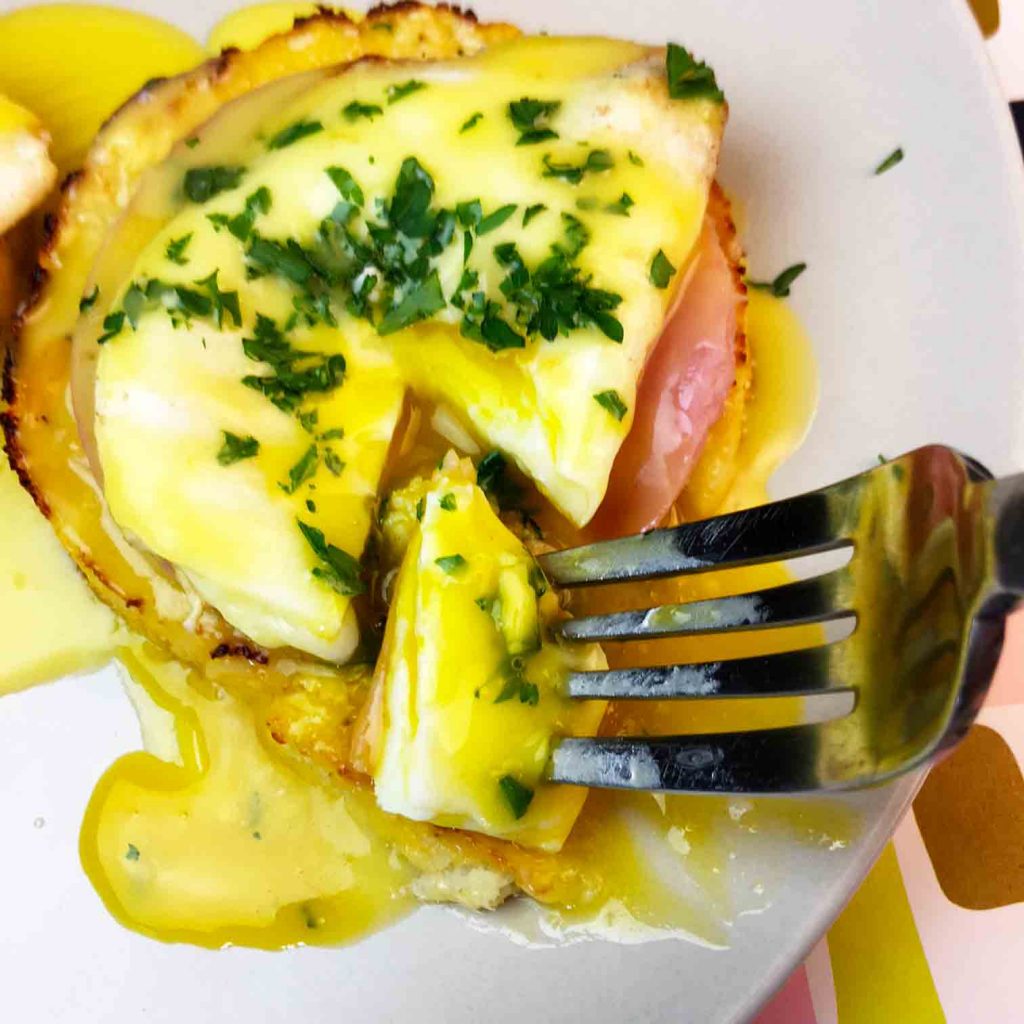 And that, as they say, is that.
Soon you'll have a delicious low carb breakfast, brought to you by a guy who walked into the Waldorf Hotel and ordered a hooker.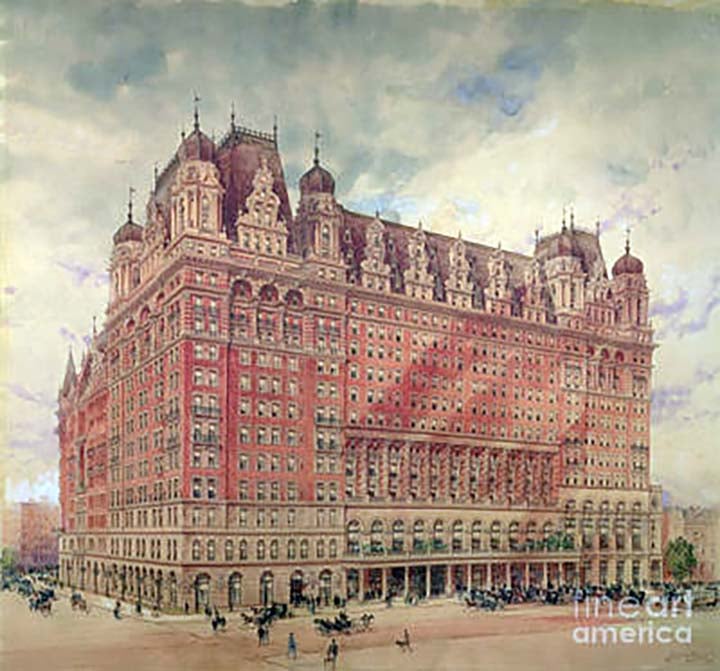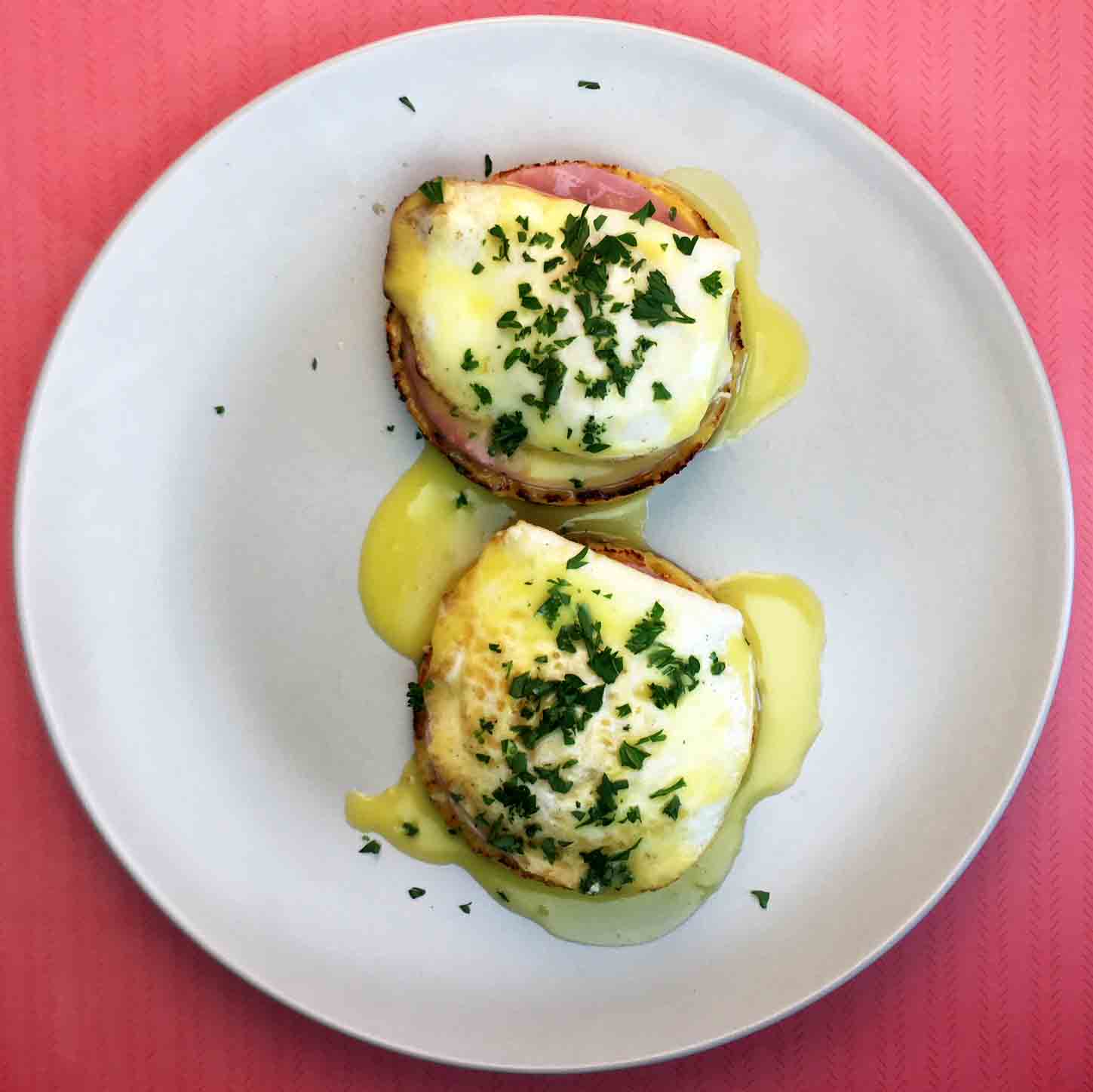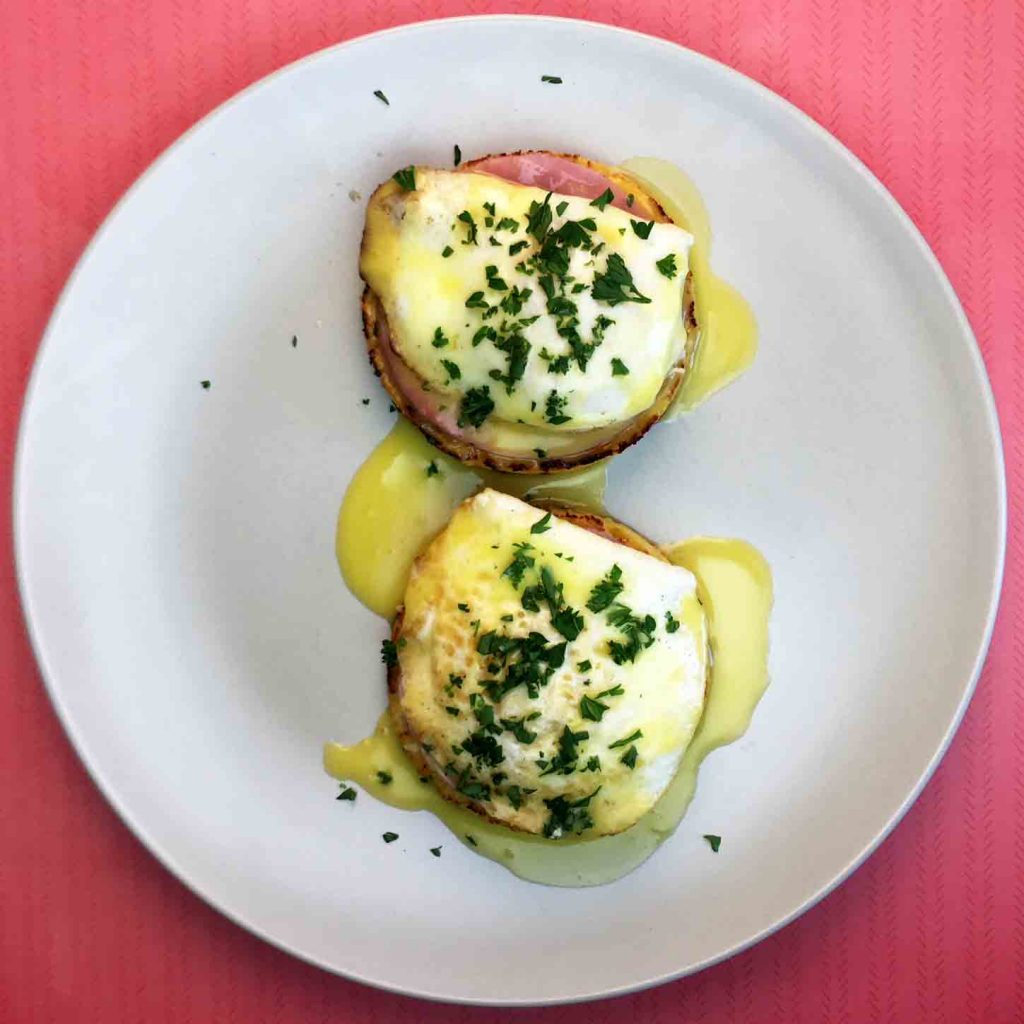 Print
Keto Eggs Benedict
This recipe for Keto Eggs Benedict swaps out English Muffins for rounds of cauliflower.
Author: Resolution Eats
Prep Time:

15

Cook Time:

35

Total Time:

50 minutes

Yield:

3

servings

1

x
Category:

Entree

Cuisine:

American
cauliflower rounds:
2 ½ cups

cauliflower florets, riced

1 tablespoon

fresh parsley, chopped

½ cup

shredded sharp cheddar cheese

¼ teaspoon

salt

⅛ teaspoon

black pepper

1

large egg, beaten
hollandaise sauce
3

egg yolks

¼ teaspoon

dijon mustard

1 tablespoon

fresh lemon juice

¼ teaspoon

salt

½ cup

butter, melted
toppings:
6

large eggs

6

slices Canadian bacon

1 tablespoon

fresh parsley, chopped
Instructions
1.  Preheat the oven to 425 degrees F and cover a large cookie sheet with parchment paper.
2.  Add the cauliflower florets to a food processor or high powered blender and process until it's the size of rice.
3.  Microwave the cauliflower for 4 minutes in a large bowl.  Stir and then microwave for another 4 minutes.  Allow to cool.
4.  Once the cauliflower is cool enough to handle, add it to a clean tea towel and wring out the liquid.  You should be able to remove at least 1 cup of liquid.
5.  Mix the cauliflower with egg, cheese, parsley, salt and pepper.
6.  Place a 3" circular cookie cutter on the parchment covered cookie sheet.  Fill the cookie cutter with the cauliflower mixture.  Pack it down with the back of a spoon.  Gently remove the cookie cutter.  The rounds should be about ⅓ inch thick.  Repeat until you've used up all the cauliflower..
7.  Bake for 25 minutes or until nicely browned.
8.  While the cauliflower rounds are in the oven, you can make the Hollandaise sauce.  In a medium sized bowl, whisk together the egg yolks, lemon juice, mustard and salt for 10 seconds.
9.  Melt butter in microwave, about 1 minute.  Slowly add to the egg mixture while rigorously whisking.  It should thicken up as it cools.  Set the bowl in a pan of hot water to keep it warm.  Alternately, you can use a blender instead of whisking.  Just make sure to pour the butter in slowly as the blender mixes the sauce.
10.  Bring a saucepan of water to a boil, then reduce to a low simmer. Create a vortex by stirring the water, then drop in an egg. Cook for 3 minutes, then transfer with a slotted spoon to a paper towel. Repeat with remaining eggs.
11.  Serve as a stack,  with cauliflower rounds on the bottom, then Canadian bacon, then an egg, then Hollandaise sauce, with parsley sprinkled on top.
12.  Serve immediately.
Nutrition
Serving Size:

2 egg benedicts

Calories:

683

Fat:

57

Carbohydrates:

8

Fiber:

2

Protein:

35
Keywords: Low Carb Eggs Benedict, Keto Eggs Benedict, Paleo Eggs Benedict