These Keto mini cheesecakes make great low carb desserts or fat bombs. They are perfectly proportioned treats with only 4g net carbs each.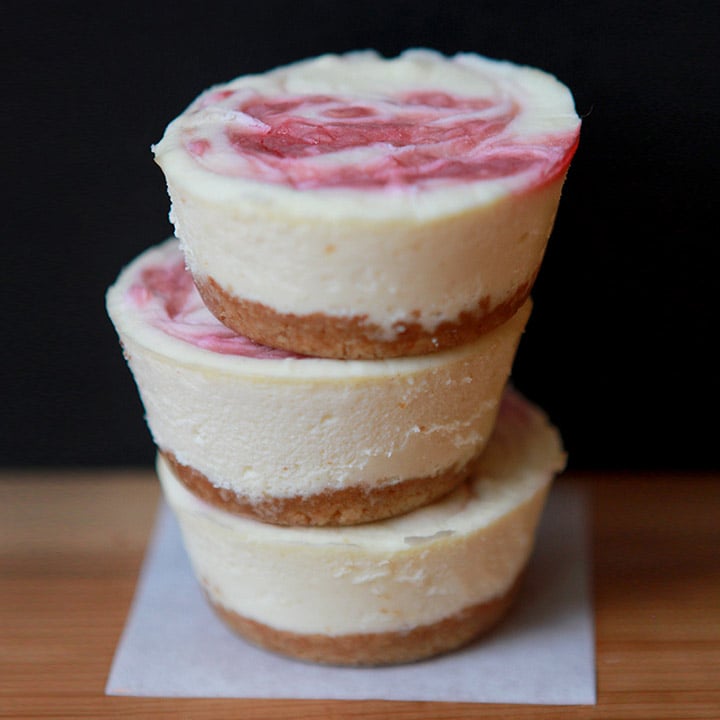 "Ahhh, do you know how many problems we have solved over a cheesecake at this kitchen table?" The Golden Girls
Today I'm going to show you how to make Keto mini cheesecakes, so obviously, I've been thinking about those saucy seniors, the Golden Girls. They loved nothing more than gathering around the kitchen table for a midnight chat and a slice of cheesecake.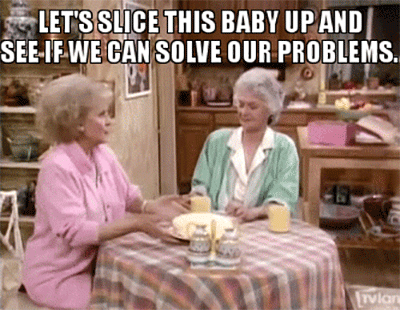 Now this recipe for keto mini cheesecakes might not solve all your problems, but it's sure to brighten your day.
That's because cheesecake is a recipe that is very easily converted to low carb. The main ingredients, cream cheese, sour cream and eggs, are already low in carbs, so you just need to swap out the sugar for a sugar-free sweetener and the graham cracker crust for an almond flour crust. If you do that, then a dessert that normally has upwards of 70g net carbs, will only have 4g.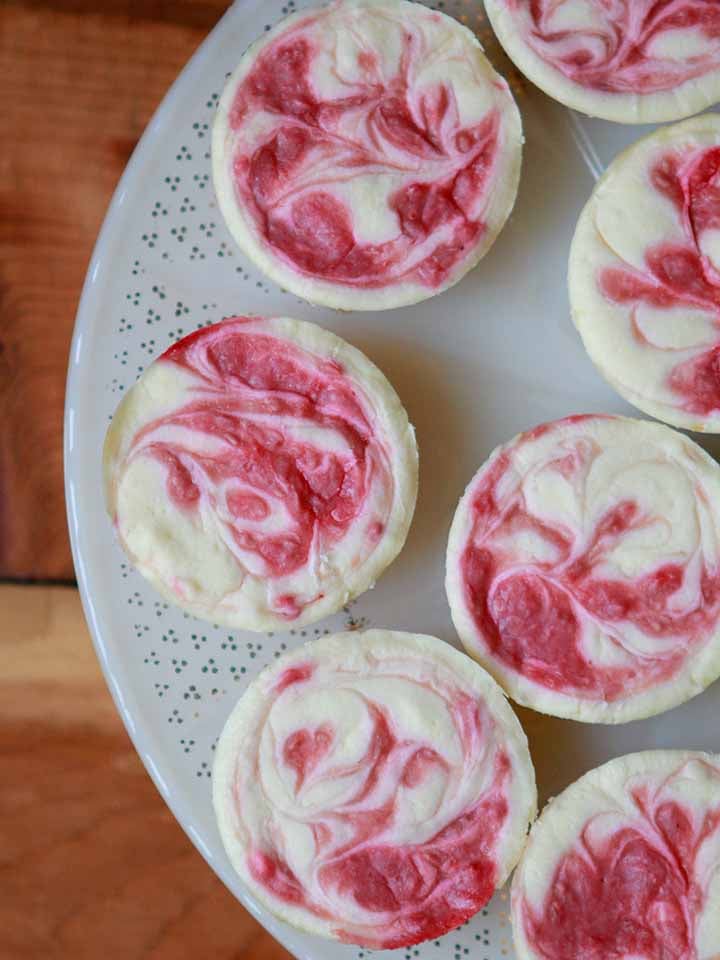 So here are the ingredients you'll need to make these Keto mini cheesecakes:
The recipe calls for: raspberries, powdered sweetener, cream cheese, eggs, vanilla, sour cream, almond flour, butter and a brown sugar substitute. You might not have the sugar-free sweeteners or almond flour in your kitchen already, but they are a good investment if you plan to do much low carb baking.
Almond flour is so common now that you can buy it at Aldi, and the Swerve products are available in most large grocery chains or on Amazon.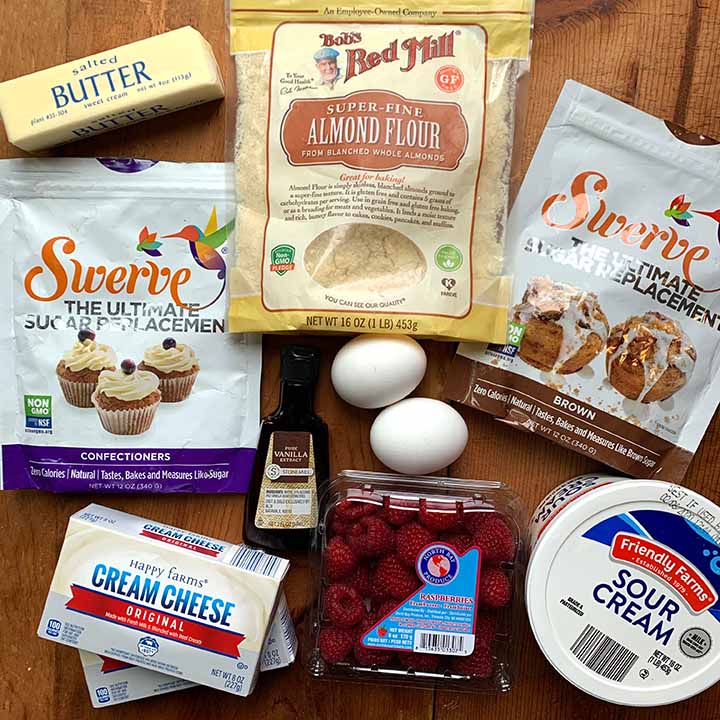 I've got a couple cheesecakey tips and tricks.
For the smoothest possible cheesecake, make sure that your cream cheese and eggs are at room temperature. If you don't have time to leave them out that long, then you can microwave the cream cheese at 50% power for 30 seconds to soften it up. And you can place the eggs in a bowl of hot water for several minutes to bring them up to room temp.
Use full fat cream cheese and not light cream cheese. Non-fat cream cheeses have additives that make it difficult for the cheesecake to set. Plus, if you are doing Keto, then fat is your friend.
Always chill cheesecake for at least 3-4 hours or ideally overnight. It comes out of the oven with a soft flan-like texture and doesn't have the firmness and silky texture of a classic cheesecake until it has been properly chilled.
You can skip the crust and save 1g of carbohydrate per serving.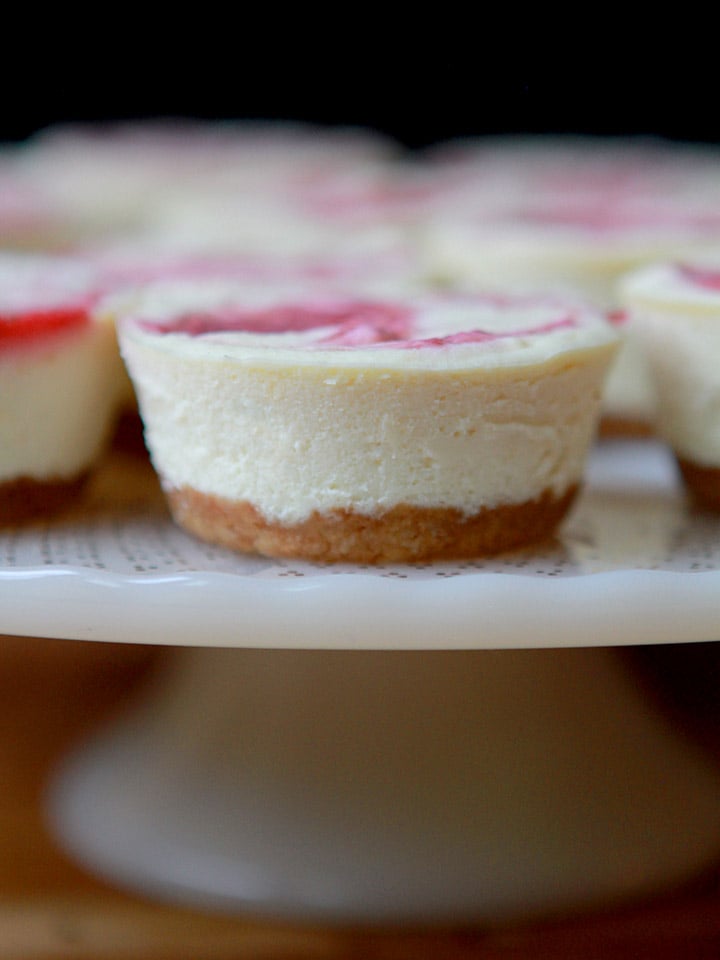 And also...
A water bath is not absolutely necessary for mini cheesecakes, but does make them slightly softer and creamier. Place the cupcake tray in a large baking pan or rimmed cookie sheet and pour about ¼ inch of hot water around the cupcake tray. This will cook the mini cheesecakes more gently and avoid cracks.
The raspberry sauce needs to be the right viscosity to pour, but not so thick that it won't merge with the cheesecake batter. If it doesn't seem liquid enough to pour, then add hot water, 1 tablespoon at a time until it is thin enough to easily pour.
You can also skip the raspberry swirl and just pour the raspberry sauce over the top of the cheesecakes before serving them.
Other nice cheesecake additions are fresh berries, mint sprigs and sugar-free whipped cream.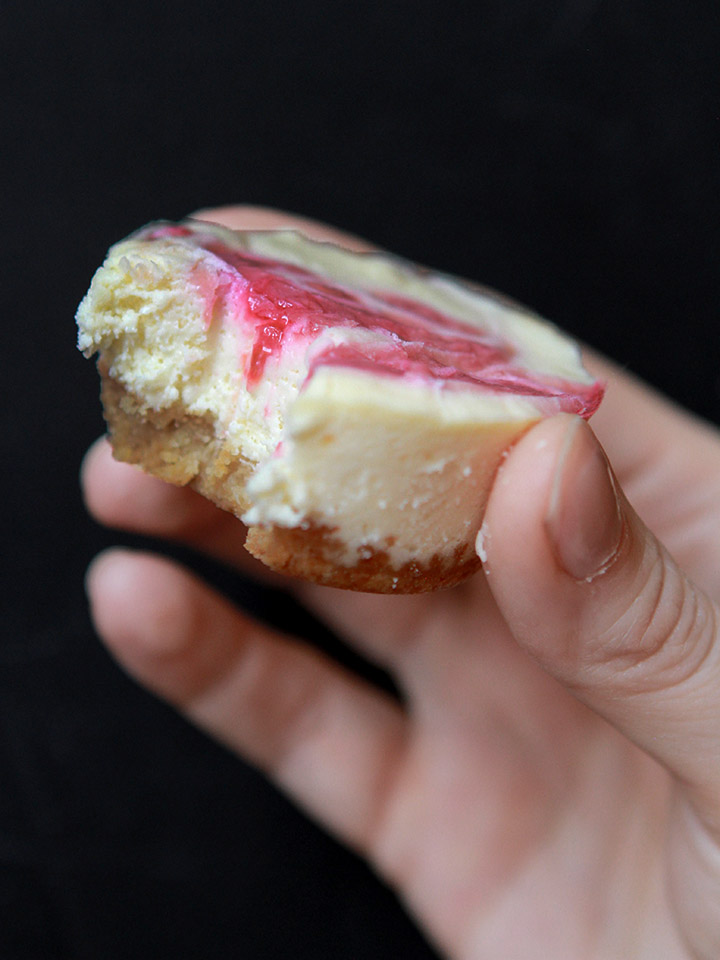 You don't have to use raspberries.
Any berry will work in these Keto Mini Cheesecakes. Because all berries are allowed on the Keto Diet, you can use blueberries, raspberries, strawberries, black raspberries or blackberries. It's whatever you are in the mood for on the day. You be you.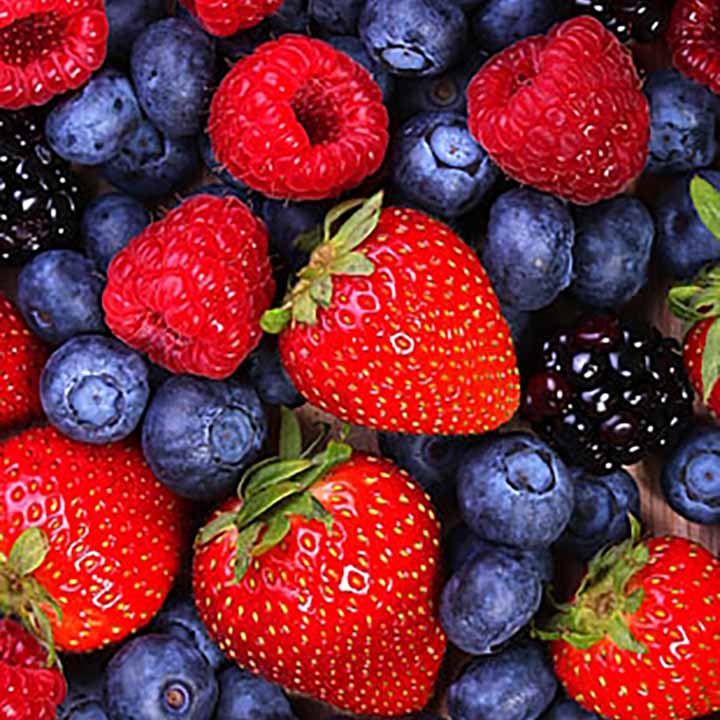 And that's about it.
There is a time commitment to Keto mini cheesecakes, but they are actually very easy to make. And the beauty of mini cheesecakes is that they are already portion controlled. After they've chilled, you can wrap them in individual sandwich bags and store them in the refrigerator or freezer for quick grab-and-go low carb snacks.
So if you are up in the night, sitting around the kitchen table with your fun loving friends, then these cheesecakes are a must.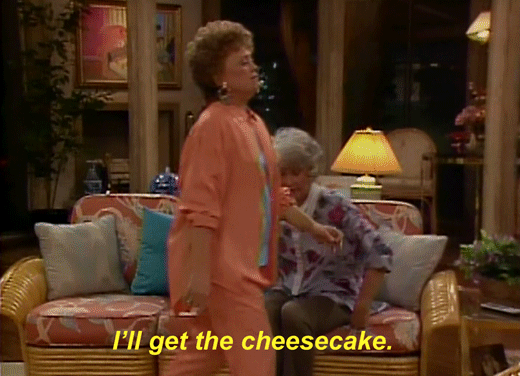 Print
Keto Mini Cheesecakes
These raspberry swirl Keto mini cheesecakes are perfectly proportioned treats with only 4g net carbs each.
Author: Resolution Eats
Prep Time:

15

Cook Time:

48

Total Time:

1 hour 3 minutes

Yield:

12

mini cheesecakes

1

x
Category:

Dessert

Method:

Baked

Cuisine:

American
raspberry sauce:
1 cup fresh or frozen and thawed raspberries
½ cup Confectioner's Swerve or equivalent powdered sweetener
3 tablespoons water
crust:
¾ cup super fine almond flour
2 tablespoons butter, melted
2 tablespoons Swerve Brown or equivalent brown sugar substitute
filling:
2 packages (16oz) full fat cream cheese, softened
¾ cup full fat sour cream
¾ cup Confectioner's Swerve or equivalent powdered sweetener
2 teaspoons vanilla extract
2 eggs, room temperature
Instructions
1.  Pre-heat oven to 350 degrees F.  Spray a latex cupcake pan with cooking spray or line a cupcake pan with cupcake liners.
2.  Combine raspberry sauce ingredients and add to a medium sized sauce pan.  Bring to a simmer and cook for 8 minutes until the berries have broken down.
3.  Mix together crust ingredients and drop one tablespoon of the mixture into each well of the cupcake pan.  Use your fingers to press the crust down.
4.  Bake for 10 minutes.  Remove from the oven and set aside to cool.
5.  In a large bowl, use an electric mixer to blend together softened cream cheese and sour cream at low speed.  Scrape down the sides of the bowl with a spatula and beat in vanilla and sweetener at low speed.  Scrape down the sides and beat in the eggs, one at a time until fully blended.
6.  Use a spoon to pour the cheesecake batter into each well of the cupcake pan.  Fill the wells up to the top.  The mini cheesecakes will expand a bit as they cook, but will flatten back down as they cool.
7.  Make sure that your raspberry sauce is liquid enough to drip onto the tops of the cheesecakes.  If it is too thick, then add hot water, 1 tablespoon at a time until it is thin enough to pour.  Either add the raspberry sauce to a sqeeze bottle or use a spoon to add 2-3 drops of raspberry sauce to the top of each mini cheesecake.  Use a toothpick to swirl the sauce into the filling in a figure 8 pattern.
8.  Optional step: make a water bath by placing the cupcake pan into a large roasting pan or large rimmed baking sheet.  Pour enough hot water into the large pan to come up to at least ¼ inch around the cup cake pan.
9.  Bake for 20 minutes until the mini cheesecakes are firm around the outside, but still slightly jiggly in the center.  The center will go on cooking as it cools.
10.  Remove from the oven and cool for 30 minutes on the counter.
11.  Cover the cupcake pan with plastic wrap and refrigerate for 3-4 hours until firm.  If using a latex cupcake pan, carefully release the mini cheesecakes by pushing up the bottoms of the wells.       
Notes
STEP-BY-STEP INSTRUCTIONS ARE BELOW THE RECIPE
Nutrition
Serving Size:

1 mini cheesecake

Calories:

233

Fat:

22

Carbohydrates:

5

Fiber:

1

Protein:

5
Keywords: Keto Mini Cheesecake, Low Carb Mini Cheesecake, Gluten-Free Mini Cheesecake, Sugar-Free Mini Cheesecake