This Keto chocolate cheesecake is easily one of the tastiest recipes on this site. It's a silky chocolatey low carb dessert that tastes more decadent than it is.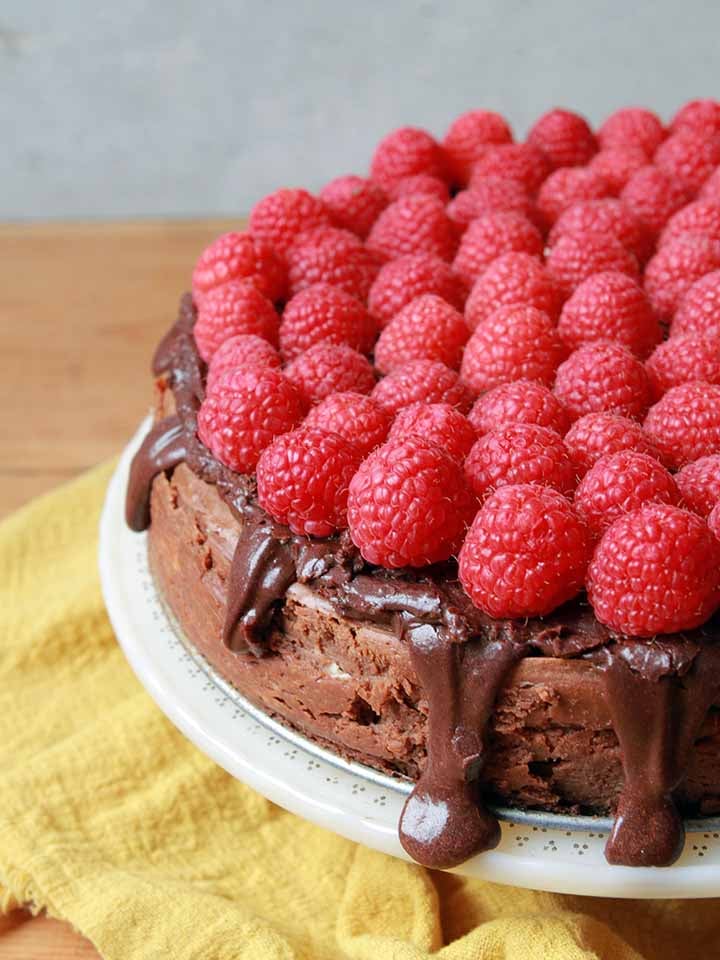 Well, it's 9am and I'm just finishing up my morning calisthenics.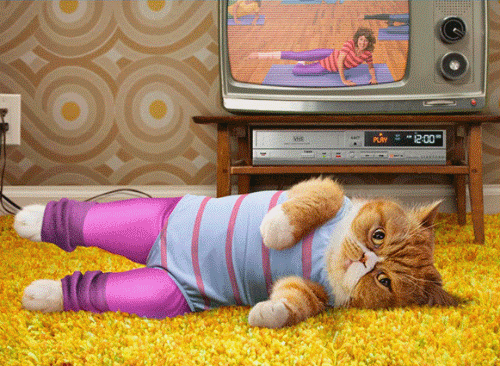 I'm just kidding.
It actually is 9am, but I'm not exercising, I'm eating a slice of chocolate cheesecake. It's just too good not to eat for breakfast! Don't judge me.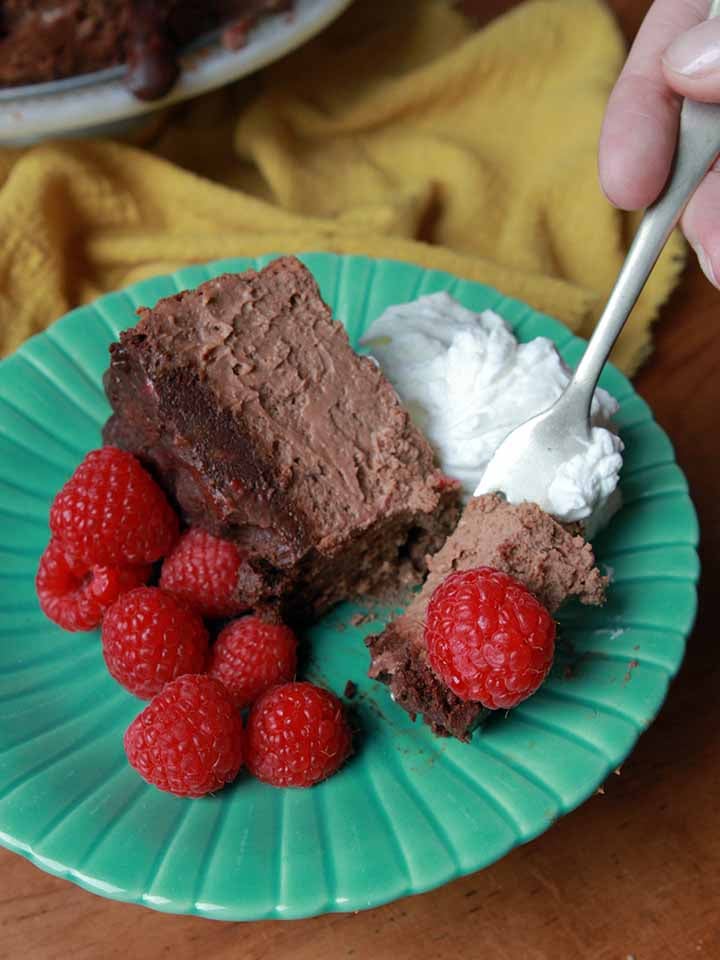 What's in Keto chocolate cheesecake?
To make this low carb cheesecake, you'll need full fat cream cheese, sour cream, eggs, unsweetened chocolate, sugar-free chocolate, heavy whipping cream, vanilla, Swerve, Confectioner's Swerve and cocoa powder.
How do you make sugar-free chocolate cheesecake?
One by one, you beat together all the ingredients with a stand or electric hand mixer. Pour the mixture into a greased 9 or 10 inch spring form pan and bake it at 300 degrees F for 55-60 minutes. Cool and chill. Mix up the chocolate sauce and pour it over the cheesecake.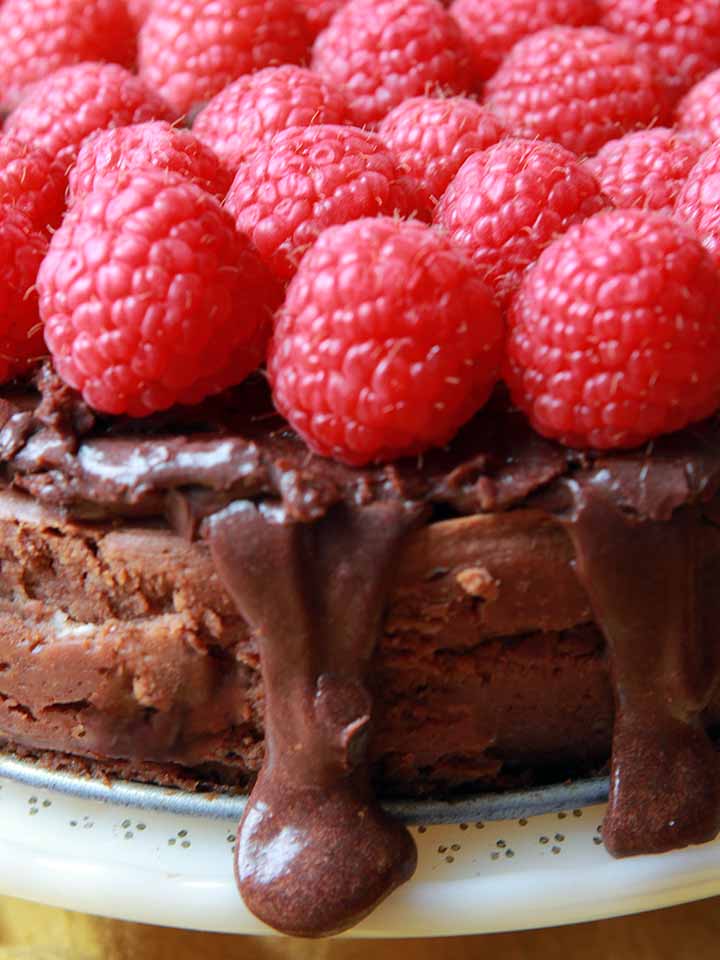 What kind of cream cheese works best?
Some people swear by Philadelphia Cream Cheese, but I've used generic brands and haven't seen any difference. Do use full fat cream cheese for the creamiest texture. And make sure to soften the cream cheese (30 minutes at room temperature) before mixing it with the other ingredients so you don't get clumps.
What if the cheesecake cracks?
Cheesecakes often crack, even if you do everything right. Luckily, the chocolate sauce is very forgiving. Pour it into any cracks to seal them up and cover the rest of the cheesecake with the chocolate sauce.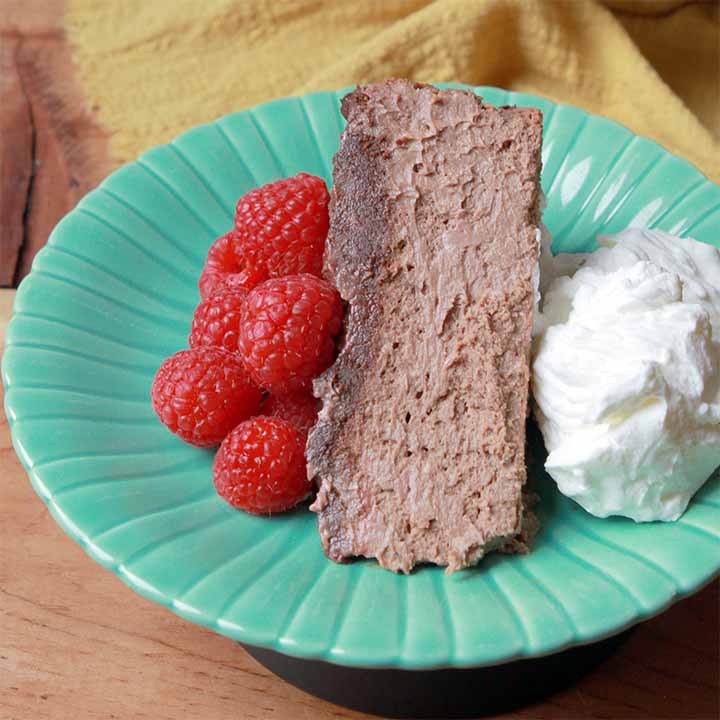 And that's about it.
This is a simple to make recipe, but you do need to set aside a good amount of time to pull it off. It only cooks for 1 hour, but you need to cool and chill it for several hours afterwards. Best to make it the day before you plan to serve it.
And just remember:
If you are tempted to eat a slice of Keto chocolate cheesecake for breakfast, then who is to stop you?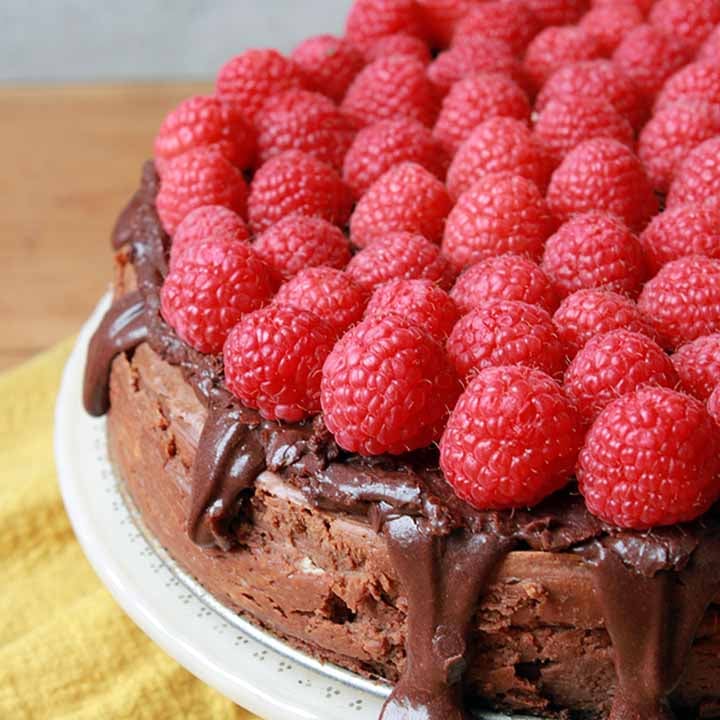 Print
Keto Chocolate Cheesecake
This Keto chocolate cheesecake is easily one of the tastiest recipes on this site. It's a silky chocolatey low carb dessert that tastes more decadent than it is.
Author: Resolution Eats
Prep Time:

15

Cook Time:

60

Total Time:

1 hour 15 minutes

Yield:

12

slices

1

x
Category:

Dessert

Method:

Baked

Cuisine:

American
Cheesecake:
6 oz Lilly's Chocolate Chips or equivalent sugar-free chocolate chips
1 tablespoon butter
2 pounds (4 packages) full fat cream cheese, softened
1 cup granulated Swerve or equivalent granulated sweetener
1 tablespoon vanilla extract
¼ cup unsweetened cocoa powder
½ cup full fat sour cream
4 large eggs, room temperature
Chocolate Sauce:
¾ cup heavy whipping cream
⅓ cup Confectioner's Swerve or equivalent powdered sweetener
3 oz unsweetened baking chocolate, chopped finely
Optional Garnish:
6-12 oz raspberries
Instructions
1.  Pre-heat oven to 300 degrees F and grease an 8 or 9 inch spring form pan with butter.
2.  In a medium sized sauce pan, melt together butter and chocolate chips on low heat until combined.  Set aside to cool.
3.  In a large mixing bowl, use the paddle attachment of a mixer or an electric hand mixer to beat together cream cheese and granulated sweetener on medium low speed.  Use a spatula to scrape down the sides periodically.
4.  Beat in eggs one at a time.
5.  Beat in cocoa powder, sour cream and vanilla.
6.  Beat in melted chocolate and butter mixture.
7.  Pour the filling into the springform pan and smooth the top with a spatula.
8.  Bake for 55-60 minutes until outer edges have puffed slightly, but the center is still jiggly like Jello.  The cheesecake will continue to cook after you take it out of the oven.
9.  After 10 minutes, use a knife to carefully cut between the cheesecake and the sides of the pan.  It should be pulling away from the pan in most places, but still may have parts that are sticking to the sides.
10.  Place cheesecake on a cooling rack and cool completely.
11.  Carefully unlatch the sides of the pan and remove from the cheesecake.
12.  Cover the cheesecake in plastic wrap and chill in the refrigerator for at least 3 hours, but ideally overnight.
13.  In a medium sized sauce pan, heat together heavy whipping cream and powdered sweetener until simmering.  Remove from heat and add chopped baker's chocolate.  Wait 5 minutes and then whisk the sauce together.  Quickly pour the chocolate sauce over the cheesecake and use a spatula to push the sauce from edge to edge, letting some of the sauce spill over.  Return cheesecake to the refrigerator and chill until set.
Nutrition
Serving Size:

1 slice

Calories:

502

Fat:

42

Carbohydrates:

15

Fiber:

5

Protein:

7
Keywords: Keto Chocolate Cheesecake, Low Carb Chocolate Cheesecake, Sugar Free Chocolate Cheesecake