This recipe uses Zeroodle Shirataki Rice to make the world's more comforting comfort food: Keto Rice Pudding. It's very low carb with just 3g net carbs per serving.

I hit the Keto pasta jackpot today.
I've been hearing great things about these low carb shirataki and oat fiber noodles that Zeroodle makes. And so today I got a great big box in the mail with Zeroodle Rice, as well as Fettuccine, Spaghetti, Angel Hair, and Penne Noodles.
It was a festival of noodles!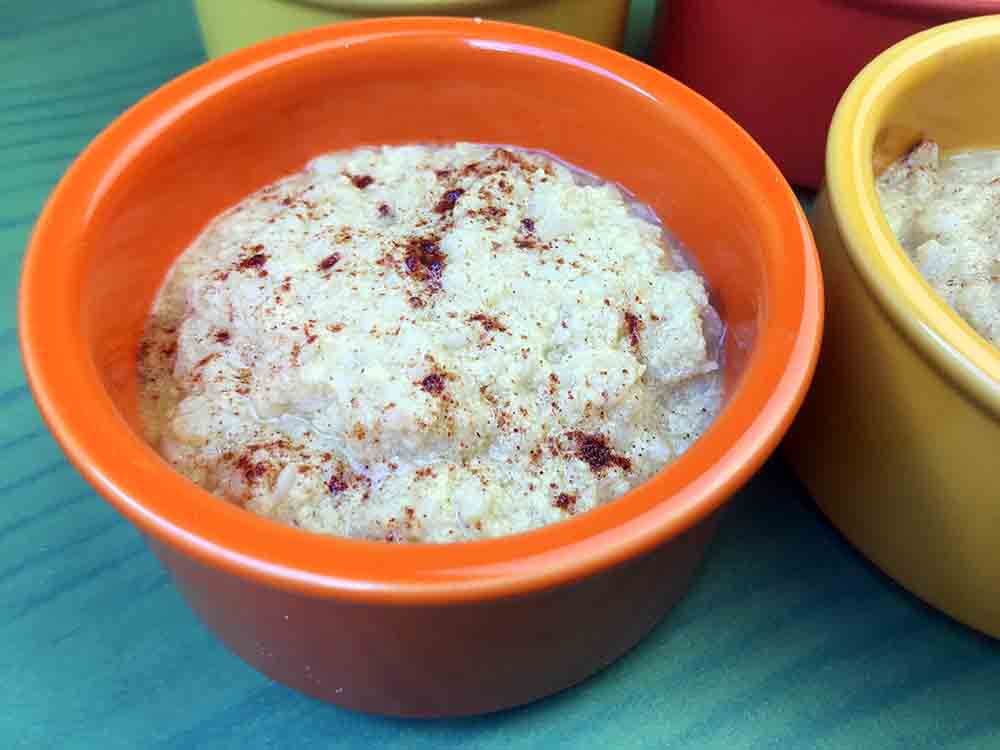 But today I decided to focus on the shirataki rice.
Zeroodle rice looks a lot like regular rice but is actually made from oat fiber and konjac yam flour. Both ingredients are indigestible fibers so it nets out to zero carbohydrates. Zeroodle rice doesn't really have a discernible taste, and the grains are a bit chewier than regular rice. All and all though, it makes for a very good low carb substitution. It's especially welcome if you are getting bored with good old cauliflower rice.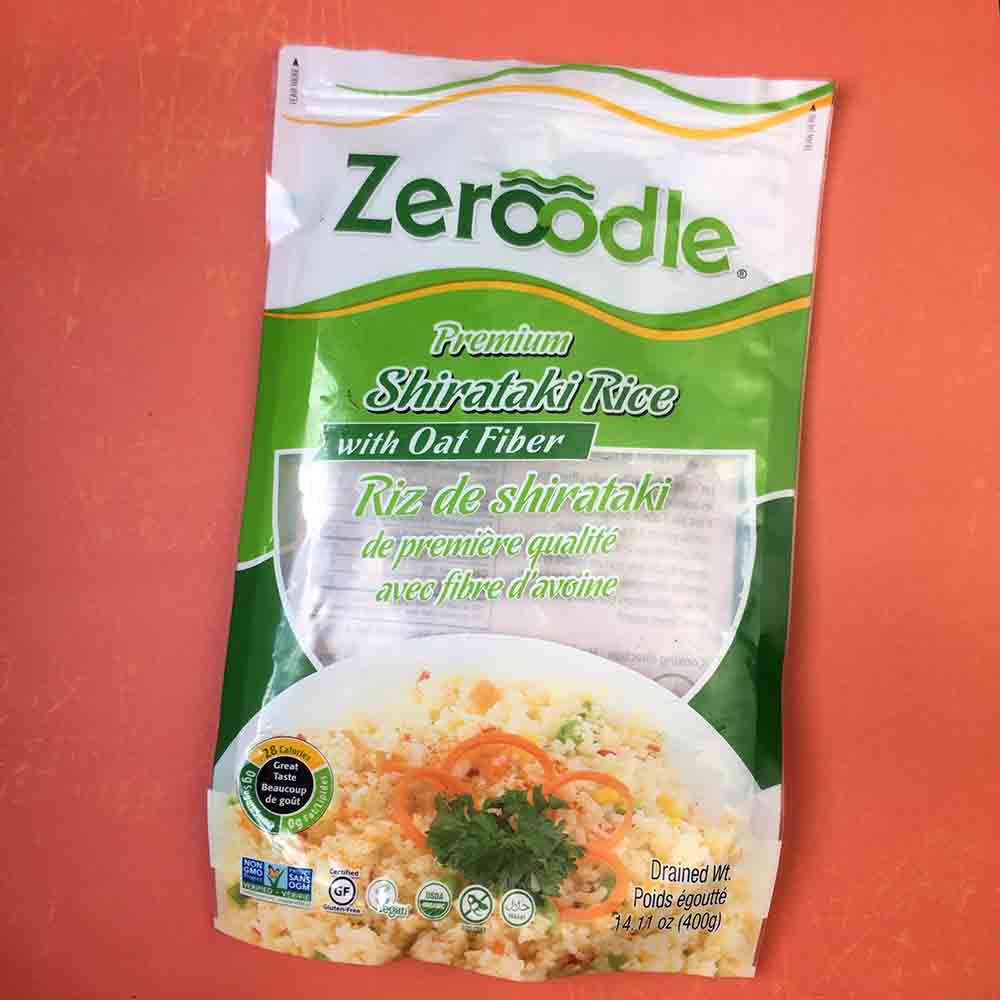 As soon as I tasted the Zeroodle Rice, I knew what I was going to make today: Keto Rice Pudding.
What is Rice Pudding?
Rice Pudding is a classic dessert made from rice mixed with water or milk, spices like cinnamon and vanilla and raisins. It is pure comfort food.
Is Rice Pudding Keto?
Classic Rice Pudding contains white rice and sugar so it's definitely not Keto friendly. But the version we are making today uses the shirataki rice I mentioned, so it clocks in at just 3g net carbs per serving.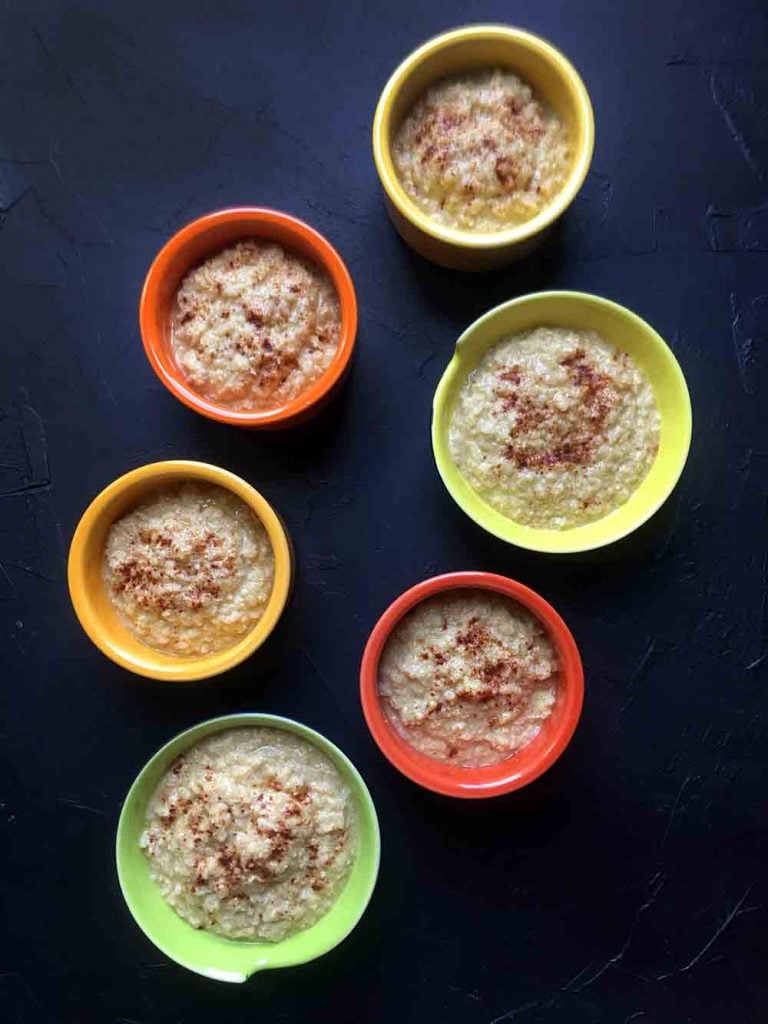 How do you make Keto Rice Pudding?
To make this Keto Rice Pudding recipe, you whip up some low carb vanilla pudding, flavor it with cinnamon and add in the Zeroodle Rice. Not much to it, but boy is it good. It's creamy and sweet and has the signature rice pudding texture to it. So I'm giving Zeroodle Rice two thumbs up.
Double barrel.

Print
📋 Recipe
Keto Rice Pudding
This recipe uses Zeroodle Shirataki Rice to make the world's more comforting comfort food: rice pudding.
Author: Emily Krill
Prep Time:

5

Cook Time:

20

Total Time:

25 minutes

Yield:

3 cups

1

x
Category:

Dessert

Method:

Stovetop

Cuisine:

American

Diet:

Diabetic
Instructions
Step 1.  Use a sieve to drain the package liquid from the Shirataki Rice.  Add rice to a large high sided skillet and dry roast over medium heat for 5 minutes until dried.  Stir often.  Scrape as much rice off the sides and bottom of the pan as you can.  Turn off the heat and set aside.
Step 2.  Whisk together egg yolks, salt, cinnamon and sweetener in a medium-sized bowl.
Step 3.  In a medium sized sauce pan, heat the cream over medium heat until steaming, but not boiling.
Step 4.  Quickly whisk ¼ cup of the hot cream into the egg yolks to temper them.  Whisk in another ¼ cup hot cream.  Then whisk the yolk mixture back into the sauce pan.
Step 5.  Use a spatula to continuously stir the mixture until it begins to thicken.  The mixture is thick enough when it coats the spatula without dripping off, about 5 minutes.
Step 6.  Add the custard mixture to the skillet of rice noodles and cook over low heat for 5 minutes, stirring continuously.
Step 7.  Remove from heat and add in vanilla.  Mix well to combine.  Remove to a medium-sized bowl.
Step 8.  Make an ice bath in your kitchen sink to cool down the rice pudding quickly.  Fill the sink a quarter of the way with cold water and add several handfuls of ice.  Gently lower the bowl into the ice bath.  Let cool for 15-20 minutes, stirring occasionally.  Add the pudding to a resealable container and chill in the refrigerator for 1-2 hours until completely cooled and set.
Step 9.  Sprinkle the top of the rice pudding with cinnamon before serving.
Nutrition
Serving Size:

½ cup

Calories:

358

Fat:

34

Carbohydrates:

6

Fiber:

3

Protein:

6
Keywords: Low Carb Rice Pudding, Keto Rice Pudding, Low Carb Pudding, Keto Pudding