This recipe for Keto Saag Paneer with Tofu is naturally low carb. And each serving has just 3g net carbs. It's a classic Indian vegetable dish that packs a lot of punch.

Today I'm going to share a low carb Indian recipe for Keto Saag Paneer with Tofu.
But not before taking a detour to Bollywood, to put us in the mood for Indian food.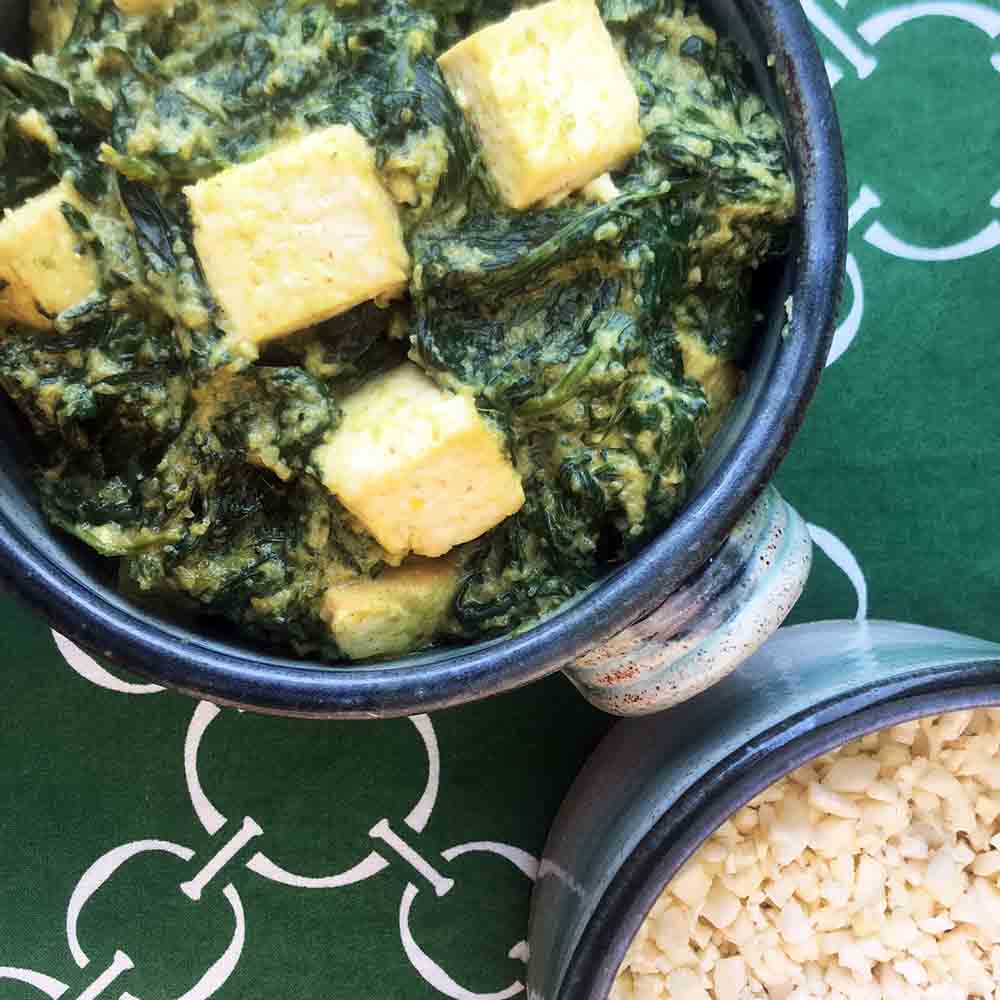 The video below is a dance number from my absolute favorite Bollywood star turned politician: Chiranjeevi.
Or as he is better known in the States: the "Indian Michael Jackson". And he really does have some killer dance moves. I could describe them but it would be easier just to show you.
Impressive, am I right?
Also impressive, is this Keto Saag Paneer (pronounced shag pan ear).
What is Saag Paneer?
Saag or Palak Paneer is an Indian vegetarian dish from Punjab, made with spinach, cauliflower and Paneer Cheese, served hot and usually accompanied by rice. It's a healthy way to get your veggies in.
What are the health benefits to eating spinach?
This naturally low carb leafy green vegetable is simply packed full of vitamins and minerals. The fiber found in spinach is insoluble fiber, (it doesn't dissolve in water), so it can pass through the digestive system whole. This can often help with constipation.
So what is Keto Saag Paneer with Tofu?
This low carb Indian recipe is based on a great one that I found on Serious Eats. It's got fresh spinach and cauliflower and I used tofu instead of the original Paneer Cheese, because it's readily available at the supermarket.
What can you substitute for the rice side?
You've got two basic low carb rice alternatives. You can use Shirataki Rice or Cauliflower Rice. I recommend the cauliflower rice over the shirataki rice because of its nutritional value. (Shirataki Noodles have no nutritional value whatsoever.) I've got a great Keto version of Coconut Cauliflower Rice on this site.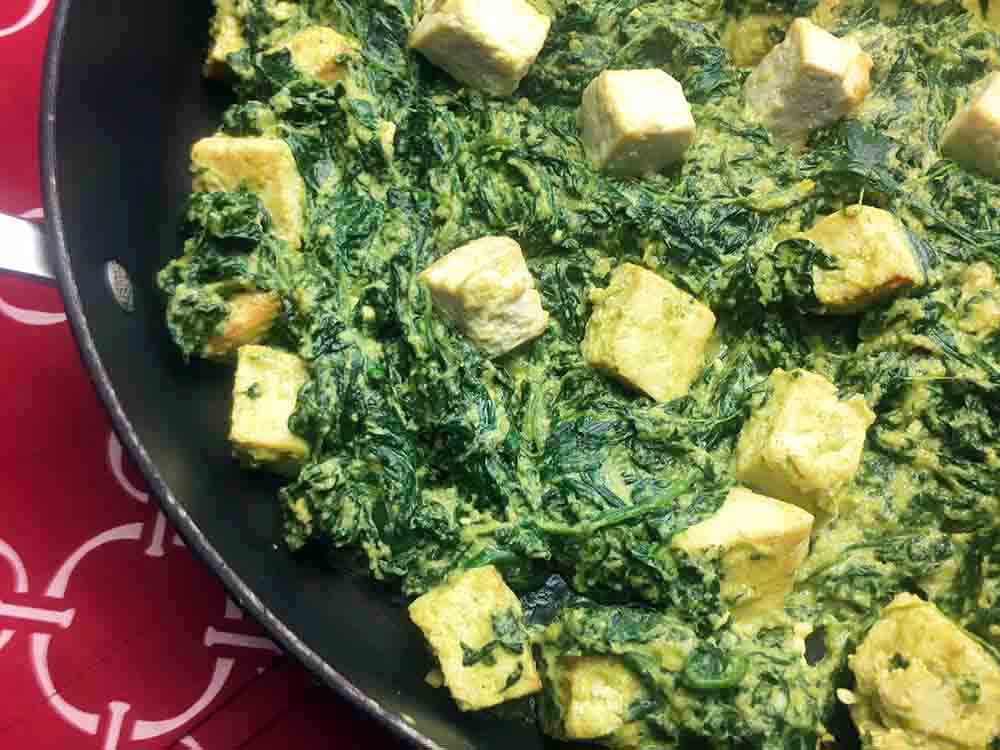 So yea, this dish is really good.
As good as Chiranjeevi's dancing? Perhaps not. But it's really tasty all the same.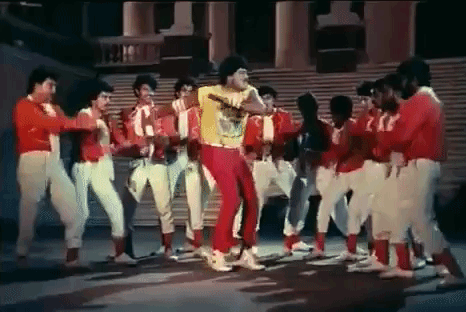 Print
📋 Recipe
Keto Saag Paneer with Tofu
This recipe for Indian Saag Paneer with Tofu is naturally low carb and has just 3g net carbs per serving.
Author: Emily Krill
Prep Time:

10

Cook Time:

35

Total Time:

45 minutes

Yield:

6

servings

1

x
Category:

Side Dish

Cuisine:

Indian
19 oz extra-firm tofu, cubed
3 tablespoons lemon juice, divided (2-3 lemons)
1 tablespoon lemon zest
3 tablespoons olive oil, divided
⅓ cup water
½ cup heavy whipping cream
6 oz cauliflower florets, (⅓ cauliflower)
4 cloves garlic, minced
1 (1-inch) knob ginger, peeled and minced
¼-½ teaspoon red cayenne pepper, as desired
1 teaspoon ground coriander seed
1 teaspoon ground cumin 
1 teaspoon ground turmeric
1 teaspoon cardamom 
¾ teaspoon salt
¼ teaspoon black pepper
18 oz fresh spinach
Instructions
1.  Preheat oven to 375 degrees F and cover a cookie sheet with tin foil.
2.  Press tofu firmly between paper towels to remove excess moisture. Cut into 1 inch cubes and set aside. 
3.  In a medium bowl, whisk together 2 tablespoons lemon juice, lemon zest, and 1 tablespoon olive oil.
4.  Add tofu and toss to coat. Spread tofu evenly over cookie sheet. 5.  Bake until golden brown, about 20 minutes. 
6.  Combine cream, water and cauliflower in a small saucepan and bring to a simmer. 7.  Cook until cauliflower is tender, about 10 minutes. 
8.  Purée mixture using a hand blender or countertop blender. Set aside.
9.  Heat remaining 2 tablespoons olive oil in a large skillet over medium heat until shimmering. Add garlic and ginger and cook, stirring, until fragrant and lightly browned, about 1 minute. Add coriander, cumin, turmeric, cardamom, salt and pepper and cook, stirring, until fragrant, about 30 seconds. 
10.  Add spinach one handful at a time, stirring and adding more as the greens wilt.
Reduce heat to low and cook, stirring occasionally, until greens are fully wilted, about 5 minutes.
11.  Stir in cauliflower purée and continue to cook until greens are very tender, about 5 minutes longer.
12.  Stir in tofu cubes and heat through. Stir in remaining lemon juice and serve.
Equipment
Nutrition
Calories:

223

Fat:

24

Carbohydrates:

6

Fiber:

3

Protein:

10
Keywords: Low Carb Saag Paneer, Keto Saag Paneer, Paleo Saag Paneer
If you liked this low carb Indian recipe, then you might like my recipe for Chicken and Eggplant Biryani.