These low carb and Keto Snickers Brownies are the perfect mix of chocolate, caramel and peanuts. And each brownie has just 2g net carbs.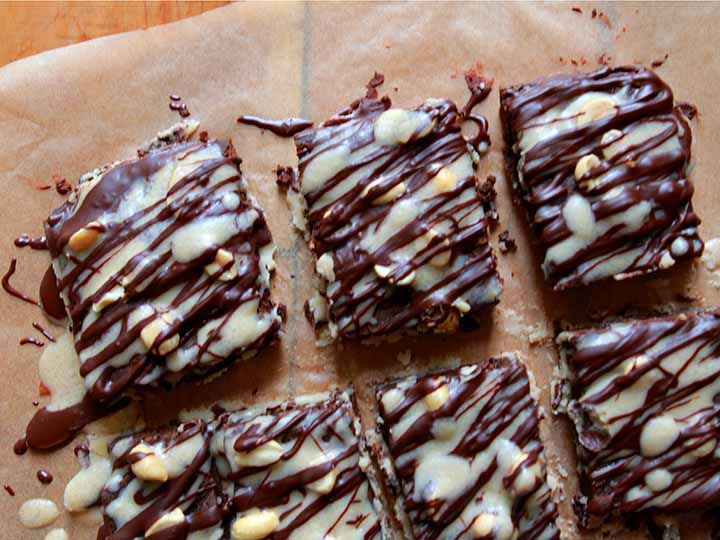 "Snickers is bigger. Snickers is bigger. Snickers is bigger 'cause they put more in!" -Snickers Bar commercial from the late 1980's
I've been humming that old "Snickers is Bigger" jingle all morning as I baked up these Keto Snickers Brownies. And because the Internet is a wondrous place, I was able to find the commercial online. (video below) Now I could be wrong, but I believe the woman in the commercial is wearing an actual banana clip. That's how you know that it is legit.
But I'm guessing you are here for the low carb and Keto Snickers brownies.
And who can blame you? These brownies are truly spectacular. They've got a rich fudgy brownie base with caramel and chocolate drizzled on top. They've also got a light sprinkling of peanuts, (but you can replace them with almonds if you doing doing strict Keto).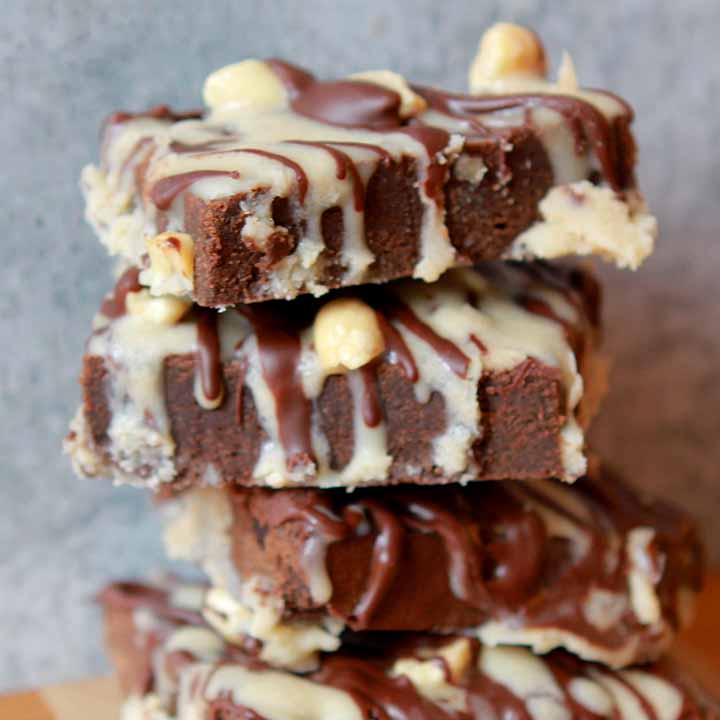 It took me a couple tries to get the brownie layer just right.
I ended up basing this recipe on a great brownie that I found on the gnom-gnom blog. It's on the fugdy end of the brownie spectrum. (On one side of the spectrum is total fudge and on the other end is chocolate cake.) I'd guess that these brownies have a fudge factor of about 8 on a scale of 1-10.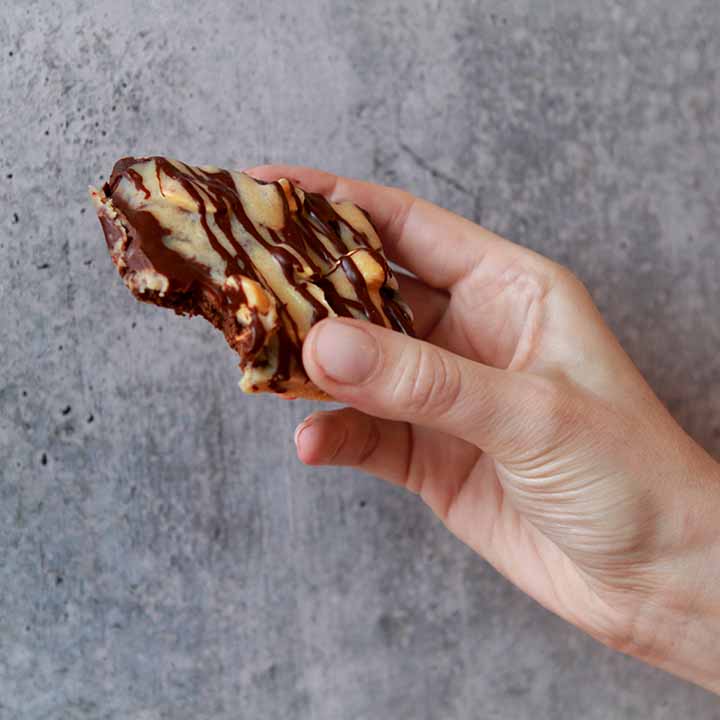 All of which is to say: this is a very concentrated and flavorful brownie.
I've set the serving size to 2 x 2 inches which comes out to 2g net carbs per brownie. You might want to cut them in half though, because they are so rich. But of course, you can always make them bigger than that too. Because brownies are bigger, brownies are bigger...
Brownies are bigger when you put more in!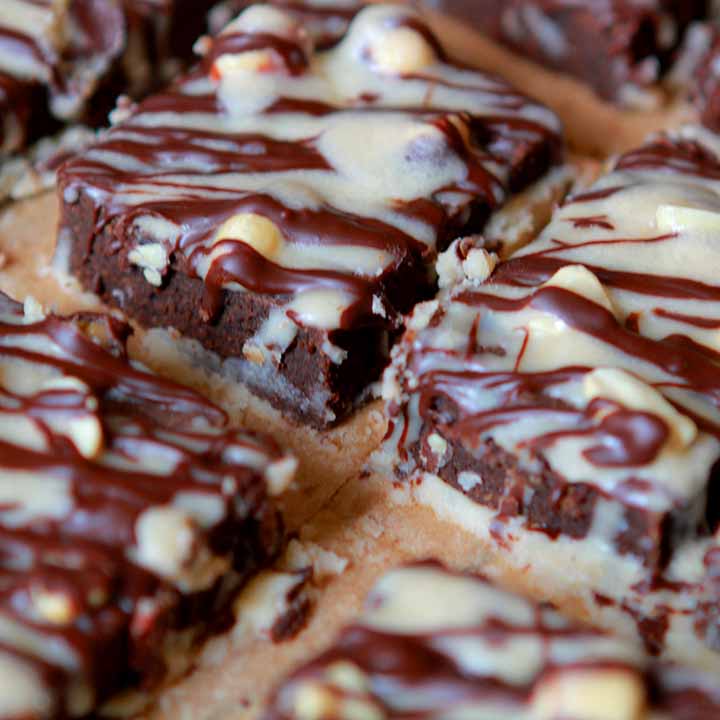 Print
📋 Recipe
Keto Snickers Brownies
These low carb and Keto Snickers Brownies are the perfect mix of chocolate, caramel and peanuts.  And each brownie has just 2g net carbs.
Author: Emily Krill
Prep Time:

80

Cook Time:

25

Total Time:

1 hour 45 minutes

Yield:

16

brownies

1

x
Category:

Dessert

Method:

Baked

Cuisine:

American
Brownies:
9 tablespoons unsalted butter
¾ - 1 cup Confectioner's Swerve or equivalent powdered sweetener, as desired
11 tablespoons unsweetened cocoa powder
½ teaspoon salt
3 large eggs, at room temperature
¾ cup super fine almond flour
½ cup roasted salted peanuts
Caramel Sauce:
½ cup unsalted butter
2 tablespoons Swerve or equivalent granulated sweetener
2 teaspoons vanilla extract
¼ cup heavy whipping cream
Chocolate Sauce:
⅓ cup Lily's Sugar-Free Chocolate Chips or equivalent sugar-free chocolate chips
1 tablespoon Confectioner's Swerve or equivalent powdered sweetener
2 teaspoons coconut oil
Instructions
Brownies:
1.  Pre-heat oven to 350 degrees F and position rack to the lower ⅓ of the oven.  Cut two pieces of parchment paper and use them to line an 8 x 8 inch cake pan.  Criss cross the pieces of parchment paper so that you can lift the brownies up from the pan once they are cooked.
2.  Add butter to a large microwave safe bowl and microwave until melted, 1-2 minutes.  Add in sweetener, cocoa powder and salt and microwave in 30 second increments, mixing after each time until fully incorporated.  Allow the mixture to cool for 10 minutes.
3.  Whisk eggs, one at a time, into the chocolate mixture until it is smooth and combined.
4.  Whisk in the almond flour until smooth and combined, about 1 minute.
5.  Pour batter into prepared pan.  Bake for 15 - 25 minutes until the center has just set, and a tooth pick in the center comes out moist but not liquid.  It's easy to over bake so start checking in at minute 15.  
6.  Set the brownies aside to cool in the pan for 1 hour.
Caramel Sauce:
7.  Right after the brownies come out of the oven, you should cook up the caramel sauce.  Add butter to a medium size sauce pan.  Use a light color or metal sauce pan if you can, because you'll need to gauge the color of the sauce and black pans make it hard to see.  Cook over Medium heat until just boiling, whisking the whole time.  Once it begins to boil, lower the heat to Low and keep whisking until the butter is golden in color, 4-5 minutes.  Keep a close eye on the color because it can go from golden to dark brown very quickly. 
8.  Whisk in sweetener and bring back to a simmer, 1 minute.  Simmer for 1 minute more and then remove the pan from the heat.
9.  Whisk in cream and vanilla and add the mixture to a medium sized bowl to cool.  By the time that the brownies have cooled (1 hour) the caramel sauce should be cooled and thick enough to drizzle on top of the brownies.  If it is too thin to drizzle, then put it in the refrigerator in 5 minute increments, stirring each time, until it has thickened enough to drizzle.  Do not just leave the caramel sauce in the refrigerator though, because it will harden too much to drizzle properly. 
Chocolate Drizzle:
10.  Combine chocolate chips and coconut oil in a small microwave safe bowl.  Microwave in 30 second increments, stirring between each one, until the mixture has melted and combined.  Mix in powdered sweetener.  
11.  Once the brownies have cooled and the sauces are ready, drizzle half of the caramel on top of the brownies.  Then drizzle half of the chocolate.  Sprinkle the peanuts on top, and then drizzle the remaining caramel sauce and chocolate on top of that.
12.  Place the brownies in the freezer for 15 minutes until the top is set. 
13.  Lift the parchment to remove the sheet of brownies from the pan and place them on a cutting board.  Cut the brownies into halves until you reach 16 brownies.
Nutrition
Serving Size:

1 brownie

Calories:

210

Fat:

21

Carbohydrates:

5

Fiber:

3

Protein:

4
Keywords: Low Carb Snickers Brownies, Keto Snickers Brownies, Gluten Free Snickers Brownies
If you liked this low carb brownie recipe, then you might like my recipes for Flax Seed, or Avocado Brownies.