This recipe for low carb and Keto Eggs Benedict swaps out English Muffins for rounds of cauliflower.

I'm really liking this mini series on Starz right now.
It's an adaptation of E. M. Forster's Howard's End. (trailer below)
This show really checks all the boxes for me.
It's a period piece set in England at the turn of the last century. It stars Haley Atwell and Mathew McFadden, two of my favorite actors. And finally, I love films based on E.M. Forster novels. He's right up there with Jane Austen, so this mini series scores a perfect 10. I cannot recommend it enough.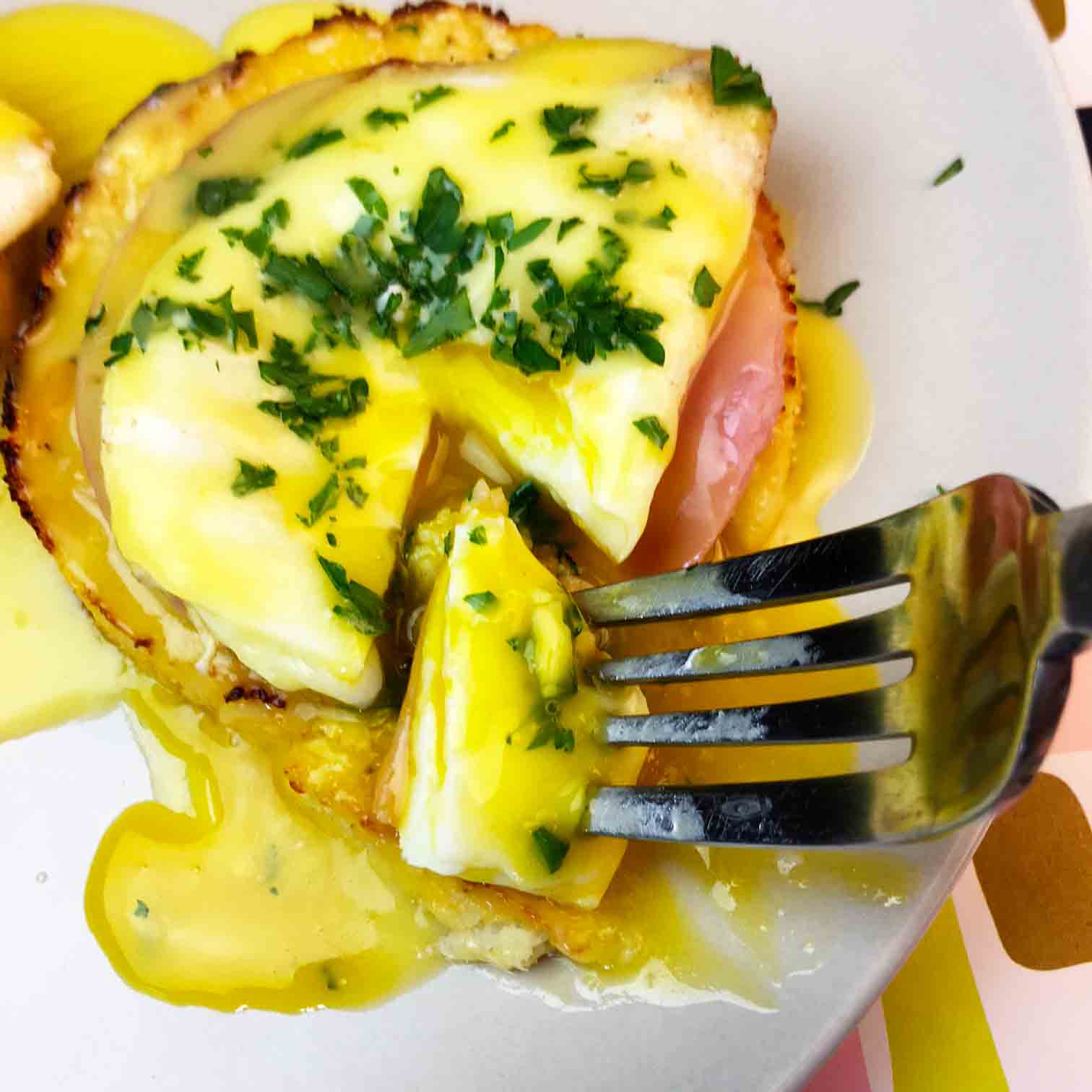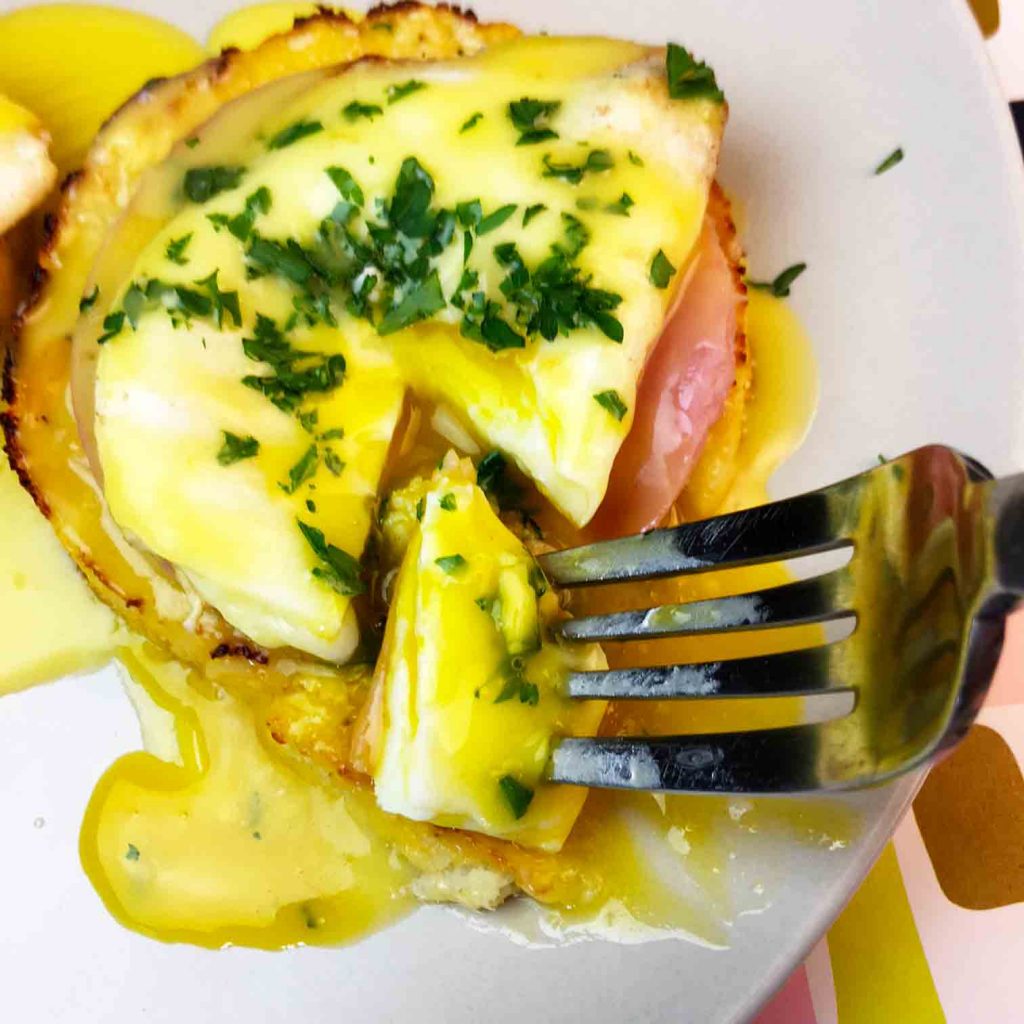 And this recipe for Eggs Benedict comes from that same time period.
In 1894, Lemuel Benedict, a Wall Street broker suffering from a hangover, ordered "some buttered toast, crisp bacon, two poached eggs, and a hooker of Hollandaise sauce". (I guess ordering a hooker had a different meaning back then.) Anyway, that is how this classic brunch dish came to be.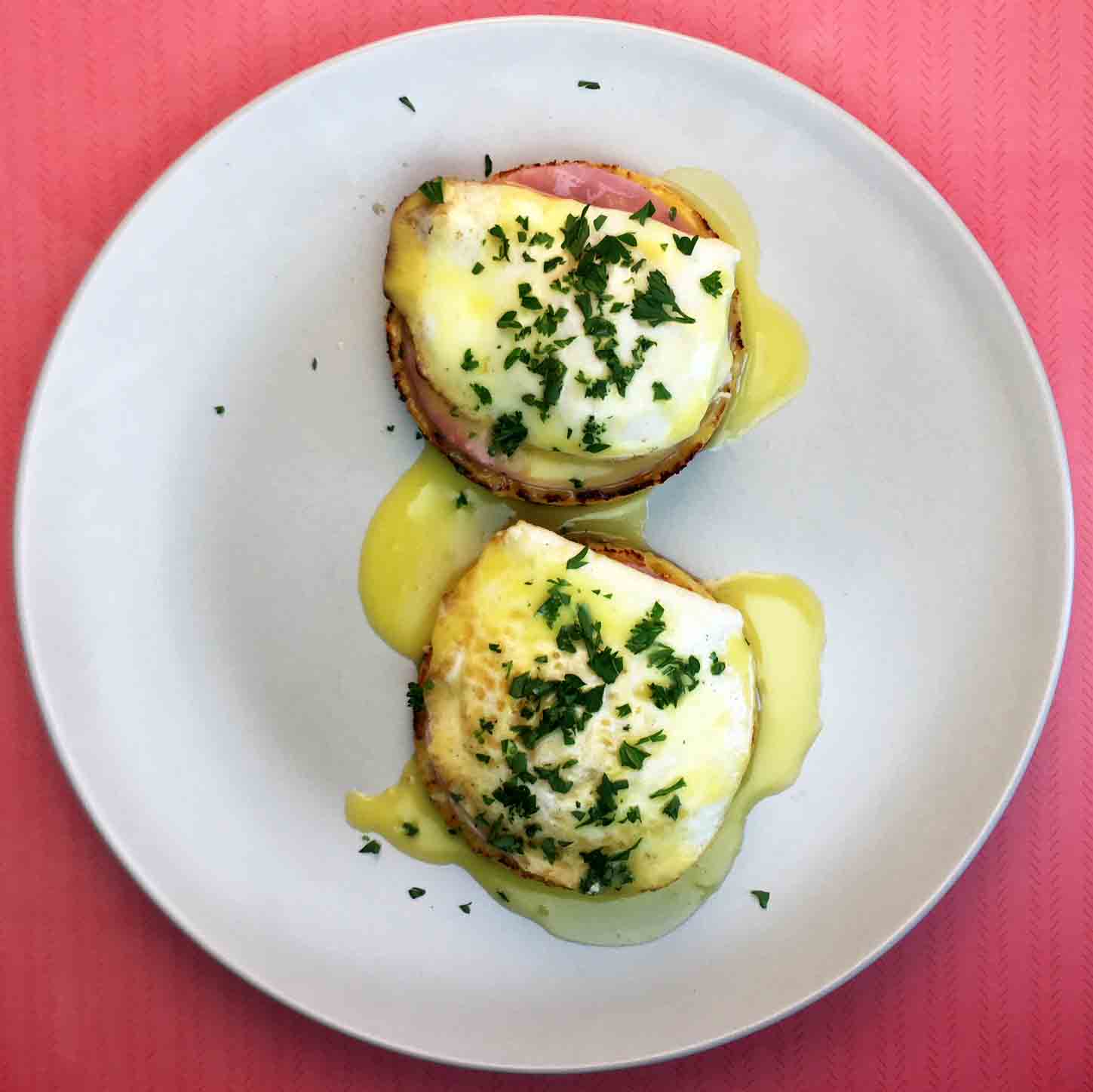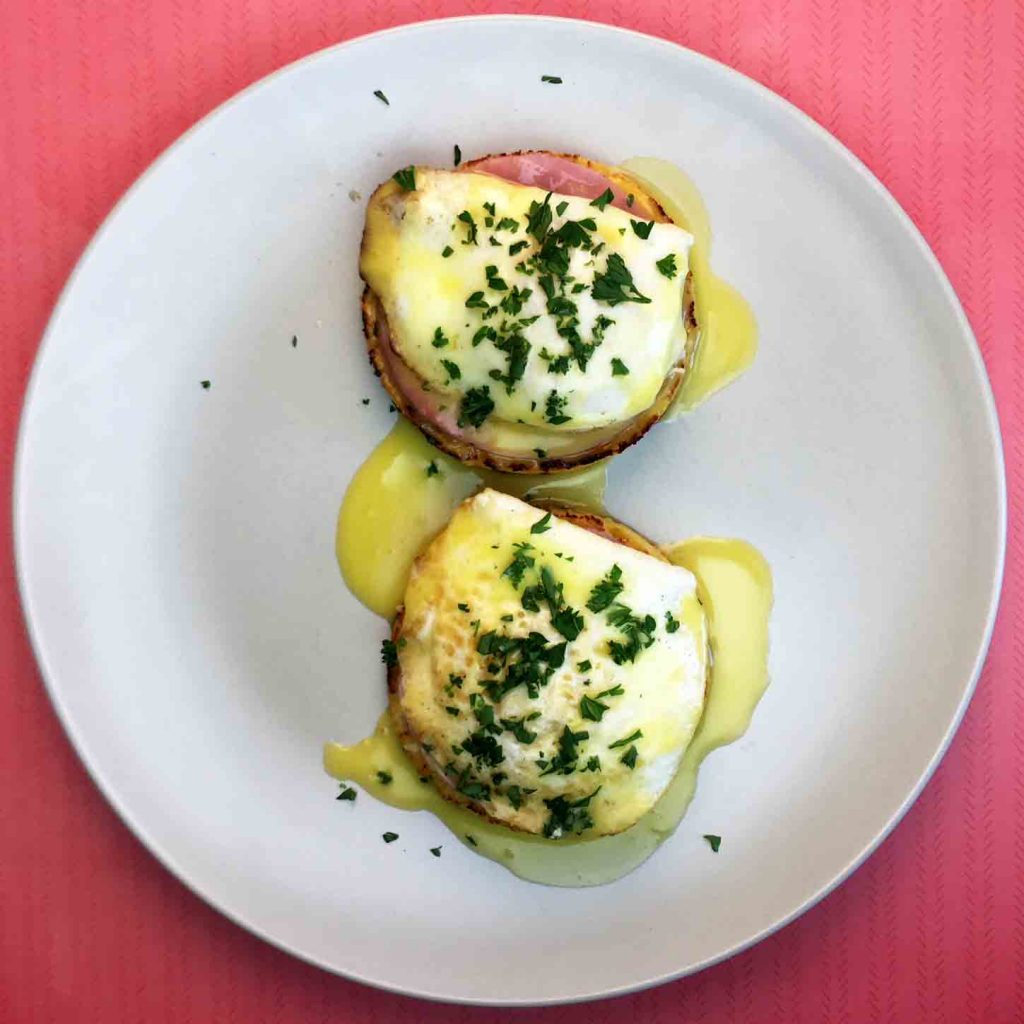 Today's low carb cauliflower Eggs Benedict recipe keeps the hooker of Hollandaise sauce, but skips the English Muffin.
Instead, we're going to make an English Muffin substitute out of our old friend, the cauliflower. Two of these low carb cauliflower rounds have only 4g net carb, versus an English Muffin, which clocks in at 26g net carb.
It's rather smashing, as the English might say.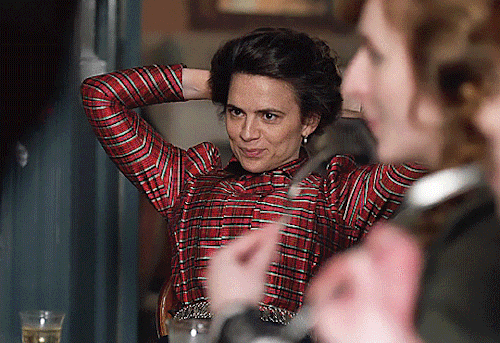 Print
Low Carb Keto Cauliflower Eggs Benedict
This recipe for low carb Eggs Benedict swaps out English Muffins for rounds of cauliflower.
Author: Resolution Eats
Prep Time:

15

Cook Time:

35

Total Time:

50 minutes

Yield:

3

servings

1

x
Category:

Entree

Cuisine:

American
cauliflower rounds:
2 ½ cups

cauliflower florets, riced

1 tablespoon

fresh parsley, chopped

½ cup

shredded sharp cheddar cheese

¼ teaspoon

salt

⅛ teaspoon

black pepper

1

large egg, beaten
hollandaise sauce
3

egg yolks

¼ teaspoon

dijon mustard

1 tablespoon

fresh lemon juice

¼ teaspoon

salt

½ cup

butter, melted
toppings:
6

large eggs

6

slices Canadian bacon

1 tablespoon

fresh parsley, chopped
Instructions
1.  Preheat the oven to 425 degrees F and cover a large cookie sheet with parchment paper.
2.  Add the cauliflower florets to a food processor or high powered blender and process until it's the size of rice.
3.  Microwave the cauliflower for 4 minutes in a large bowl.  Stir and then microwave for another 4 minutes.  Allow to cool.
4.  Once the cauliflower is cool enough to handle, add it to a clean tea towel and wring out the liquid.  You should be able to remove at least 1 cup of liquid.
5.  Mix the cauliflower with egg, cheese, parsley, salt and pepper.
6.  Place a 3" circular cookie cutter on the parchment covered cookie sheet.  Fill the cookie cutter with the cauliflower mixture.  Pack it down with the back of a spoon.  Gently remove the cookie cutter.  The rounds should be about ⅓ inch thick.  Repeat until you've used up all the cauliflower..
7.  Bake for 25 minutes or until nicely browned.
8.  While the cauliflower rounds are in the oven, you can make the Hollandaise sauce.  In a medium sized bowl, whisk together the egg yolks, lemon juice, mustard and salt for 10 seconds.
9.  Melt butter in microwave, about 1 minute.  Slowly add to the egg mixture while rigorously whisking.  It should thicken up as it cools.  Set the bowl in a pan of hot water to keep it warm.  Alternately, you can use a blender instead of whisking.  Just make sure to pour the butter in slowly as the blender mixes the sauce.
10.  Bring a saucepan of water to a boil, then reduce to a low simmer. Create a vortex by stirring the water, then drop in an egg. Cook for 3 minutes, then transfer with a slotted spoon to a paper towel. Repeat with remaining eggs.
11.  Serve as a stack,  with cauliflower rounds on the bottom, then Canadian bacon, then an egg, then Hollandaise sauce, with parsley sprinkled on top.
12.  Serve immediately.
Nutrition
Serving Size:

2 egg benedicts

Calories:

683

Fat:

57

Carbohydrates:

8

Fiber:

2

Protein:

35
Keywords: Low Carb Eggs Benedict, Keto Eggs Benedict, Paleo Eggs Benedict