This recipe for Cool Whip Ambrosia Salad is about as quick and easy as they come. If you have 6 minutes and 6 ingredients, you can mix up this simple but super delicious low calorie dessert.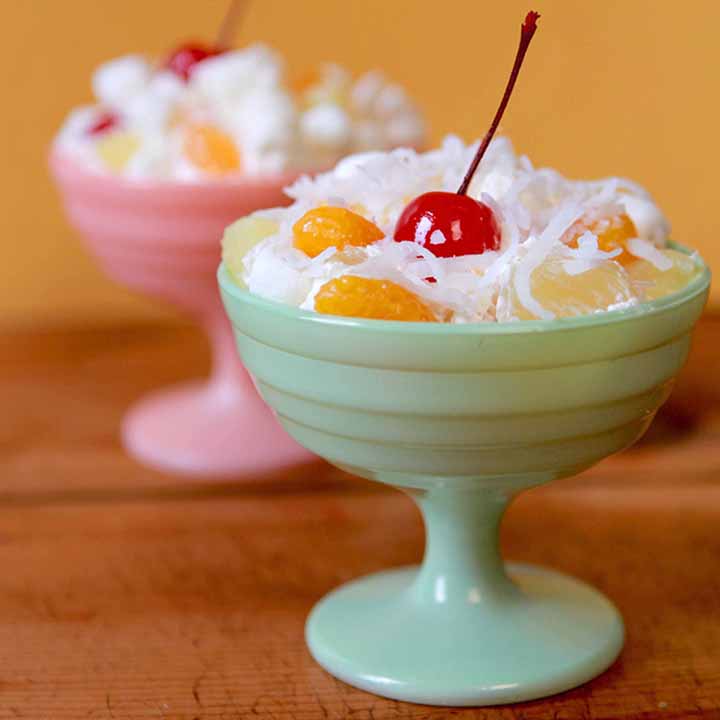 I found the best recipe yesterday.
I was flipping through my Mom's old cookbooks, looking for something sweet to make. And in between her Better Homes & Gardens and her Joy of Cooking, I found these thin spiral-bound cookbooks. They were dog-eared little recipe collections put together in the 1980's by the members of my Mom's Women's Club.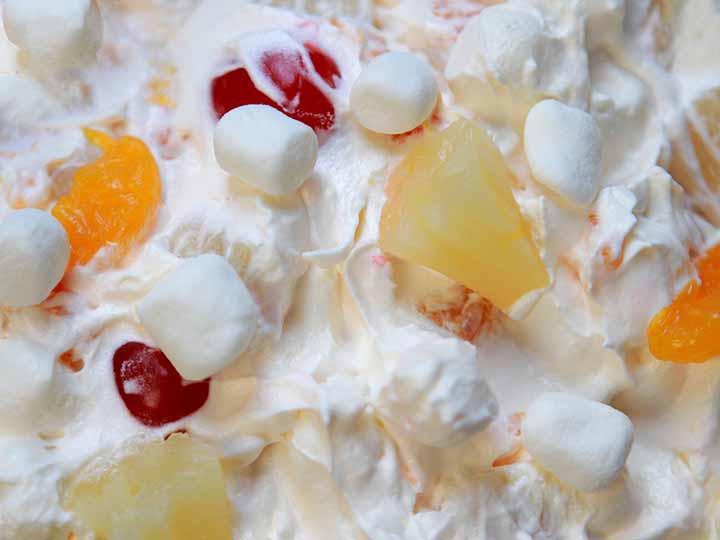 It was great to see it again, because I remember so many of these recipes from when I was a kid.
Some of the recipes are so simple that you'd never find them in a real cookbook. Take poke cake for example. The instructions are: Bake a white box cake. Poke holes in it and pour Jello into the holes. Done. It was ridiculously simple to make, but who cares? Poke Cakes are delicious!
Which brings me to another ridiculously easy dessert: the Ambrosia Salad.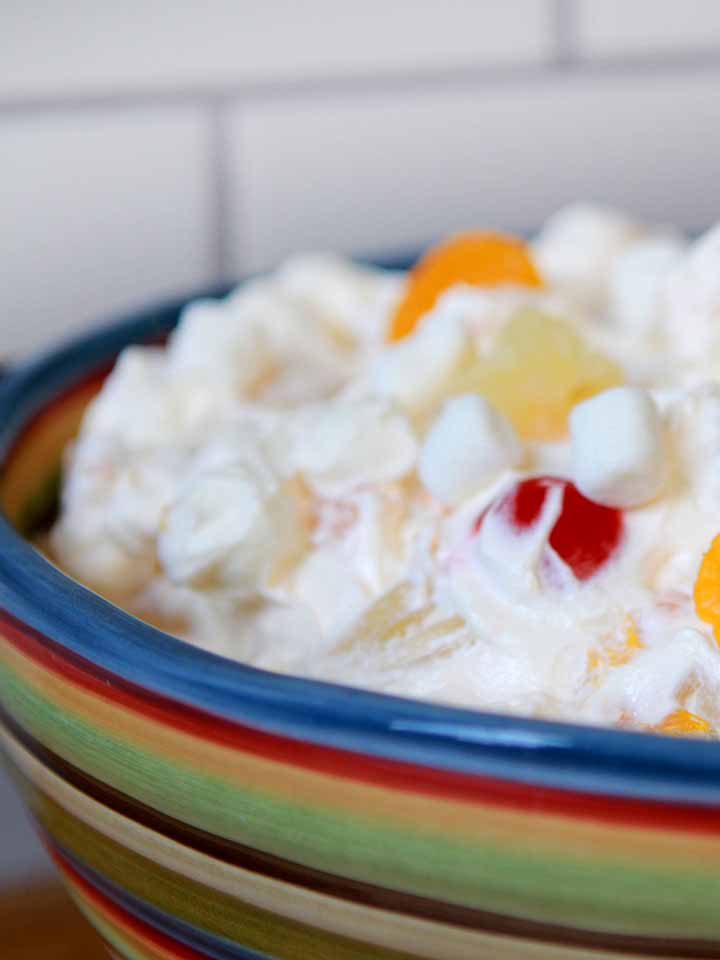 What is Ambrosia Salad?
Ambrosia literally translates to "food of the gods". (Or is that figuratively? I'm not sure. Let's move on.) In today's recipe, that means a mixture of whipped cream, sour cream, marshmallows, pineapple, and mandarin oranges. And sometimes coconut.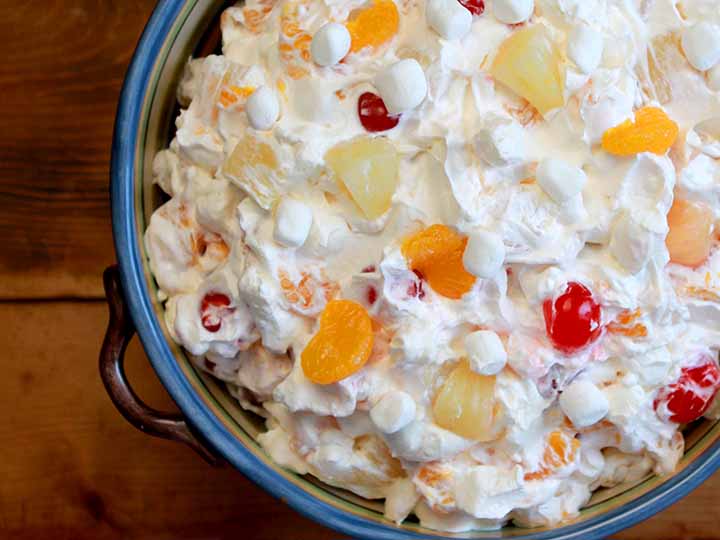 Is Ambrosia really a salad?
A dessert made from Cool Whip and marshmallows doesn't really come to mind when you hear the word salad. So let's just put it in air quotes. Today I'm going to share my recipe for Cool Whip Ambrosia Fruit "Salad". There, now it's more accurate.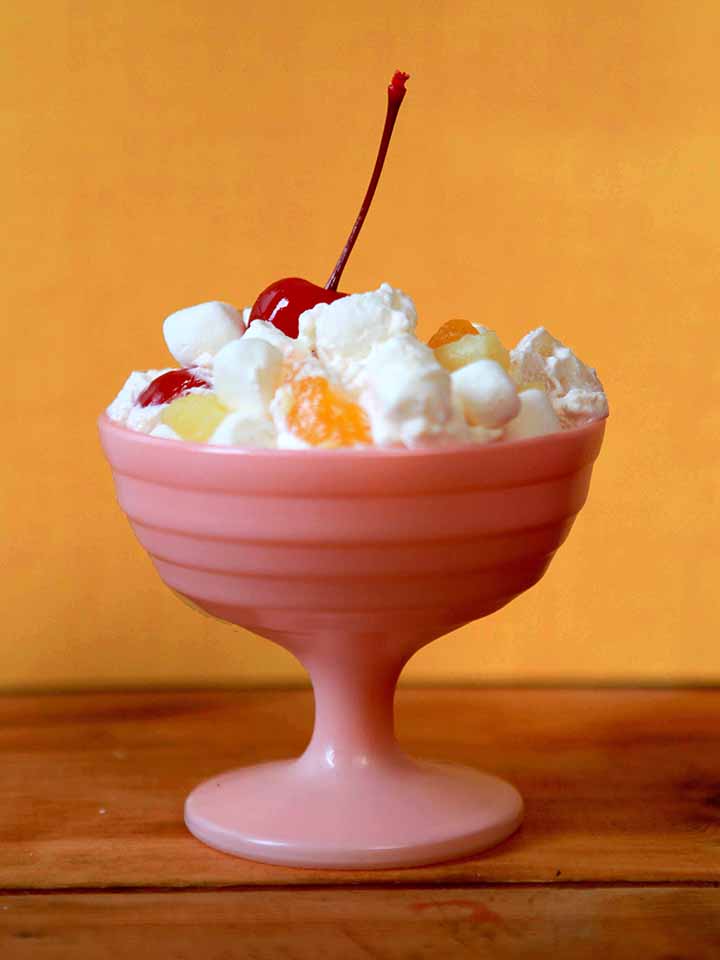 What are the Cool Whip Ambrosia ingredients?
As you might have guessed, you are going to need a tub of Cool Whip. You'll also need a bag of mini marshmallows, a can of pineapple tidbits, a can of mandarin oranges, a jar of maraschino cherries and a half a cup of sour cream.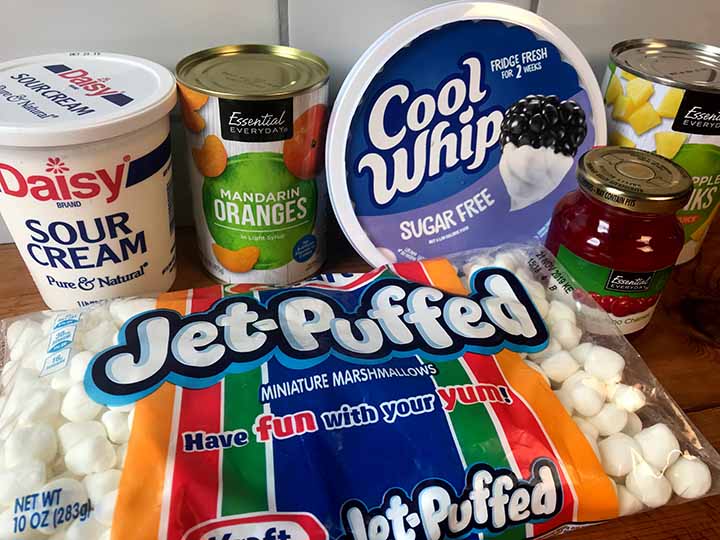 And there are optional ingredients that you can mix in with the fruit and marshmallows. You can add chopped pecans, chopped walnuts and/or sweetened shredded coconut.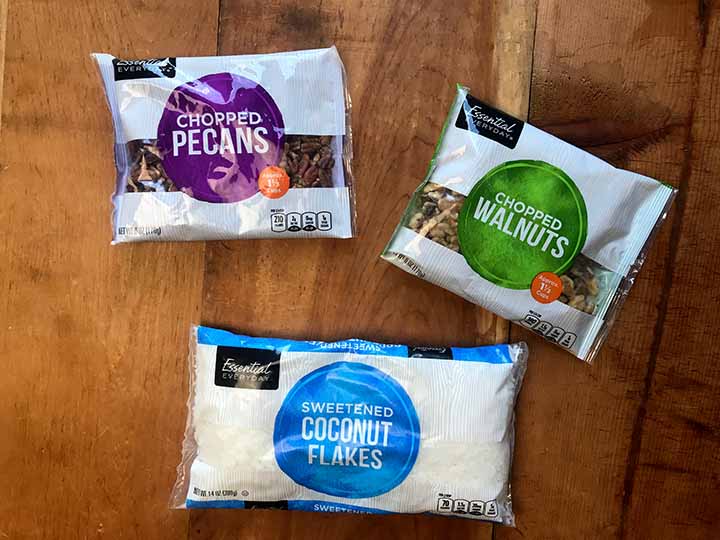 How do you make this easy Cool Whip Ambrosia recipe?
You start by draining the pineapple, mandarin oranges and maraschino cherries very well.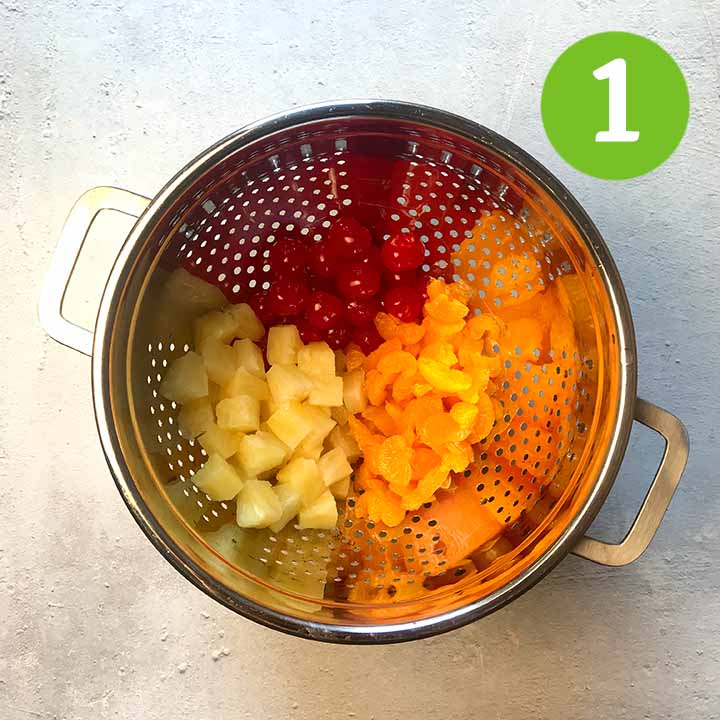 Then mix together Cool Whip and sour cream in a large bowl.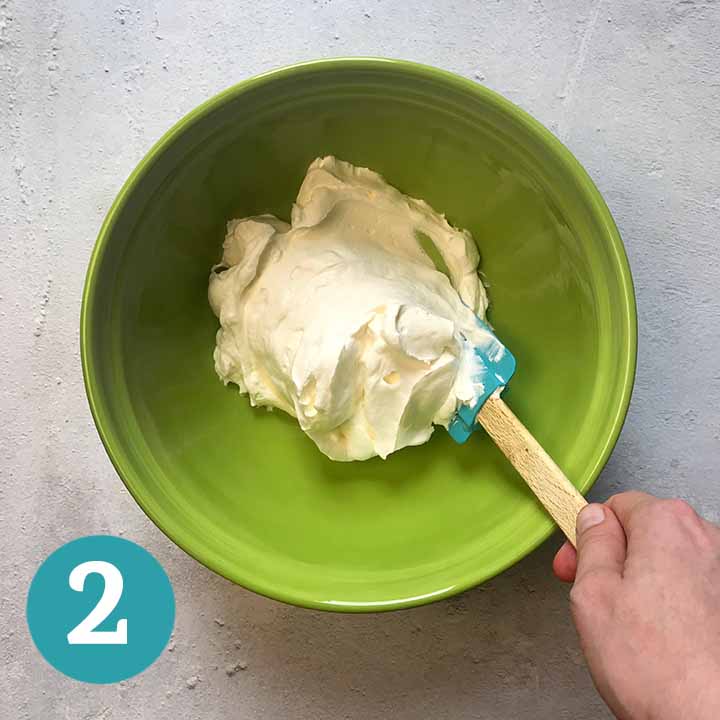 Fold in the marshmallows, and drained fruit. Fold in the mandarin oranges last because they are the most delicate and prone to break.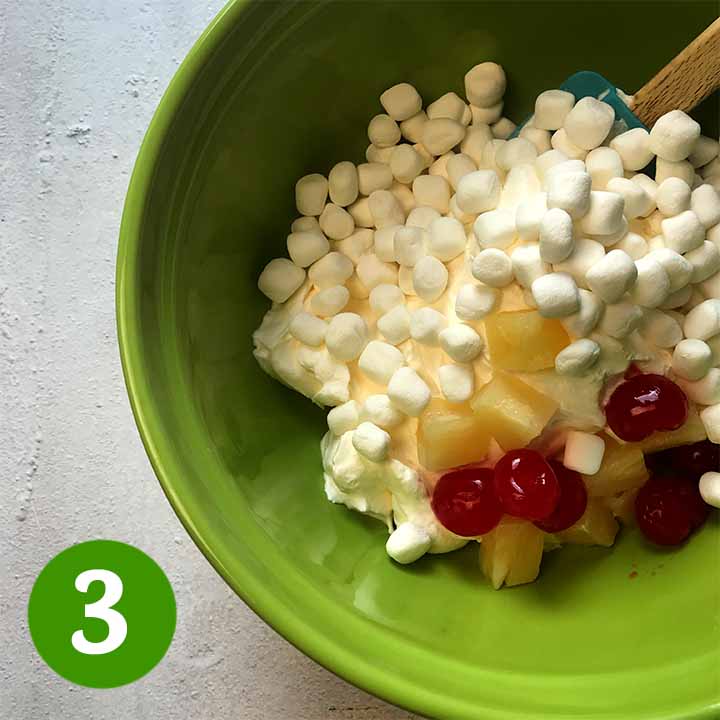 Finally, you chill the "salad" in the the refrigerator for at least 2 hours. It's perfectly fine to eat it right after you mix the Cool Whip Ambrosia up, but chilling it gives the marshmallows time to soak up the liquid from the fruit.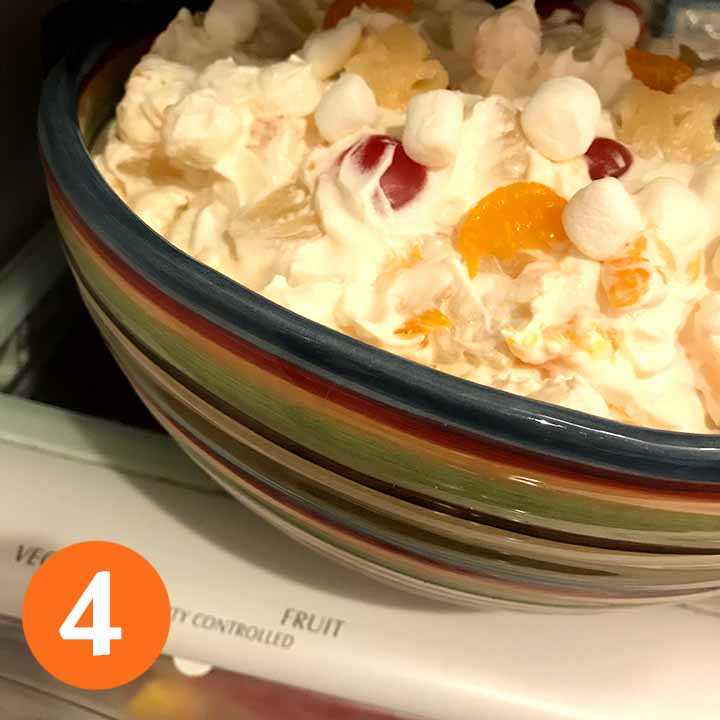 And you're done.
Well, not quite done. I've got some more Cool Whip Ambrosia tips for you guys.
You can swap the sour cream with plain yogurt if you'd like. I've tried making the "salad" both ways and couldn't taste any difference between the two.
You can use fruit flavored marshmallows for some added color and flavor.
You can also add 2-3 drops of red or green food color to give it a nice pale pastel look. Just stir the food coloring in after you mix together the Cool Whip and sour cream.
I put sweetened shredded coconut on the optional add in list, but many people see coconut as one of the main ingredients. So if you are on Team Coconut, you can add in 1/2 cup of coconut along with the marshmallows and fruit. Or you can just sprinkle a little shredded coconut on top as a garnish.
I used Sugar-Free Cool Whip when I tested this recipe, but if you compare the nutritional labels of Regular and Sugar-Free, there is just a teeny tiny difference between the two. They both have 3g of carbohydrate, but Sugar-Free Cool Whip has 20 calories and regular has… 25 calories. So either one is fine.
Buy the pineapples and mandarin orange slices canned in water or juice, rather than syrup to make the recipe as low in sugar as possible. Go for "No Added Sugar" if you can.
You can buy sugar-free marshmallows on Amazon. Here is a link.
There are no sugar-free maraschino cherries on the market, unfortunately.
You can add in chopped pecans or walnuts if you'd like. Just use 1/2 cup of one or the other.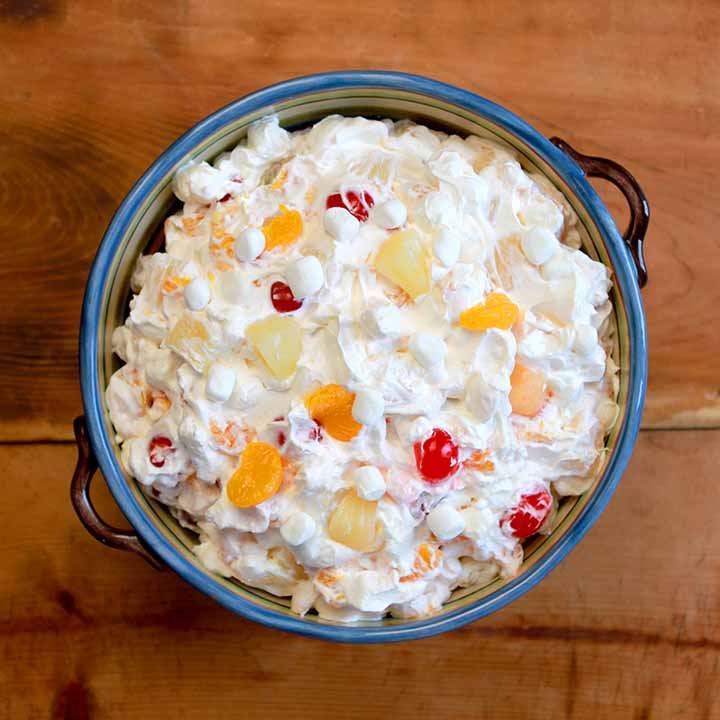 Ok, now we're done done.
In just a few minutes, you'll have a super tasty dessert with just 100 calories per serving. After your first bite, you'll see why it ended up in the old beat up community cookbook. These are all the best recipes from each woman, the ones that always killed when they brought them to Tupperware parties and potluck dinners. The ones that everybody always wanted the recipe for.
All you need is 6 ingredients and 6 minutes, and you can make yourself a classic Ambrosia "Salad", food of the gods.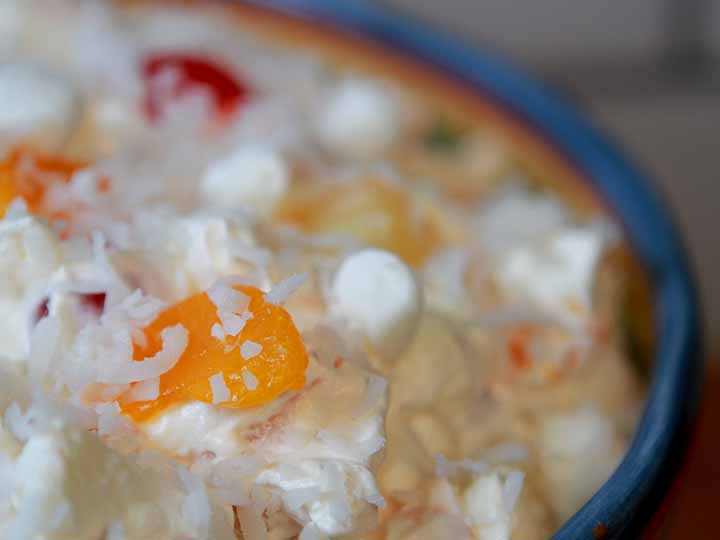 Processing…
Success! You're on the list.
Whoops! There was an error and we couldn't process your subscription. Please reload the page and try again.
Print
Easy Cool Whip Ambrosia Salad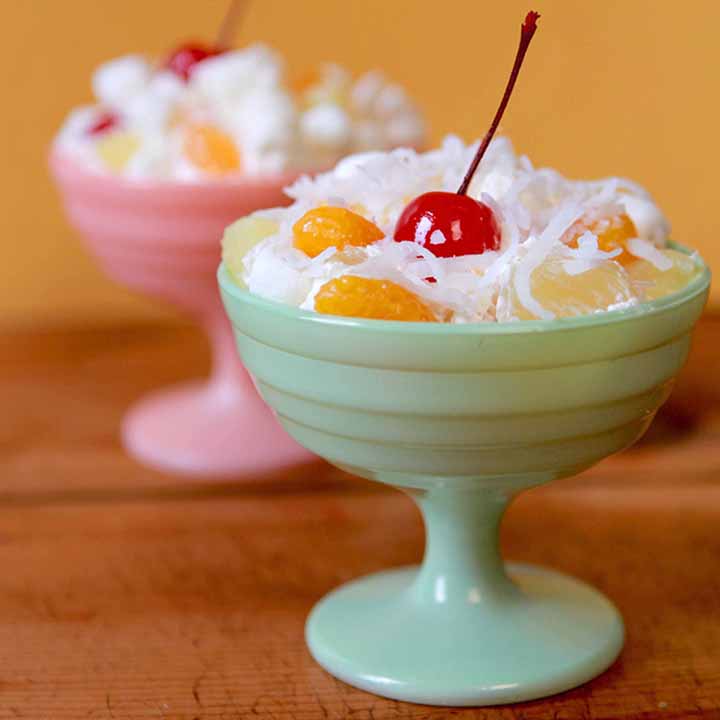 This recipe for Cool Whip Ambrosia Salad is about as quick as they come.  If you have 6 minutes and 6 ingredients, you can mix up this simple but super delicious low calorie dessert.
Author: Resolution Eats
Prep Time:

6

Total Time:

6 minutes

Yield:

7 cups

1

x
Category:

Dessert

Method:

Chilled

Cuisine:

American
Ambrosia Salad:
1 8oz tub of Sugar-Free or Regular Cool Whip
1/2 cup sour cream 
2 cups mini marshmallows
20oz can of pineapple tidbits or chunks
11oz jar of maraschino cherries
15oz can of mandarin orange slices
Optional Add Ins:
1/2 cup chopped pecans
1/2 cup chopped walnuts
1/2 cup sweetened shredded coconut
2–3 drops food coloring
Instructions
1.  Using a colander or sieve, drain as much of the liquid from the oranges, cherries and pineapple as you can.  Keep the oranges separate from the other fruit because you are going to mix it in last.
2.  In a large bowl, mix together Cool Whip and sour cream.  Mix in food coloring if you are using it.
3.  Carefully fold in the marshmallows, pineapples and cherries.  Fold in mandarin oranges last because they are the most delicate and prone to fall apart. 
4.  Chill in the refrigerator for at least 2 hours before serving. 
Nutrition
Serving Size:

1/2 cup

Calories:

100

Fat:

2

Carbohydrates:

21

Fiber:

<1

Protein:

<1
Keywords: Ambrosia Salad, Cool Whip Ambrosia Salad, Easy Ambrosia Salad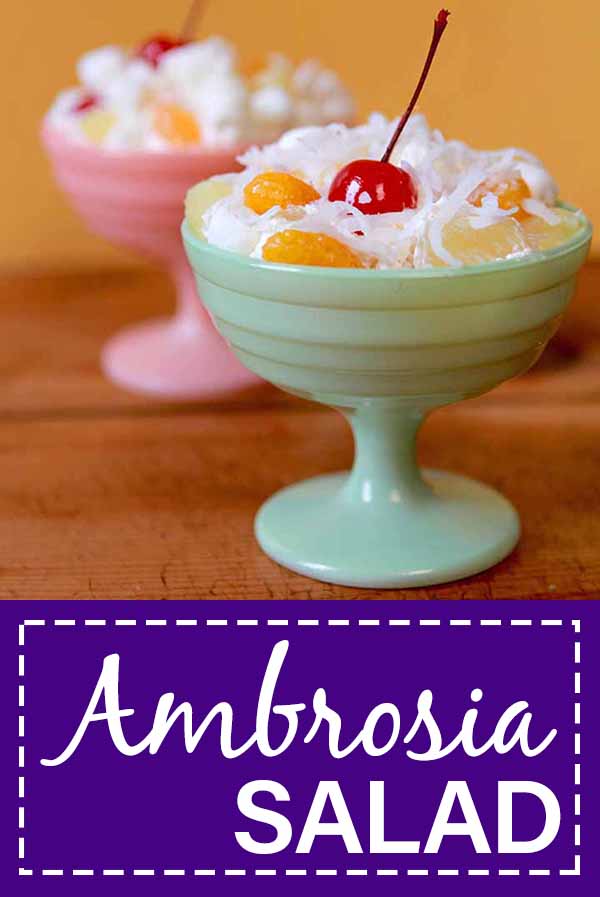 810