These low carb keto lemon bars with blueberry will brighten your day. They are easy to make and only have 2g net carbs each.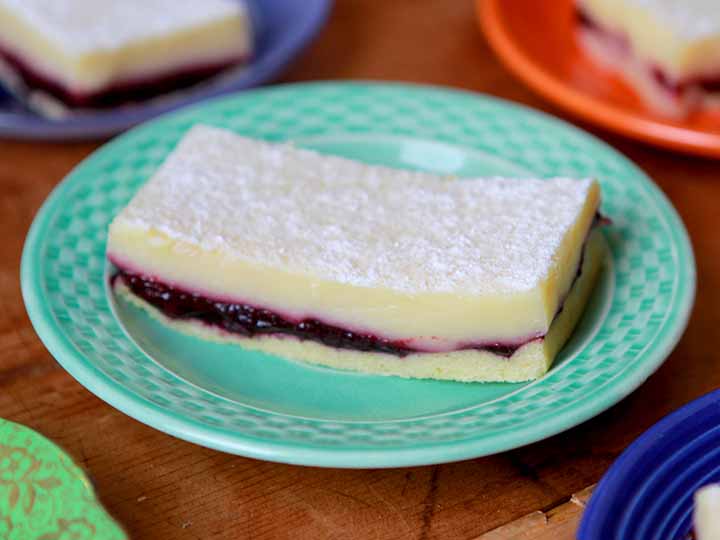 I hope you don't mind. I hope you don't mind, that I put down in words, how wonderful life is while you're in the world.

Elton John
It's a rather dismal rainy day here in Pittsburgh, so I've been listening to Sir Elton John and baking Keto blueberry lemon bars to cheer myself up. And I have to say, it really turned the day around for me. So I'm going to share my low carb lemon bar recipe and my Elton John Rainy Day playlist with you. (videos below)
Now, it is not mandatory that you listen to Elton John while making these blueberry lemon bars, but it certainly makes it more enjoyable.
Because this is a multi-layered dessert, there are going to be boring parts, there's just no getting around it. You'll need to bake up an almond flour crust, and then cook a fresh blueberry layer and then a lemon curd layer on top of that. It's a whole thing.
But at the end of it, you'll have a luscious Keto dessert with only 2g net carbs per bar.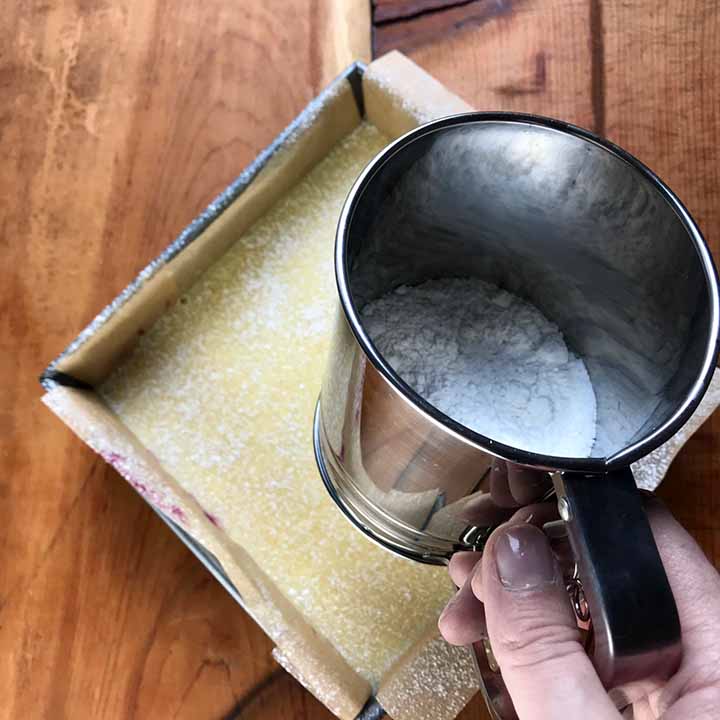 And you should know that I don't use the word "luscious" lightly. It needs to be a truly tasty dessert to earn that adjective.
But this Keto blueberry lemon bar more than deserves it.
The crust is soft, and the fresh blueberry and lemon layers are tart and sweet. This low carb dessert really checks all the boxes for me.
So what are you waiting for, tiny dancers? You've got some luscious low carb dessert bars to make!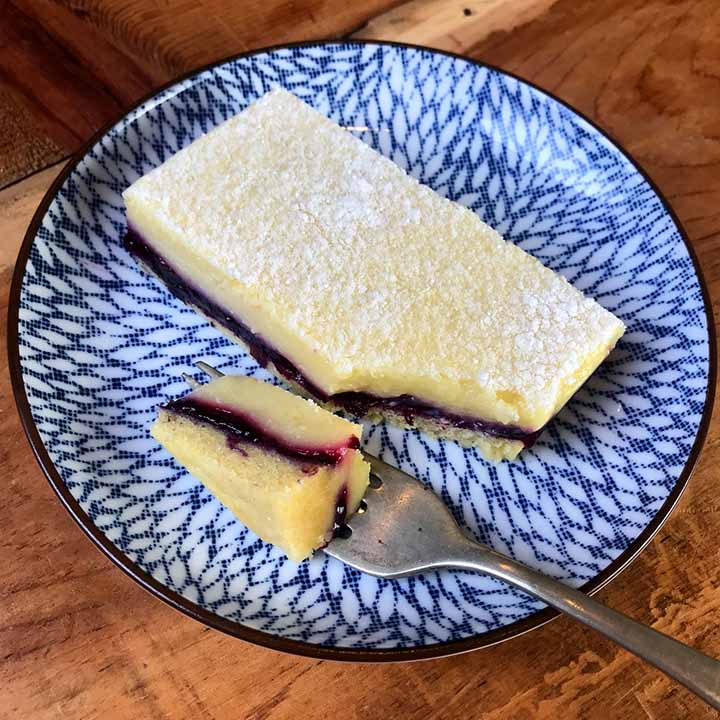 Print
📋 Recipe
Keto Blueberry Lemon Bars
These low carb and Keto blueberry lemon bars will brighten your day.  They are easy to make and only have 2g net carbs each.  
Author: Emily Krill
Prep Time:

5

Cook Time:

35

Total Time:

40 minutes

Yield:

16

square bars

1

x
Category:

Dessert

Method:

Baked

Cuisine:

American
Crust:
1 cup super fine almond flour*
1 egg, beaten
2 tablespoons unsalted butter, melted
¼ teaspoon salt
Blueberry Layer:
2 cups fresh blueberries 
3 tablespoons Swerve or equivalent granulated sweetener
2 teaspoons xanthan gum
Lemon Layer:
2 tablespoons water
1 envelope (2 ½ teaspoons) Knox unflavored gelatin or equivalent
1 cup water
1 cup Swerve or equivalent granulated sweetener
1 teaspoon lemon zest (from 1 lemon)
¼ teaspoon salt
4 large egg yolks, beaten
⅓ cup fresh lemon juice (from 1 lemon)
3 tablespoons unsalted butter
½ teaspoon xanthan gum
2 tablespoons Confectioner's Swerve or equivalent powdered sweetener to sprinkle on top
Instructions
1.  Pre-heat oven to 300 degrees F and cover an 8 x 8 inch baking pan with parchment paper.  Cut two sheets of parchment paper and crisscross them in the pan so that you can lift the bars out once they have cooled.
2.  In a medium sized bowl, mix together all crust ingredients.  Press the dough into the bottom of the baking pan in an even layer.  Use a fork to press holes into the dough so that the air can escape.  Bake for 18-22 minutes until center is firm and edges are just beginning to brown.  
3.  While the crust is baking, you can mix up the blueberry layer.  Add blueberries to a medium sized sauce pan and cook over Medium Low heat until liquid is released, stirring frequently.  Bring liquid to a boil and stir in 3 tablespoons sweetener.  Sprinkle 2 teaspoons xanthan gum over the pan and quickly whisk it in.  Simmer for 2-3 minutes until thickened.  Pour blueberry filling on top of the crust and smooth it out from edge to edge with a spatula.  Refrigerate for 1 hour. 
4.  After the pan goes into the refrigerator, mix up the lemon layer.  Either wash out the sauce pan you just used, or use a new one.  In a small bowl, mix together 2 tablespoons water with the unflavored gelatin.  Set aside to soften.  
5.  Add 1 cup water, 1 cup sweetener, lemon zest and salt to the sauce pan and cook over Medium heat until sweetener is dissolved and liquid is just beginning to simmer.
6.  Whisk together egg yolks in a small bowl.  Quickly whisk in ½ cup of the hot liquid to temper the eggs.  Whisk the egg mixture back into the pan.  Cook for 1 minute, stirring constantly.
7.  Stir in lemon juice and butter and stir until butter is dissolved and mixture is smooth.
8.  Sprinkle ½ teaspoon xanthan gum over the pan and quickly whisk it in. Simmer until thickened, 2-3 minutes.
9.  Stir in softened gelatin and mix until fully dissolved.  Remove from the heat and pour the lemon mixture into a medium sized bowl to cool on the counter until the crust is done chilling.  If a skin begins to form, just stir it back in.
10.  Carefully ladle lemon mixture on top of the cooled blueberry layer. 
11.  Chill in the refrigerator until firm, 3 hours.  Use a sifter or sieve to sprinkle powdered sweetener evenly on top of the blueberry lemon bars.  
12.  Store in the refrigerator.      
Notes
*If you take these bars to a party, make sure to clearly mark that they contain nuts.  Most people don't expect a dessert bar to use almond flour, so people with nut allergies might inadvertently eat it. 
Nutrition
Serving Size:

1 bar

Calories:

97

Fat:

9

Carbohydrates:

3

Fiber:

1

Protein:

3
Keywords: Low Carb Lemon Bar, Keto Lemon Bar, Gluten Free Lemon Bar