This recipe for Keto Chicken Puttanesca is easy to make and wonderful to eat. And each serving has just 120 calories and 2g net carbs.

Today I'm going to show you how to make an Italian dish called Keto Chicken Puttanesca.
But first I want to talk a little bit about the origin of Puttanesca Sauce.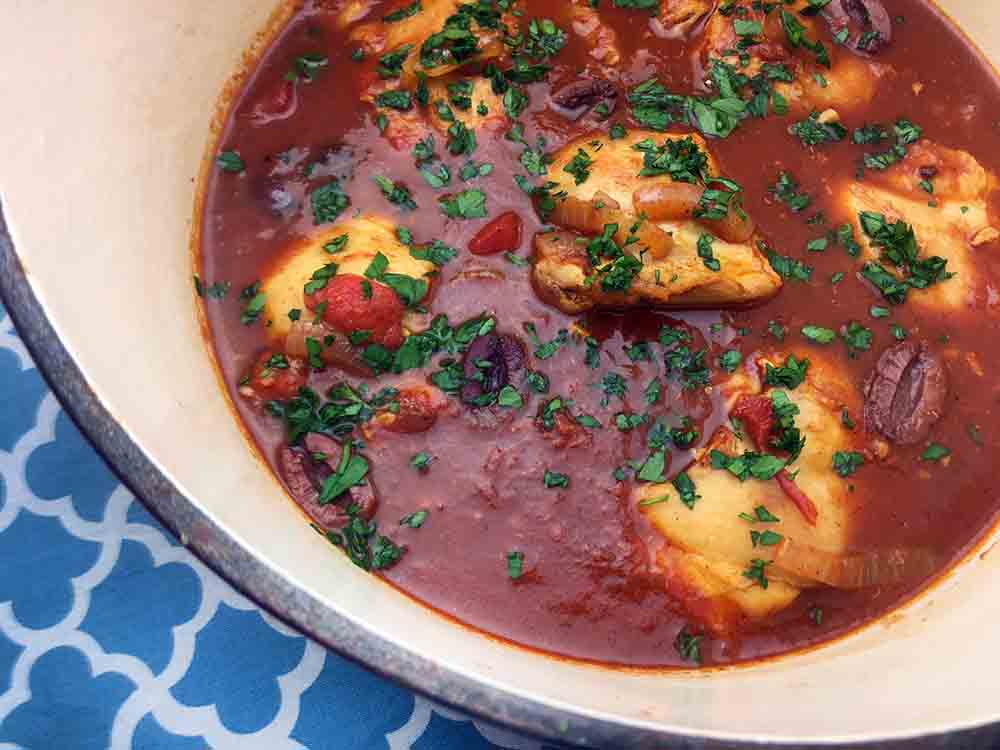 According to food historian Jeremy Parzen, the dish is relatively new compared to other classic Italian fare.
It was born out of desperation in Ischia, Italy in the 1950's.  A chef named Sandro Petti was asked by his friends to cook for them, but unfortunately his cupboards were bare.  When he informed his friends that he had nothing to cook for them, they responded by saying "just make us a 'puttanata qualsiasi,'" which roughly translates to, "just make us whatever crap you have". 
So he did just that. 
He threw together a pasta sauce made from four tomatoes, a couple of capers, and some black olives.  And since calling this dish "crap sauce" sounded kind of bad, he decided to call it spaghetti alla puttanesca.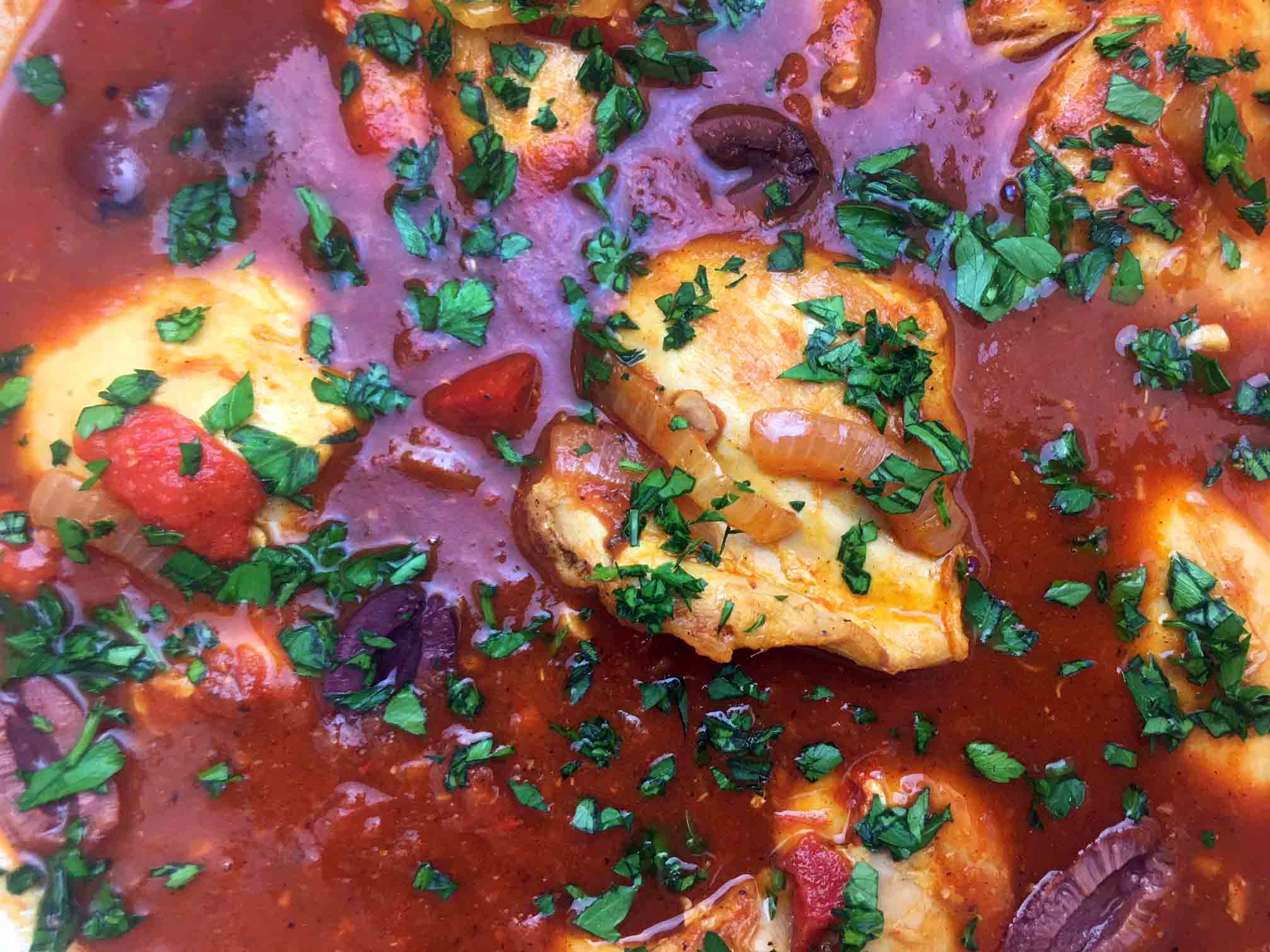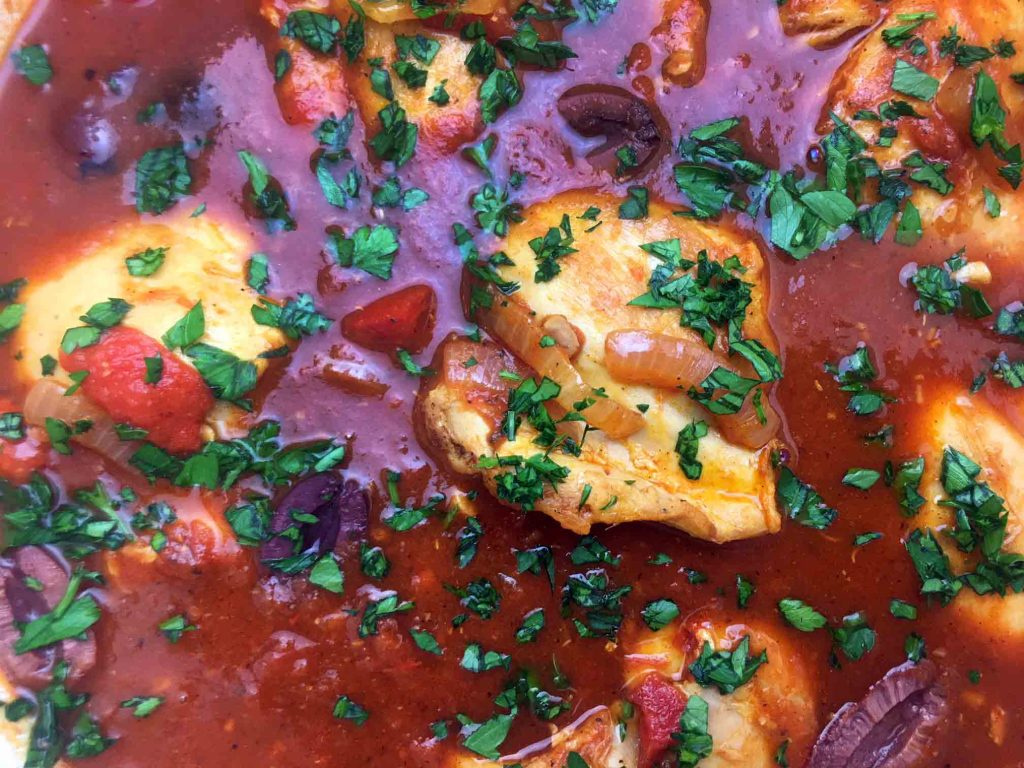 One of the good things about Puttanesca Sauce is that it is naturally low carb.
Each ¼ cup serving of sauce has just 2g net carbs.  And for this Keto Chicken Puttanesca recipe, I paired the sauce with some tasty chicken thighs. 
What are some good low carb sides for this Keto Chicken Puttanesca?
Add in some zoodles or low carb noodles and you've got a really good thing going. Low carb noodles that I like are Edamame Noodles, Egg Noodles, Psyllium Pasta and Shirataki "Miracle Noodles". 
Any final thoughts, idea, musings about Keto Puttanesca Chicken?
This low carb Puttanesca sauce is the perfect blend of sweet tomatoes and savory anchovies, garlic, capers, shallots and kalamata olives.  And the best part is that threw I this dish together just with crap from my cupboard.
Bellisima!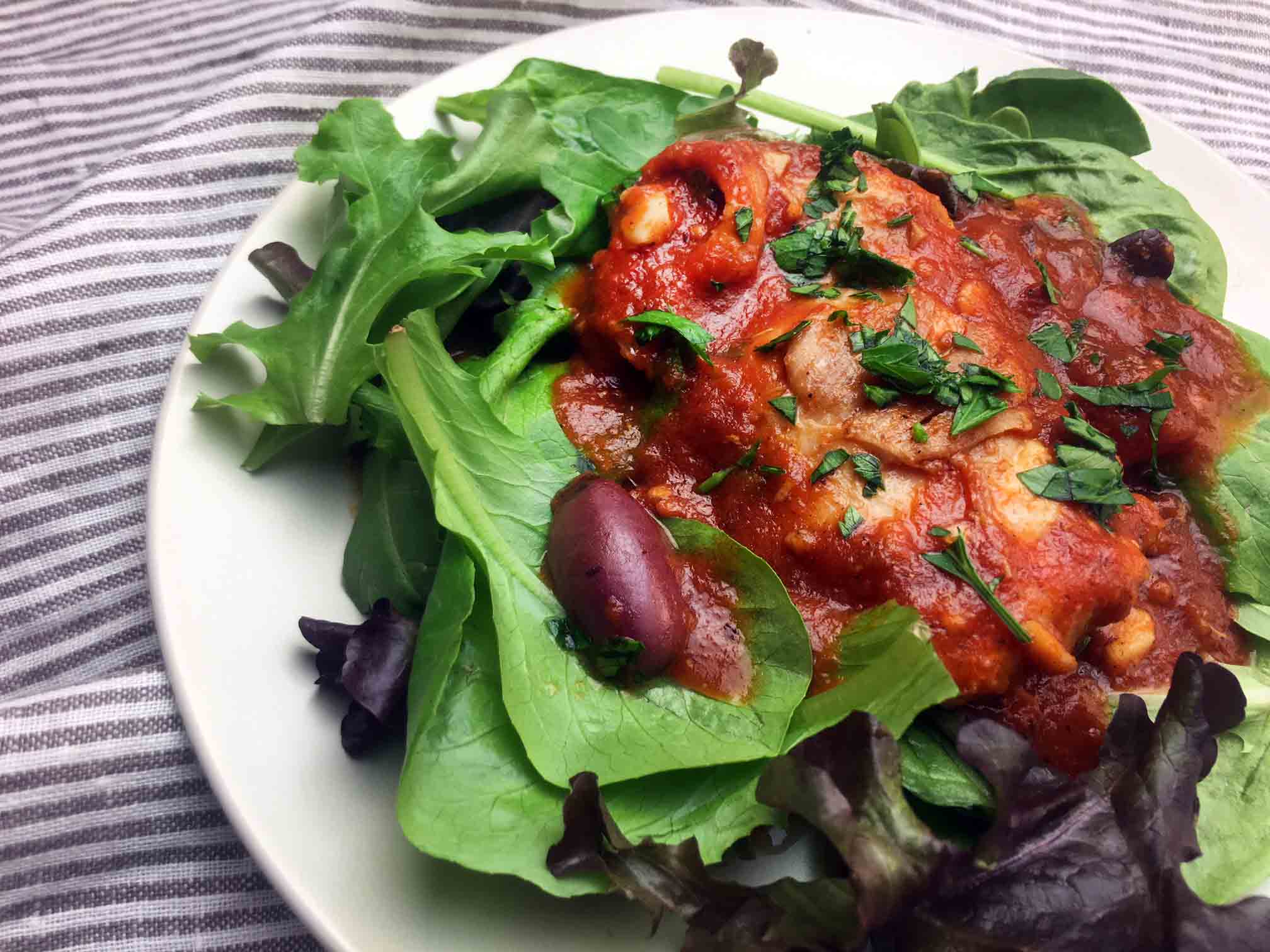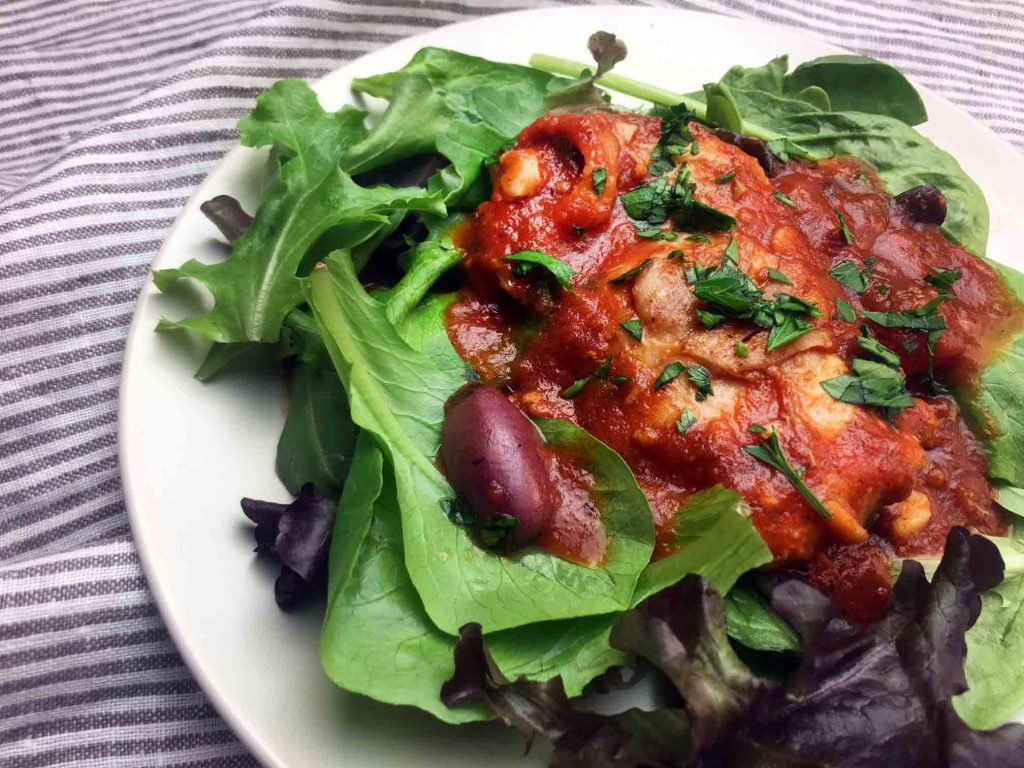 Print
Keto Chicken Puttanesca
This recipe for Low Carb Keto Chicken Puttanesca is easy to make and wonderful to eat.
Author: Resolution Eats
Prep Time:

15

Cook Time:

50

Total Time:

1 hour 5 minutes

Yield:

8

servings

1

x
Category:

Entree

Cuisine:

Italian
1 tablespoon extra virgin olive oil
2 pounds boneless skinless chicken thighs, fat trimmed off
salt and pepper
½ cup shallots, diced
2 garlic cloves, minced
3 tablespoons minced anchovies or anchovy paste
13.5 oz crushed tomatoes
13.5 oz water
2 roma tomatoes, chopped
¼ cup kalamata olives, halved
3 tablespoons mini capers
⅛ teaspoon ground cinnamon
1 teaspoon salt
¼ teaspoon black pepper
2 tablespoons parsley, minced
Instructions
1.  Wash and dry chicken and trim excess fat.  Salt and pepper chicken on both sides.
2.  Heat olive oil over Medium High heat in a large skillet or dutch oven.
3.  Add chicken and sear until browned, 10 minutes.  Remove chicken from the pan and set aside.
4.  Lower the heat to Medium and add shallots, garlic and anchovies to the pan.  Saute until shallots are translucent, 10 minutes.
5.  Turn heat back up to Medium High and add in crushed tomatoes and cinnamon.
6.  Use the tomato can to measure out a can of water and add to the pan. 
7.  Stir in olives and capers and bring to a boil.  
8.  Lower heat to Low and keep at a simmer.  
9.  Add chicken thighs back to the pan.  Add roma tomatoes.
10.  Cover the pan and simmer for 20 minutes.
11.  Remove the lid of the pan and simmer for another 10 minutes until chicken is cooked through and sauce has thickened slightly.
12.  Sprinkle parsley on top before serving.
Nutrition
Serving Size:

1 chicken thigh and ¼ cup sauce

Calories:

120

Fat:

7

Carbohydrates:

3

Fiber:

1

Protein:

11