This fruit filled Keto pastry is a delicious low carb dessert with only 5g net carbs per slice. This strawberry galette is pure solid gold.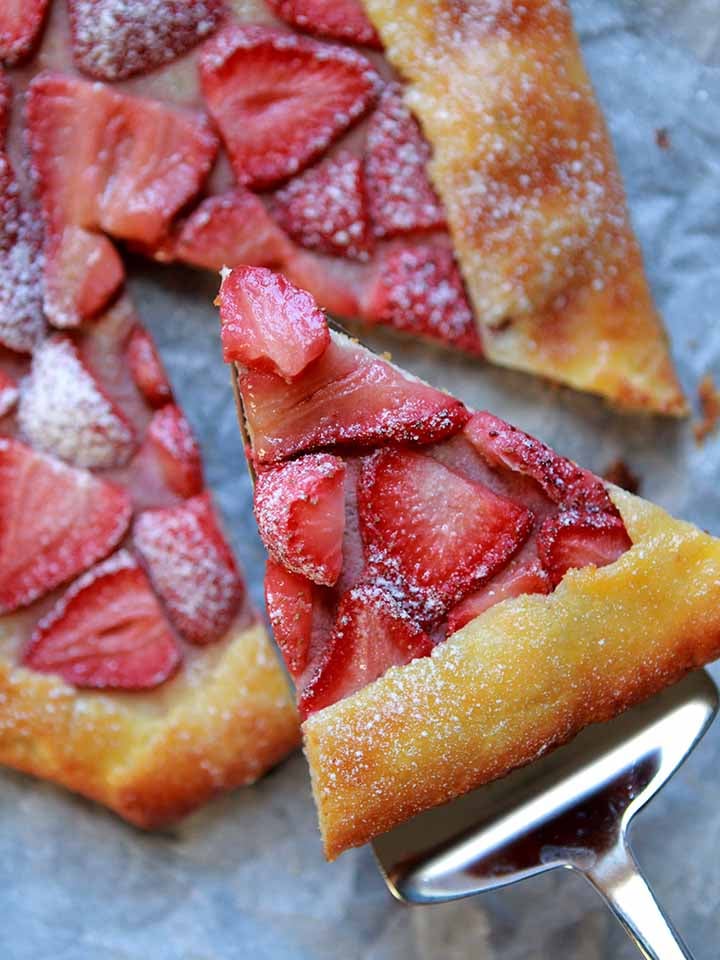 "If a crusty cake and pie had a baby, it'd be our favorite freeform dough creation: the galette." -Bon Appétit Magazine
Today I'm going to show you how to make a low carb version of a fruit filled French pastry called a galette. It's basically a low carb strawberry pie that you bake on a cookie sheet instead of a pie pan.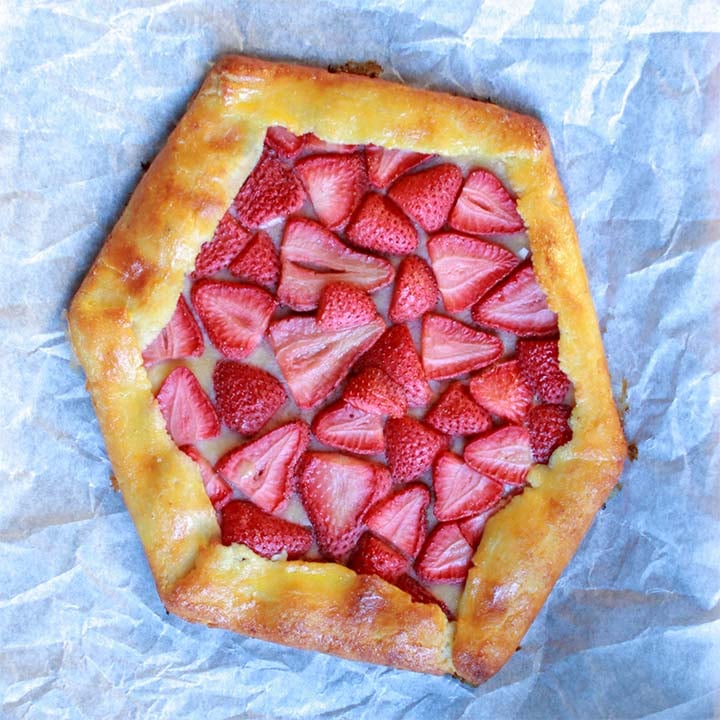 What kind of keto pastry dough does it use?
Not Fathead dough, I can promise you that. Cheese dough has its place in low carb baking, but not in this Keto pastry. Not today, my friends, not today.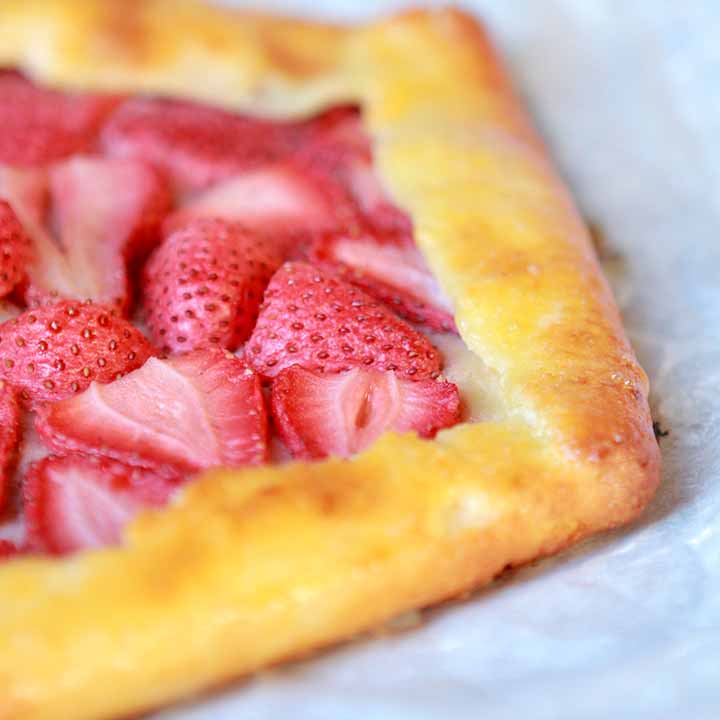 This dough is low carb and gluten free and has a wonderful flaky texture. It's a versatile crust that you can use to make fruit pies, savory pies and even meat pies. And each serving has just 2g net carbs.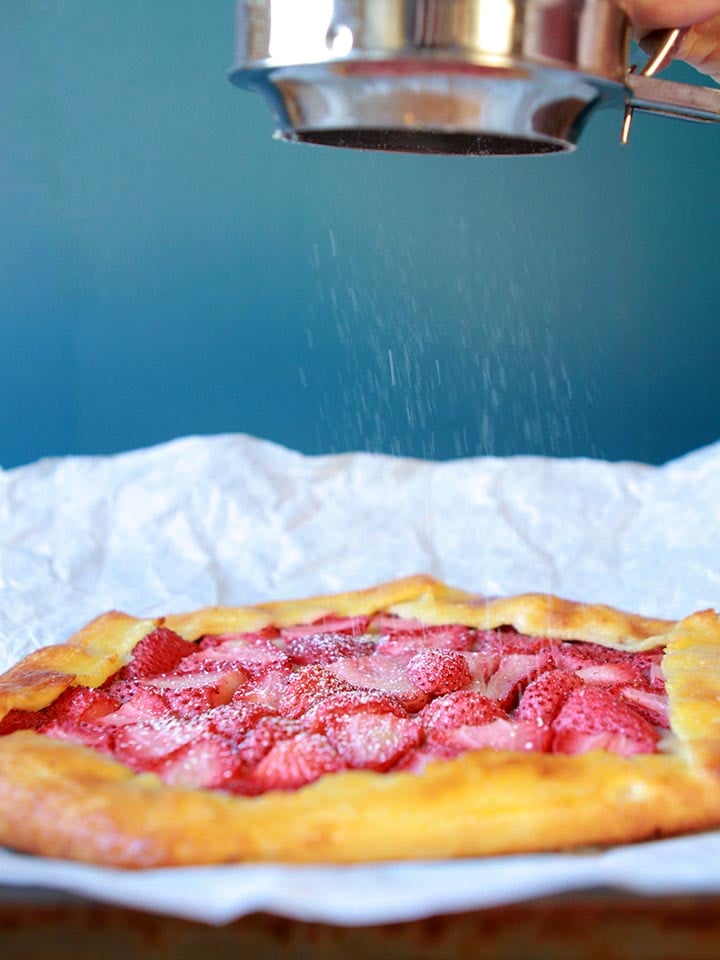 What are the ingredients of this strawberry Keto pastry?
There are quite a few specialty ingredients, but don't let that stop you. If you plan on doing any low carb baking at all, you'll need to have these ingredients on hand.
Here's what you'll need to make this Keto pastry.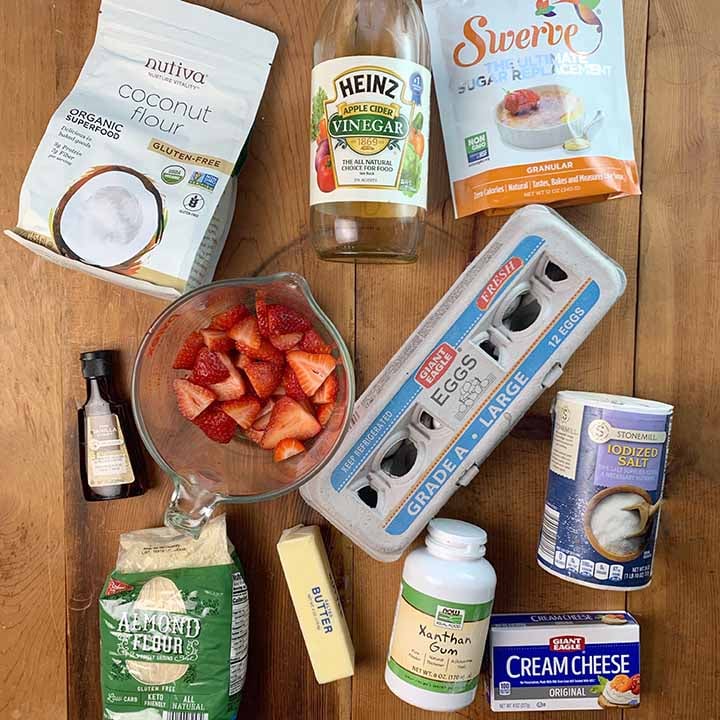 How long does it take to make this Keto pastry?
I'm not going to lie, it'll take a good chunk of time to make this recipe. That's because you'll need to make the dough, chill it for an hour, roll the dough out, fill it with strawberries and freeze the pastry for another 10 minutes before you bake it. So you are looking at 90 minutes total.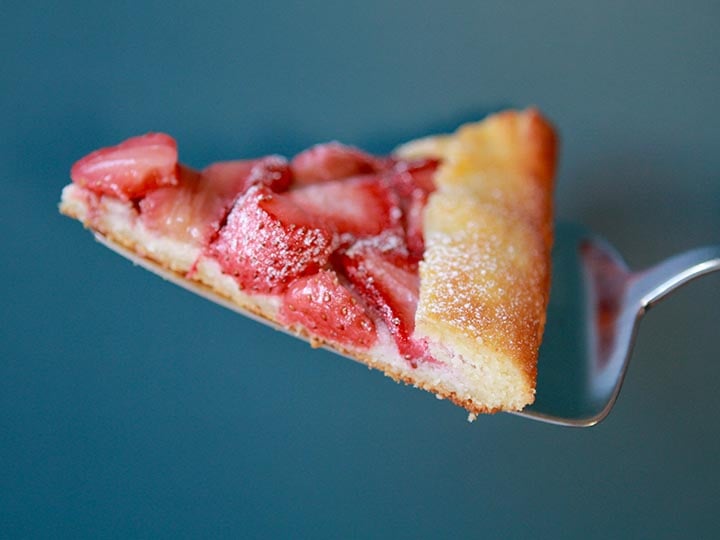 But it's worth the effort, trust me on this one.
Let's say you start the recipe in late afternoon. You'll have a delicious strawberry galette in time for dinner. And as I mentioned, it's quite the low carb dessert. It's a fruity, flaky strawberry pastry with just 256 calories and 5g net carbs per slice.
This recipe is solid gold, I tell you!
Pure low carb gold.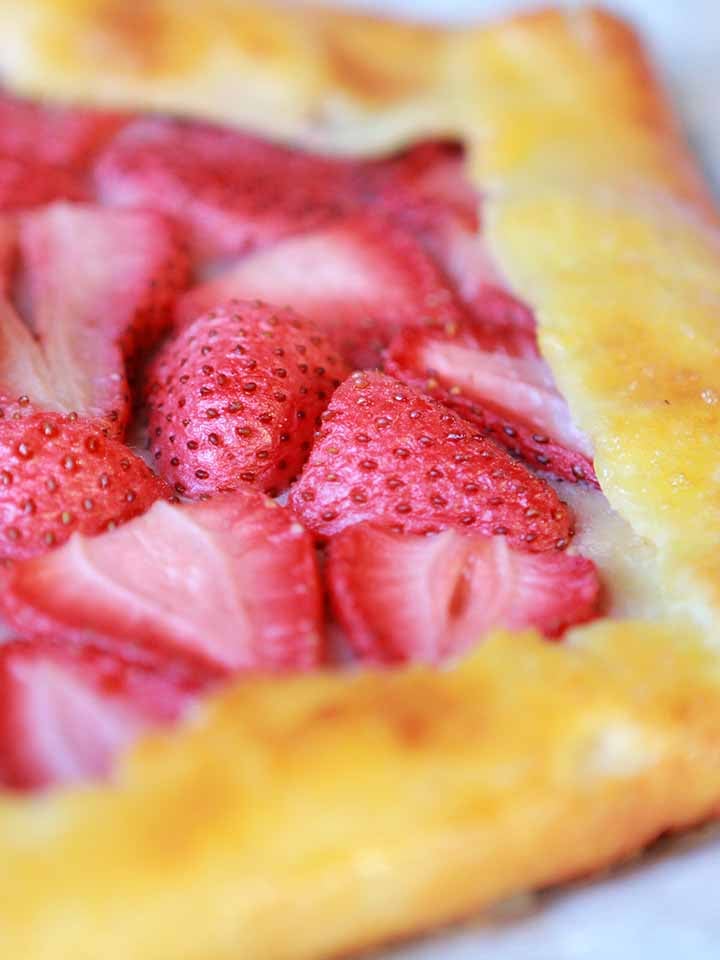 Print
Keto Pastry with Strawberry Filling
This fruit filled Keto pastry is a delicious low carb dessert with only 5g net carbs per slice.  It's pure solid gold.
Author: Resolution Eats
Prep Time:

90

Cook Time:

30

Total Time:

2 hours

Yield:

8

slices

1

x
Category:

Dessert

Method:

Baked

Cuisine:

French
Instructions
1.  Add strawberries to a small bowl and sprinkle 3 tablespoons sweetener on top.  Add vanilla.  Mix to coat.  Cover bowl with plastic wrap and keep in the refrigerator to macerate until ready to use. Give the strawberries a stir every 10 minutes.
2.  Add almond flour, coconut flour, xanthan gum and salt to a food processor or high powered blender.  Pulse several times to mix.
3.  Add butter and cream cheese and pulse several times.
4.  Add 1 egg and vinegar and pulse several times until the dough is broken into crumbs.  Do not process so much that the dough is smooth and combined like cookie dough.  You still want to see spots of butter.  
5.  Remove from the food processor or blender and form the dough into a ball.
6.  Wrap the ball of dough in plastic wrap and refrigerate for 1 hour.  
7.  Place the dough on a large sheet of parchment paper.  Put another sheet of parchment paper on top and roll out the dough.  It should make an approximately 12 x 10 inch oval.   
8.  Strain liquid from strawberries.
9.  Arrange the strawberries in one layer in the middle of the rolled out dough.  You should have an outer edge of 1 ½ - 2 inches of dough.
10.  Use the bottom piece of parchment paper to gently fold the dough over the strawberries.
11.  Brush the remaining lightly beaten egg onto the crust.
12.  Sprinkle granulated sweetener on top of fruit and crust.
13.  Carefully move the pastry and bottom sheet of parchment paper to a cookie sheet.  Place the cookie sheet in the freezer to freeze for 10 minutes.
14.  Pre-heat the oven to 400 degrees F.
15.  Bake for 25-30 minutes until crust is browned.  At minute 15, take the pastry out of the oven and brush again with the egg wash.  Start checking in on the pastry at minute 20, because it can go from browned to burnt very quickly.
16.  Allow to cool for about 10 minutes on the cookie sheet.  Use a sieve to dust the pastry with powdered sweetener.
17.  Serve warm.    
Notes
*If you take this pastry to a party, make sure to clearly mark that it contains nuts.  Most people don't expect a pastry to use almond flour, so people with nut allergies might inadvertently eat it. 
STEP-BY-STEP PHOTOS ARE BENEATH THE RECIPE
Nutrition
Serving Size:

1 slice

Calories:

246

Fat:

22

Carbohydrates:

9

Fiber:

4

Protein:

5
Keywords: Keto Pastry, Low Carb Pastry, Keto Galette, Low Carb Galette