Keto pork fried rice is a healthy take on Chinese take-out. It's got just 253 calories and 6g net carbs, so you can eat this easy low carb dinner recipe guilt-free.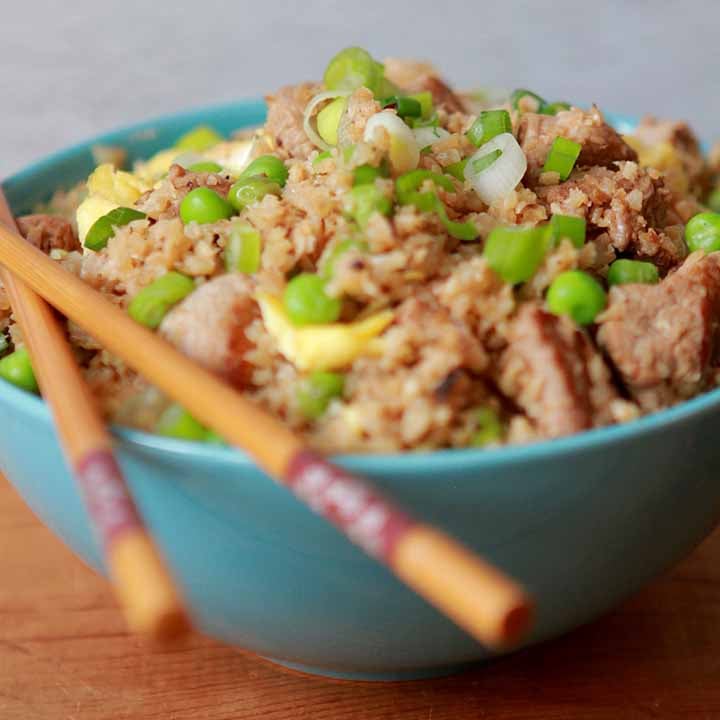 Greetings Chinese take-out lovers.
It's been quite an exciting day. It started off this morning when I was waiting for the bus with my kids. My daughter noticed this bright pink missing cat sign in our mailbox. It was the fancy kind of cat that evil villains love to pet menacingly. It's name was Bon Bon.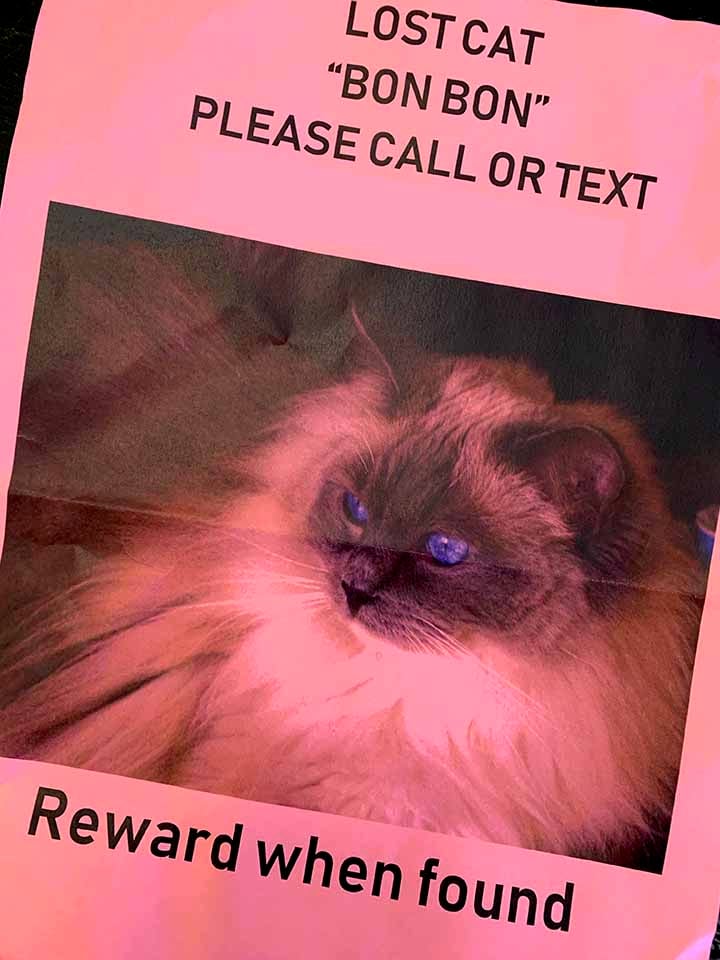 And wouldn't you know it, later in the day, who should saunter through my backyard but Bon Bon!
I yelled to my husband that I'd spotted the missing cat and he ran out barefoot, in the snow, to try and catch it. But Bon Bon evaded capture and dove under our neighbor's porch. We tried to coax her out with a bowl of milk and a can of tuna fish, but to no avail.
But luckily, her owner came over and we found Bon Bon, eventually, under a different neighbor's porch.
So all's well that ends well. The cat's owner was a very nice older woman who was in tears with happiness when we finally found her cat. She has promised to come back with homemade chocolates to say thank you. But I don't even want the chocolates, I'm just happy to feel like a hero.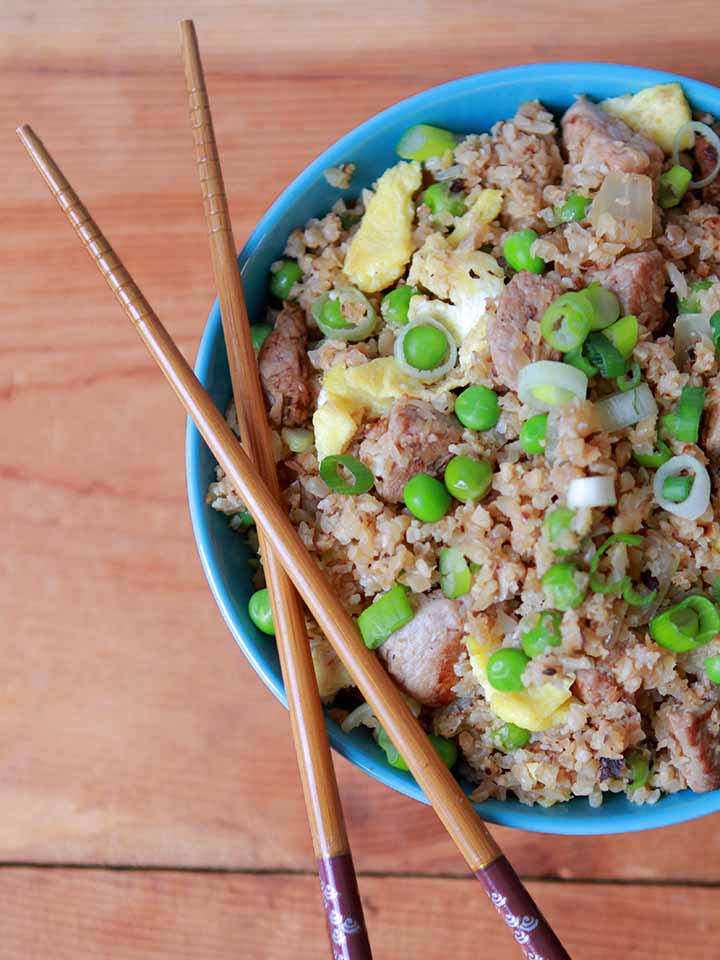 But ok, end of cat story, let's talk about Keto pork fried rice.
This is a quick low carb, Paleo and Whole30 compliant dinner that you can throw together in less than 30 minutes. And if you use pre-riced cauliflower and cooked meat, then you can make it even quicker. Here's what you'll need: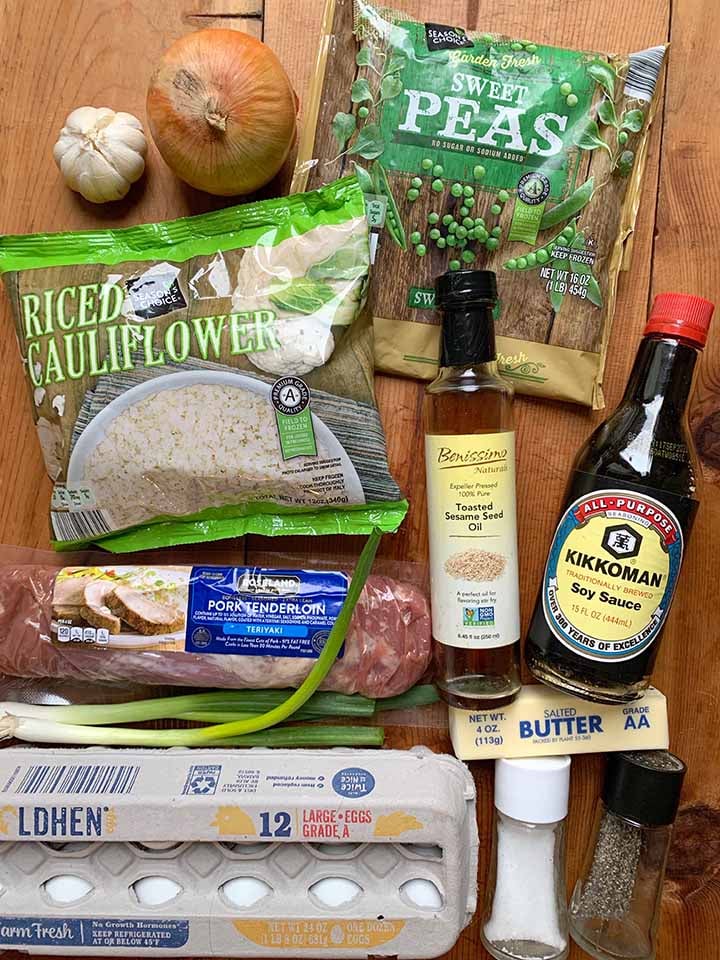 Recipe notes:
-In this recipe, we'll cook the eggs, meat and vegetables separately and then mix them together at the end. This will give the pork and vegetables a nice sear and keep the eggs from getting tough and overcooked.
-The recipe calls for butter, but you can substitute olive or avocado oil instead. Butter gives the best flavor when you use it to brown ingredients though.
-And you can use chicken, beef, tofu or shrimp in place of the pork, if you like. Or you could do a "House Fried Rice" and use a mixture of these proteins.
-I used Coconut Aminos in place of soy sauce, but soy sauce is fine to use too.  Coconut Aminos are gluten-free though, so it's a good Whole30 compliant replacement for soy sauce.
-You can rice a cauliflower yourself in a food processor or high powered blender, or you can just buy it riced.  You'll need 4 cups, or 32oz of cauliflower rice. 
-Fresh grated ginger is a nice addition to the dish. Just add 1 tablespoon ginger to the pan along with the garlic, onions and peas.
-And sliced scallions are a great way to garnish the pork fried rice. It doesn't hurt to sprinkle some sesame seeds and crushed red pepper flakes as well.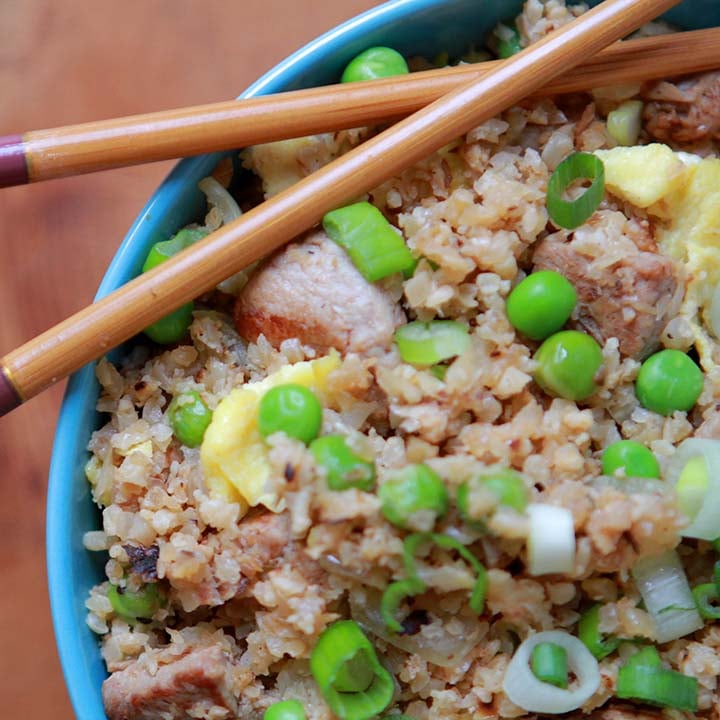 And there you have it.
In less than 30 minutes, you can throw together a healthy Keto fried rice meal, with only 253 calories and 6g net carbs per serving. And because it tastes so close to the real thing, it's sure to pass the kid taste test too. Speaking of- I can't wait for the kids to come home so I can tell them about how we rescued poor Bon Bon.
Not all heroes wear capes, kids, not all heroes wear capes.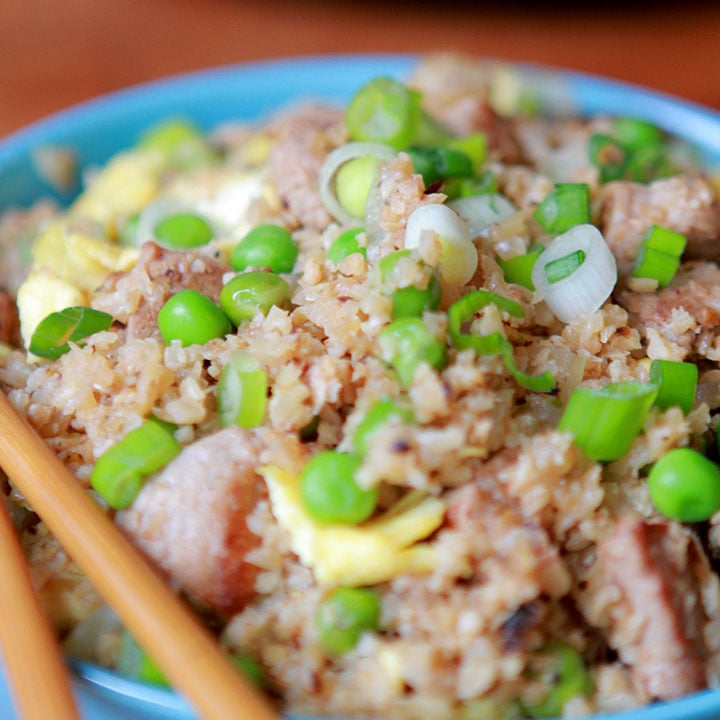 Print
📋 Recipe
Keto Pork Fried Rice
Keto pork fried cauliflower rice is a healthy take on Chinese take-out.
Author: Emily Krill
Prep Time:

5

Cook Time:

25

Total Time:

30 minutes

Yield:

5

servings

1

x
Category:

Entre

Method:

Stovetop

Cuisine:

Chinese

Diet:

Low Calorie
4 tablespoons unsalted butter, divided
2 large eggs, beaten
½ pound pork tenderloin, diced
4 cups (32oz) cauliflower rice (from 1 cauliflower)
½ cup frozen peas
½ cup white onion, diced
3 cloves garlic, minced
1 tablespoon coconut aminos or soy sauce
1 teaspoon sesame oil
salt and pepper
1 scallion, sliced
Instructions
1.  Melt 1 tablespoon butter in large non-stick skillet over Medium heat.  Add eggs to the pan and cook, for 1 minute without stirring until cooked through.  Break the eggs up with a spatula and remove from the pan.
2.  Increase the heat to Medium High and melt another tablespoon of butter in the pan.  Add diced pork to the pan in 1 layer.  Cook for 3-4 minutes, stirring with a pancake turner until cooked through.  Cut one piece in half to make sure that the pork is completely cooked.  Remove from the pan. 
3.  Melt another tablespoon of butter in the pan.  Add cauliflower to the pan and smooth it out to cover the pan from edge to edge.  Cook for 10 minutes without stirring.  Break the cauliflower rice up with a pancake turner and move it to the side of the pan.
4.  Melt last tablespoon of butter in the cleared side of the pan and add garlic, peas and onions.  Saute for 3 minutes until softened, stirring often.  Fold them into the cauliflower and saute all the vegetables for 2 more minutes, stirring often.
5.  Add pork and eggs to the pan and mix well to combine.
6.  Add sesame oil and coconut aminos or soy sauce to the pan and mix well.  Salt and pepper to taste.  Heat the mixture until pork and eggs are warmed and then serve.
7.  Garnish with sliced scallions.    
Equipment
Nutrition
Calories:

253

Fat:

17

Carbohydrates:

9

Fiber:

3

Protein:

17
Keywords: Pork Cauliflower Fried Rice, Low Carb Cauliflower Pork Fried Rice, Keto Cauliflower Pork Fried Rice