This recipe for Keto scallops in a browned butter herb sauce is a great low carb fish entree with only 3g net carbs.

I just had the most delicious lunch of pan seared scallops with a browned butter sauce and some fresh herbs on top.
And now I'm watching a funny video that a friend shared on Facebook.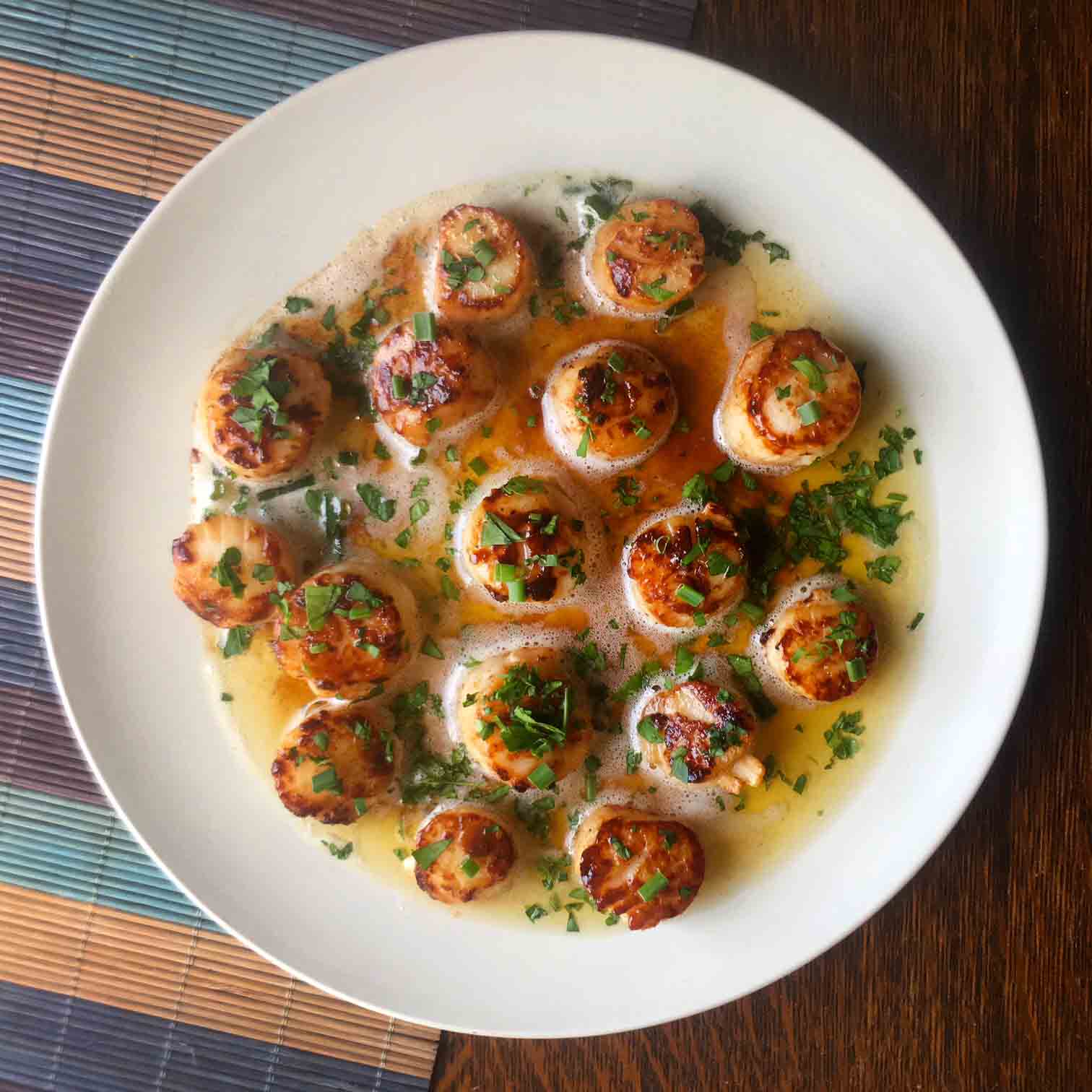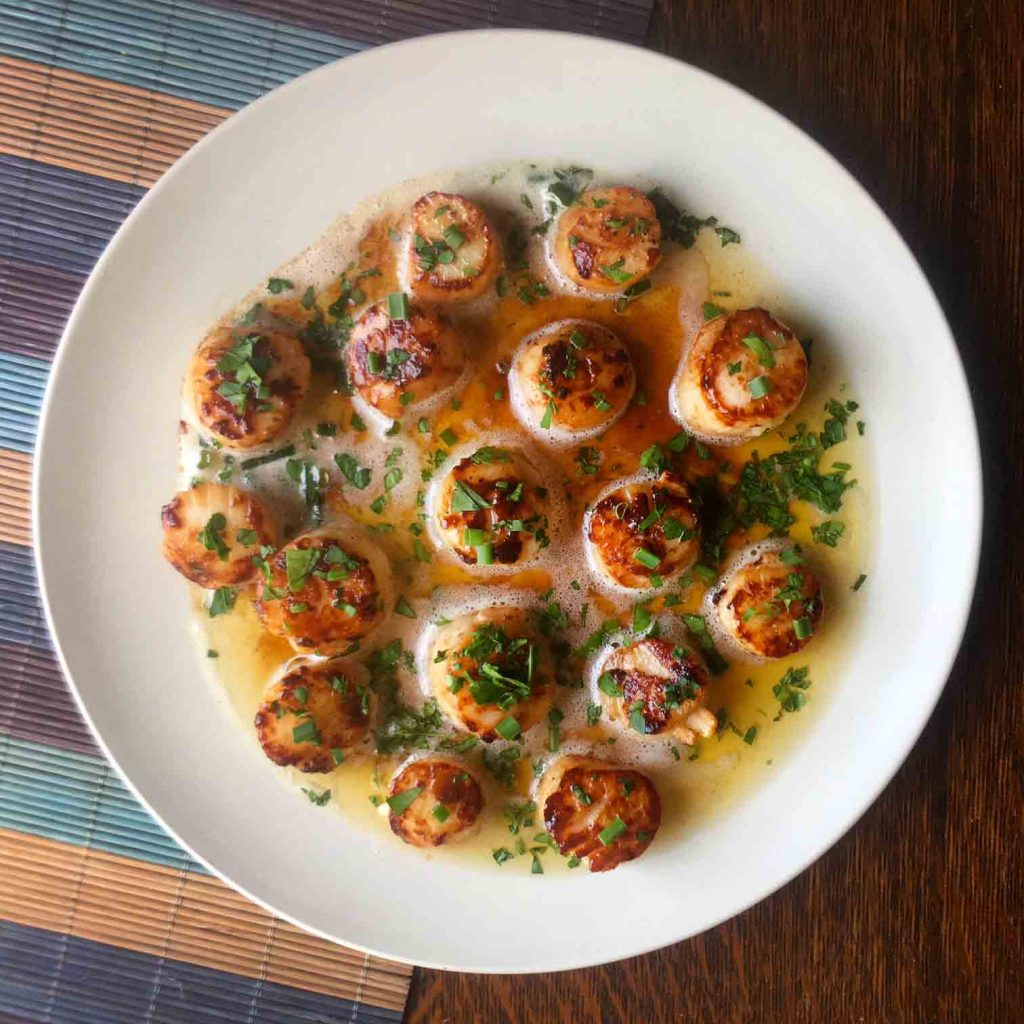 It's a series of outtakes from the Muppet movie, Emmet Otter's Jug Band Christmas. (video below)
I can't even figure out what is supposed to be happening in this scene. A drum rolls out of a music shop, but never seems to roll just right, I guess. The puppets grow increasingly exasperated. It's pretty funny.
But the Keto scallops- they turned out really well.
I went straight to the source for this recipe: the venerable Cook's Illustrated. They took a deep dive into the best way to pan sear scallops. Then I found a simple recipe for a browned butter sauce on Epicurious. And finally, I sprinkled the top with fresh parsley and chives from my garden. It was a quick and easy way to eat seared Keto scallops.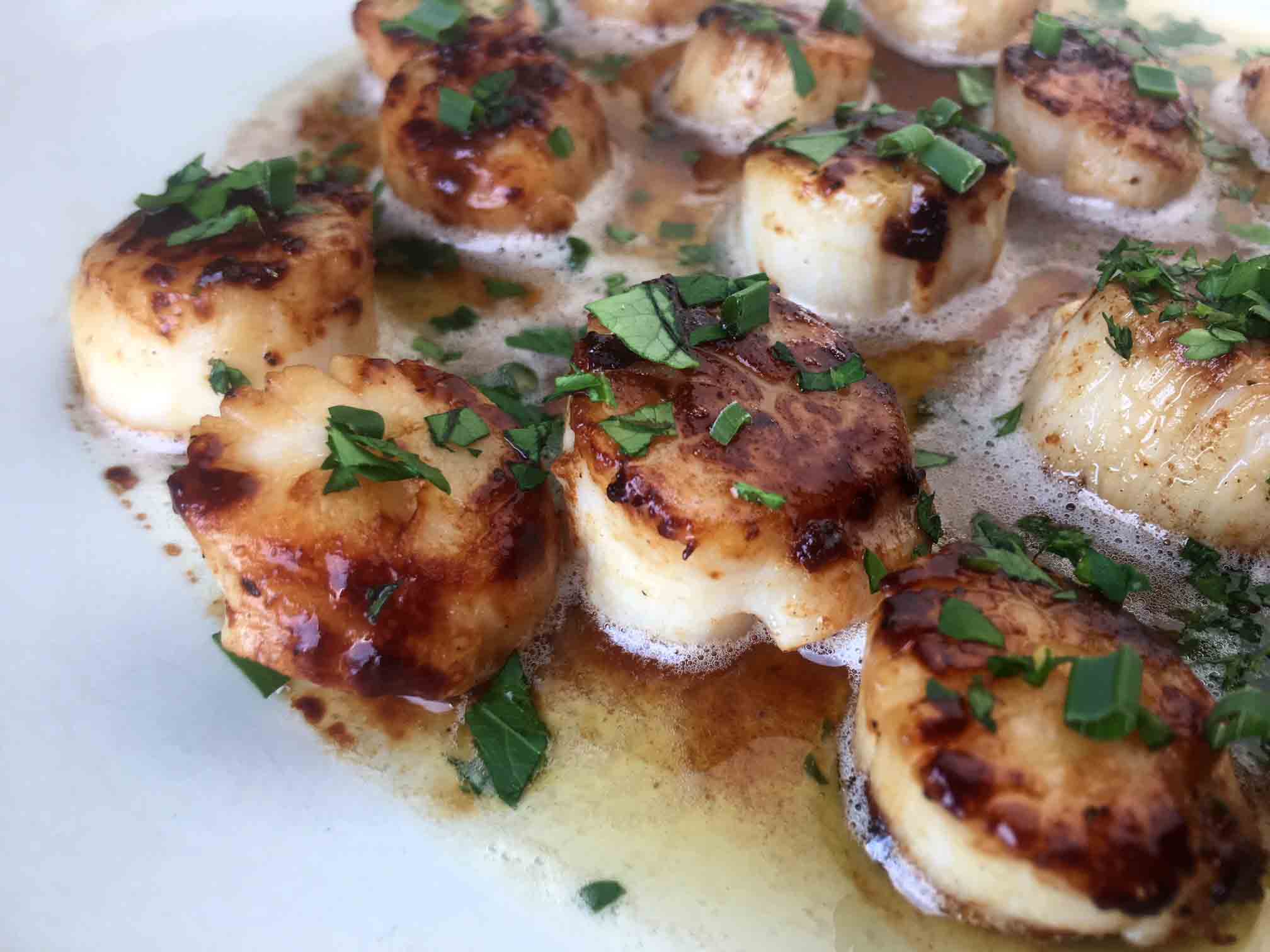 Cook's Illustrated spent a lot of time coming up with a way to mask the taste of STP, the chemical used to keep scallops fresh.
The solution to getting rid of the STP taste is to brine the scallops in mixture of salt, lemon juice and water. The result still has STP, but the flavor is masked by the lemon juice. Clever. But if you use "dry" scallops that haven't been packaged in STP, then you can skip the brine.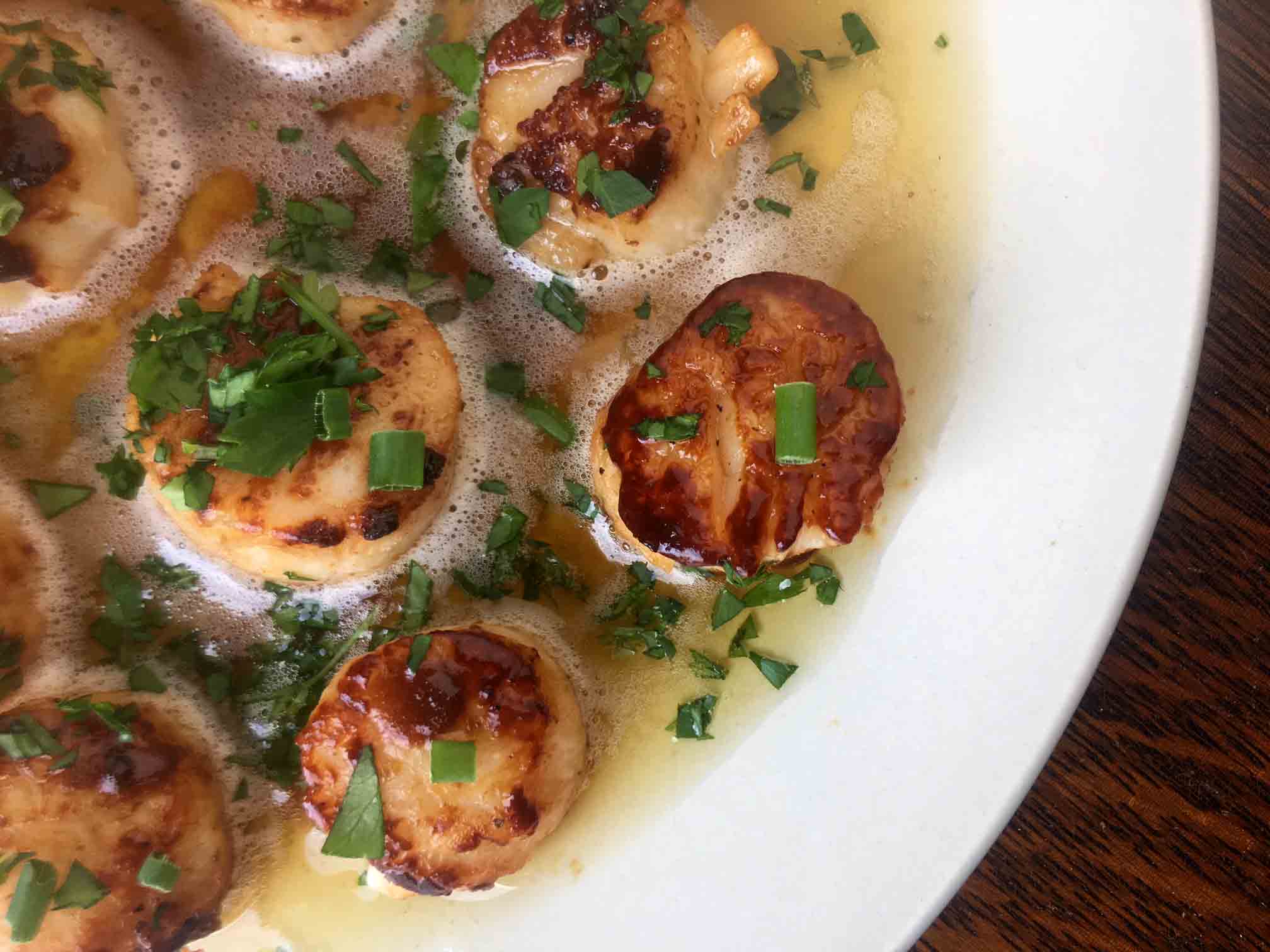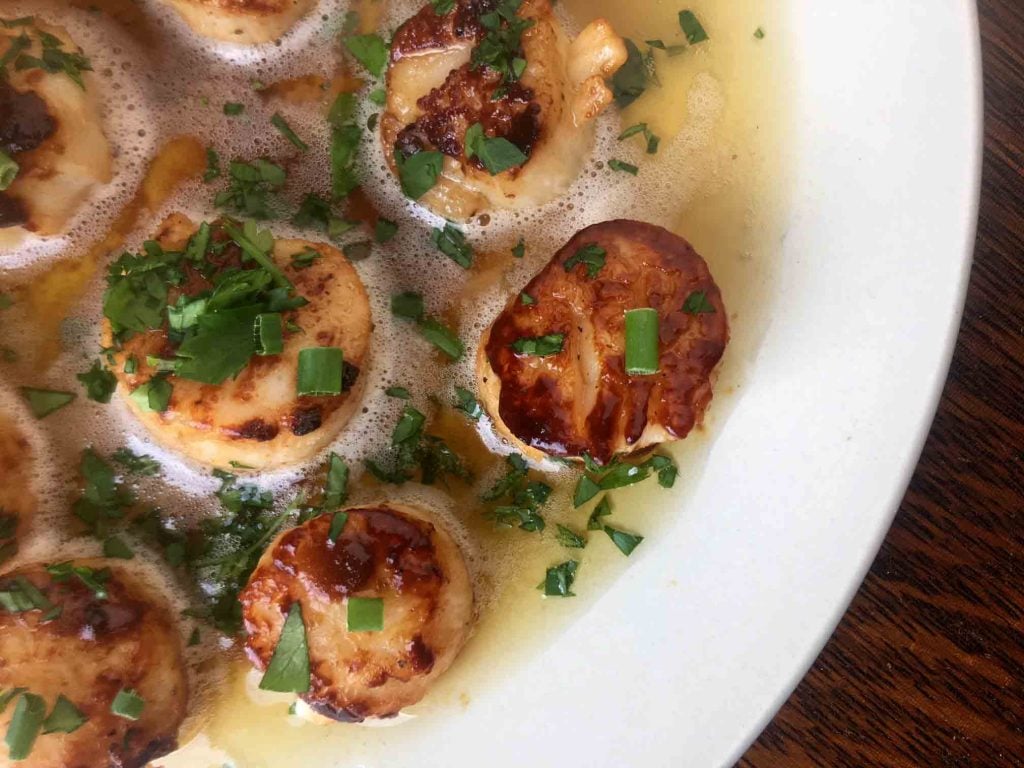 Ok, now I'm off to try and find the rest of Emmett Otter's Jug Band Christmas. Somehow or other, I've never seen the whole movie.
But now I just have to find out what was happening with that darn drum!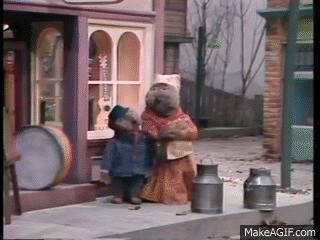 Print
Keto Scallops with Butter Herb Sauce
This is a low carb dish of scallops with herb butter sauce. It's a great entree with only 3g net carbs.
Author: Emily Krill
Prep Time:

15

Cook Time:

15

Total Time:

30 minutes

Yield:

4

servings

1

x
Category:

Entree

Method:

Stovetop

Cuisine:

Amercian

Diet:

Low Calorie
1 ½

pounds

scallops, tendons removed

1

quart

water

¼

cup

fresh lemon juice

2 tablespoons

salt

2 tablespoons

olive oil, divided

6 tablespoons

unsalted butter, divided

1 tablespoon

fresh parsley, chopped

1 teaspoon

fresh chives, chopped
salt and pepper
lemon wedges
Instructions
Step 1.  If the scallops are "dry" and not packed in an STP and salt water solution, then move on to step 2.  If they are "wet" scallops, then brine them in a mixture of 1 quart water, 2 tablespoons salt and ¼ cup fresh lemon juice for 30 minutes.
Step 2.  Place scallops on a rimmed baking sheet lined with clean dish towel. Place second clean dish towel on top of scallops and press gently on towel to blot liquid. Let scallops sit on the counter for 10 minutes while towels absorb moisture.
Step 3.   Sprinkle scallops on both sides with salt and pepper. Heat 1 tablespoon olive oil in 12-inch nonstick skillet over high heat until just smoking.  Add half of scallops in single layer, flat side down, and cook, without moving them, until well browned, 1 ½ to 2 minutes.
Step 4.  Add 1 tablespoon butter to skillet. Using tongs, flip scallops; continue to cook, using large spoon to baste scallops with melted butter (tilt skillet so butter runs to 1 side) until sides of scallops are firm and centers are opaque and register 115 degrees, 30 to 90 seconds longer (remove smaller scallops as they finish cooking).  Transfer scallops to large plate and tent loosely with aluminum foil.  Wipe out skillet with paper towels and repeat with remaining  scallops, 1 tablespoon olive oil and 1 tablespoon butter.  Keep them tented under tin foil as you make the butter sauce.
Step 5.  Use a small egg pan for the browned butter sauce.  It's good to use a light colored pan so you can easily gauge the color of the sauce.  Add remaining ¼ cup butter to the pan and cook over medium heat.  Let the butter melt and cook, stirring often, until it's nutty and browned, 4 to 6 minutes.
Step 6.  Pour the browned butter sauce over the scallops and sprinkle fresh parsley and chives on top.  Serve with lemon wedges.
Equipment
Nutrition
Calories:

363

Fat:

26

Carbohydrates:

4

Fiber:

0

Protein:

29
IF YOU LIKED THIS LOW CARB SALMON RECIPE, THEN YOU MIGHT LIKE MY RECIPES FOR SPICY SALMON SUSHI ROLLS, Fish Sticks OR SHRIMP SCAMPI.