This recipe for low carb ratatouille is a delicious blend of roasted eggplant, onions, yellow squash and red bell peppers. It's a healthy Keto side or main dish with just 108 calories and 2g net carbs per serving.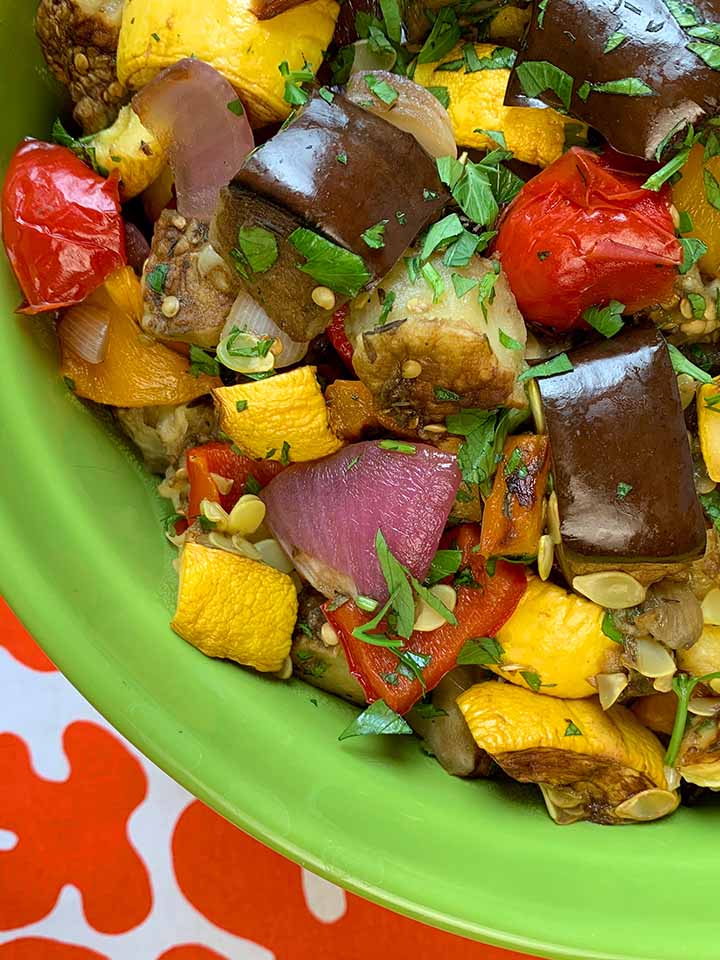 Back when I was a young person, and still a stranger to low carb cookery, I had this salad that I always used to make.
It was my signature side dish and it was delicious. I used to make a lightly dressed couscous salad with roasted eggplant, yellow squash, onions and red bell peppers. It wasn't quick or particularly easy to make, but it always got raves. But when I switched to the low carb way of eating, I had to leave the couscous by the wayside.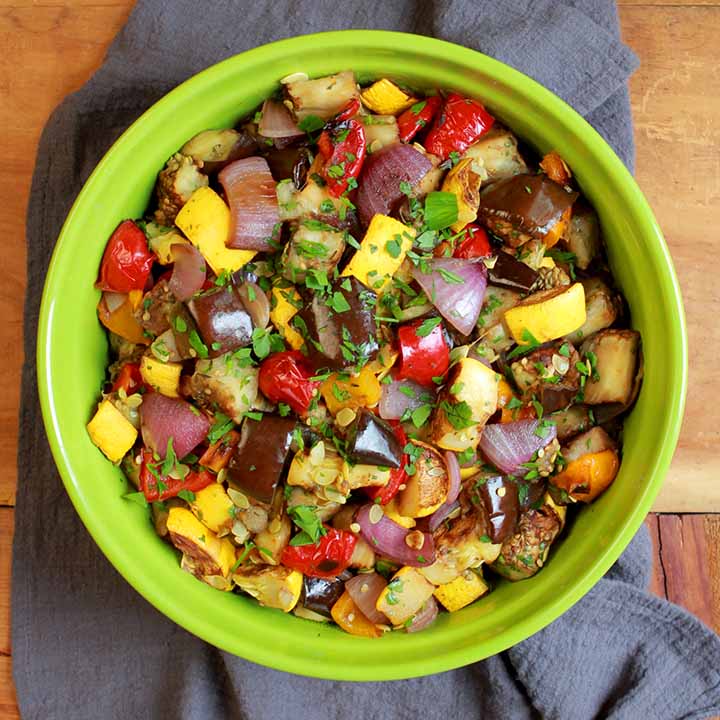 But the other day I had to bring a salad to a picnic and I reflexively reached for my old roasted vegetable couscous salad recipe.
And then it occurred to me. Why can't I make the roasted vegetables without the couscous? Just bypass the high carb grain altogether? And then I realized something else. Roasted eggplant, summer squash, bell peppers, onion… I've been making ratatouille all along!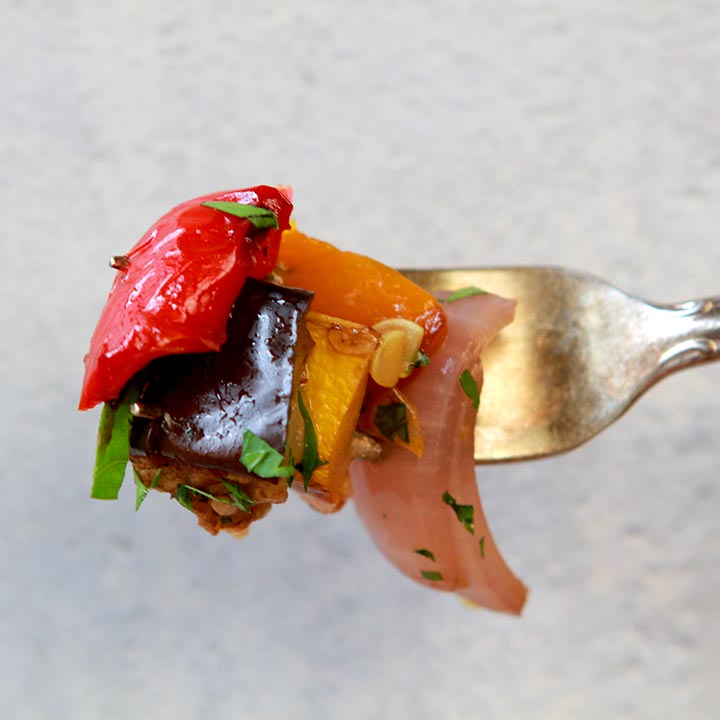 So I am going to share my low carb recipe for warm roasted vegetable salad, better known as ratatouille.
This recipe for Keto ratatouille is just as tasty and flavorful as the original. It's a delicious mixture of roasted red peppers, red onions, yellow squash and soft eggplant. And all of these low carb vegetables together have just 108 calories and 2g net carbs per serving.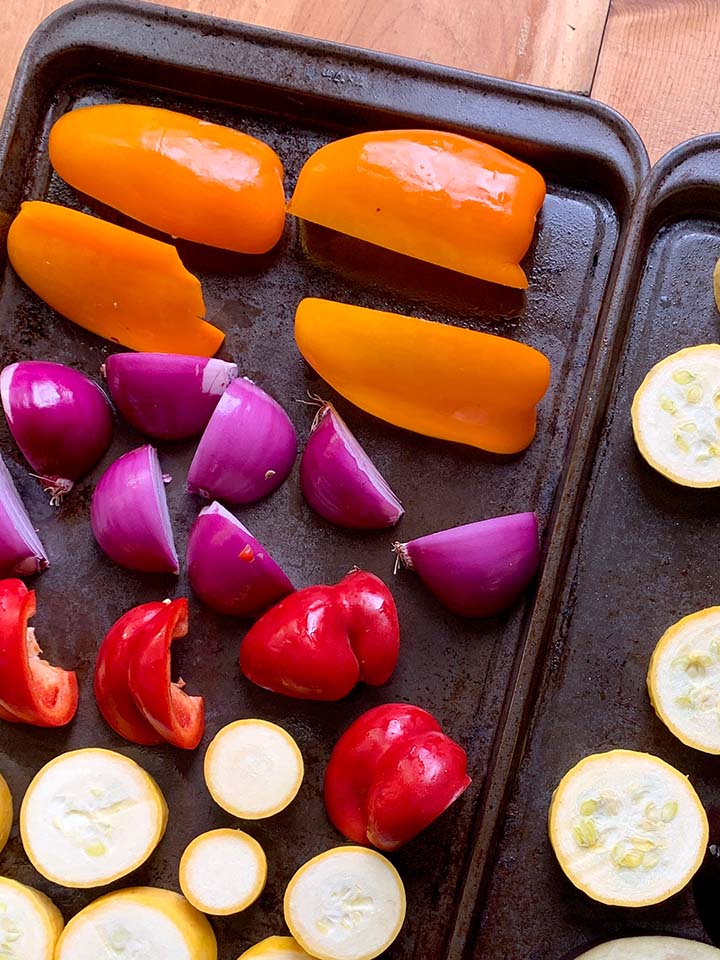 This healthy roasted vegetable dish is one that you can eat on just about any diet.
It's compliant whether you are doing Low Carb, Keto, Paleo, Gluten Free, Grain Free, Weight Watchers, Whole30, Vegetarian, Vegan… you get the idea.
Ratatouille is good for everybody.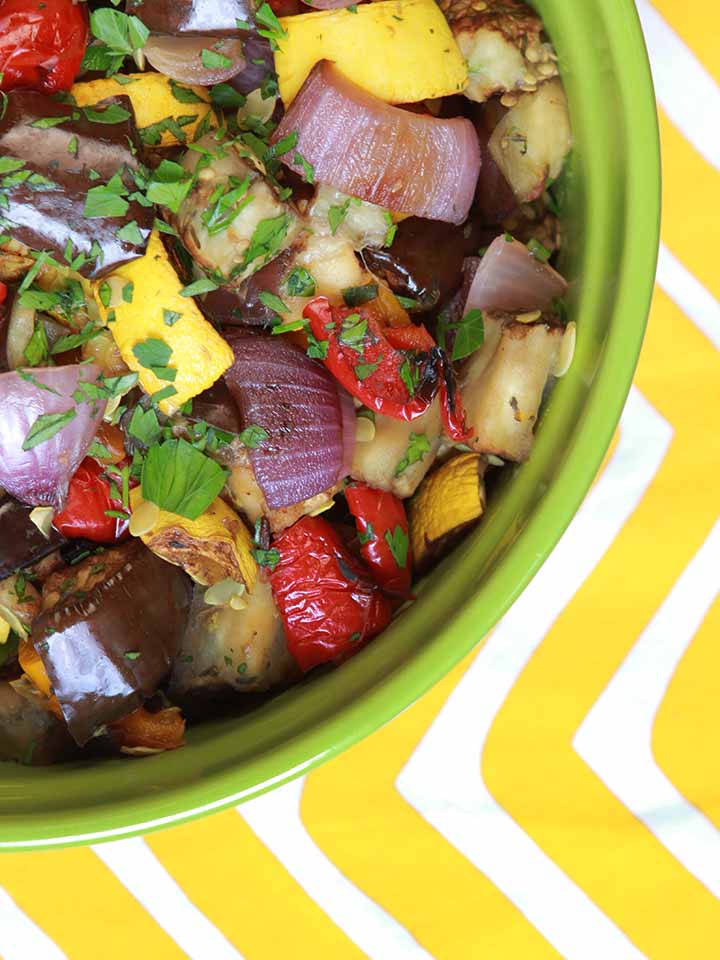 And you can serve this low carb ratatouille a number of different ways:
You can serve it as is, either warm or cold.
Or you can use it to top a simple salad of Romaine lettuce and chopped tomatoes.
Add a couple of over easy eggs and you've got yourself one very tasty breakfast.
Or add in some fresh mozzarella to get a little extra protein in.
You can lean into the protein even more and have it with a nice juicy steak. This one is my personal favorite. It's my new low carb go-to meal.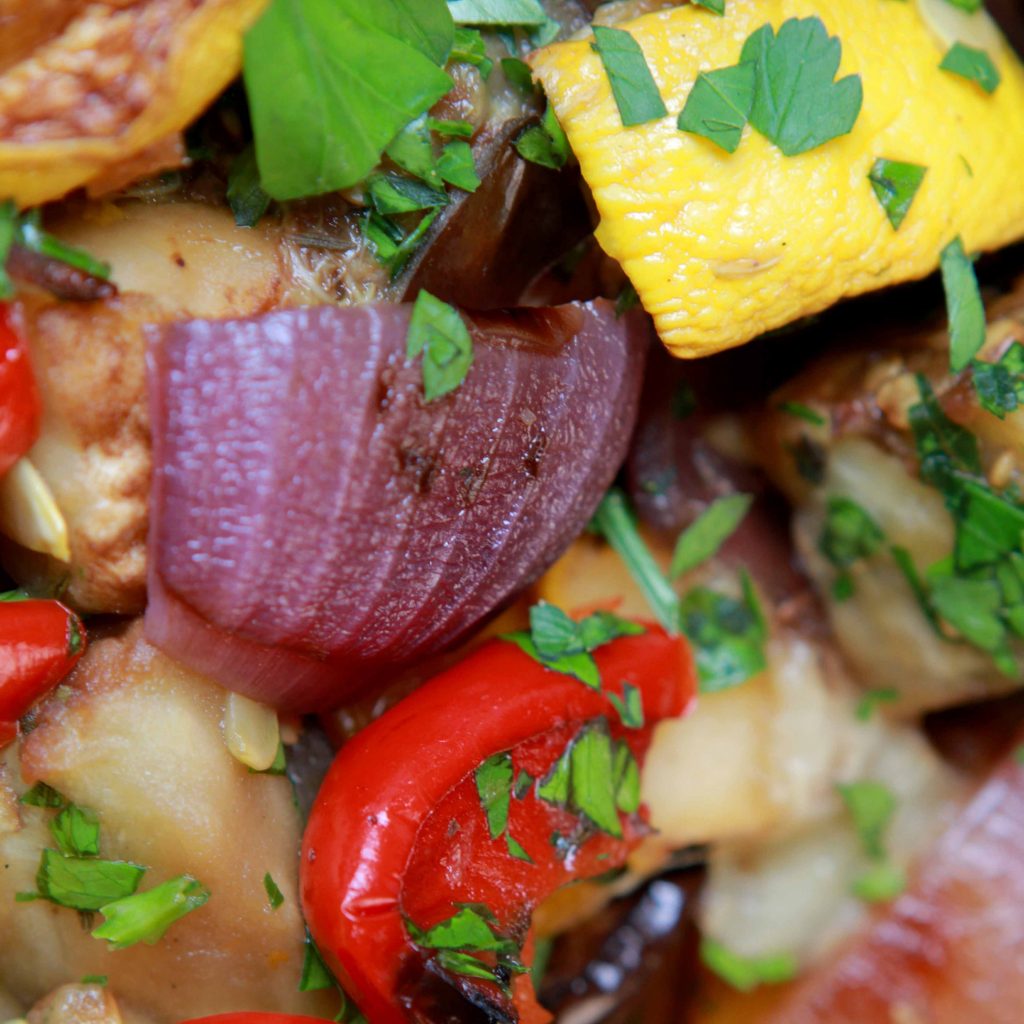 So I've bid a fond farewell to my beloved high carb couscous salad and embraced my new low carb ratatouille.
It's the vegetable dish that has been hiding in plain sight all these years.

Processing…
Success! You're on the list.
Whoops! There was an error and we couldn't process your subscription. Please reload the page and try again.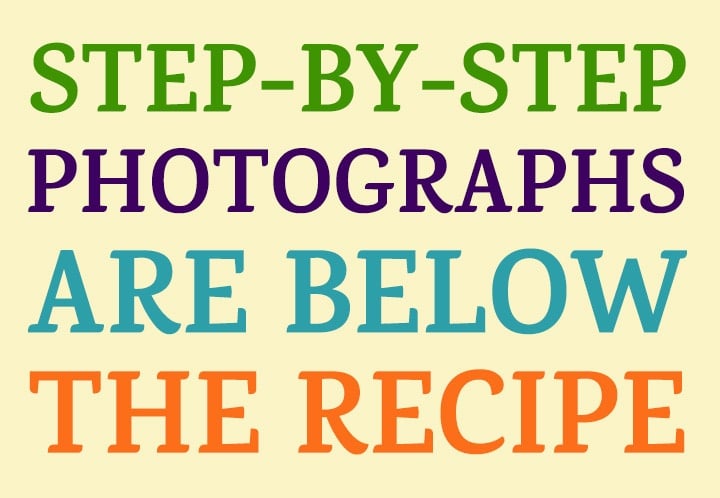 Print
Ratatouille [Low Carb, Paleo & Keto]

This recipe for low carb ratatouille is a delicious blend of roasted eggplant, onions, yellow squash and red bell peppers.  It's a healthy Keto side or main dish with just 2g net carbs per serving.
Author: Resolution Eats
Prep Time:

10

Cook Time:

60

Total Time:

1 hour 10 minutes

Yield:

8 cups

1

x
Category:

Side Dish

Method:

Baked

Cuisine:

French
Scale
Ingredients
vegetables:
1 large eggplant
2 yellow squashes
1 red onion
1 orange bell pepper
1 red bell pepper
2 tablespoons balsamic vinegar
1/2 teaspoon dried thyme
salt and pepper
1/3 cup fresh parsley, chopped
dressing:
3/4 cup extra virgin olive oil
1/4 cup apple cider vinegar
1 teaspoon dried thyme
1 teaspoon salt
1/4 teaspoon pepper
Instructions
1.  Pre-heat oven to 400 degrees F and spray 2 cookie sheets with cooking spray.
2.  Slice the eggplant into 1/2 inch disks.  Cut the bell peppers and onions into quarters.  Slice the yellow squashes into 1/2 inch disks.  Use one cookie sheet for the eggplant and the other for the rest of the vegetables.
3.  Brush the eggplant and yellow squash with balsamic vinegar.
4.  Sprinkle with thyme, salt and pepper.
5.  Bake for 50-60 minutes.
6.  Flip vegetables every 15 minutes.  Brush the undersides of the eggplant and squash with balsamic vinegar.  
7.  After 50 minutes, the onions, bell peppers and squash should be softened with some burn marks.  The eggplant may still be undercooked in the middle, so cut one in half and check for doneness.  If there is any white left, then return the eggplant to the oven and cook until insides are soft.
8.  Chop all of the cooked vegetables.  Add them to a large serving bowl.
9.  Add dressing ingredients to a small lidded jar and shake until combined.  Alternately, you can whisk the ingredients together in a small bowl.
10.  Add dressing and parsley to the vegetables and mix until all the vegetables are coated.
Notes
This recipe is for a large party sized roasted vegetable salad, so it makes 8 cups, or 16 (1/2 cup) servings.  Cut the recipe in half or in quarters if you are going to serve fewer people.   
STEP-BY-STEP PHOTOGRAPHS FOLLOW THE RECIPE
Nutrition
Serving Size:

1/2 cup

Calories:

108

Fat:

10

Carbohydrates:

4

Fiber:

2

Protein:

1
Keywords: Low Carb Ratatouille, Keto Ratatouille, Paleo Ratatouille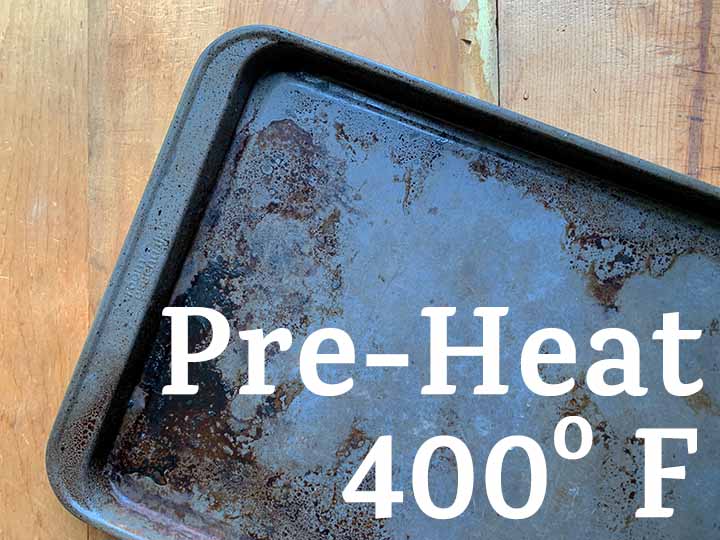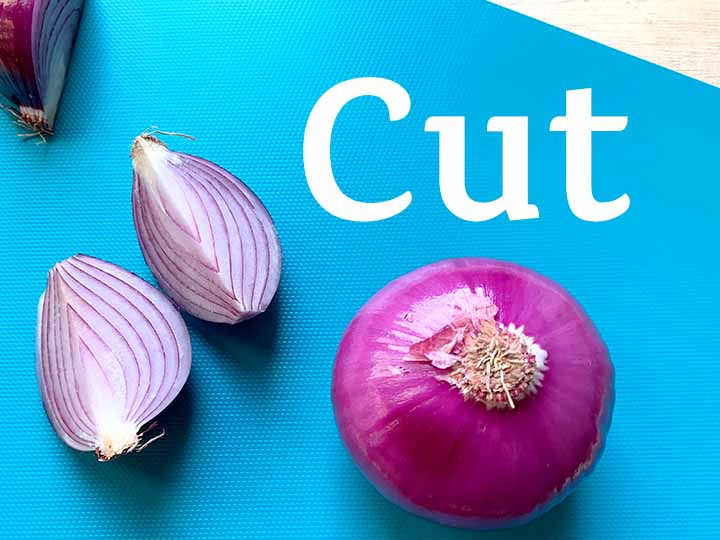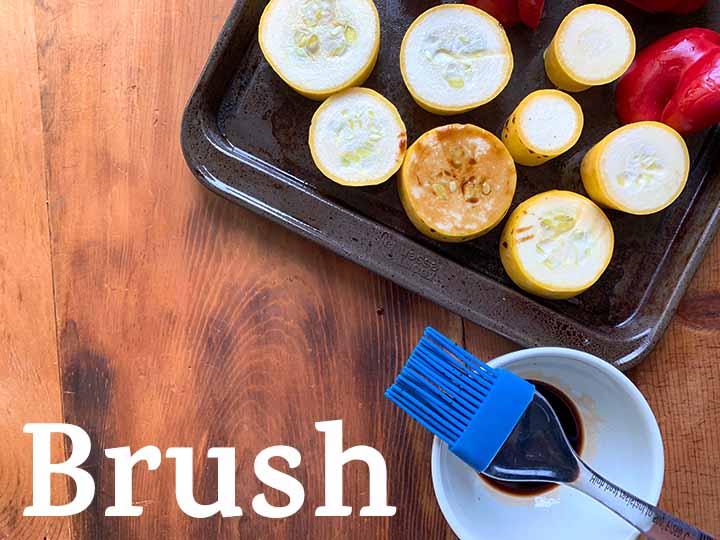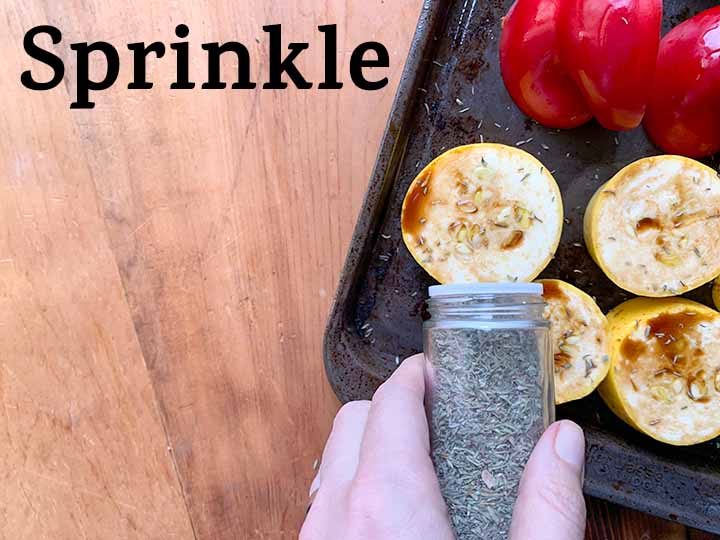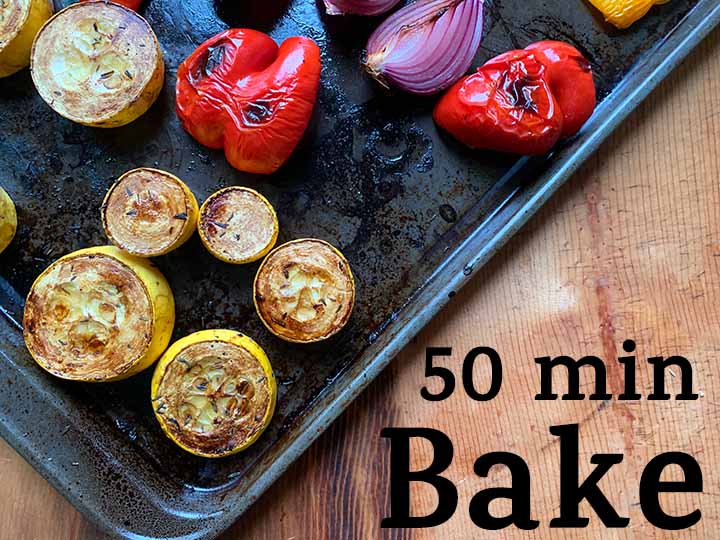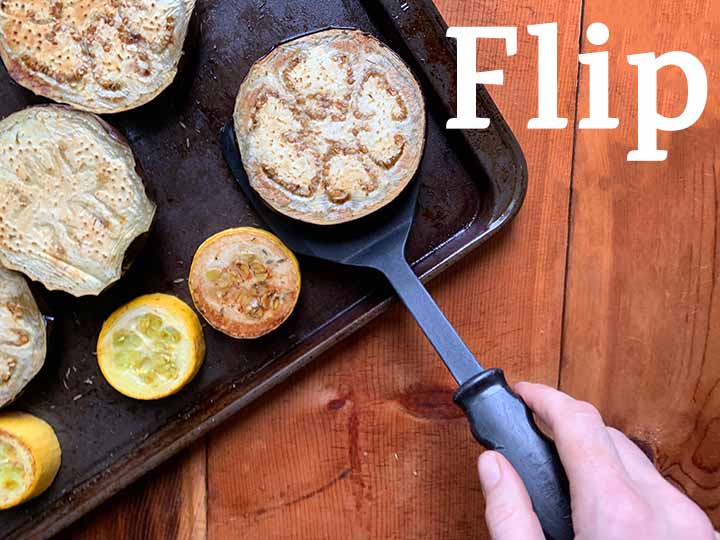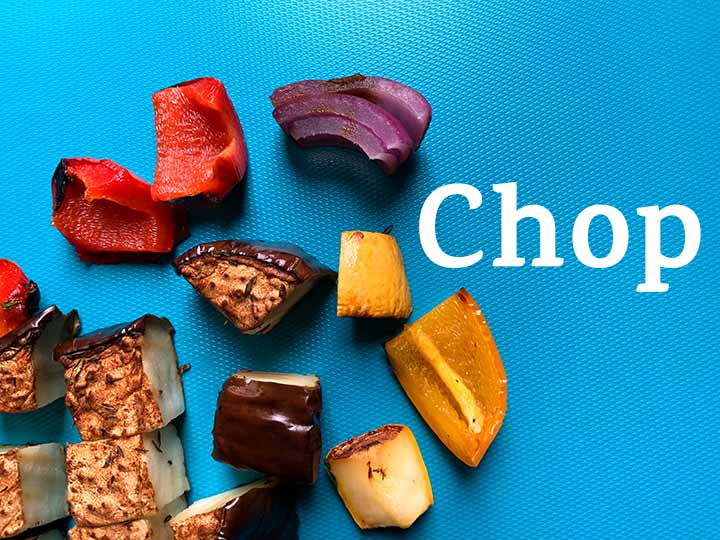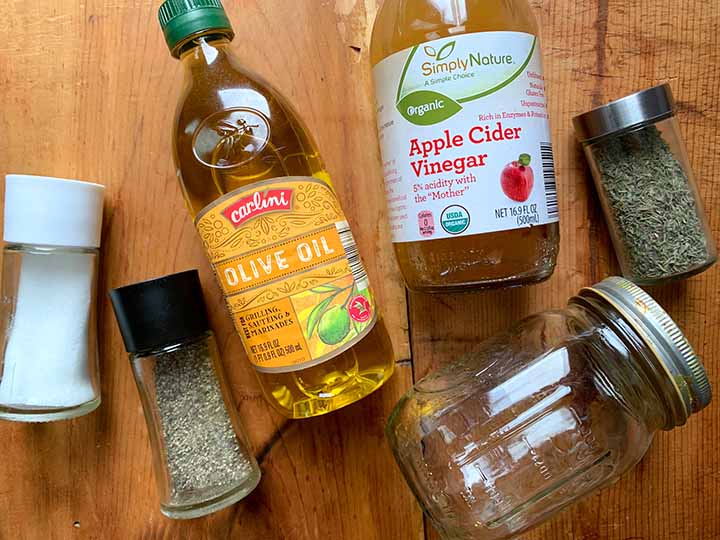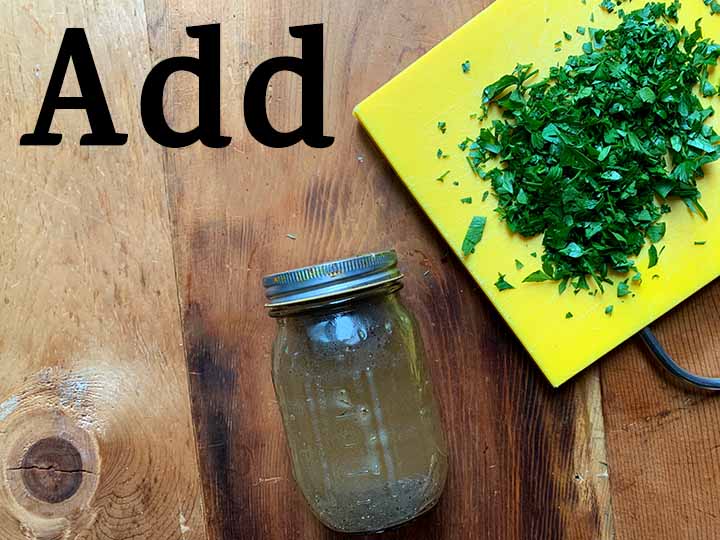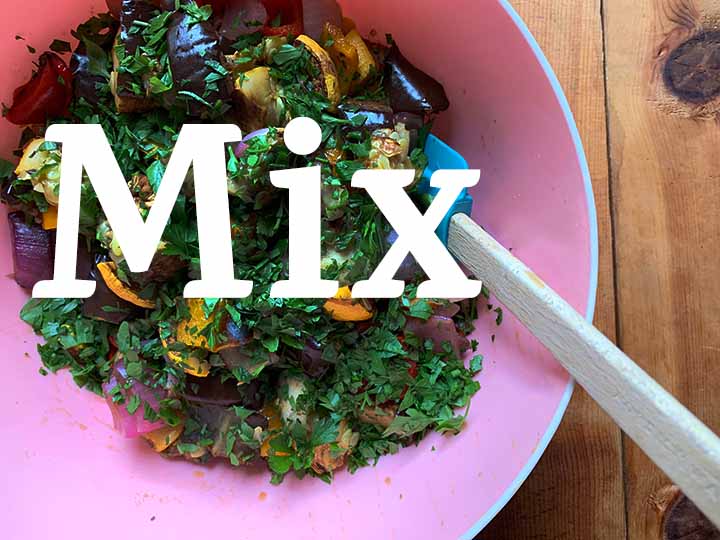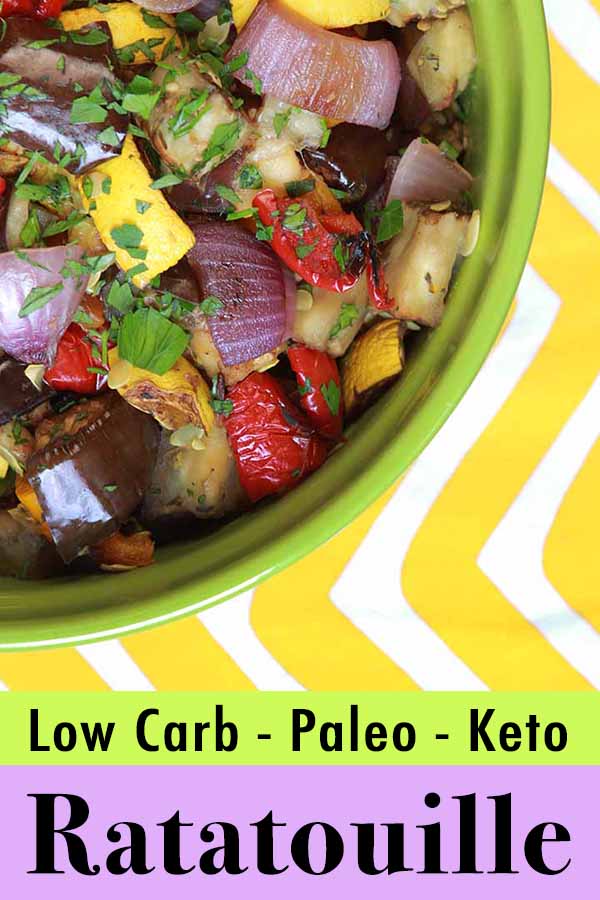 32