This Keto green bean casserole is a Keto take on a classic Thanksgiving side dish. And each serving has just 3g net carbs.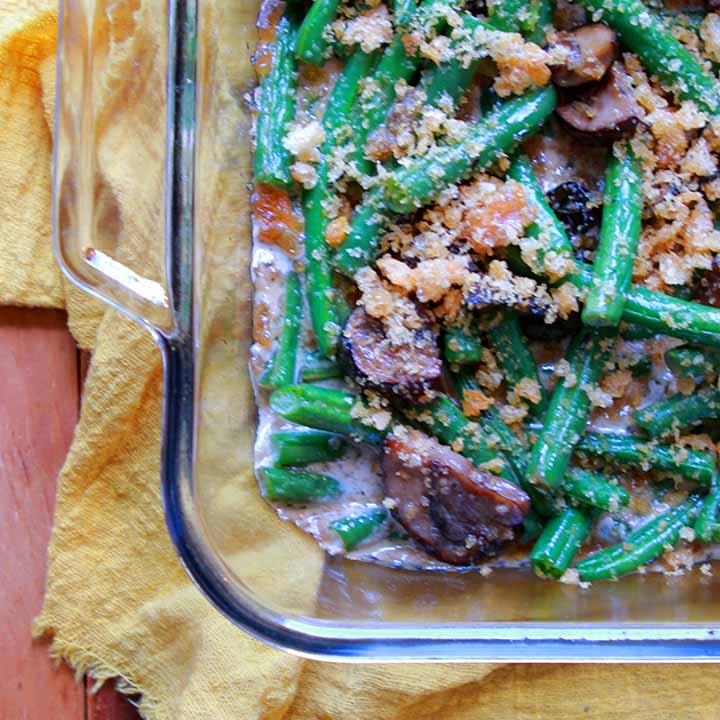 Hello holiday home cooks.
Today I'm going to show you how to make a Keto version of the classic Thanksgiving side dish: the green bean casserole. Or, as I like to call it, the Notorious GBC.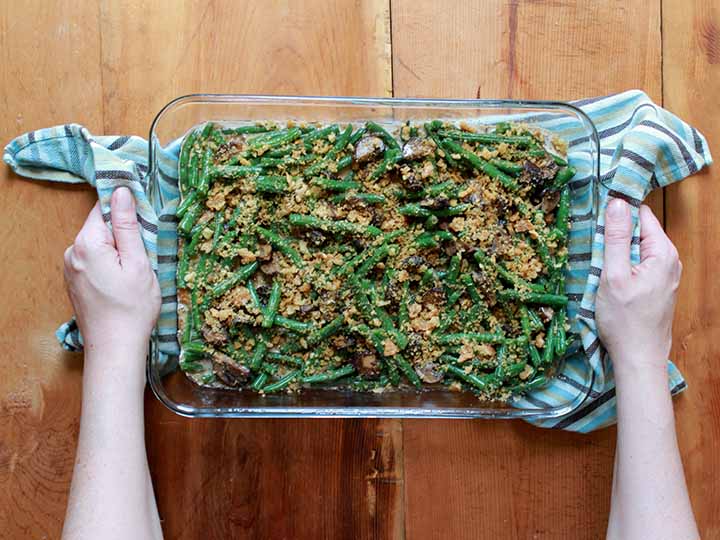 You've got your canned green beans, your Campbell's cream of mushroom soup, milk, soy sauce and a package of French's Fried Onions. Everybody knows about this recipe, but do you know where it came from? Not from the Puritans, I can tell you that much.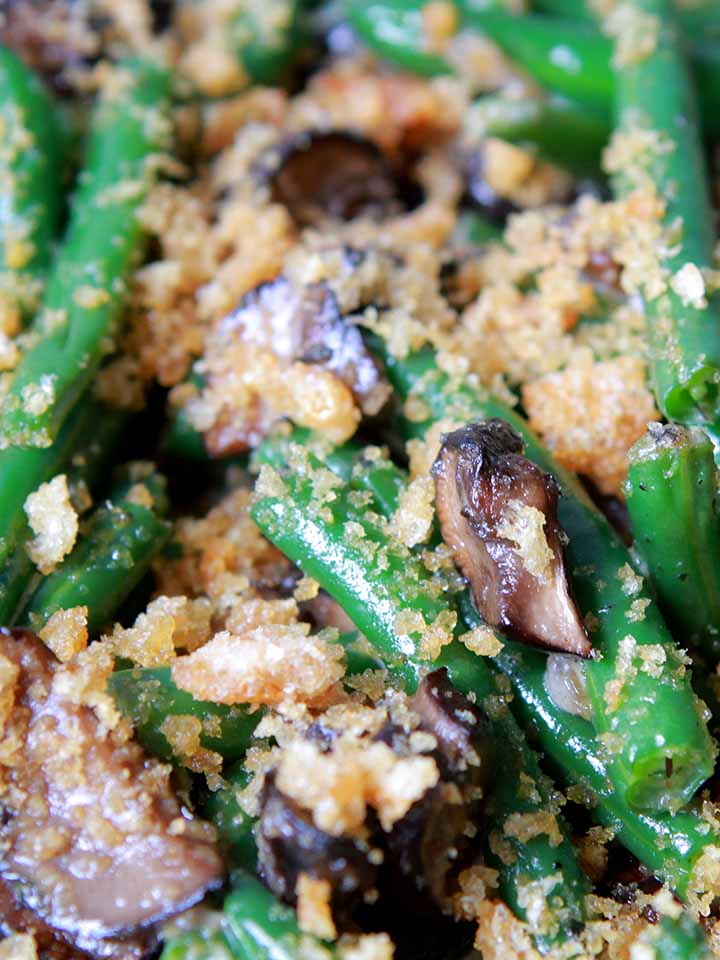 No, green bean casserole came straight from the Campbell's Soup Test Kitchen, back in the 1955.
Like many other food manufacturers, Campbell's created these slim cookbooks with collections of recipes that used their products. And boy howdy did this recipe take off. As of today, 40% of all cream of mushroom soup is used to make green bean casserole.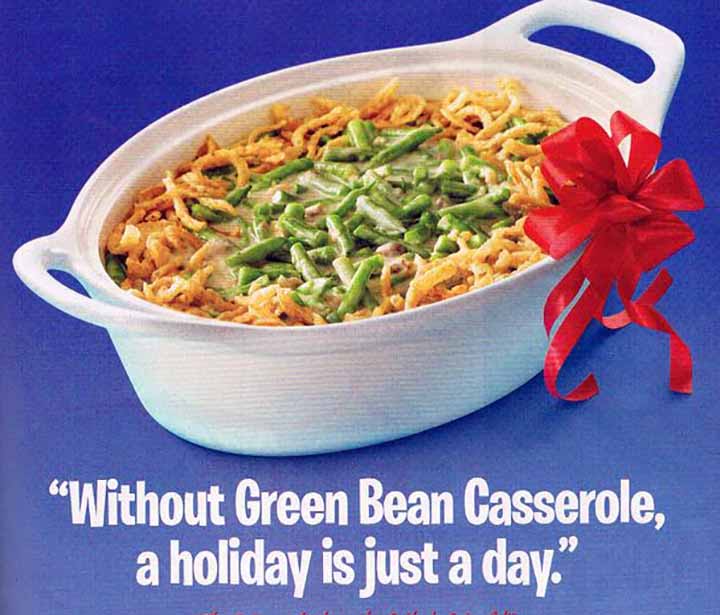 But we're not using some crummy cream of mushroom soup for our Keto green bean casserole.
No sir, we will be using real ingredients. So you'll need fresh green beans, onions, garlic, mushrooms, butter, heavy whipping cream and pork rinds.
You might be wondering how to make this low carb green bean casserole.
It's not as easy as classic GBC, but it's still pretty darn easy. You just need to boil some green beans, mix up a mushroom sauce on the stovetop and then mix the two together. Top the casserole off with crushed pork rinds and bake it up.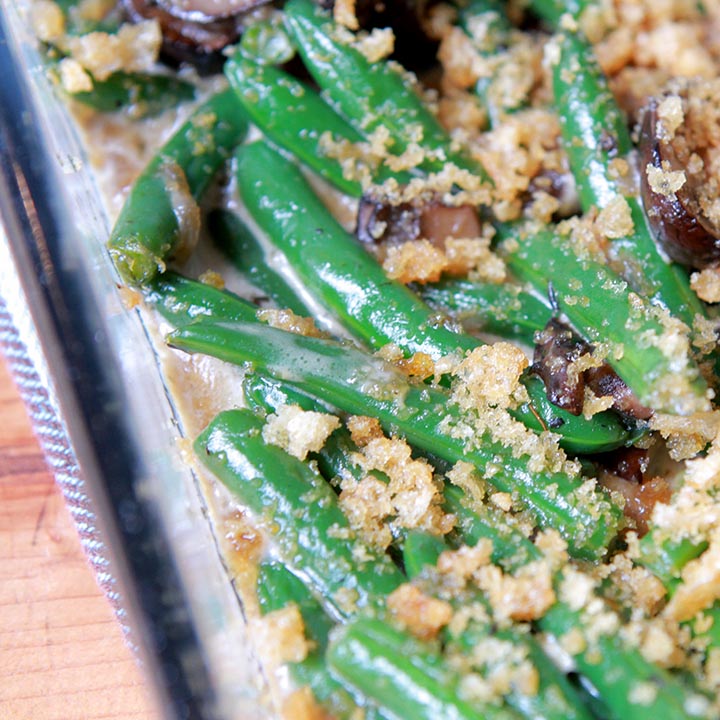 Do you need to use fresh green beans in this low carb green bean casserole?
Not at all. If you'd rather use classic canned green beans, then you are free to do so. Or use frozen if you like. If you use canned or frozen green beans, you can skip boiling the beans.
If you like this low carb side dish, then you might like my recipes for Keto Mac and Cheese, Keto Garlic Bread or Low Carb Noodles.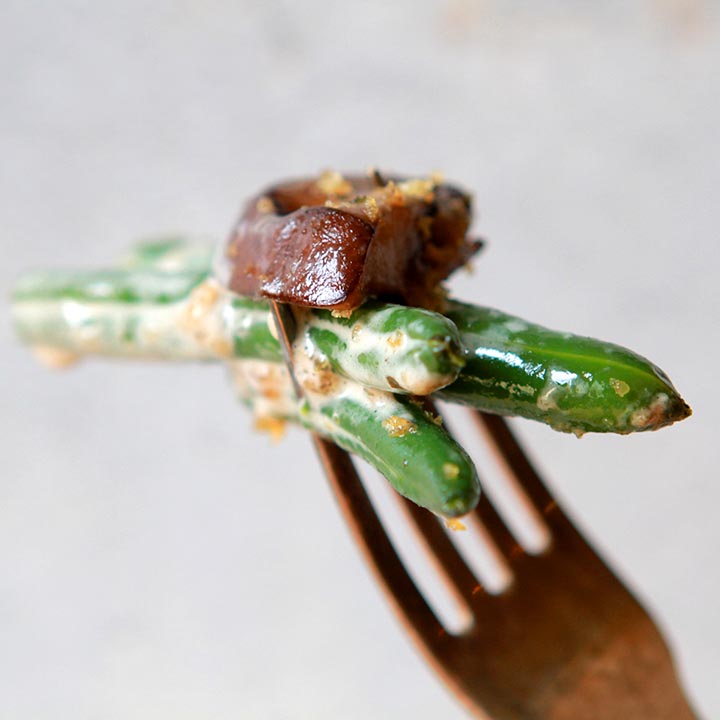 Don't be tempted to use French's fried onions though, unless you want to double the carb count.
The fried onions were the most difficult element of green bean casserole to replicate.  The topping needed to be crispy, so I decided to use crumbled pork rinds.  They have just the right amount of crunch, fat, and saltiness, but unlike French's fried onions, they are a zero carb food.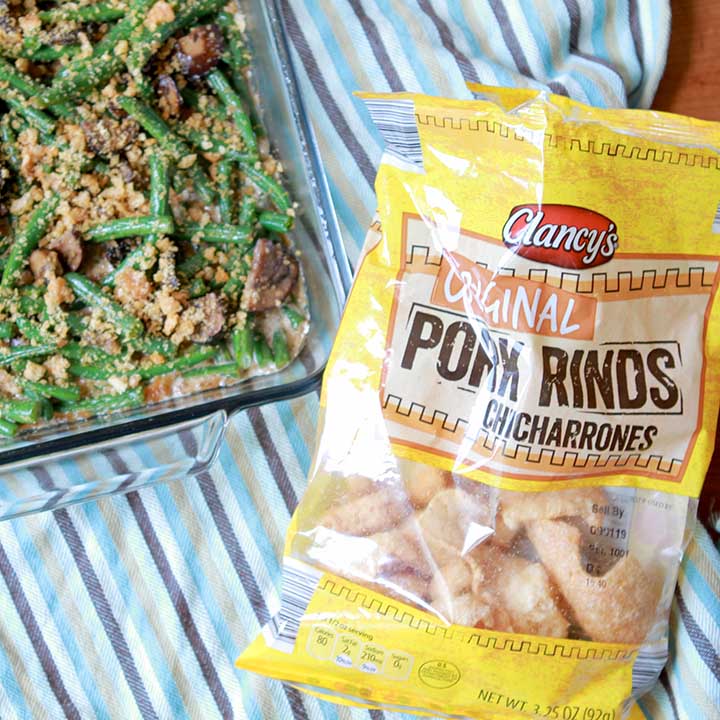 What if you don't care for pork rinds?
Pork rinds aren't for everyone, but you can substitute almond flour and parmesan cheese if you'd like.  Just mix together ⅔ cup almond flour and ⅔ cup shredded parmesan cheese and sprinkle it on top of the casserole.  Spray with cooking spray and then bake for 15 minutes.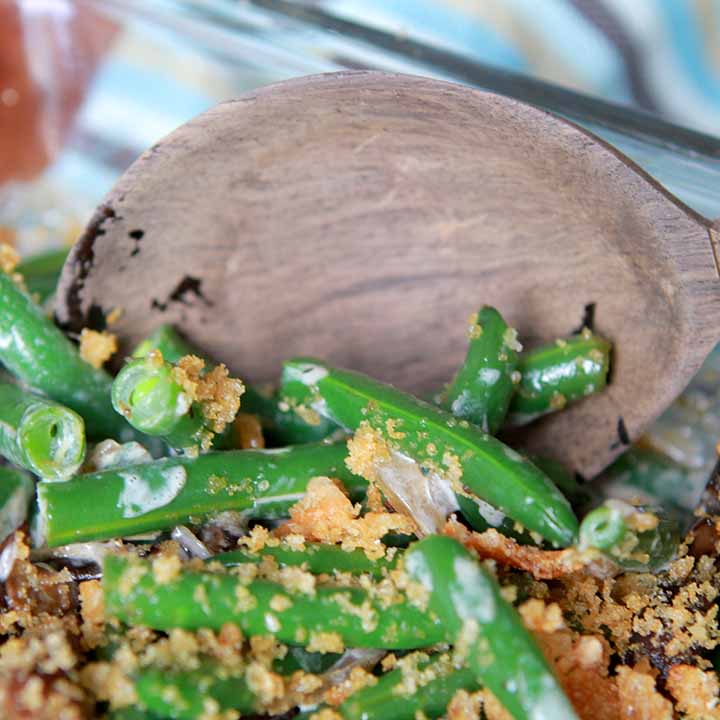 Can you add cheese to this Keto green bean casserole?
A green bean casserole purist might say no, but I say bring on the cheese! You can add one and a half cups of shredded cheddar cheese to the mushroom sauce right at the end. Stir it until the cheese is melted and combined.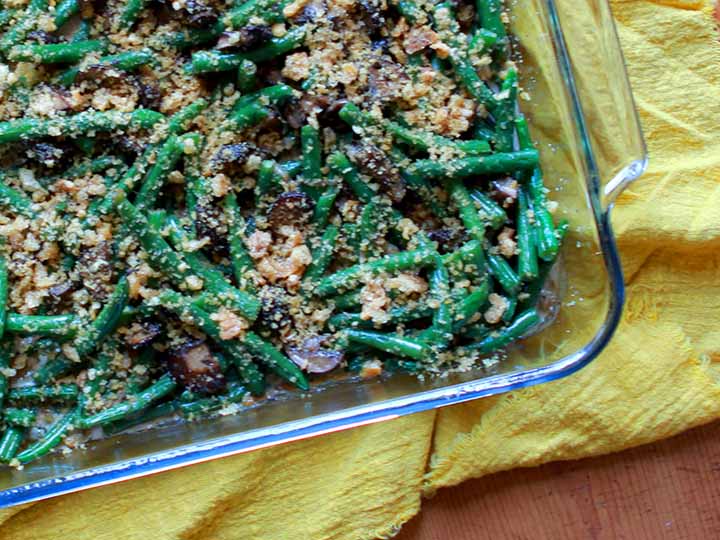 Can you add bacon to a low carb green bean casserole?
Sure, just cut 4 slices of bacon into bite sized pieces and saute them in a large frying pan. Once they get crispy, remove the bacon from the pan and onto a paper towel covered plate. Retain 1 tablespoon of the bacon grease to cook your onions, garlic and mushrooms and then continue with the recipe. Add the bacon bits and mushroom sauce to the green beans at the same time.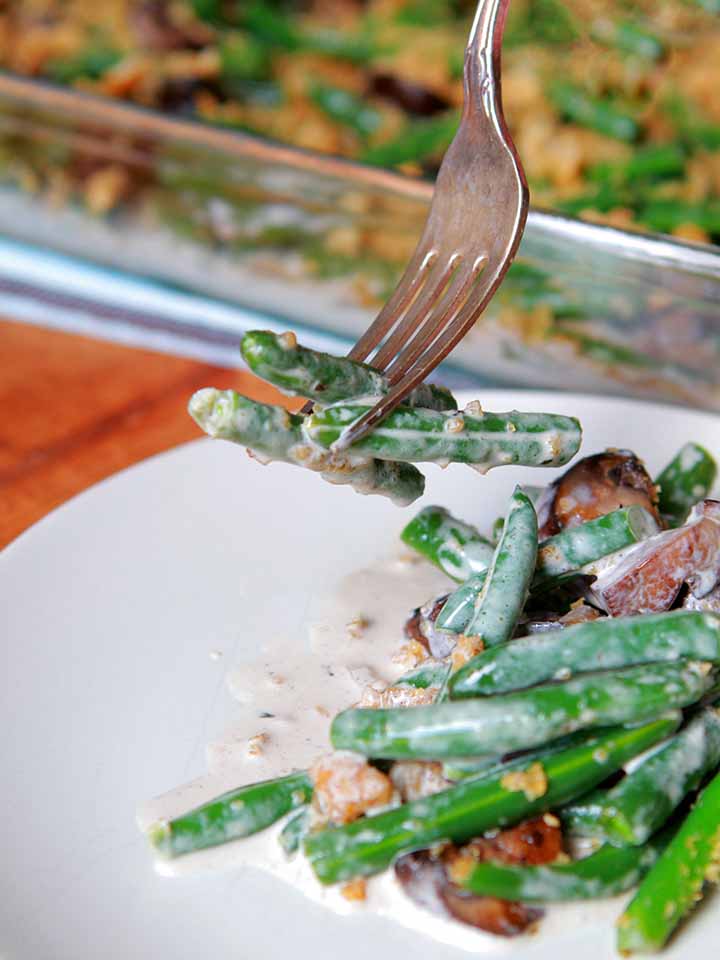 Ok, that's about all I've got for you, Keto green bean casserole-wise.
You are about to embark on a low carb journey to Thanksgivings past. This Keto green bean casserole might take a little bit longer to make than the casseroles of yore, but it will be just as tasty.
So good bye, and good luck making the Notorious GBC.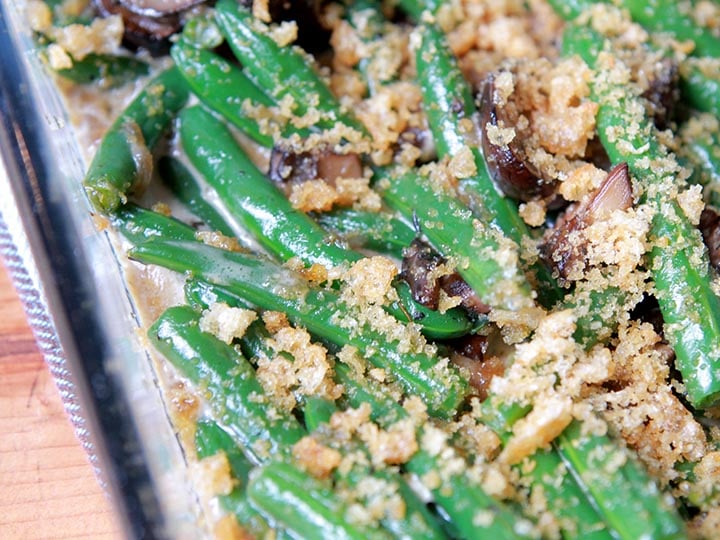 Print
📋 Recipe
Keto Green Bean Casserole
This low carb green bean casserole is a Keto take on a classic Thanksgiving side dish.  And each serving has just 3g net carbs.  
Author: Emily Krill
Prep Time:

10

Cook Time:

40

Total Time:

50 minutes

Yield:

10

servings

1

x
Category:

Side Dish

Method:

Baked

Cuisine:

American
2 tablespoons

butter

½

cup

onion, sliced

2

cloves garlic, minced

8

oz

mushrooms, sliced and halved

½ teaspoon

thyme

½ teaspoon

salt

¼ teaspoon

black pepper

2

cups

heavy whipping cream

24

oz

green beans, ends trimmed and cut in half

1

cup

crushed pork rinds
Instructions
Step 1.  Add green beans to a large pot of boiling water.  Cook for 5 minutes.
Step 2.  Drain the green beans in a colander and spray with cold water until cooled down.
Step 3.  Pre-heat the oven to 350 degrees F and spray a 13 x 9-inch casserole dish with cooking spray.
Step 4.  Add butter to a large frying pan and saute onions and garlic for 2 minutes on Medium-High heat. 
Step 5.  Add mushrooms, salt, pepper, and thyme to the pan and saute for 4 minutes more.
Step 6.  Add heavy whipping cream to the pan and bring to a low boil.  Simmer until thickened to the consistency of cream of mushroom soup, 15-20 minutes. 
Step 7.  In a large bowl, combine green beans and mushroom sauce.
Step 8.  Add pork rinds to a blender and pulse a few times until it is the consistency of panko bread crumbs.
Step 9.  Sprinkle pork rinds on top of the casserole.
Setp 10.  Bake for 15 minutes until browned.
Step 11.  If you like it a little more browned, then increase the heat to Broil and cook for 1-2 minutes more.   
Notes
Recipe updated 8-30-19
STEP-BY-STEP PHOTOGRAPHS ARE BELOW THE RECIPE
Nutrition
Calories:

262

Fat:

24

Carbohydrates:

5

Fiber:

2

Protein:

8
Keywords: Low Carb Green Bean Casserole, Keto Green Bean Casserole, Paleo Green Bean Casserole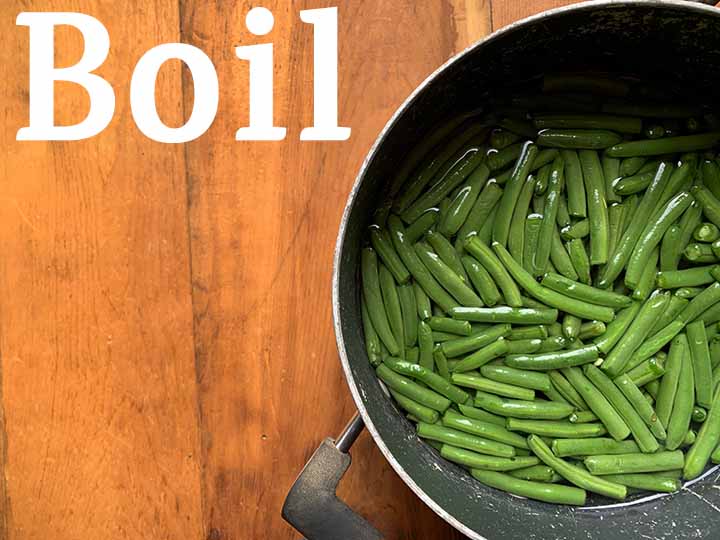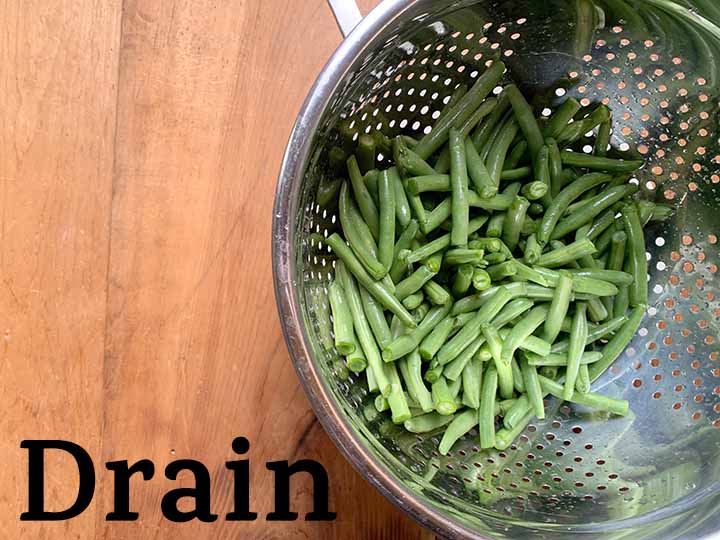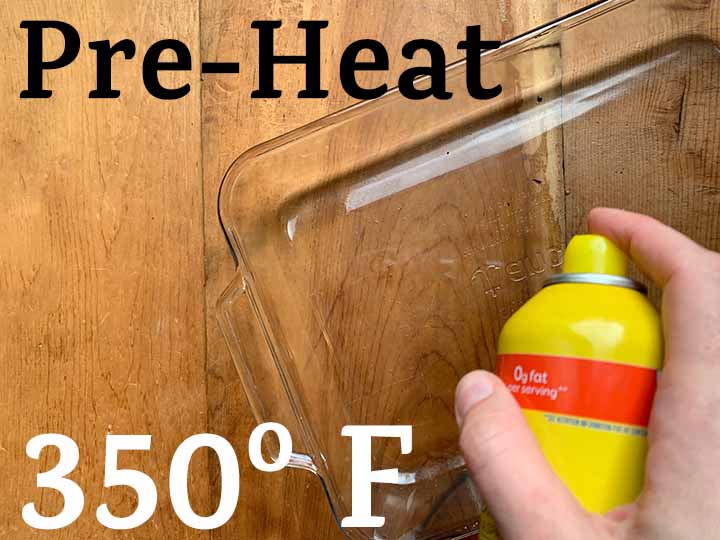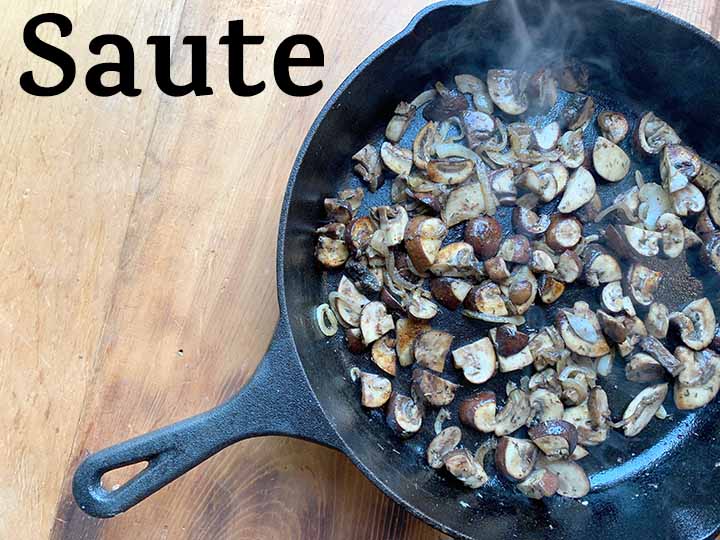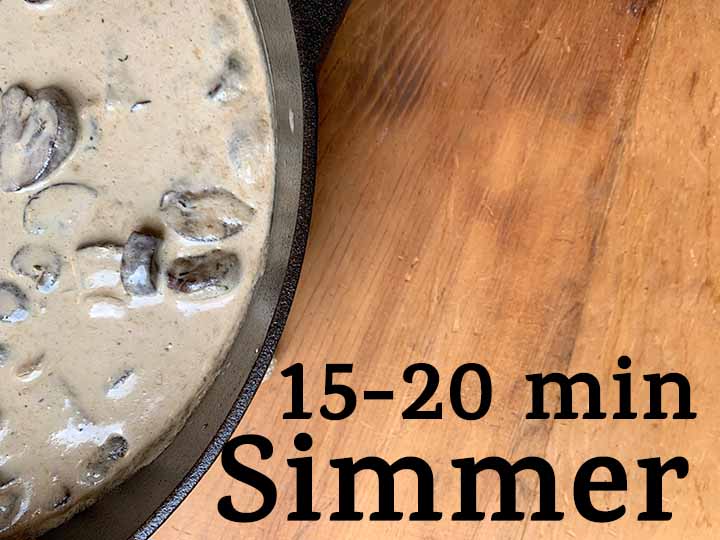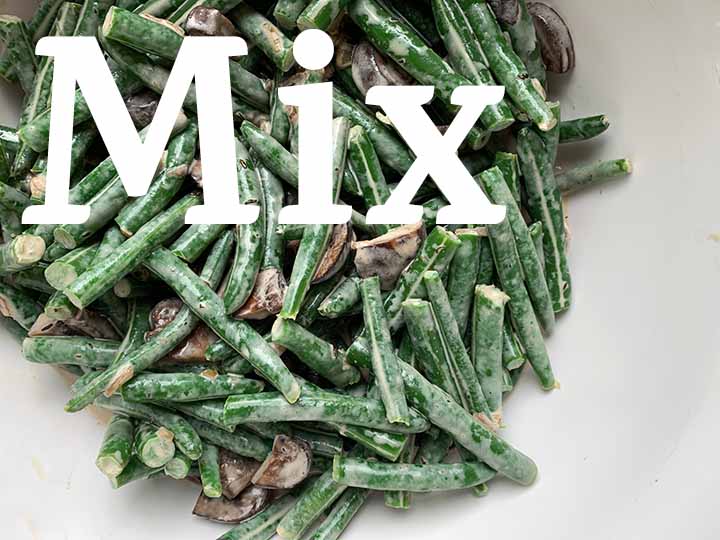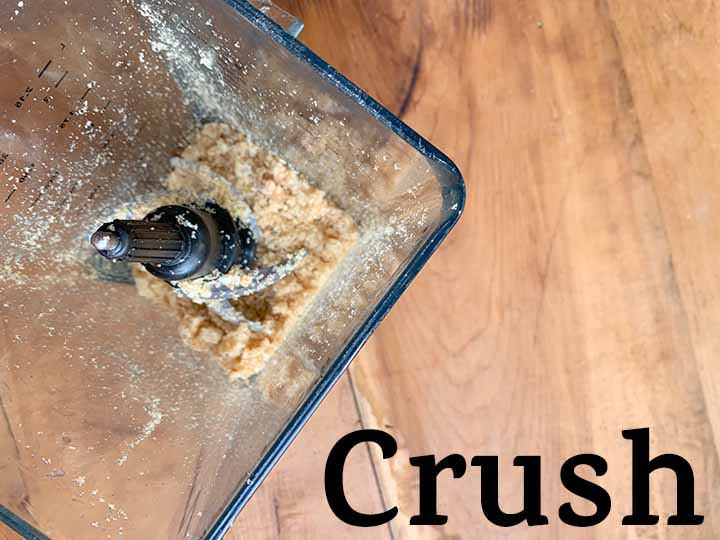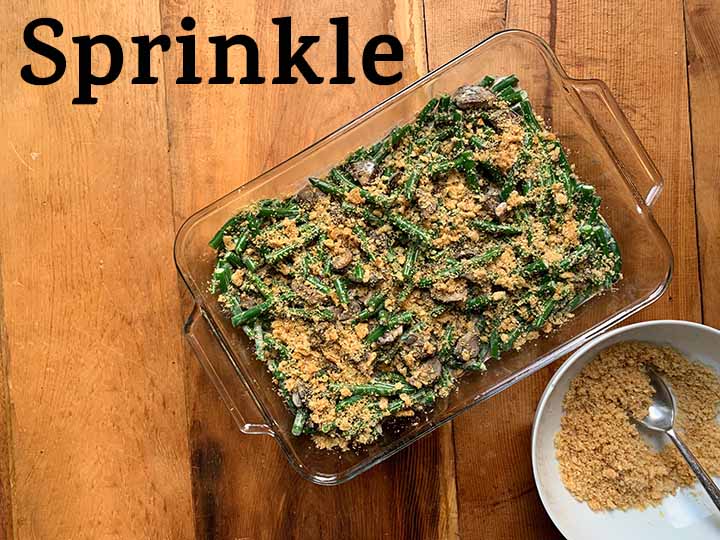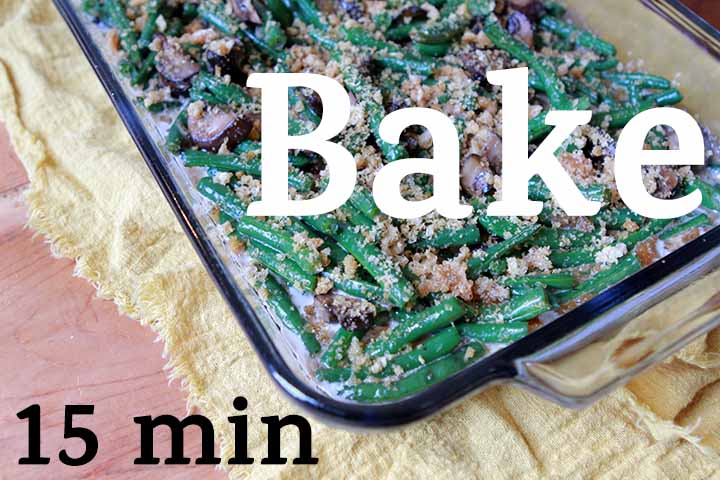 IF YOU LIKED THIS THANKSGIVING RECIPE, THEN YOU MIGHT LIKE MY KETO GUIDE TO SURVIVING THANKSGIVING.