This recipe for Strawberry Fluff Salad is a creamy, fruity treat with only 48 calories. It's full of airy berry goodness.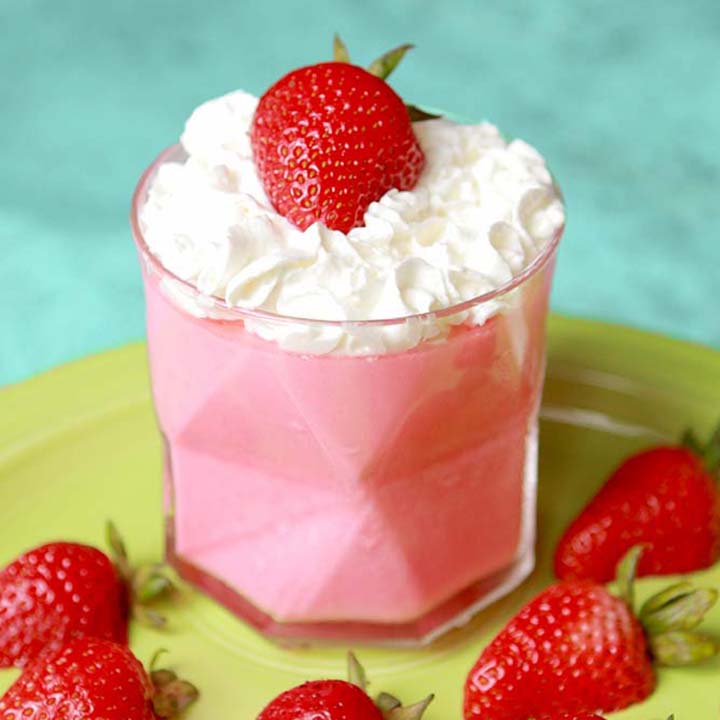 Jump to:
Greetings 👋
Good news. Today's recipe for Strawberry Fluff Salad only has three ingredients: Jello gelatin, yogurt, and Reddi Whip. And there are four instructions: dissolve, blend, chill, top. These are the only things standing between you and some retro Jello deliciousness.  Honestly, you can't afford not to make this dessert.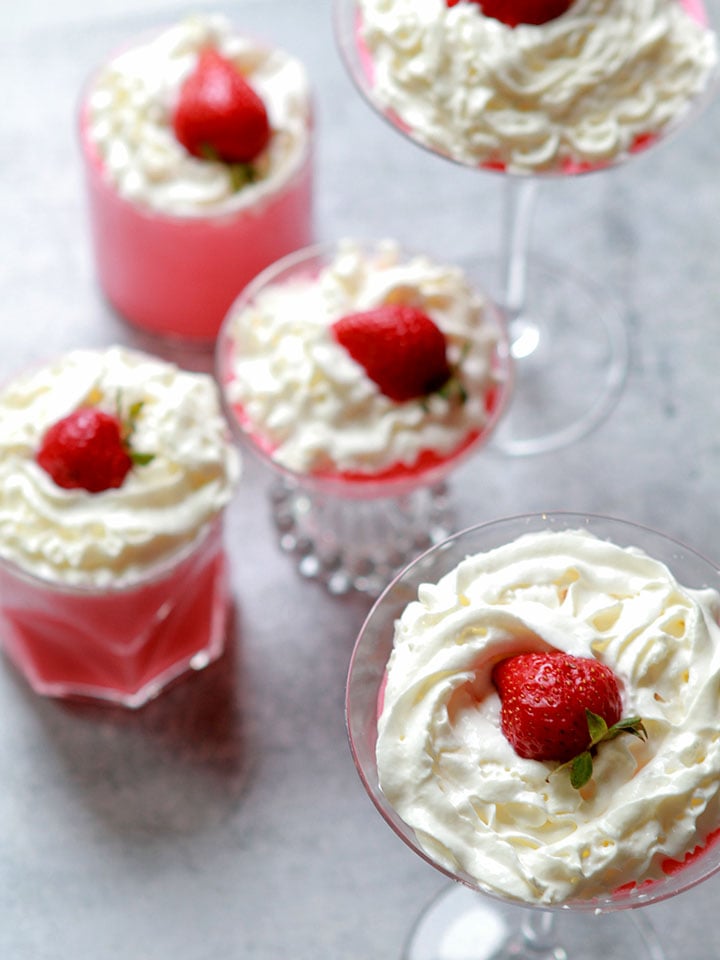 👩‍🍳 Origin of the recipe
Today's recipe is adapted from a recipe for yogurt Jello whips that I found in the Jello holy grail: The Joys of Jell-O Gelatin. Over the last few years, I have tracked down several editions of the book and have studied them avidly.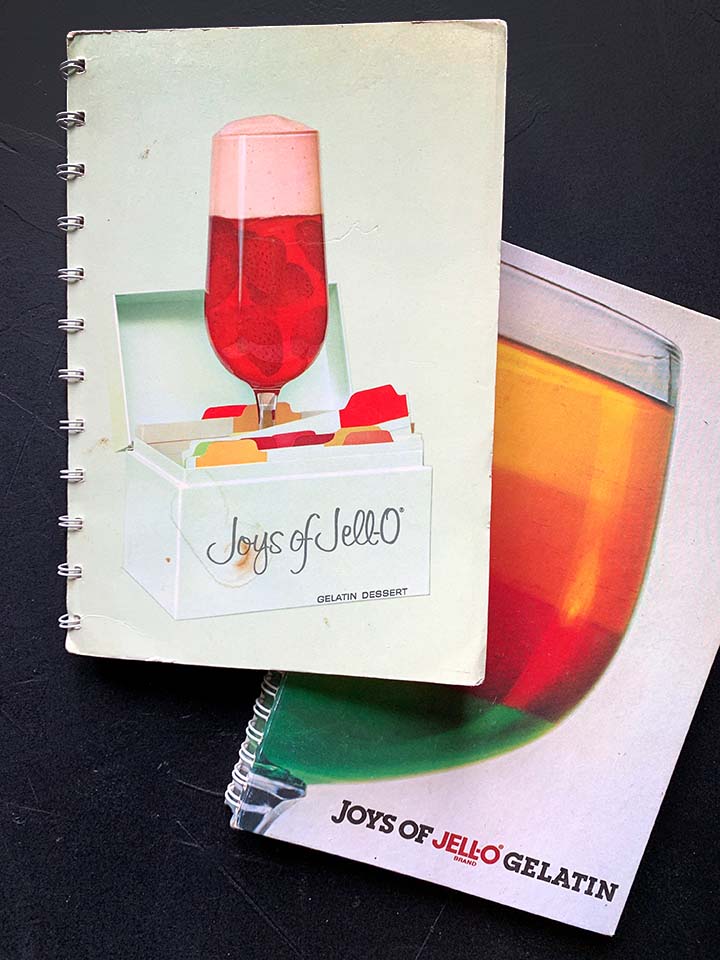 There are too many fabulously strange Jello salads to get to in one blog post.
But common Jello salad ingredients in the '50s and '60s were: anchovies, mayonnaise, tuna, olives, cabbage, chicken, cheese, shrimp, cauliflower, onions, the list goes on and on.  Was there a celery-flavored Jello?  Yes.  Yes, there was. 
It was truly the stuff of nightmares.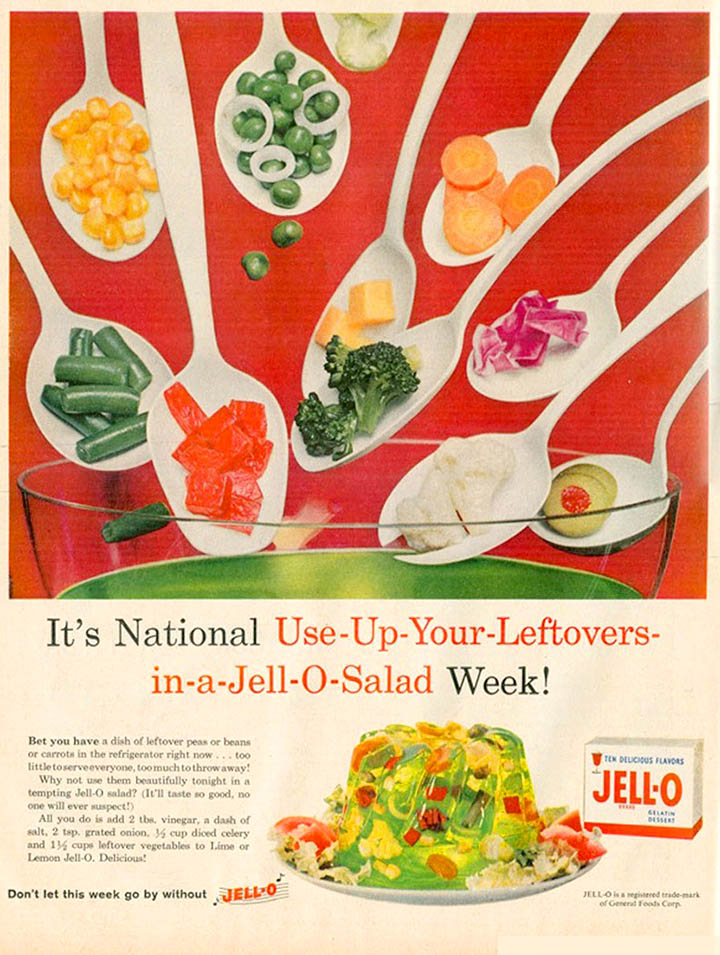 🥣 Ingredients
Luckily though, the Jello cups that we are going to make today have very reasonable ingredients. You'll just need Sugar-Free Strawberry Jello, Greek yogurt, and Reddi Whip.  And maybe a strawberry or two for garnish.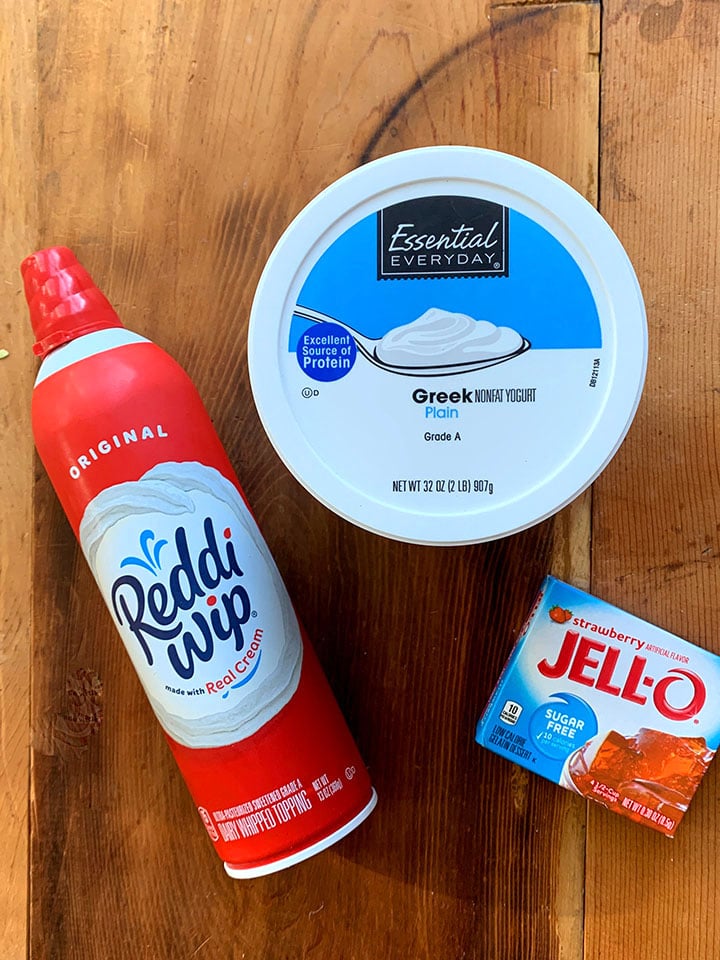 Sugar-Free Jello gelatin has long been one of my secret low-calorie weapons.
It's a zero-carb food with just 10 calories per serving.  (Yes, I said 10!) Reddi Whip is another one of my low-calorie secrets because each serving has just 15 calories. Add in some plain Greek yogurt and you've got yourself a quick and easy Strawberry Fluff Salad with only 48 calories.
🌈 Naturally Sweetened Jello
We have classic Jell-O brand gelatin to thank for this recipe, but I'd like to tip my hat to a new kid on the Jello block. It's a brand of sugar-free Jello called GramZero. They make Jello that is naturally sweetened with stevia, so you don't need to worry about the artificial sweeteners used in Jell-O.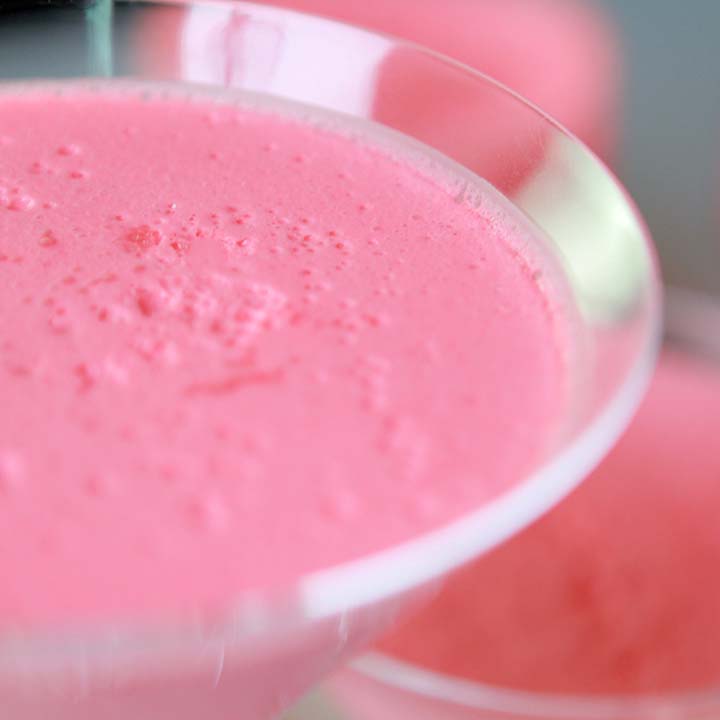 "How do you make these wondrous Strawberry Fluff Salad?" you may well ask.
And happily, that's an easy question to answer. As long as you know how to boil water and push a button on the blender, you can handle making this low-calorie Jello dessert.
If you like this Sugar Free Jello recipe, then you might like my recipes for Keto Yogurt, Raspberry Gummies, Cranberry Pecan Jello Salad or Strawberry Jello Cream Pie.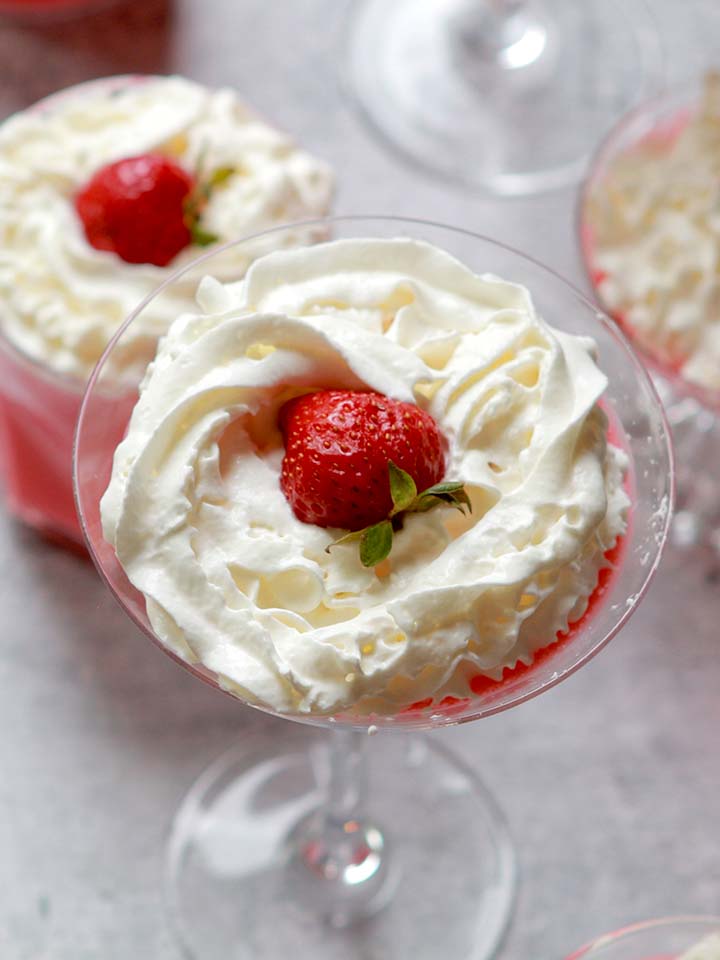 📖 Instructions
Dissolve a package of Sugar-Free Jello gelatin in ¾ cup boiling water.
Mix in 1 cup ice water until it thickens.
Put the Jello in a blender along with 1 cup of plain Greek yogurt and blend for 30 seconds.
Pour the mixture into glasses and chill in the fridge for 2 hours.
Top the Jello with Reddi Whip and you're done!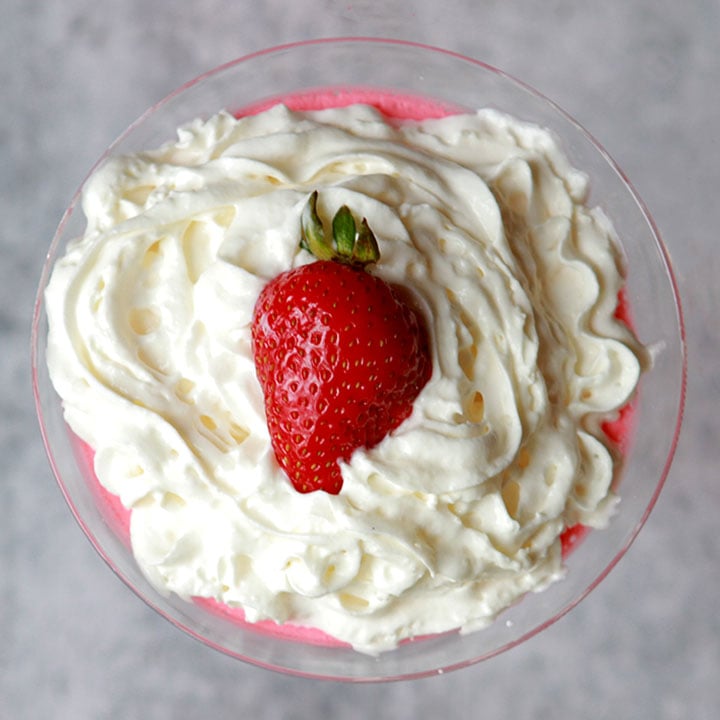 That's all it takes to make yourself this fruity creamy sugar-free gluten-free guilt-free dessert.
All thanks to the Joys of Jello.😉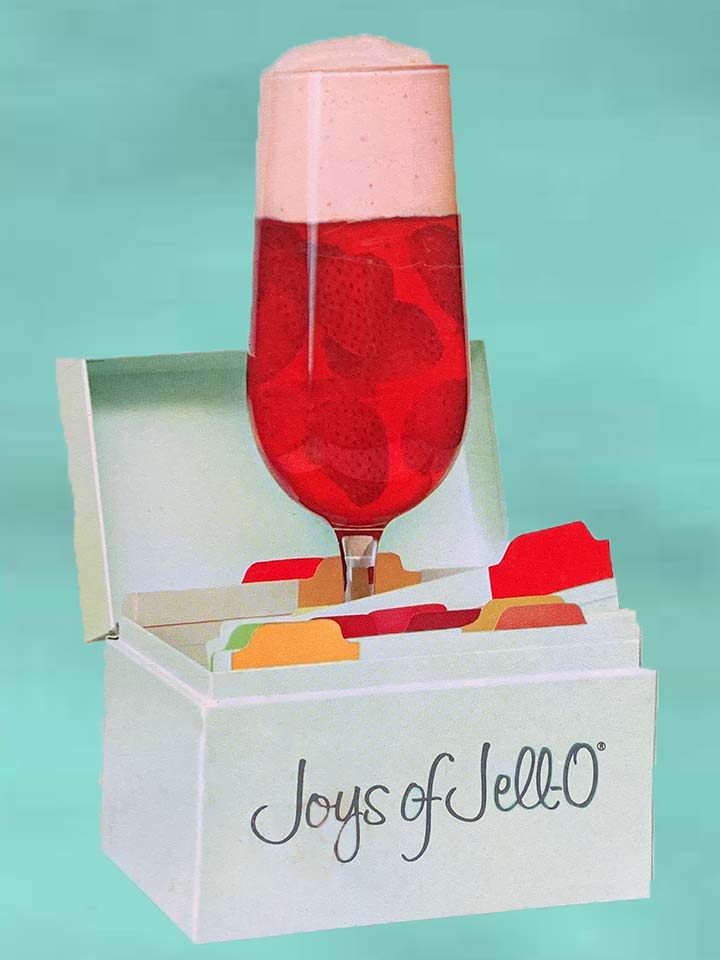 Print
📋 Recipe
Strawberry Fluff Salad
This recipe for Strawberry Fluff Salad is a creamy, fruity treat with only 48 calories.
Author: Emily Krill
Prep Time:

5

Cook Time:

5

Total Time:

10 minutes

Yield:

4 cups

1

x
Category:

Dessert

Method:

Stovetop

Cuisine:

American

Diet:

Diabetic
1

(.3 oz) box of Sugar Free Strawberry Jello

¾

cup

boiling water

1

cup

ice water

1

cup

plain non-fat Greek yogurt

1

can Reddi Whip (you'll only use

½ cup

total)
Instructions
Step 1.  Add ¾ cup boiling water to a medium-sized bowl.  Pour in Jello powder and stir until fully dissolved.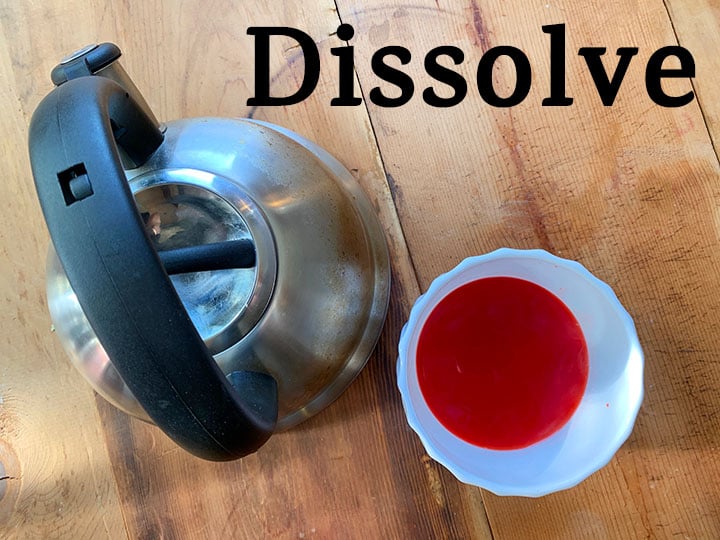 Step 2.  Make 1 cup ice water by measuring out 1 cup of ice, and pouring water in until it fills the cup.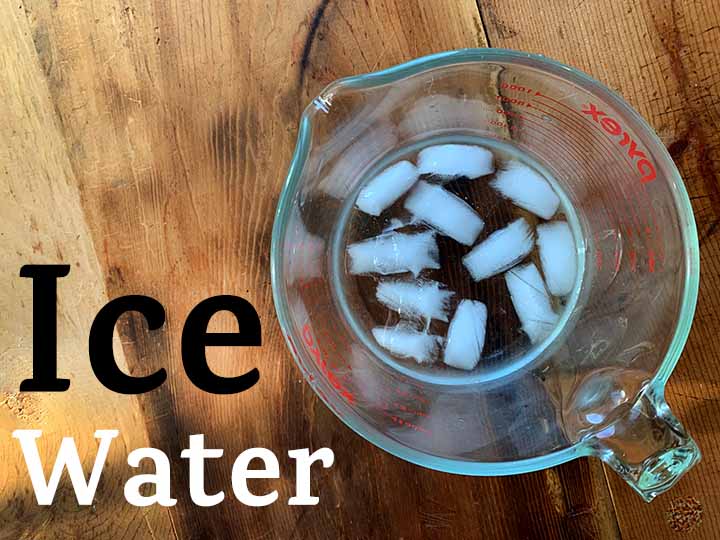 Step 3.  Add ice water to the dissolved Jello and mix until ice melts and Jello thickens.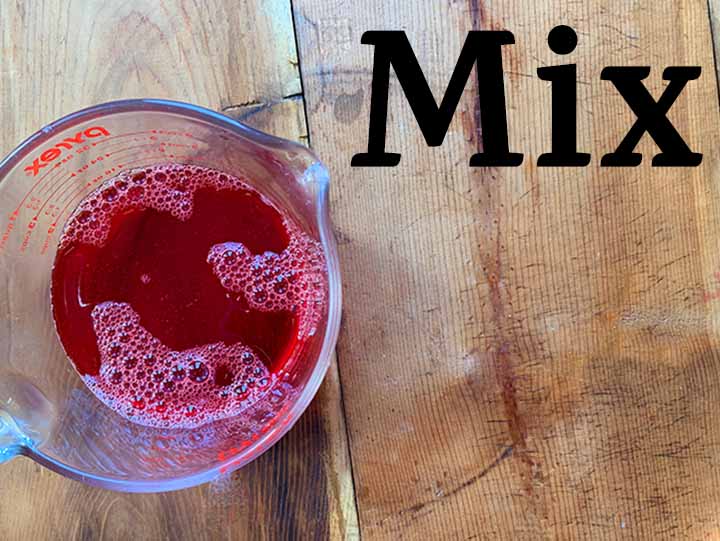 Step 4.  Add Jello mixture and 1 cup yogurt to a blender and blend on high for 30 seconds.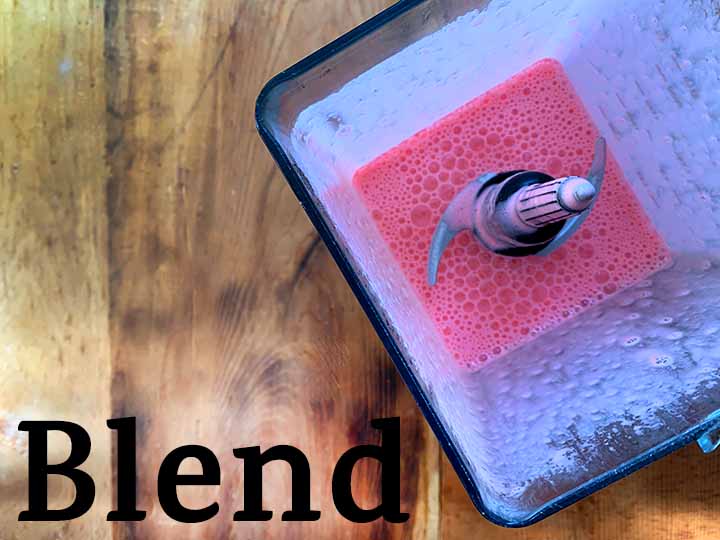 Step 5.  Pour the Jello into serving glasses or a medium-sized bowl and chill for 2 hours.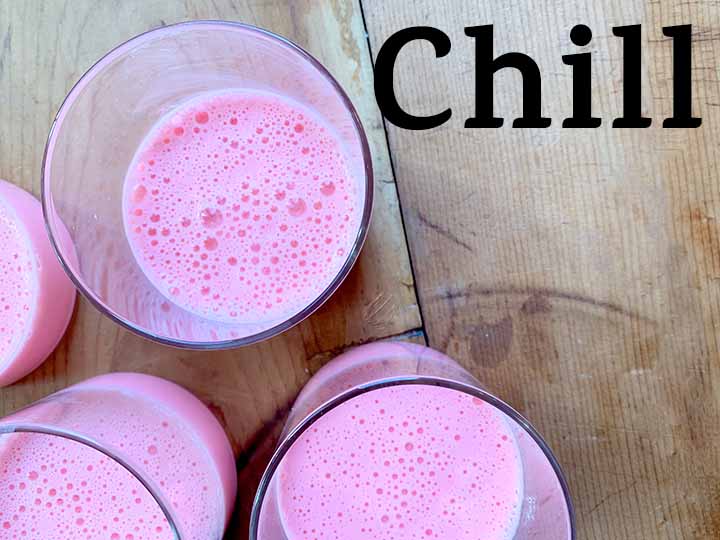 Step 6.  Top each Jello cup with Reddi Whip and serve.  Make sure to add Reddi Whip right before serving because it melts and becomes runny very quickly.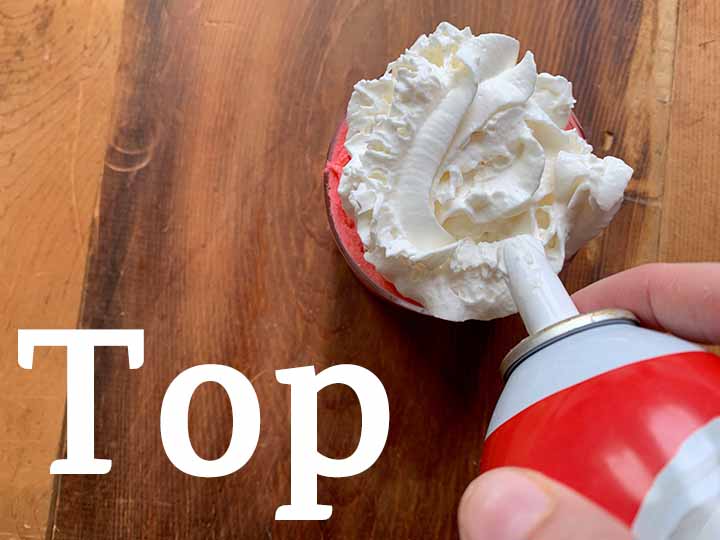 Equipment
Nutrition
Serving Size:

1 cup

Calories:

48

Fat:

0

Carbohydrates:

3

Fiber:

0

Protein:

6
Keywords: Sugar Free Jello Gelatin, Sugar Free Strawberry Jello, Strawberry Fluff Salad
💰 Where to buy Sugar-Free Jello