These Keto Spicy Salmon Sushi Rolls are a low carb twist on the classic Japanese dish. And each roll has just 256 calories and 2g net carbs.

Greetings sushi lovers.
It's time for a party. A Keto Sushi party.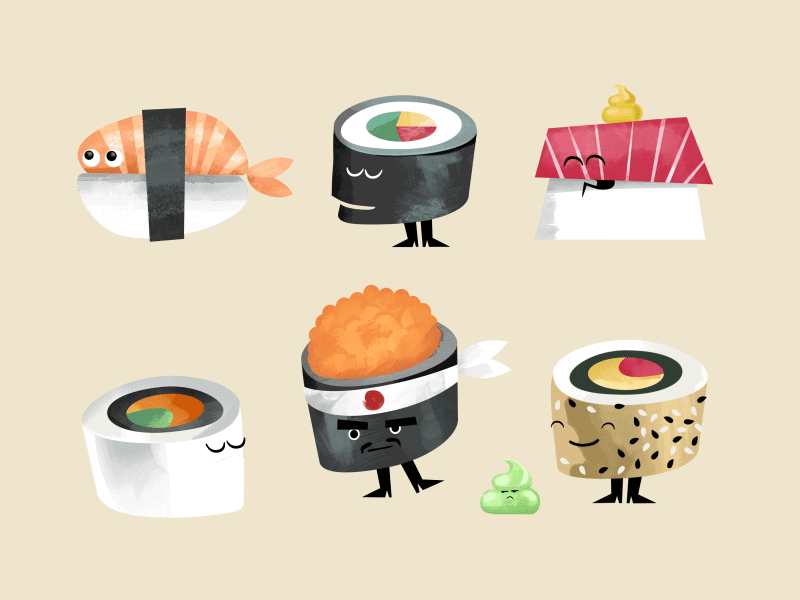 Everybody knows what sushi is nowadays, but it wasn't always so popular in the United States.
This Japanese dish made of raw fish wrapped in seasoned rice and seaweed is a Japanese restaurant staple now, but it only became popular here in the 1960's. In 1966, a Japanese restaurant called Kawafuku opened in Los Angeles. It served real traditional sushi and initially just catered to Japanese business men. But before too long, sushi took hold of the American imagination and became the omnipresent handheld meal we know today.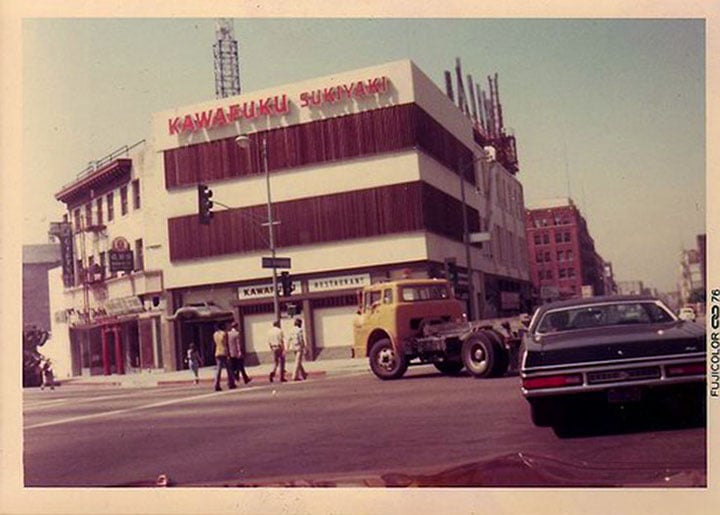 But this is a Keto blog- is sushi Keto?
Oh dear me no. Classic sushi rolls use seasoned rice as their base, and rice is not Keto friendly. But stay with me for a minute. You can actually make Keto Sushi Rolls without rice.
How do you make Keto sushi rolls?
You've got two options: you can make cauliflower rice sushi rolls or just skip the rice altogether. Either way, you'll have a tasty veggie packed sushi roll without the high carb white rice. And low carb sushi rolls only have between 2-15g net carbs per roll. Nice!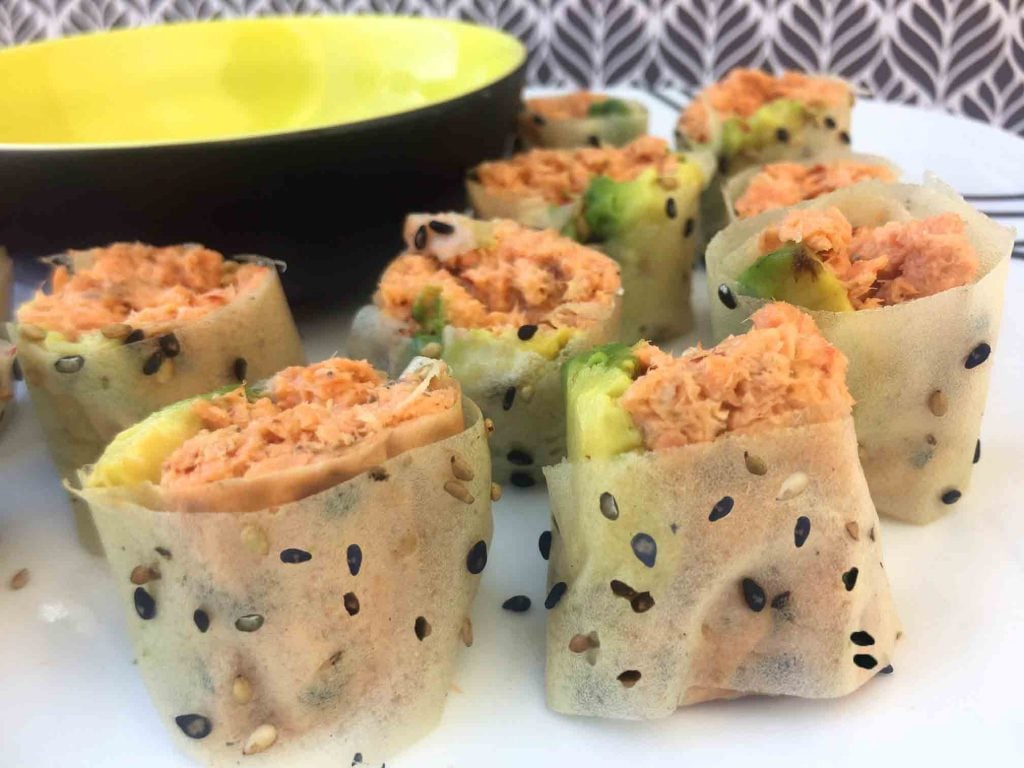 Is Keto sushi healthy?
Yes, normal sushi rolls are very healthy and Keto sushi rolls are even more so.  When you make sushi rolls with just vegetables, nori and raw fish, you don't have to worry about the fillers, preservatives, artificial colors and flavors in normal restaurant sushi.  And you can eat this homemade sushi on Paleo and Whole30 diets as well as on a Keto diet.
What can you use to wrap low carb sushi?
You can use traditional sheets of nori, or a new low carb soy wrap that I've found.  It's a protein-based soy wrap made by Yamamotoyama.  You can buy it from Amazon or Walmart.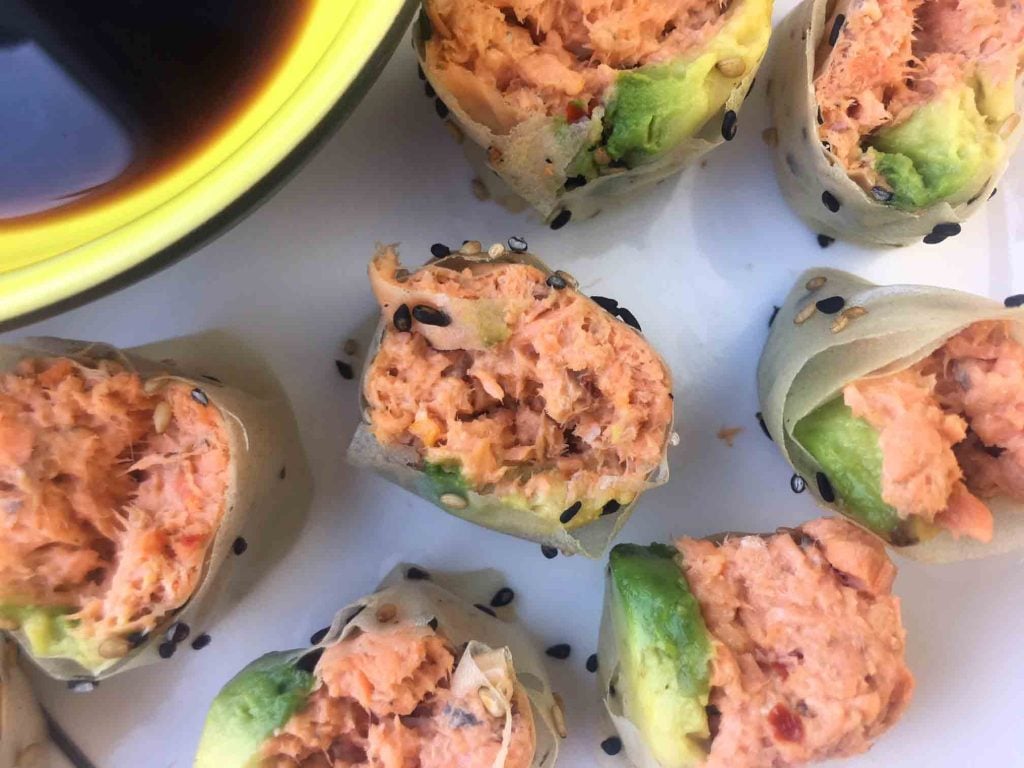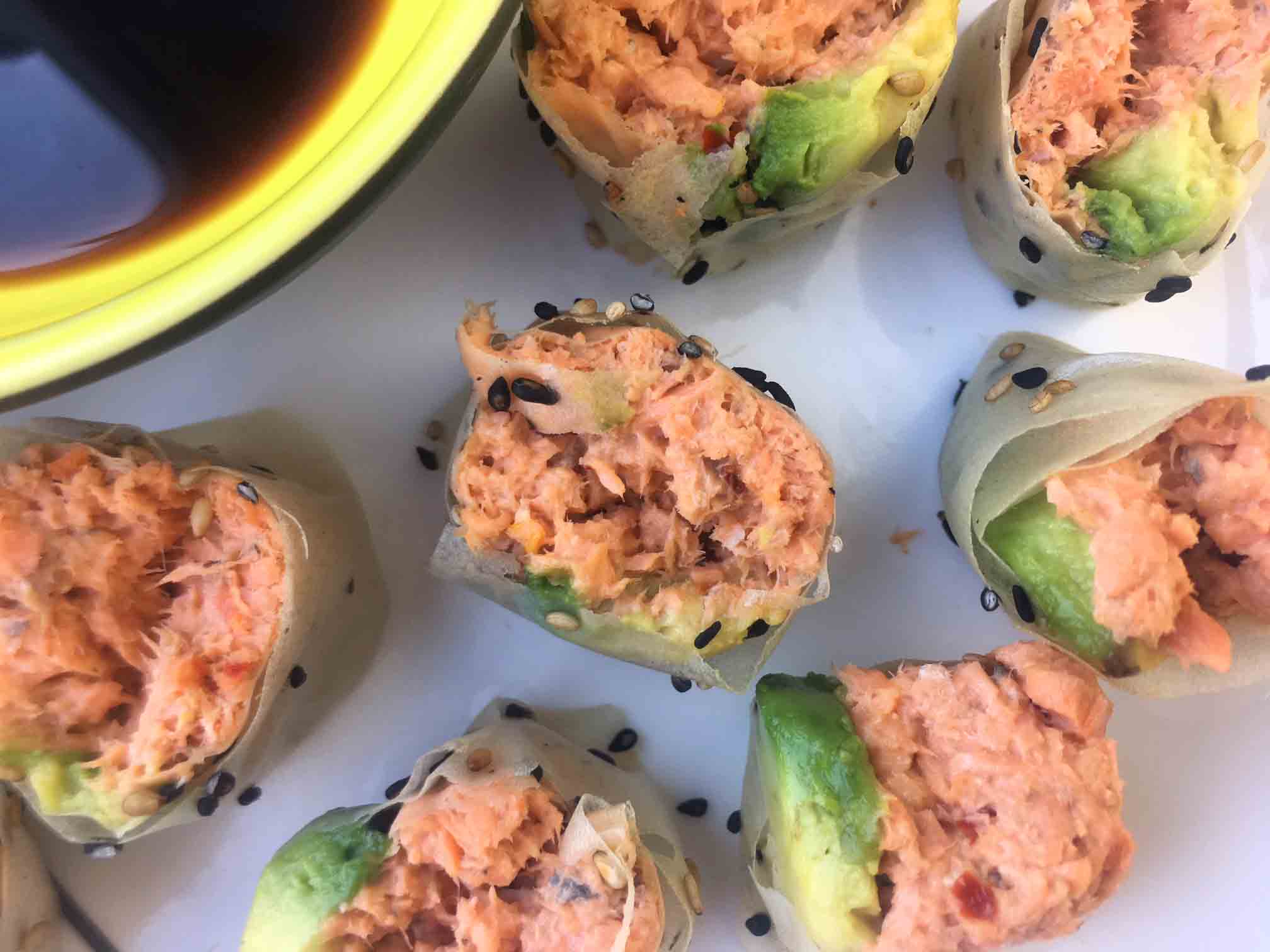 How do you roll Keto sushi?
You roll Keto sushi like you would ordinary sushi. You use a bamboo mat to squeeze the ingredients into the wrapping. There is a knack to it, but you can watch this video on How To Roll Sushi for help.
What are these ingredients in this recipe for Keto Spicy Salmon Sushi Rolls?
I decided to go with sesame soy wrappers for this recipe. I filled the wrappers with a mixture of canned salmon, mayonnaise, Sriracha and avocado. And you'll also need a bamboo mat to roll the sushi.
Any more Keto sushi thoughts, tips, musings?
Nope, that's all I've got. Time to commence with the sushi party.
Sayonara!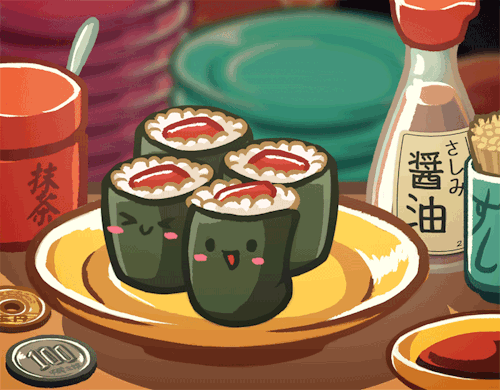 Print
📋 Recipe
Keto Spicy Salmon Sushi Roll
These Keto Spicy Salmon Sushi Rolls are a low carb twist on the Japanese classic dish.  And each roll has just 256 calories and 2g net carbs.
Author: Emily Krill
Prep Time:

10

Total Time:

10 minutes

Yield:

3

rolls

1

x
Category:

Entree

Method:

Raw

Cuisine:

Japanese

Diet:

Low Calorie
1

cup

canned salmon, bones removed and shredded

2 tablespoons

full fat mayonnaise

1 teaspoon

Asian chili oil or Sriracha sauce

½

avocado, sliced into

⅓

inch wide strips

3

sesame soy wrappers, like Yamamotoyama
Instructions
Step 1.  Shred canned salmon with a fork and mix with mayonnaise and chili oil.
Step 2.  Slice ripe avocado into ⅓ inch wide strips.
Step 3.  Use a sushi mat if you have one.  Moisten one short side of a soy wrapper with water.
Step 4.  Spoon salmon along the opposite short side.  Use ⅓ of the salmon to make a log shape along the edge of the wrapper.
Step 5.  Top the salmon with ⅓ of the avocado slices.
Step 6.  Starting with the side with the ingredients, gently begin rolling the sushi roll over itself.  Place your thumbs underneath the bamboo mat and lift the edge that is closest to you up and over the filling.
Step 7.  Curve the rest of your fingers over the bamboo mat and gently press along the length of the sushi roll.  Pull the edge of the bamboo toward you to fold it underneath your hands, then continue to roll the sushi away from you until you've rolled past the moistened end of the soy wrapper.
Step 8.  Press your fingers along the edge to seal it.
Step 9.  Use a large very sharp knife to cut the sushi roll into 1 inch wide pieces.  Repeat with the 2 remaining rolls.
Step 10.  Serve with soy sauce.
Nutrition
Serving Size:

1 roll

Calories:

256

Fat:

20

Carbohydrates:

4

Fiber:

2

Protein:

13
Keywords: Low Carb Spicy Salmon Sushi, Keto Spicy Salmon Sushi, Paleo Spicy Salmon Sushi