Today I'm going to show you how to make Keto Sweet Pretzel Bites.  These low carb soft pretzel bites will be coated with cinnamon and sweetener and dipped in a cream cheese dip that is far tastier than anything Auntie Anne could tempt you with.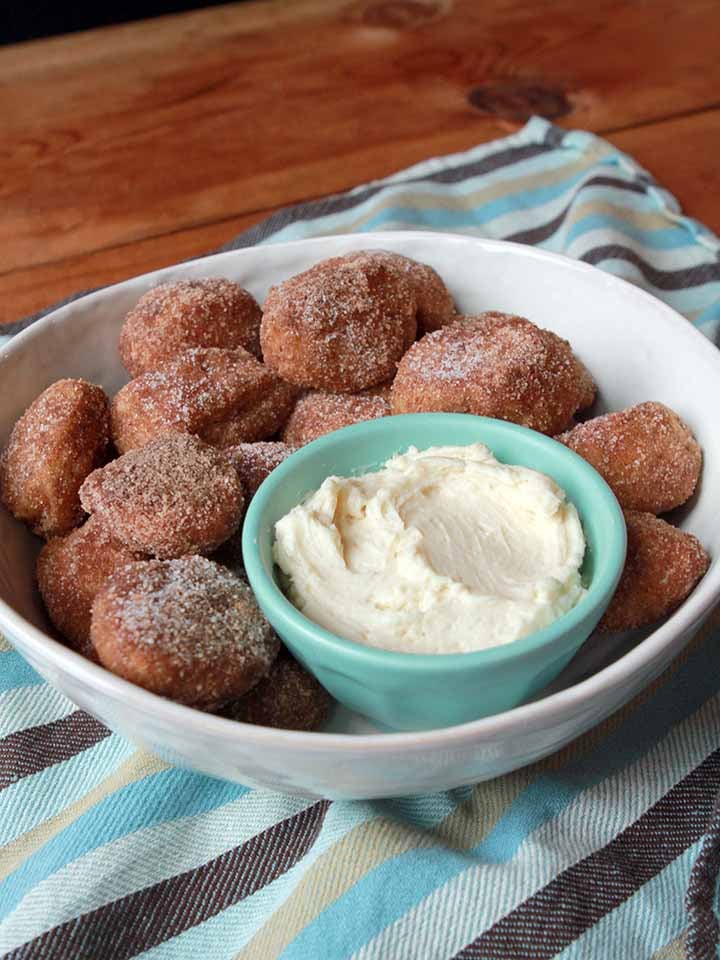 But first, I want you to do something for me.
Google your name and "glamour shots" and see what images come up. It's silly, but it's also Day 33 of home isolation and so silly things are in high demand. Here's a funny one that I got.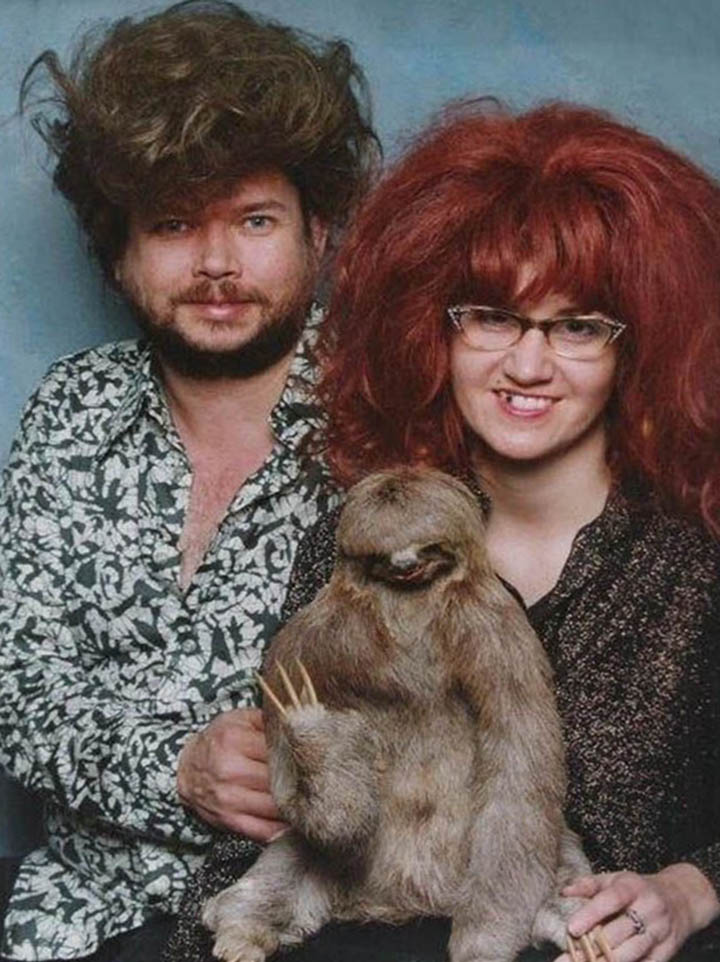 I am there for all of it.
The big bouffant hairdos and the sloth all fill me with joy. At first glance, I thought it was a toy sloth, but upon closer inspection, I think it may be real. So many questions.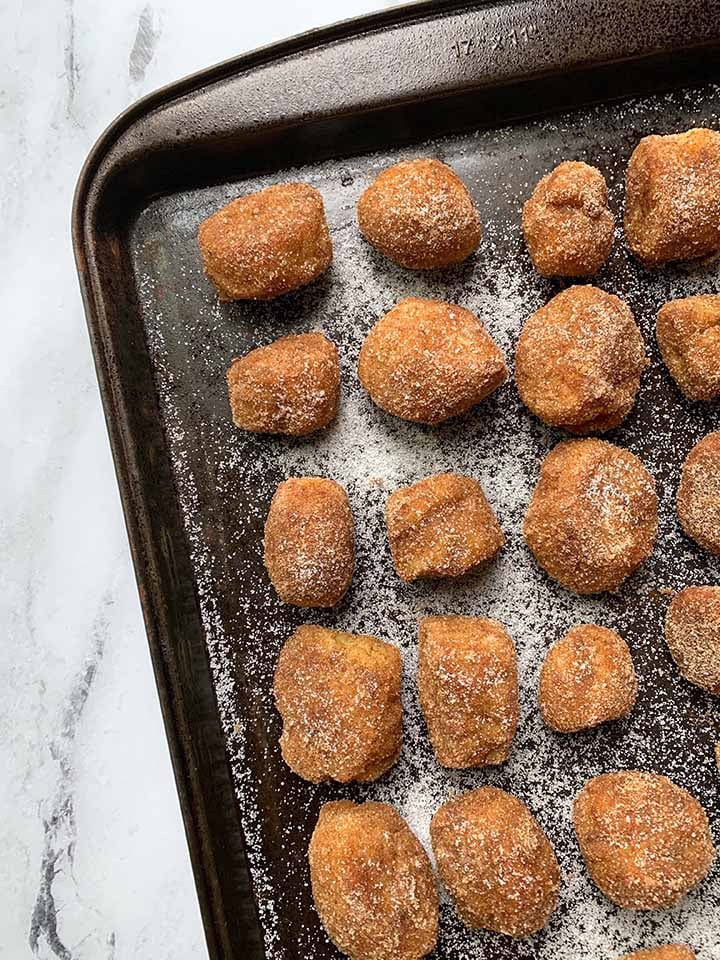 But Keto soft pretzel bites, let's talk about them.
I wish I could better express how delicious these sweet pretzel pieces are. They are made with a real yeast bread dough, so they've got a great chew to them. And the sweet cream cheese dip puts them over the top.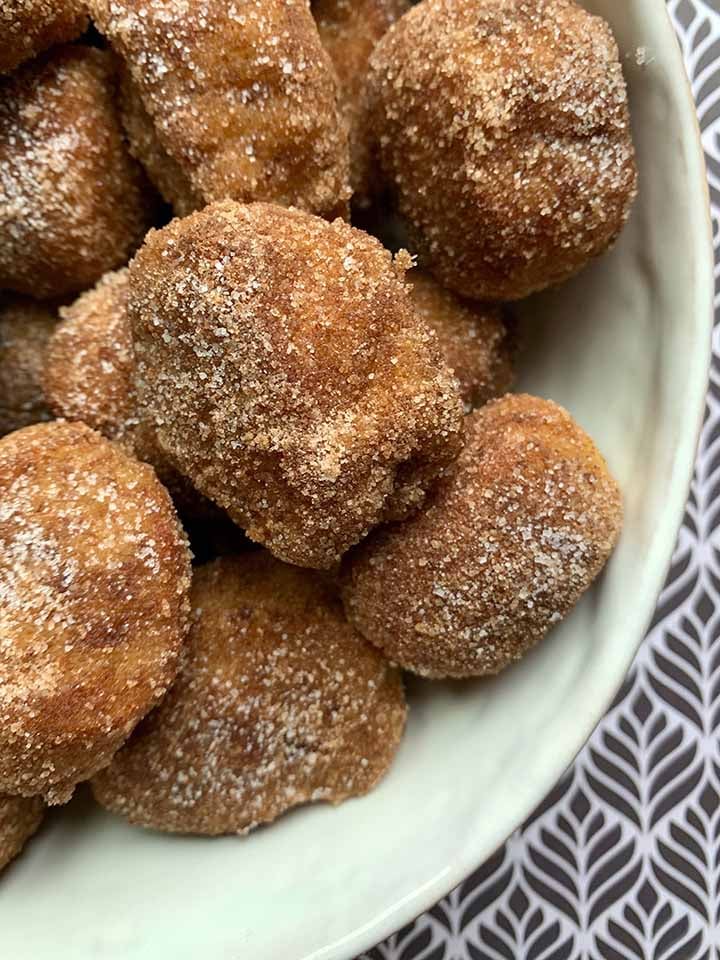 The secret to low carb yeast bread dough is adding Vital Wheat Gluten.
This allows an almond flour based dough to rise like a white flour dough does. Gluten is what gives bread the chewiness and air pockets that you get with regular high carb bread dough. You can find Vital Wheat Gluten at health food stores, or on Amazon.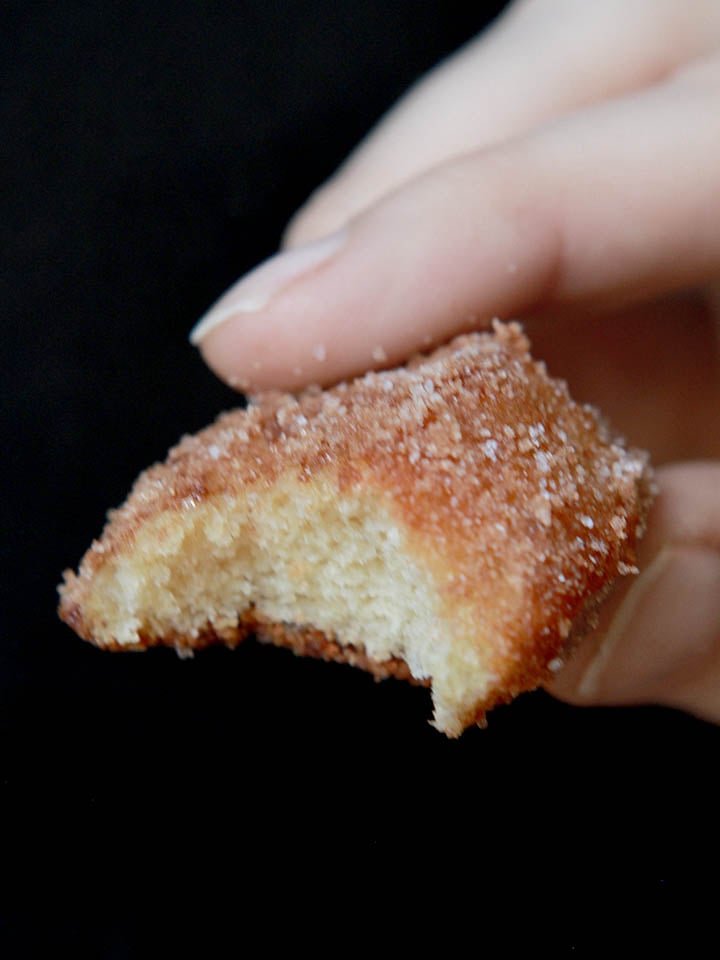 And that's about all I've got for you vis a vis Keto cinnamon sugar pretzel bites.
I can safely promise that they will be a bright spot in your day. So stay home, and stay sane, if you can.
And I'll catch ya on the flip side.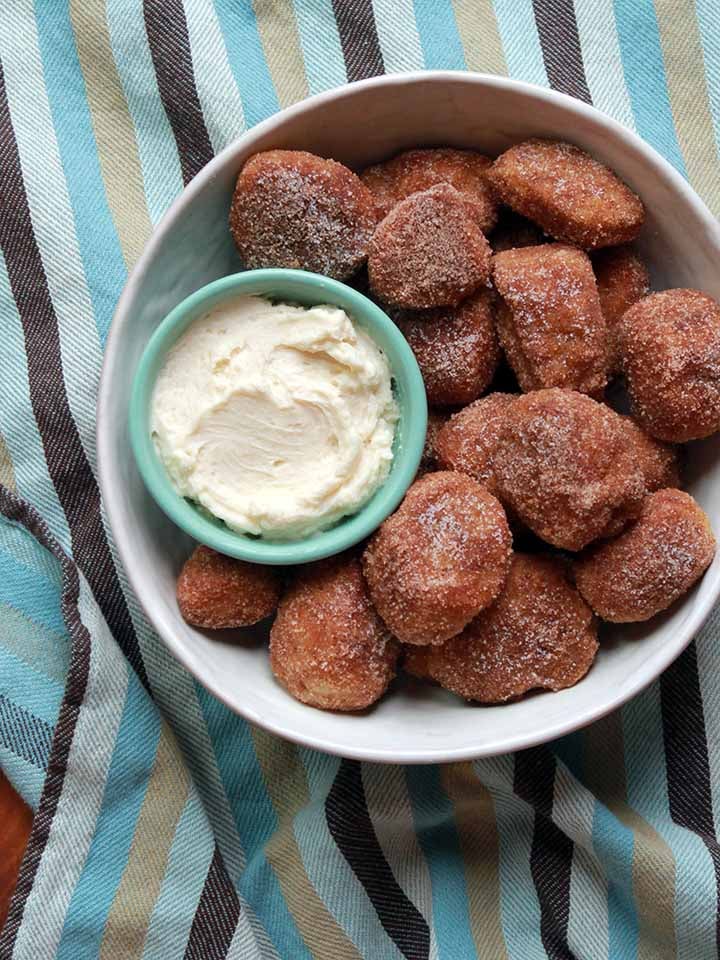 Print
📋 Recipe
Keto Sweet Pretzel Bites
These  Keto Sweet Pretzel Bites are coated with cinnamon and sweetener and dipped in a cream cheese dip that is far tastier than anything Auntie Anne could tempt you with.
Author: Emily Krill
Prep Time:

95

Cook Time:

16

Total Time:

1 hour 51 minutes

Yield:

54

pretzel bites

1

x
Category:

Dessert

Method:

Baked

Cuisine:

American

Diet:

Diabetic
Pretzel Bites:
1 cup plus 2 tablespoons warm water (like bath water)
1 teaspoon sugar*
1 envelope (2 ¼ teaspoon) active yeast
1 cup Vital Wheat Gluten
1 ¼ cup super-fine almond flour
¾ teaspoon salt
1 ½ teaspoon baking powder
3 tablespoons liquid coconut oil
Egg Wash:
1 large egg, beaten
1 tablespoon water
Cinnamon Sugar:
½ cup melted butter
½ cup Swerve or equivalent granulated sweetener
1 tablespoon cinnamon
Cream Cheese Dip:
4 oz cream cheese, softened
2 tablespoons butter, softened
½ cup Confectioner's Swerve or equivalent powdered sweetener
½ teaspoon vanilla extract
2 tablespoons heavy whipping cream
Instructions
1.  Liberally grease a large bowl with butter.
2.  Add a ½ cup warm water to another large bowl and mix in sugar until dissolved.  Mix in yeast and cover the bowl with a towel.  After 7-10 minutes the mixture should be frothy with small bubbles.  If it is not frothy, then the yeast is dead and you need to start over with fresh yeast.
3.  As you are waiting for the yeast to proof, mix together Vital Wheat Gluten, almond flour, salt and baking powder in a large bowl.  
4.  Add remaining ½ cup plus 2 tablespoons water and coconut oil to the frothy yeast mixture and stir to combine.
5.  Slowly add the dry ingredients to the wet and stir with a wooden spoon until fully combined.
6.  The dough should be sticky and rather wet.  If it is too dry to knead, then add a little bit more water.  Knead the dough for 3 minutes.  Do not over knead.
7.  Form the dough into a ball and place in the greased bowl.  Flip the dough so that one side is greased.  
8.  Preheat the oven for 2-3 minutes until the temperature reaches 100-110 degrees.  Cover the bowl with a towel and place in the warm oven to rise for 1 hour.  Remove from the oven.
9.  Preheat the oven to 350 degrees F and whisk together egg wash.  Cover two cookie sheets with parchment paper.
10.  Give the dough a couple of punches to release some of the air.  Cut the dough into 6 equal pieces.
11.  Use your palms to roll each piece of dough into a 2 foot long log shape.  Cut the dough into 1 ¼ inch long pieces and arrange them on the cookie sheets several inches apart.
12.  Brush each pretzel bite with egg wash.    
13.  Bake for 14-16 minutes until just beginning to brown on top.
14.  For the cinnamon sugar coating: Melt butter in 1 medium sized bowl and mix together cinnamon sugar coating in another.  Place each pretzel bite into the bowl of butter so that all sides are covered and lift out with a slotted spoon.  Place the buttered pretzels back on the baking sheet.  
15.  One by one, roll the pretzels in the cinnamon sugar bowl until all sides are covered.  Place the pretzels back on the cookie sheet to cool.
16.  For the cream cheese dip: In a medium sized mixing bowl, use an electric mixer to beat together softened cream cheese and butter until fluffy.  Beat in sweetener, then vanilla and heavy whipping cream until smooth.  Serve in a small bowl, on the side of the pretzel bites.
Notes
* The sugar is converted to alcohol and carbon dioxide in the fermentation process, so the carbohydrates are cancelled out.
The nutritional info below is just for the pretzel bites.
Nutrition
Serving Size:

3 pretzel bites

Calories:

144

Fat:

12

Carbohydrates:

3

Fiber:

1

Protein:

7
Keywords: Keto Pretzel Bites, Sweet Keto Pretzel Bites, Low Carb Pretzel Bites, Low Carb Sweet Pretzel Bites