Keto buffalo cauliflower bites are crispy, spicy and delicious. This classic appetizer has just 18 calories and 2g net carbs.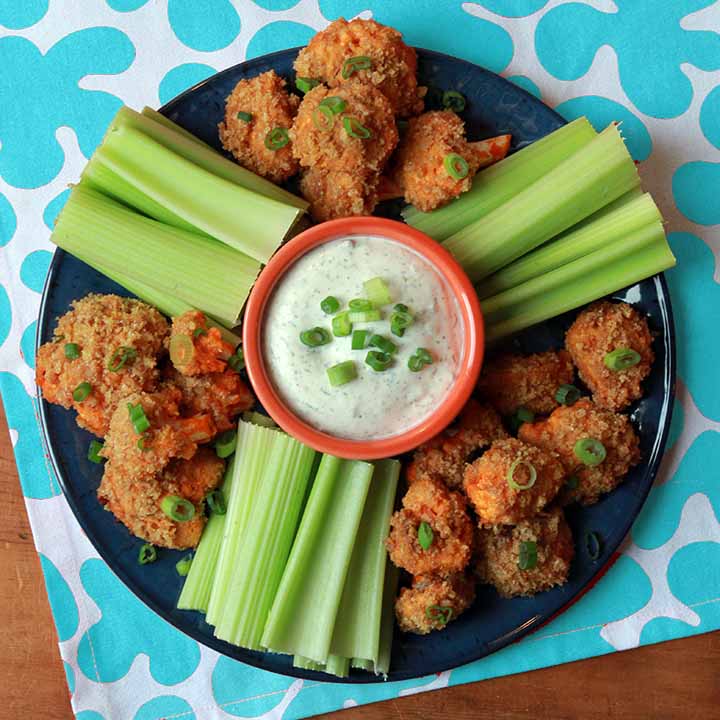 Good morning glories!
It's 10 am and I've spent the morning taking pictures of Keto buffalo cauliflower, as one does. Then I gobbled them up. It was a mighty fine breakfast, if I do say so.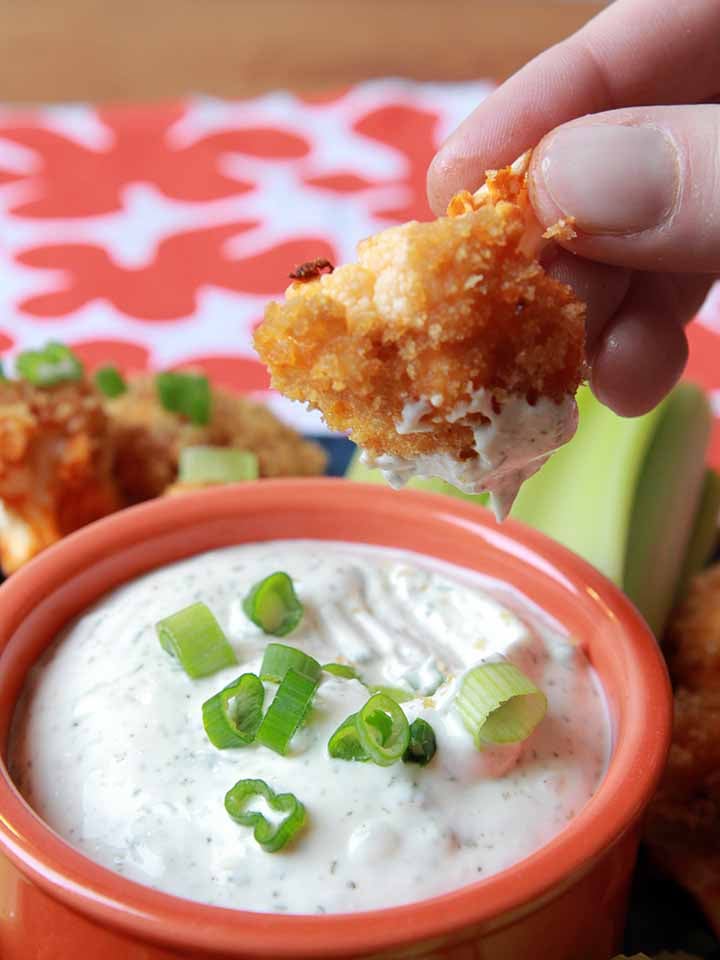 But what is buffalo cauliflower?
This is an appetizer that replicates spicy buffalo wings with cauliflower. It adds a bit of healthiness to this classic bar food. It's spicy, but not overly so. It's just the right level of spiciness to need ranch or blue cheese dressing and celery to cool it down.
Is buffalo cauliflower low carb?
Yes indeed. It's only got 2 net carbs so it fits in perfectly with low carb, Paleo and Keto diets. And if you are watching your caloric intake, you'll be happy to know that each serving has just 18 calories.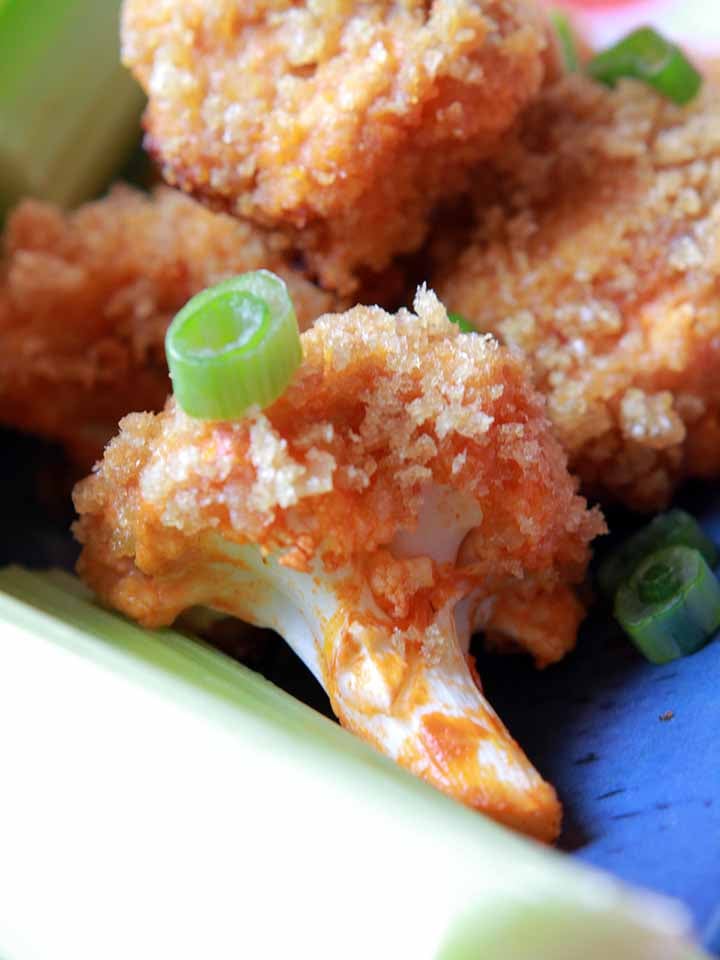 Is buffalo cauliflower crispy?
It can be. Many people cover the cauliflower in buffalo sauce, cooked it up and called it a day. But others dip the cauliflower florets in low carb breading before cooking them. I, of course, am in the breading camp, so I dipped them in a pork rind mixture before cooking them.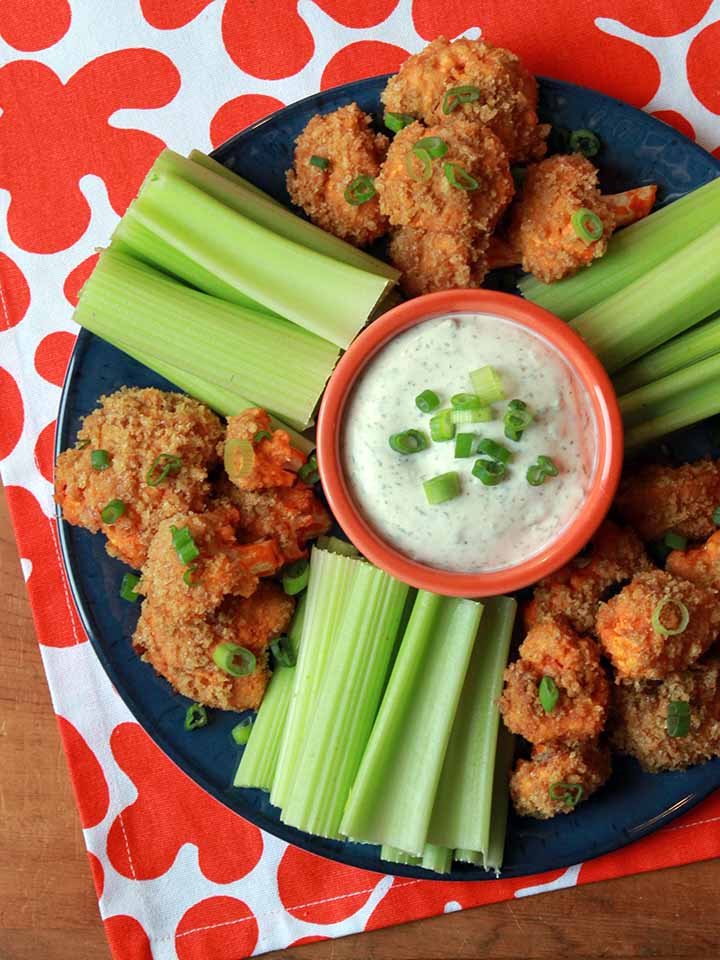 How do you cook these Keto cauliflower bites?
You've got two options: baked or air fried. Baking these cauliflower bites is the easiest way, but air frying is almost as easy.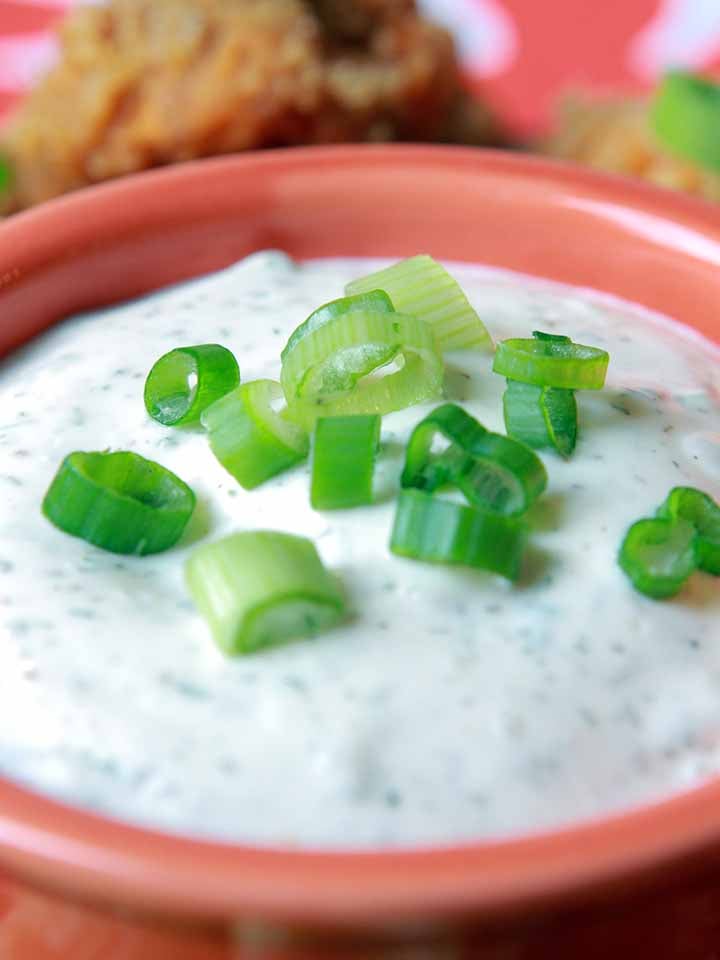 Blue cheese or ranch dressing?
These appetizers need a few sides, usually a creamy dressing and a stack of celery sticks. I've included a recipe for ranch dressing in the recipe card, and here is one for: homemade blue cheese dressing.
Here's what you'll need: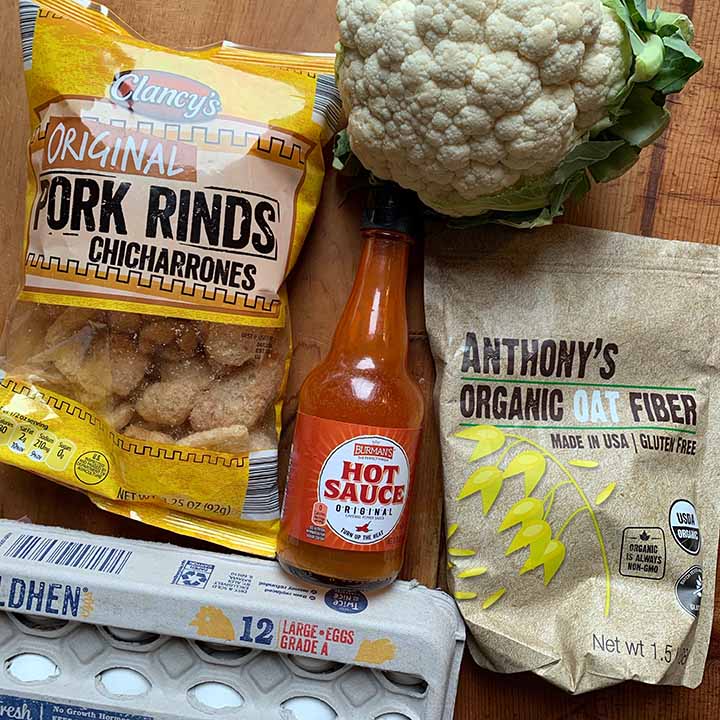 I predict that this recipe will go over like gangbusters at any game day party.
And I sincerely doubt that your friends and family will miss the chicken wings at all, once they get a taste of these buffalo cauliflower bites. But his recipe can be eaten at any time of day, for any occasion.
If you want to be like me and eat them for breakfast, who's to stop you?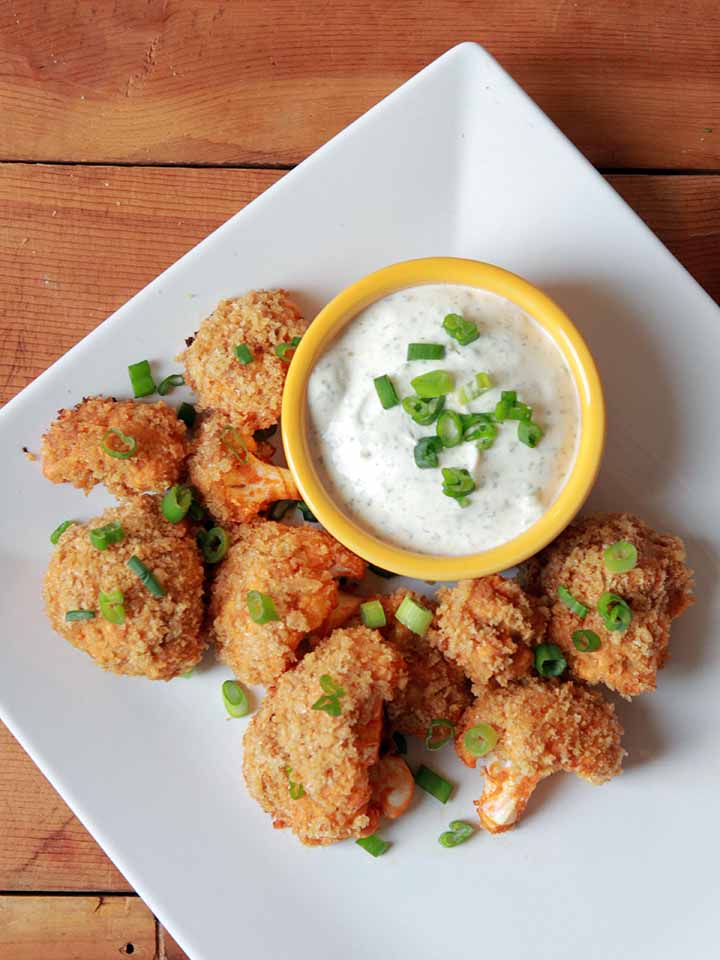 Processing…
Success! You're on the list.
Whoops! There was an error and we couldn't process your subscription. Please reload the page and try again.
Print
Keto Buffalo Cauliflower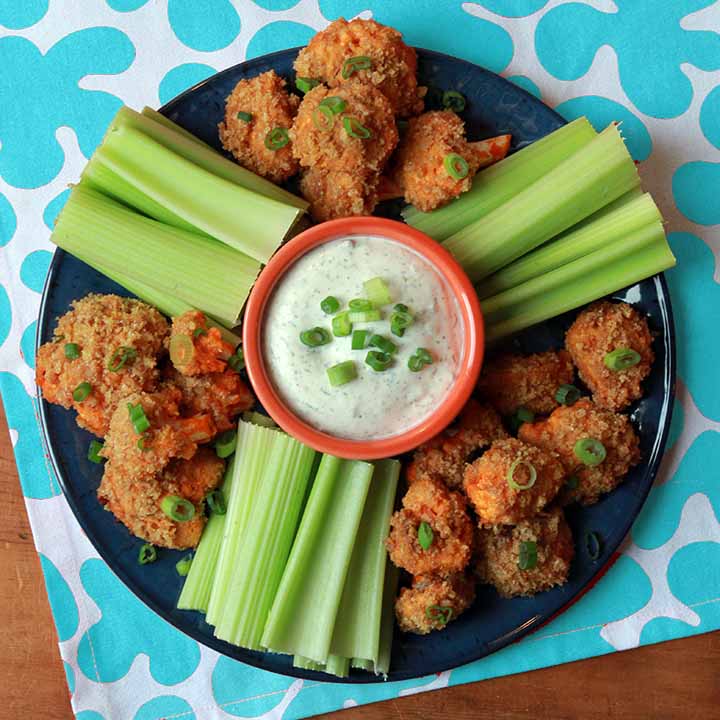 Keto buffalo cauliflower bites are crispy, spicy and delicious.  This classic appetizer has just 18 calories and 2g net carbs.
Author: Resolution Eats
Prep Time:

5

Cook Time:

30

Total Time:

35 minutes

Yield:

4 cups

Category:

Appetizer

Method:

Oven

Cuisine:

American
buffalo cauliflower bites:
1 head of cauliflower, cut into florets
1/2 cup hot sauce
1/3 cup oat fiber
2 eggs, beaten
1 (7oz bag) pork rinds
ranch dressing:
1 cup mayonnaise
1/2 cup sour cream
1/4 cup heavy whipping cream
2 teaspoons vinegar
2 teaspoons dried parsley
1 teaspoon dried dill
1 1/2 teaspoon dried chives
1/2 teaspoon salt
1/2 teaspoon black pepper
Instructions
1.  Add pork rinds to a food process or high powered blender and pulse until it reaches the consistency of panko breading.
2.  In a large bowl, mix together cauliflower florets and hot sauce and all pieces are completely coated with sauce.
3.  Set up a station with 4 bowls: the bowl of cauliflower florets, a bowl of oat fiber, the beaten eggs and the pork rind bread crumbs.  Cover a large baking sheet with parchment paper and spray with cooking spray.
4.  Roll the florets in oat fiber, dip them in the eggs and then roll them in pork rinds.  It's easiest to hold the cauliflower pieces by their stem and just bread the tops.  Place the florets on the cookie sheets.  Spray them with cooking spray.
OVEN METHOD:  Bake at 400 degrees F for 25-30 minutes until just beginning to brown.
AIR FRYER METHOD:  You'll need to do them in batches.  Spray the bottom of the basket with cooking spray.  Add the florets in one layer.  Air fry them for 12-15 minutes, shaking at minute 5.
5.  Combine all ingredients for ranch dressing.
Notes
Nutritional info does not include ranch dressing.
Nutrition
Serving Size:

1/2 cup

Calories:

18

Fat:

10

Carbohydrates:

7

Fiber:

5

Protein:

16
Keywords: Keto Buffalo Cauliflower, Low Carb Buffalo Cauliflower, Air Fried Buffalo Cauliflower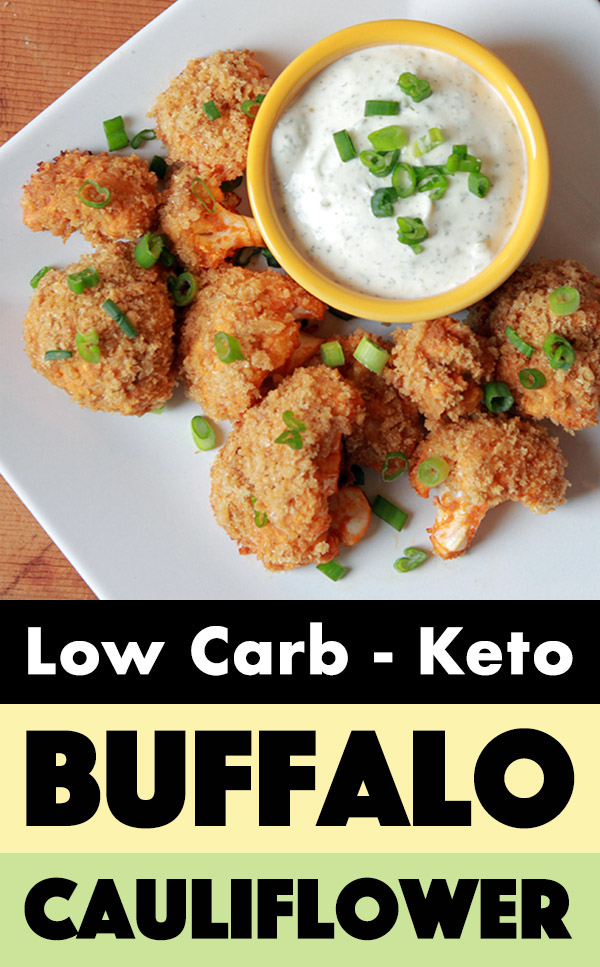 27