Low carb angel food cake is difficult to make, but delicious to eat. And each slice of this sugar-free sponge cake has just 58 calories and 10g net carbs.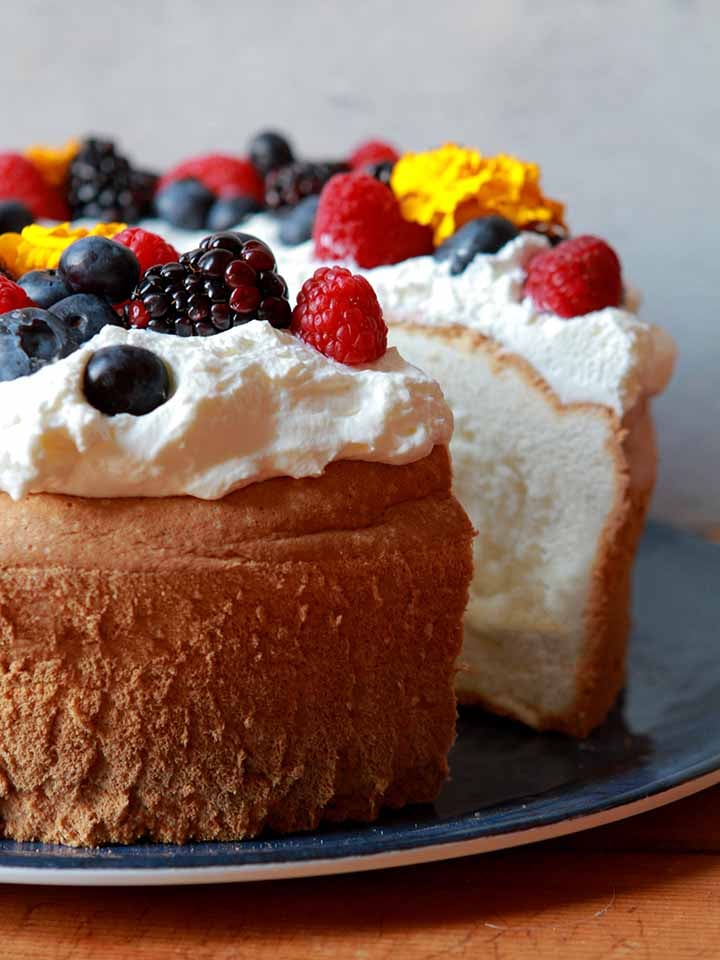 Hello cake lovers.
Before we begin, I need to give you fair warning. This recipe for sugar-free angel food cake is very difficult to make. It has a meringue batter, so it's fraught with danger. You may do everything right, but a butterfly flapped its wings in Paraguay, and as a result, your cake fell. It just happens.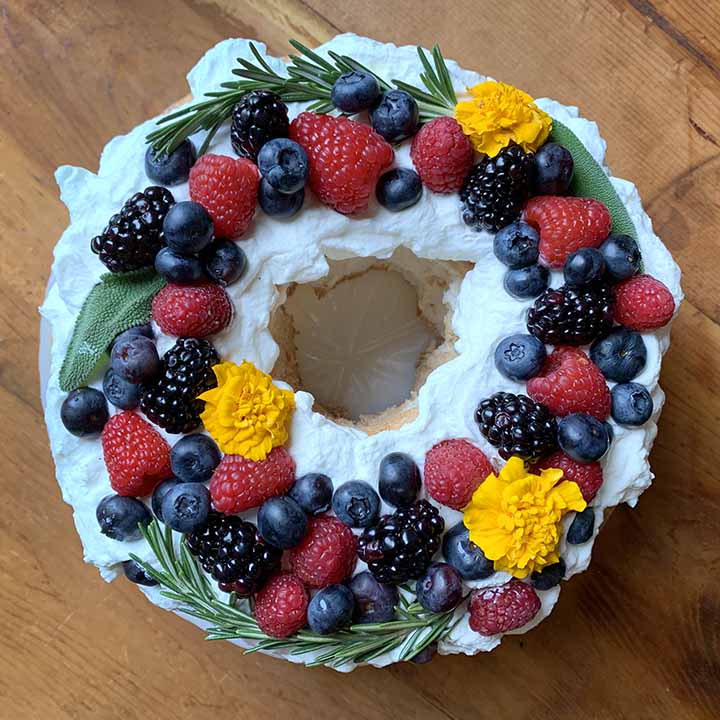 But it's not too late to turn back!
I've got some lovely low carb cakes on the site. My Toasted Almond Torte, Lemon Pound Cake and Chocolate Lava Mug Cake all have a very high rate of success. No judgement.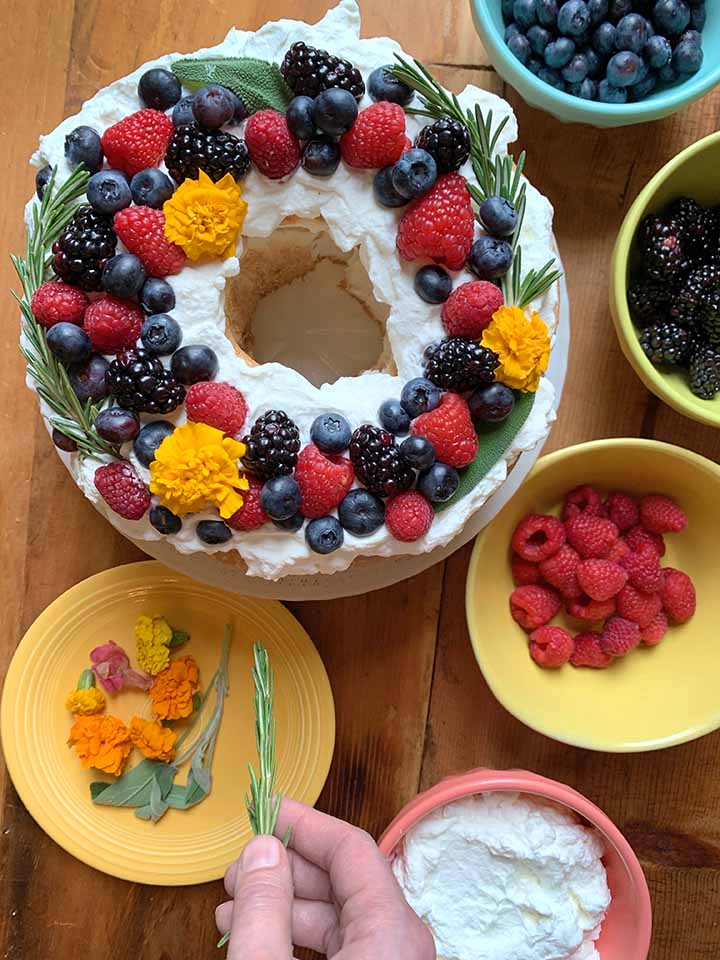 But if you insist on going forward, then I've got some tips and tricks for you.
-You need to use the right kind of pan, if you are going to release the cake. Tube pans are made specifically for sponge cakes. They have two pieces and often have legs so that air can circulate around the pan as the cake cools.
-If your tube pan doesn't have legs, then you can invert the cake and use a bottle or can to hold it above the counter. Invert the cake immediately after it comes out of the oven and let it cool for 1 ½ - 2 hours before serving.
-Don't grease your pan. The cake rises by clinging to the sides of the pan as it bakes. So if it's greased, it doesn't have anything to cling to, and it won't double in height as it should.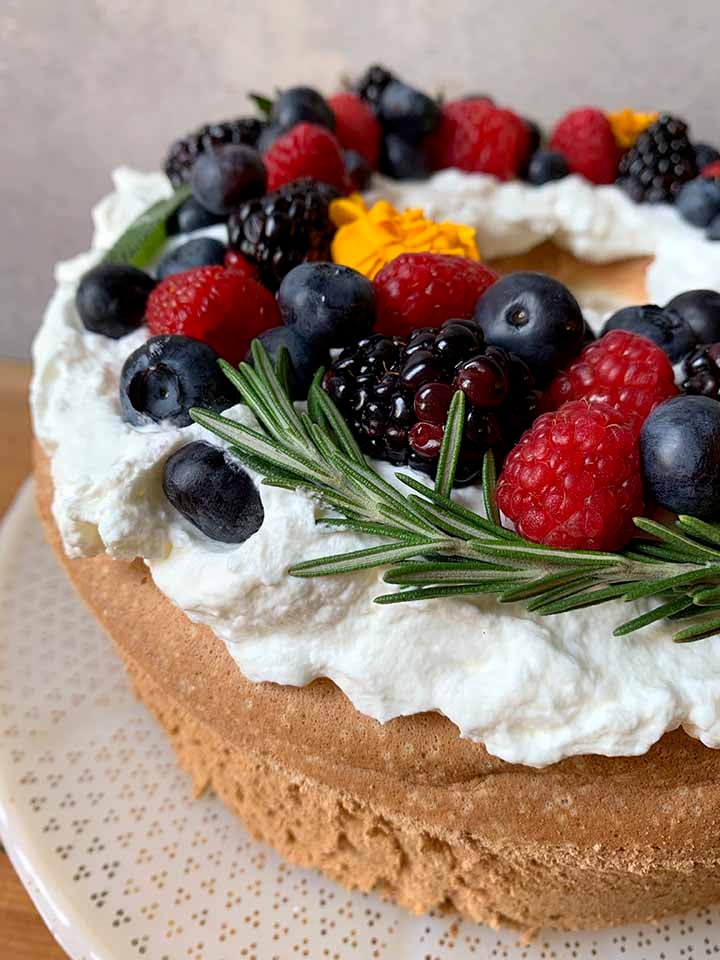 Also...
-Don't over mix the egg whites. Start out with soft peaks, not stiff peaks like a whipped cream. After you've added the sweetener, you should have soft glossy hills of batter.
-Once you've poured the batter into the pan, run a fork through it to pop any big air pockets. Smooth the top flat with a spatula.
-Take your time cutting the cake out of the pan. You want the outside of the cake to be evenly brown.
-If the sides of the cake don't release from the pan as beautifully as you'd like, then whipped cream is very forgiving. Just double the whipped cream and frost the sides of the angel food cake.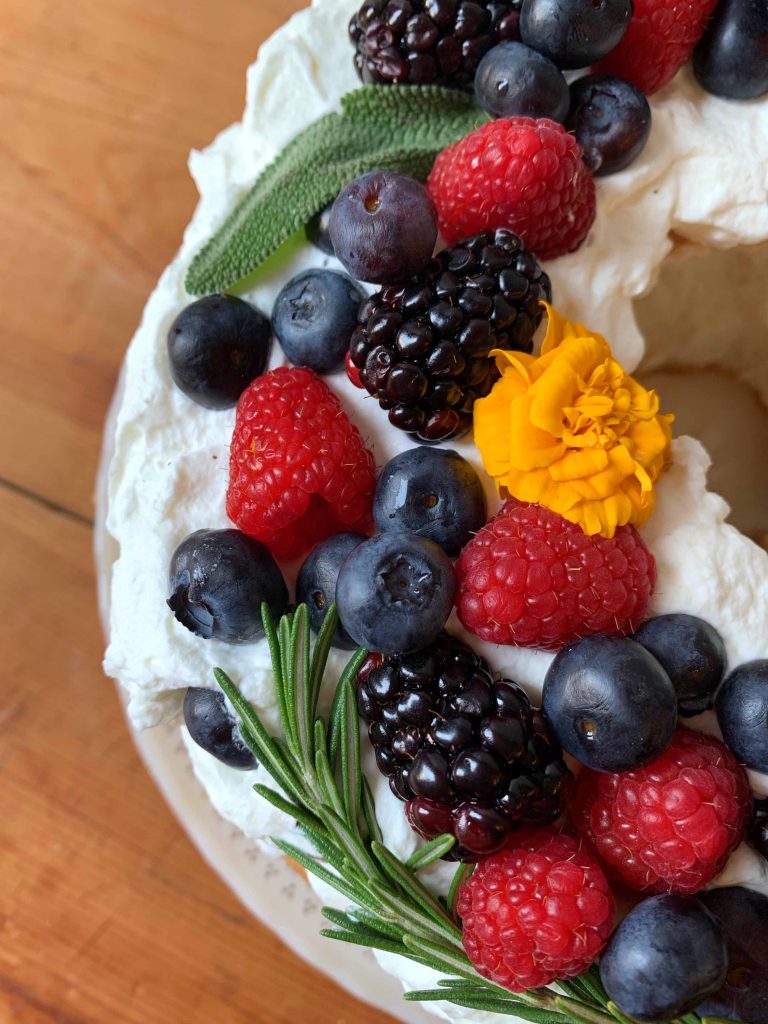 And finally...
-Garnishes really make this low carb angel food cake. Some topping ideas: raspberries, blackberries, strawberries, blueberries, fresh mint, rosemary, sage, and edible flowers. Just remove the herbs and flowers before you slice the cake.
-Slice the cake carefully with a serrated knife. The outside should be crisp and hard and the insides should be chewy and spongey.
-Eat the angel food cake on the same day that you make it, because it will harden overnight.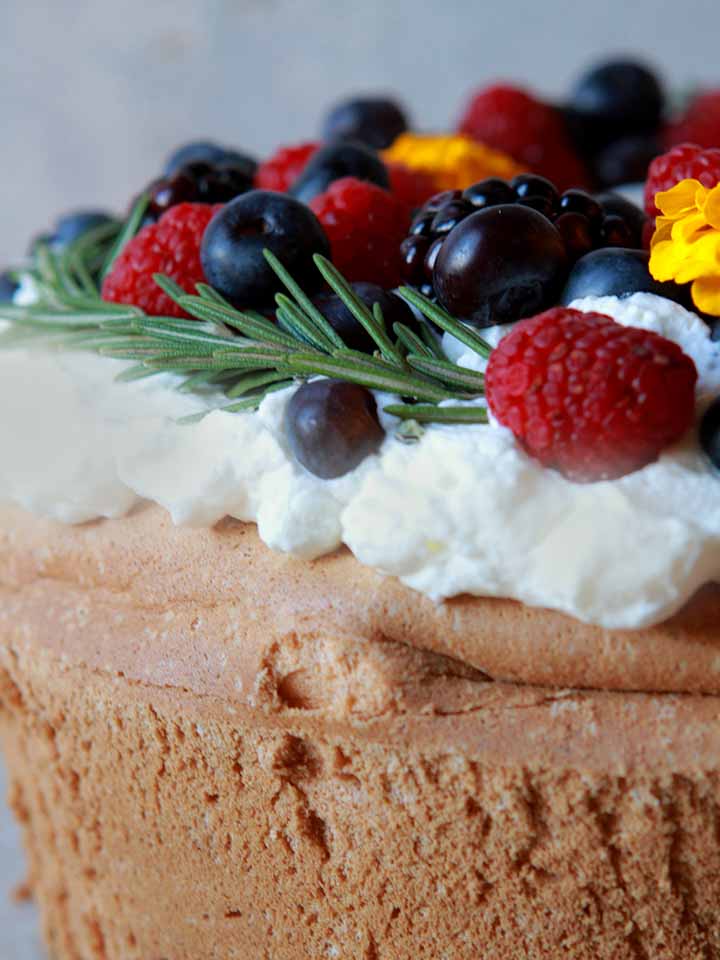 If you make it through the gauntlet, you'll have a very special low carb angel food cake.
It'll taste like normal angel food cake, only this one will have just 58 calories and 10g net carbs. These sugar-free angel food cakes make beautiful centerpieces. And with the proper garnishes, it'll look so good that your friends won't want to cut it up and eat it.
But they really should, because the taste is out of this world.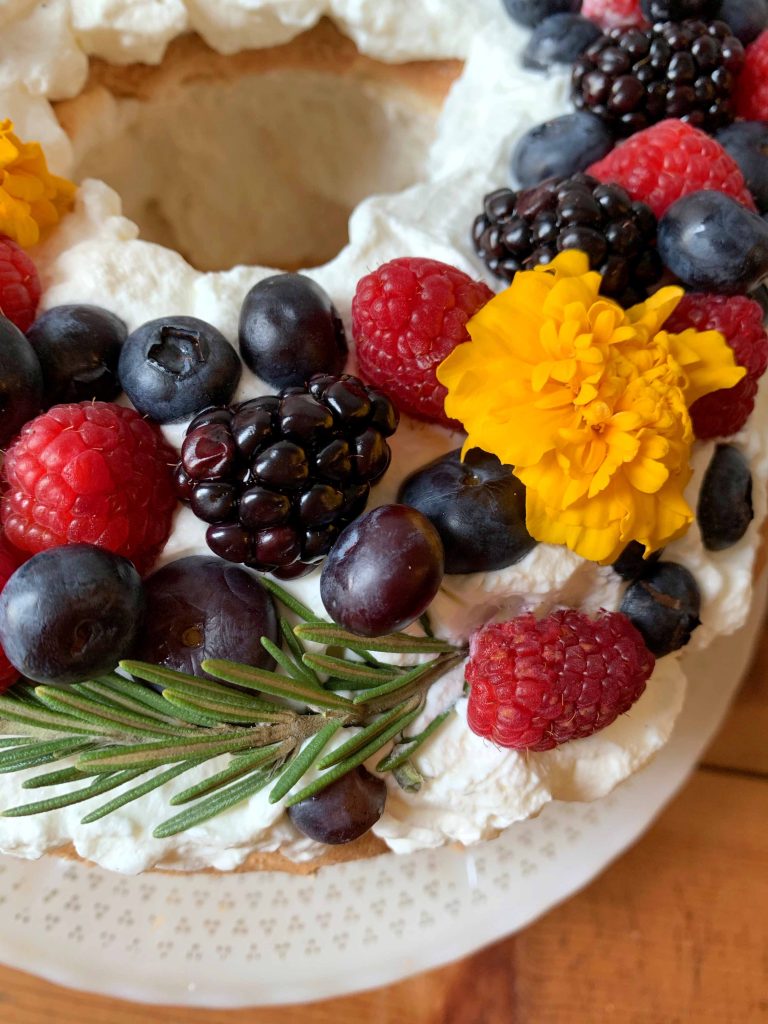 Print
Low Carb Angel Food Cake
Author: Resolution Eats
Prep Time:

20

Cook Time:

40

Total Time:

1 hour

Yield:

12 slices

Category:

Dessert

Method:

Baked

Cuisine:

American
cake:
12 large egg whites, at room temperature
1 ½ teaspoon almond extract
1 ½ teaspoon vanilla extract
1 teaspoon cream of tartar
¾ cup Swerve or equivalent granulated sweetener, divided
1 cup arrowroot starch
whipped cream:
1 ½ cup heavy whipping cream
¼ cup Confectioner's Swerve or equivalent powdered sweetener
garnishes:
berries
fresh herbs
edible flowers
Instructions
1.  Pre-heat oven to 350 degrees F and place the rack in the middle
2.  Separate eggs, being careful not to get any yolk into the whites.  Crack an egg over one small bowl, separate the egg and transfer the egg white to a large mixing bowl.  Repeat with remaining eggs.
3.  In a medium sized bowl, sift together ¼ cup sweetener and 1 cup arrowroot starch.
4.  In the large mixing bowl, use an electric mixer to beat the egg whites on Medium High speed until foamy, 30 seconds.  Keep the speed at Medium High for the rest of the recipe.
5.  Add cream of tartar, almond extract and vanilla extract and beat until soft peaks form.
6.  Slowly beat in ½ cup sweetener, 1 tablespoon at a time, until soft glossy hills form.
7.  Slowly beat in arrowroot mixture, ¼ cup at a time, until smooth.
8.  Pour the batter into a 12 inch ungreased tube pan and run a fork through the batter to pop any large air pockets.  Smooth the top of the batter with a spatula.
9.  Bake for 35-40 minutes until the cake has doubled in size and the top is a medium brown.
10.  Immediately invert the pan.  Air needs to be able to circulate around the pan as it cools.  If the pan has legs, do nothing, but if not, hold the pan above the counter, using a bottle or can.  Cool for 1 ½ - 2 hours until completely cooled.  
11.  Use a knife to carefully cut around the sides of the pan to release the cake.  Pull apart the two pieces of the pan.  Slice around the top of the pan.  Slice around the inner tube of the pan.  Carefully release the cake.  
12.  To make the whipped cream, add heavy whipping cream and powdered sweetener to a large bowl.  Mix with an electric mixer until stiff peaks form, 2 minutes.
13.  Garnish the top with berries, fresh herbs and edible flowers. 
14.  Slice the cake using a serrated knife.
Notes
The nutritional information below does not include cake toppings.
Nutrition
Serving Size:

1 slice

Calories:

58

Fat:

0

Carbohydrates:

10

Fiber:

<1

Protein:

4
Keywords: Sugar-Free Angel Food Cake, Low Carb Angel Food Cake, Gluten-Free Angel Food Cake, Keto Angel Food Cake