Homemade Sugar-Free Raspberry Jam is super easy to make and contains zero sugar. It's a healthy fruit spread that goes well with just about anything.

"Jam tomorrow, jam yesterday, but never ever jam today!"
I've been doing my best Carol Channing impression as I mixed up this batch of Quick Sugar-Free Raspberry Jam. The song is from her confounding appearance in the 1985 CBS mini-series Alice in Wonderland.
But let's focus.
A Sugar-Free Raspberry Jam recipe is what you came here for and that is what you shall have. It's a healthy berry jam recipe that is quick and easy to make and tastes like a million bucks.
What is the difference between jam and jelly?
Jam is a mixture of fruit, sugar, and water that is thickened with pectin, and jelly is made with fruit juice instead of actual fruit.  Jelly is a semi-firm translucent fruit bread and jam is a thicker, chunkier fruit preserve.  (And then you've got marmalade, which is made from the juice and peel of citrus fruits.  Here's a good recipe for Sugar-Free Marmalade.)
Is this Sugar-Free Raspberry Jam Keto?
Yes.  Instead of classic cane sugar, this sugar-free jam recipe uses erythritol sweetener which contains zero sugars.  And the recipe uses chia seeds to thicken it, so the fiber in the chia seeds is subtracted from the carbs that come from the raspberries to get the net carb amount of 2g per serving. So yes, it's very Keto friendly.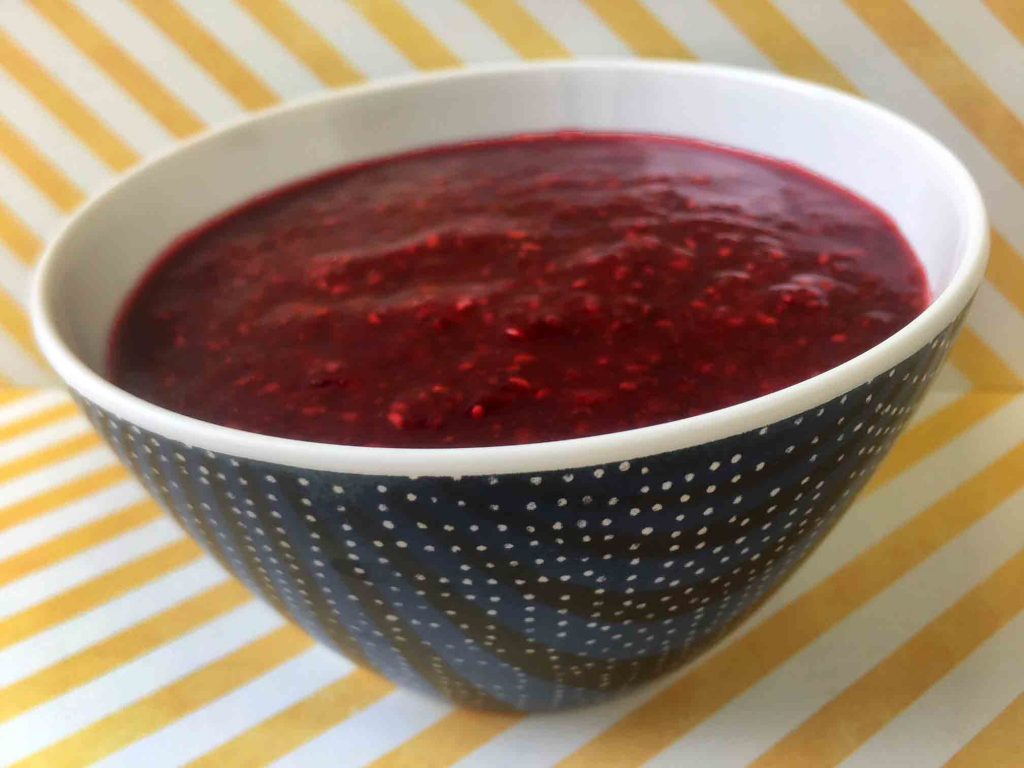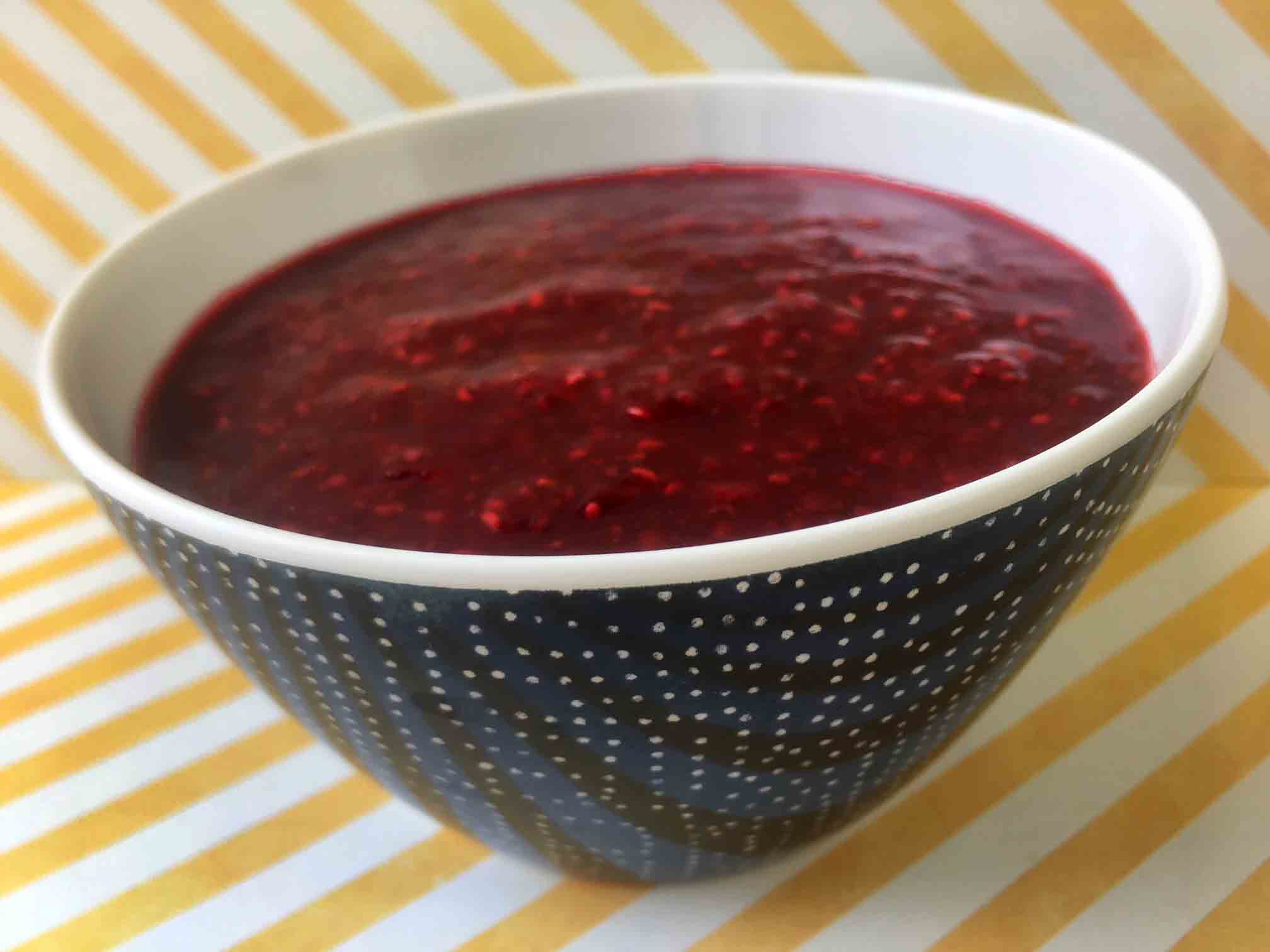 What are the ingredients for this sugar-free fruit spread?
To make this Sugar-Free Raspberry Jam recipe, you'll need fresh raspberries, erythritol sweetener, and chia seeds.  You can use any berry you like in this jam though.  So blueberries, strawberries, and blackberries will all work too.
What are the health benefits of using chia seeds to thicken this jam?
Chia seeds do as good a job as fruit pectin at thickening jam and are a healthier alternative.  Research suggests that they have various health benefits, ranging from weight loss to reduced inflammation.  They are almost pure fiber and contain good Omega-3 Fatty Acids and Antioxidants.  They are just all-around healthy and add a nice punch to this sugar-free jam.
How long does it take to make this Chia Seed Jam?
It takes 13 minutes to prep and cook and then it needs to chill in the refrigerator for 2 hours.  And you can store it in the fridge for up to 2 weeks.
What can you eat Sugar-Free Raspberry Jam with?
The sky is the limit when it comes to jams.  You can spread it on bread and cakes or use it to fill pretty much anything sweet.  Serve it beside cheese or use it in sauces.  Or just stir it into yogurt and ice cream. I like to eat it on my world-famous Keto Waffles.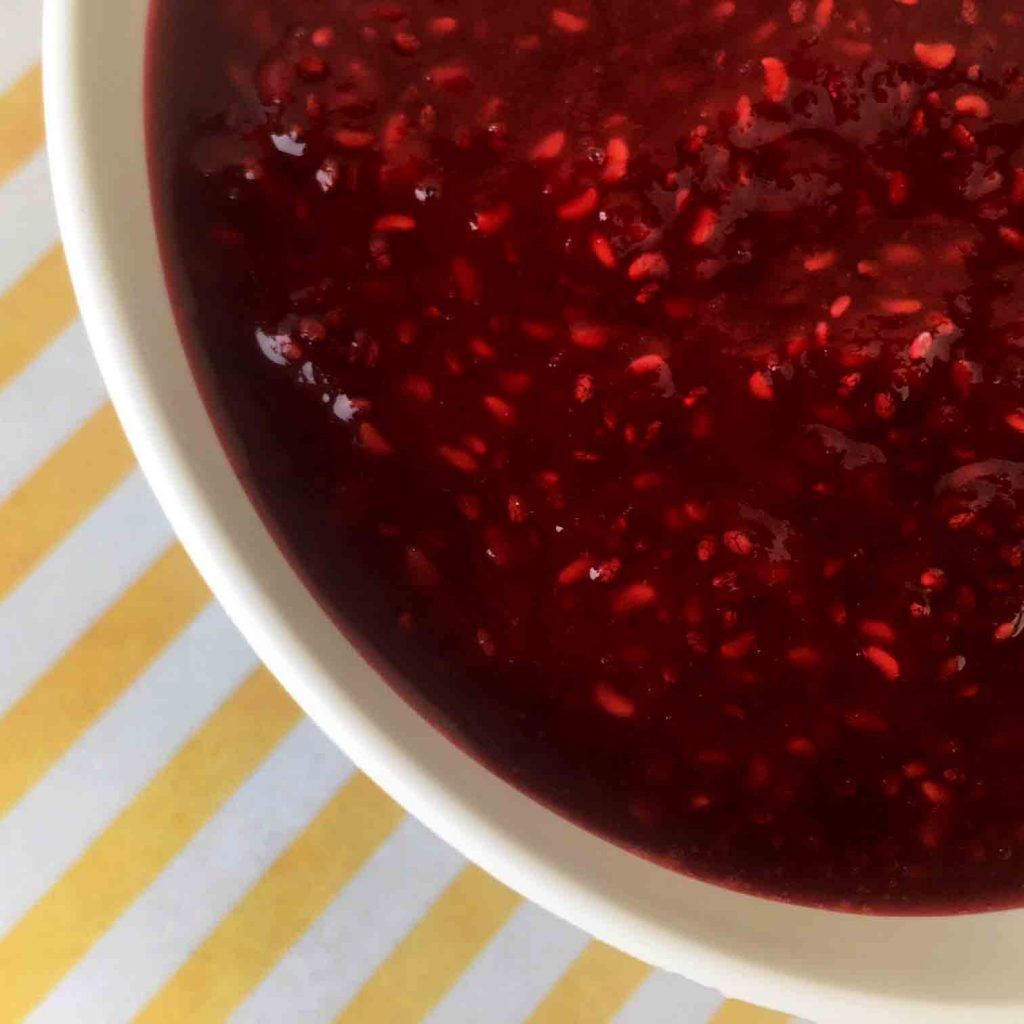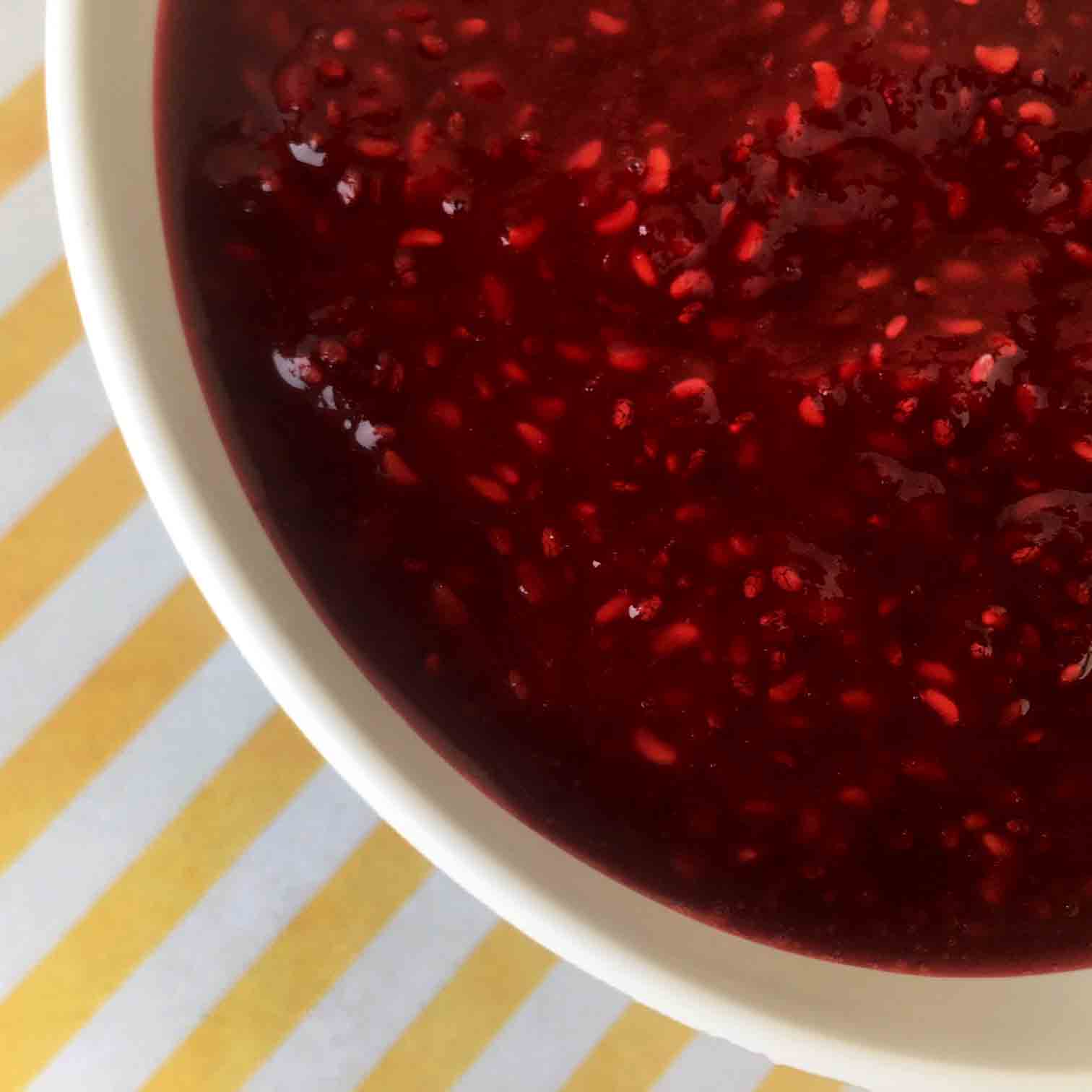 If you can dream it, you can be it when it comes to Sugar-Free Raspberry Jam.
But just remember: You can eat it tomorrow or you can eat it yesterday, but you can never ever eat it today.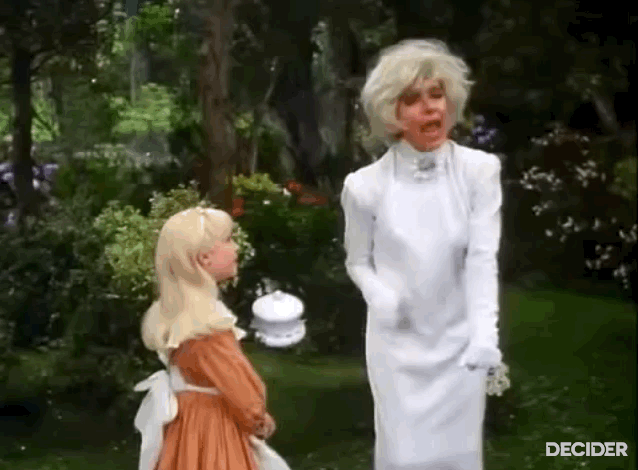 Print
📋 Recipe
Sugar-Free Raspberry Jam
Homemade Sugar Free Raspberry Jam is super easy to make and has only 1g net carbs per serving.
Author: Emily Krill
Prep Time:

5

Cook Time:

8

Total Time:

13 minutes

Yield:

8

servings

1

x
Category:

Dessert

Cuisine:

American

Diet:

Diabetic
1

cup

fresh or frozen raspberries

1 tablespoon

water

3 tablespoons

Swerve or equivalent granulated sweetener

1 tablespoon

chia seeds
Instructions
Step 1.  Add raspberries and 1 tablespoon water to a medium-sized sauce pan and bring to a boil over medium heat.  Lower heat and simmer for 5 minutes.
Step 2.  Stir in sweetener and chia seeds.  Test for sweetness and add more sweetener if desired.  Refrigerate for 2 hours.  Can be kept in the refrigerator for up to 2 weeks.
Equipment
Nutrition
Serving Size:

2 tablespoons

Calories:

14

Fat:

<1

Carbohydrates:

2

Fiber:

1

Protein:

<1
Keywords: Low Carb Raspberry Jam, Keto Raspberry Jam, Sugar-Free Raspberry Jam
If you liked this jam recipe, then you might like my recipes for Orange Marmalade or Berry Jam.