Keto avocado brownies might sound a little weird but they taste amazing. And each low carb brownie has just 150 calories and 7g net carbs.
Greetings health nuts.
If you have found your way to this Keto avocado brownie recipe, then I can deduce several things about you. You're on a low carb or Keto diet. You are unafraid of trying new things, and you are likely a chocoholic like myself. Well, welcome. You've come to the right place.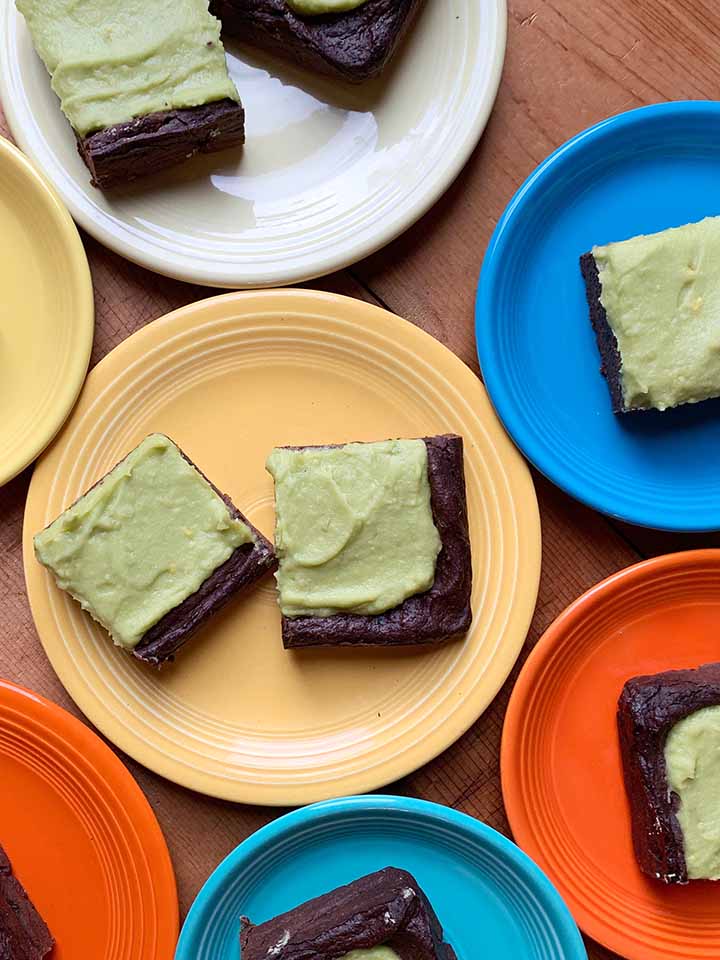 So what are Keto avocado brownies all about?
The low carb avocado brownies I'm going to show you how to make today are healthier sugar-free versions of the classic brownies that everybody grew up on. It's an easy Keto chocolate dessert that comes together quickly in a food processor or high powered blender. And each avocado brownie has just 155 calories and 7g net carbs.
But why the avocado?
Almost all brownies use some amount of oil or butter. But awhile back, people began to be concerned with the amount of fat in their diet. And so the "low-fat" craze began. Dieters began substituting apple sauce for oil in their brownies. Well, using avocado instead of oil is a very similar idea, but instead of reducing the fat, we are substituting in a healthier, omega rich fat.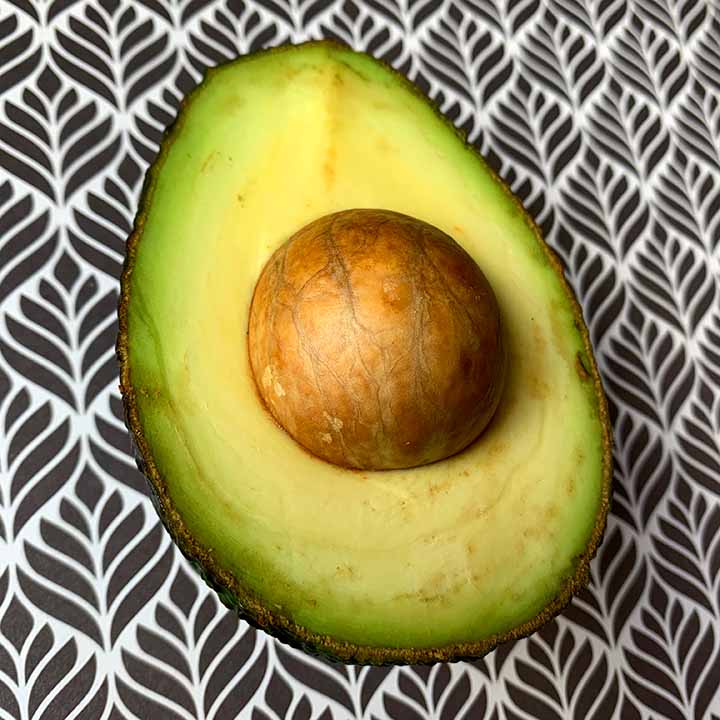 Fudgy brownies vs cakey brownies, the eternal question.
Some brownies are light and cakey, and some brownies are moister, denser and more like fudge. The low carb avocado brownies we're going to make today are firmly on the fudgy end of the spectrum. But before you go any further, I want you to be truly honest with yourself. Do you really want to make brownies, or do you secretly just want to make fudge? If your answer to the second question is yes, then you should use this Simply So Healthy recipe for Keto Chocolate Fudge. No judgement.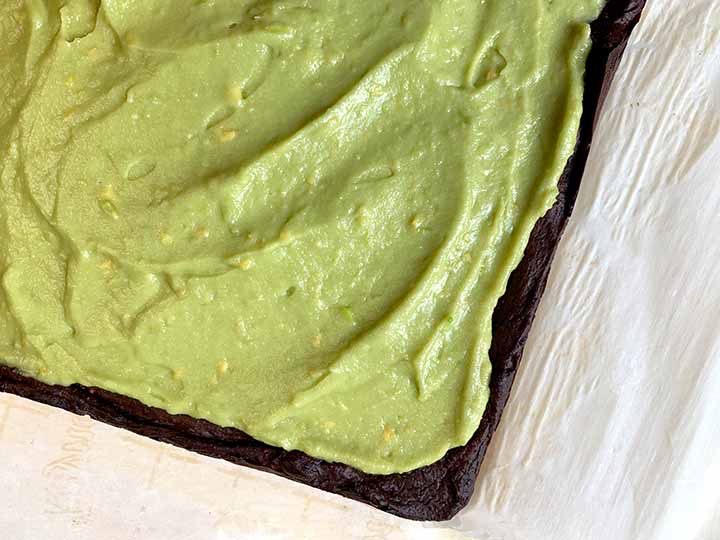 What are the ingredients of Keto avocado brownies?
To make these low carb avocado brownies, you'll need: sugar-free chocolate chips, vanilla extract, eggs, sugar-free sweetener, cocoa powder, super fine almond flour, salt, powdered sugar-free sweetener and Hass avocados.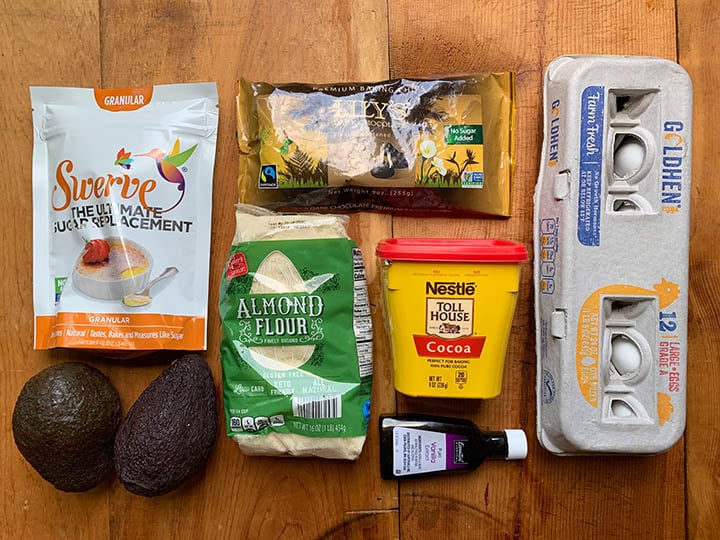 Can you taste the avocado in the brownies?
Nope. You really can't. If you strain to detect it, then you might be able to, but the avocado really does stay under the radar.
What about the avocado frosting?
Ok, you can kind of taste the avocado in the frosting. This brings me to the great decision you need to make when you bake these Keto avocado brownies. Do you want to go big, or do you want to go home?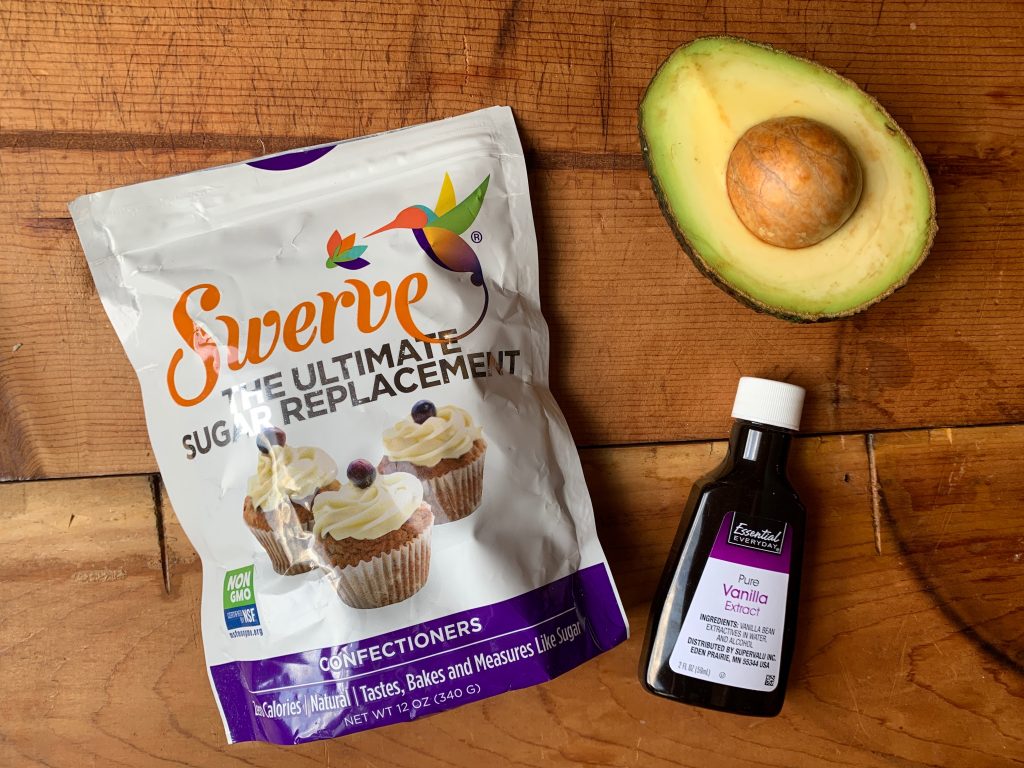 What's that mean?
It has to do with how you want to finish off your Keto avocado brownies. You can sprinkle some powdered sweetener on top and call it a day. Nothing wrong with this. You can serve these stealthy brownies and no one will suspect they are sugar-free and full of healthy avocados.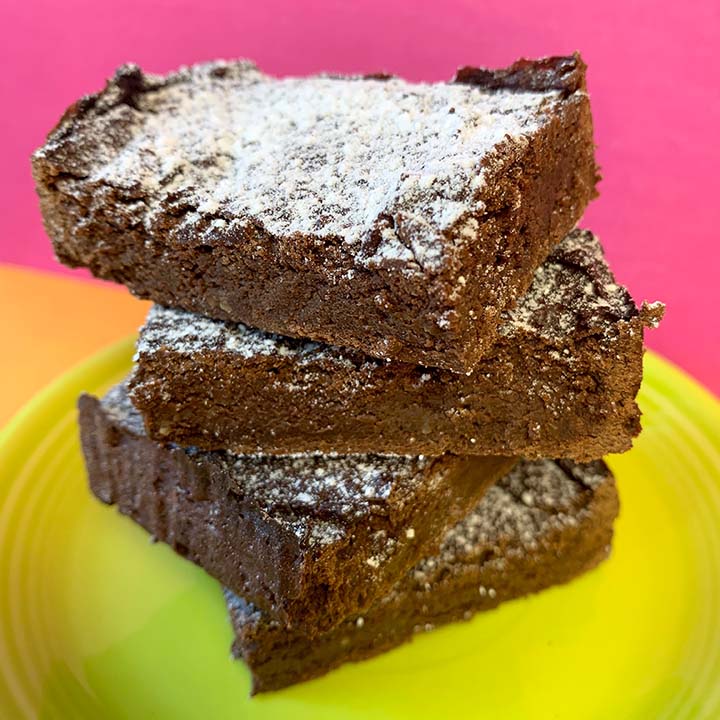 Or you can go big.
You can lean into the avocado-ness of your avocado brownies and whip up some neon green avocado frosting. As you can see, I am firmly in the bright green frosting camp. Because you know what?
You Only Live Once.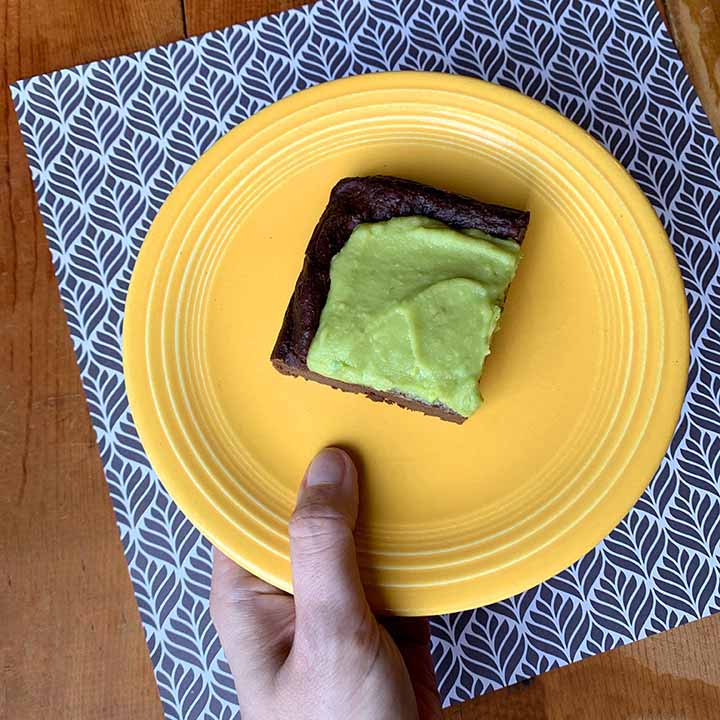 Print
📋 Recipe
Keto Avocado Brownies
Keto avocado brownies might sound a little weird but they taste amazing.  And each low carb brownie has just 150 calories and 7g net carbs.
Author: Emily Krill
Prep Time:

10

Cook Time:

26

Total Time:

36 minutes

Yield:

16

brownies

1

x
Category:

Dessert

Method:

Baked

Cuisine:

American

Diet:

Gluten Free
avocado brownies:
1

cup

(7oz) Lilly's Sugar-Free Chocolate Chips or equivalent sugar-free chocolate chips

1

cup

ripe Hass avocado, sliced (1 large avocado)

3

large eggs

1

cup

Swerve or equivalent granulated sweetener

½

cup

unsweetened cocoa powder

½

super fine almond flour*

½ teaspoon

salt

1 tablespoon

vanilla extract
avocado frosting:
½

cup

ripe avocado, mashed

1

cup

Confectioner's Swerve or equivalent powdered sweetener

¼ teaspoon

vanilla extract
Instructions
Step 1.  Pre-heat oven to 350 degrees F and line an 8 x 8 inch baking pan with parchment paper.
Step 2.  In a small microwave safe bowl, melt the chocolate chips in 30 second increments, stirring after each time until completely melted, 60-90 seconds.
Step 3.  Mix together cocoa powder, sweetener, salt and almond flour in a medium sized bowl.
Step 4.  Add mashed avocado, eggs, vanilla and chocolate to a food processor or high powered blender and process until smooth and no chunks of avocado remain.
Step 5.  Add dry ingredients and process until smooth and fully combined. 
Step 6.  Add mixture to the parchment covered pan and smooth the top with a spatula.
Step 7.  Bake for 25-30 minutes until edges pull away from the sides, and a toothpick in the middle of the brownies comes out clean or with a few crumbs.
Step 8.  Cool brownies completely before frosting, 2 hours.  You can sprinkle powdered sweetener on top, or make up some avocado frosting.
Step 9.  Add mashed avocado, powdered sweetener and vanilla to a large bowl and use an electric mixer to whip until combined and smooth.  
Step 10.  Use the edges of the parchment paper to lift the brownies out of the pan.  Frost the brownies.  Use a large knife to cut into 16 brownies.  Clean knife after each cut to keep the frosting from getting everywhere.  
Notes
Recipe updated 8-21-19  Nutritional Info is for a powdered sweetener sprinkled brownie.
*If you take these brownies to a party, make sure to clearly mark that it contains nuts.  Most people don't expect brownies to use almond flour, so people with nut allergies might inadvertently eat it. 
STEP-BY-STEP PHOTOGRAPHS ARE BELOW THE RECIPE
Nutrition
Serving Size:

1 brownie

Calories:

150

Fat:

8

Carbohydrates:

10

Fiber:

3

Protein:

3
Keywords: Keto Avocado Brownies, Avocado Brownie Recipe, Chocolate Avocado Brownies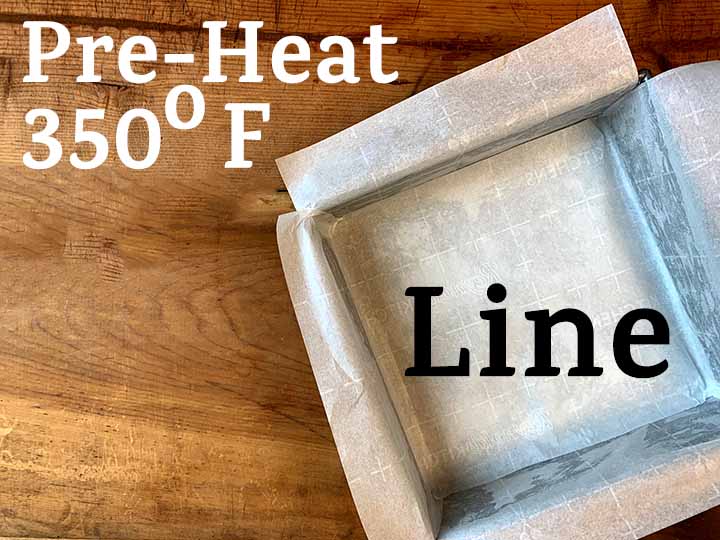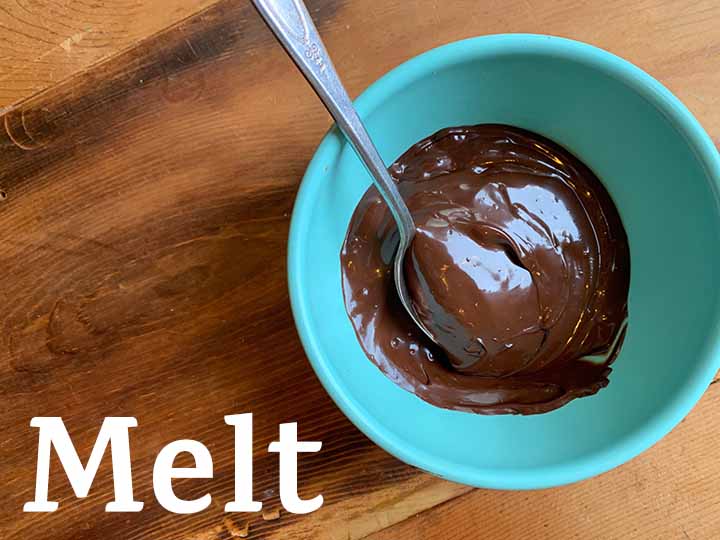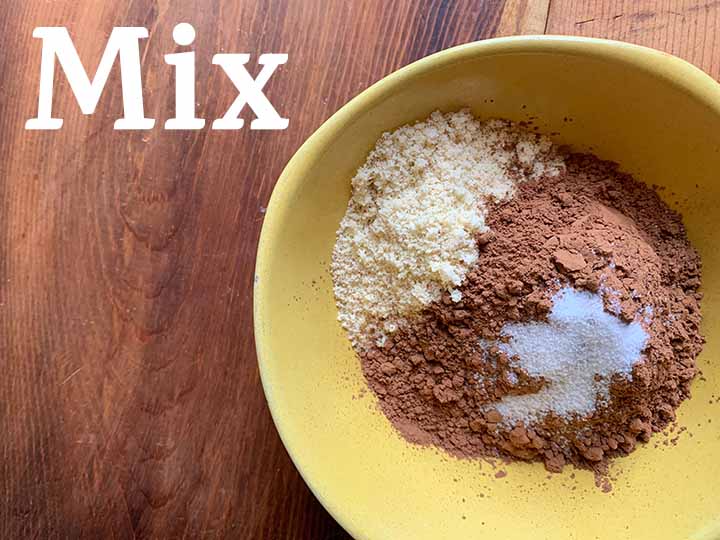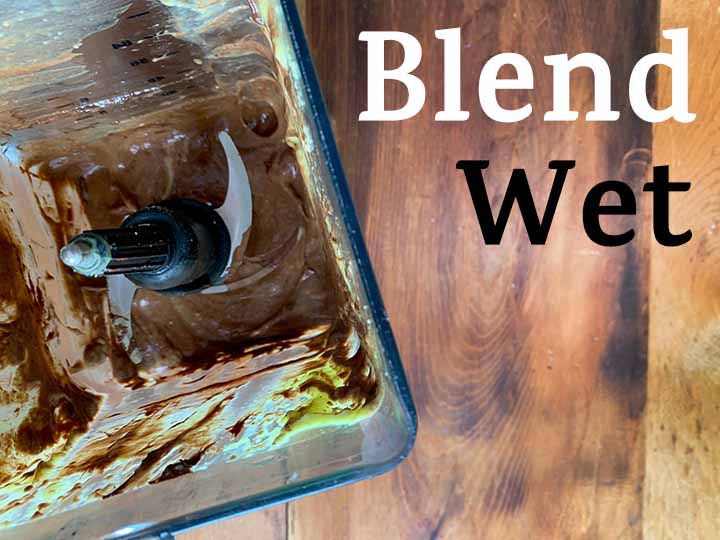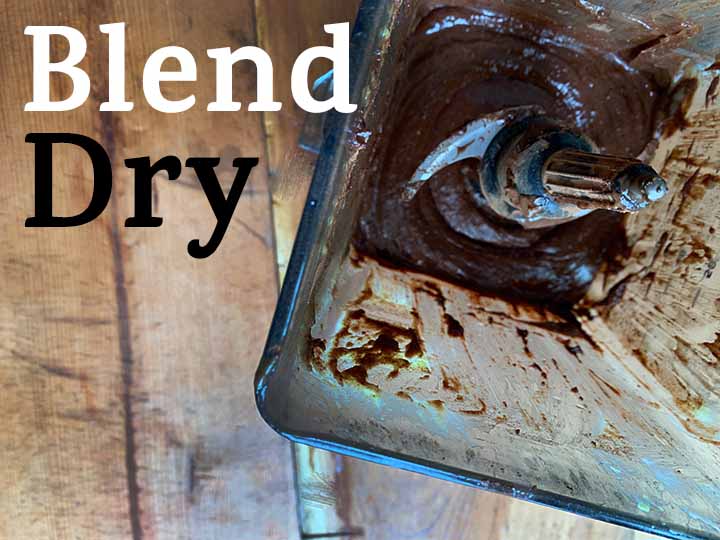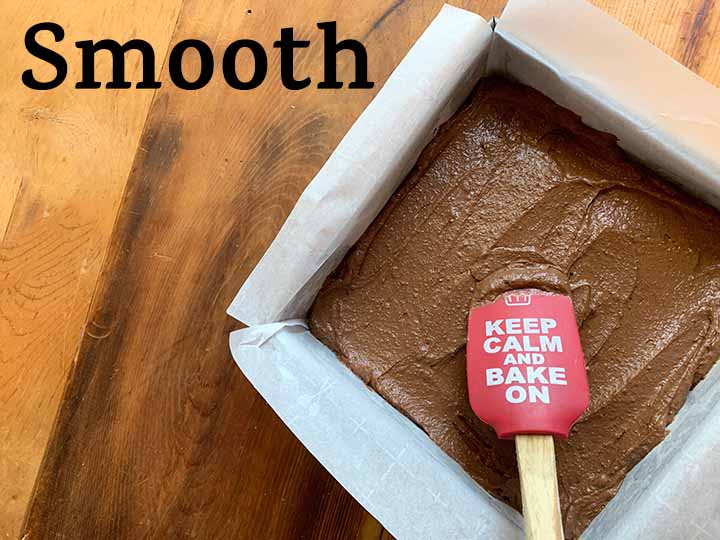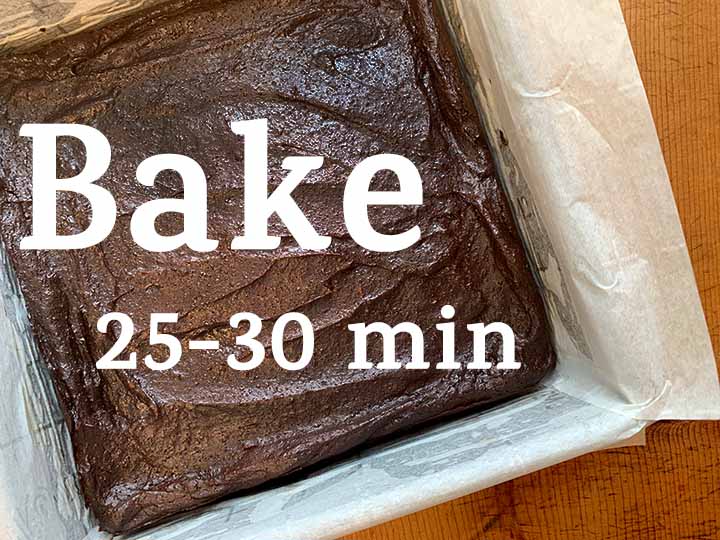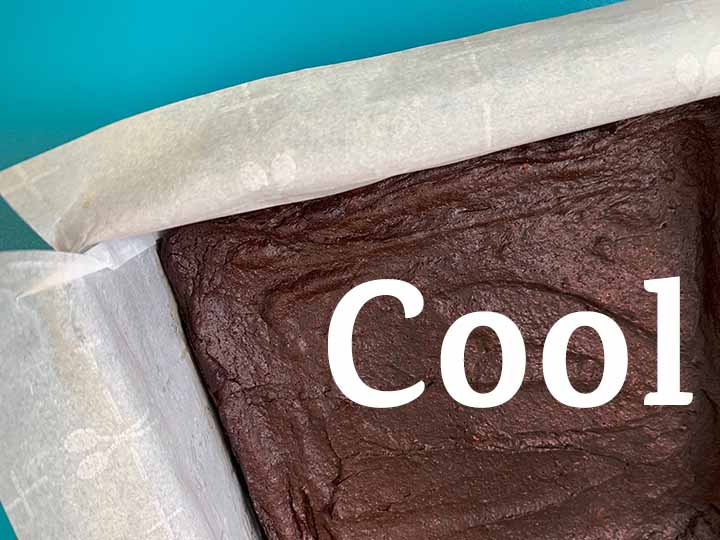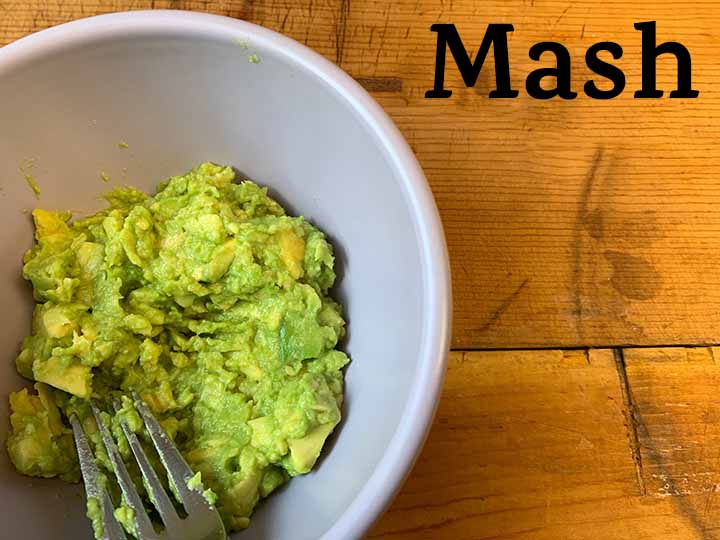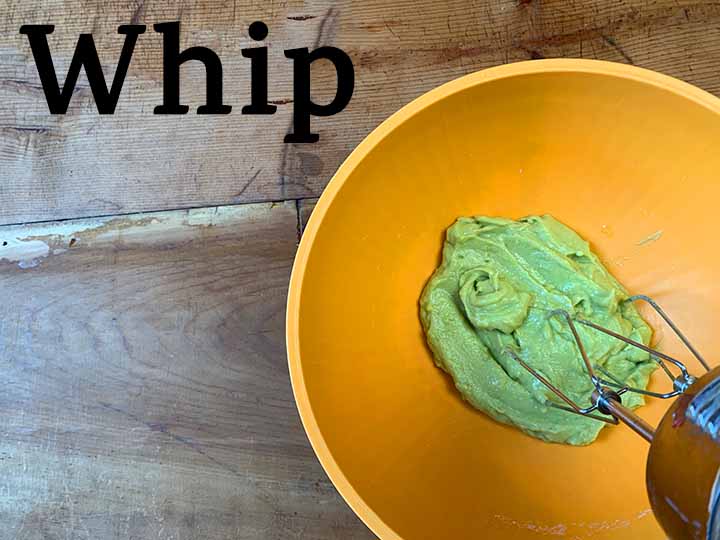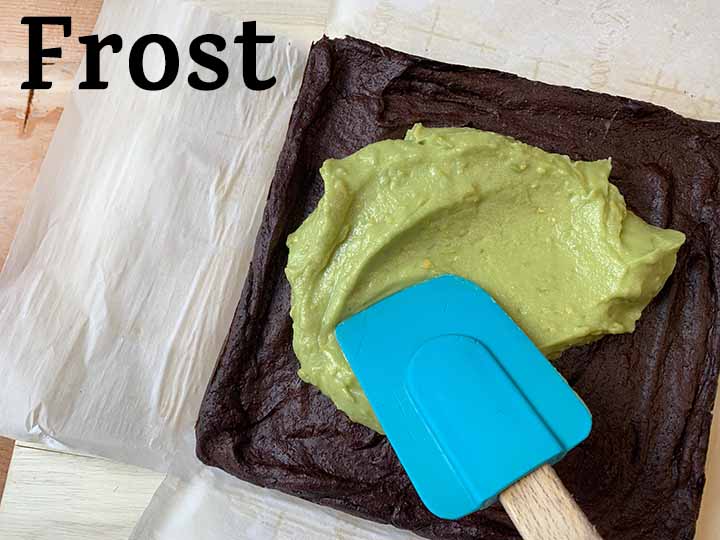 OR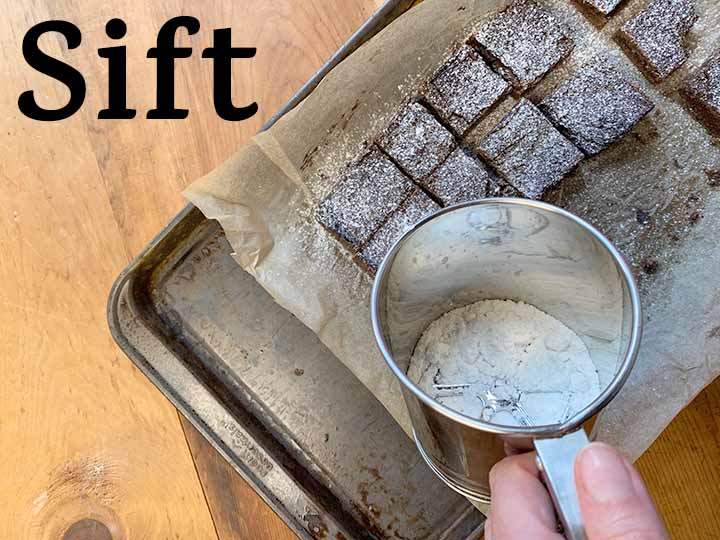 If you liked this low carb chocolate dessert recipe, then you might like my recipes for Keto German Chocolate Cake, Chocolate Silk Pie or Keto Chocolate Mug Cake.