This recipe for Keto French Fries has the same salty goodness as regular potato French Fries, but with only 40 calories and 3g net carbs per serving.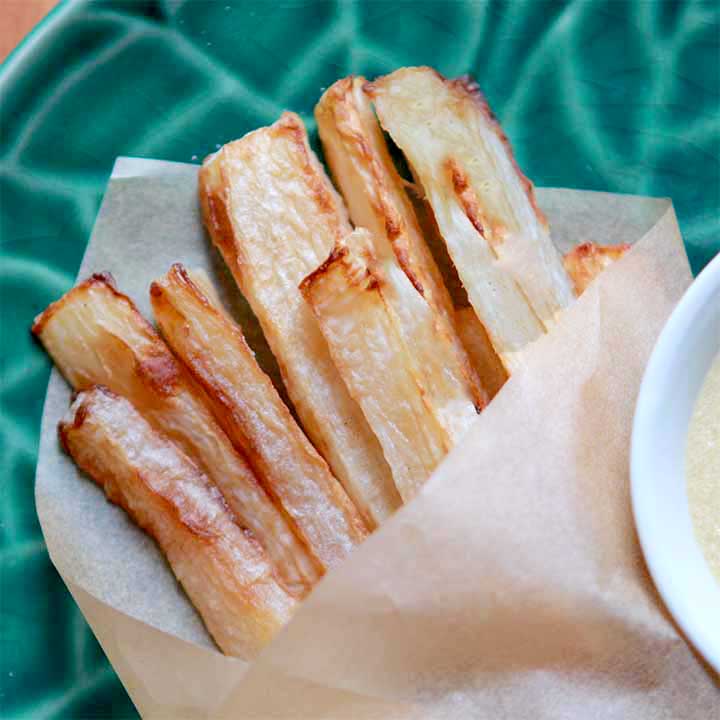 "You want fries with that?"
I'm only human, so yes, I always want fries with that.  Too bad potatoes would be the death of my low carb diet.  But fear not, I have a Keto French Fry recipe to share with you that will give traditional French Fries a run for their money.
There are many theories about the origin of French Fried Potatoes, but few of them actually involve the country of France.  The most likely scenario is that they were invented by Belgian fishwives in the late 1600's.  When the River Meuse froze over, they wouldn't have any fish to fry up and eat.  So these scrappy ladies used potatoes in place of the fish.  Most likely the name comes from American soldiers who ate Belgian frites when they were stationed there in World War I. 
And because they spoke French in Southern Belgium, the soldiers called them French Fries.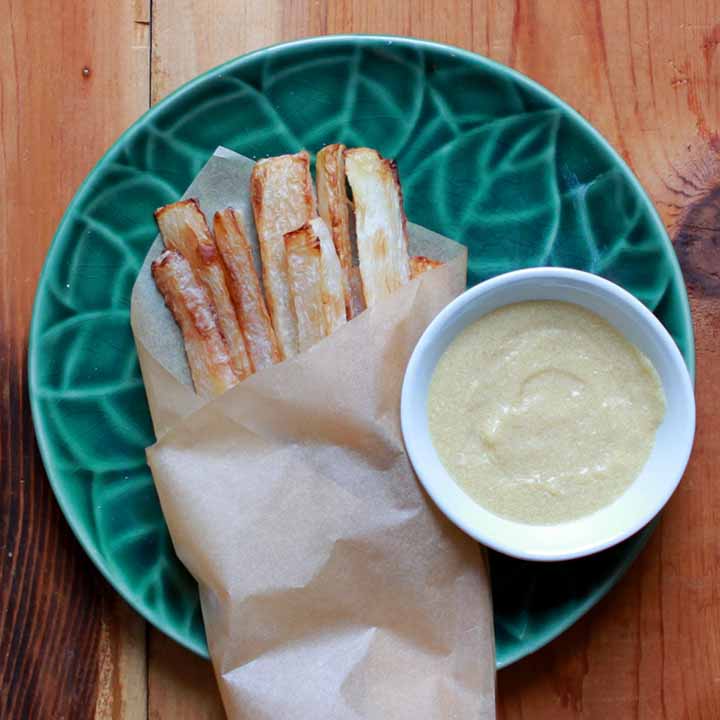 But let's talk about modern day French Fries, those devilishly delicious snacks.
French fries are in no way Keto friendly, so we'll just have to get creative.  Enter the daikon radish.  This unlikely tuber is very low in carbohydrate, so it is often used in Keto cookery.  It's got the same texture as potatoes and has a very mild flavor to it.
To make these Keto French Fries, you just need 2 Daikon Radishes, olive oil and salt.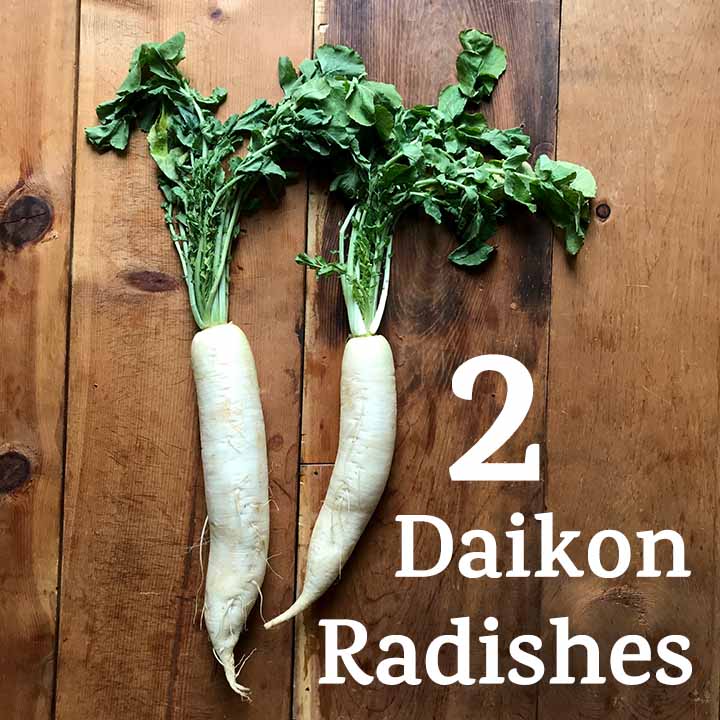 To bake, or not to bake, that is the question.
You can bake these daikon fries, air fry them, or fry them in cooking oil.  The air fryer works best because it only takes 17 minutes and doesn't make a mess.  Baking the fries is the next best thing, although it does take longer, 40-50 minutes.  The last and definitely least way to to make these Keto French Fries is to fry them in oil.  I'll tell you how to do it, but there is no good reason why you should use this method.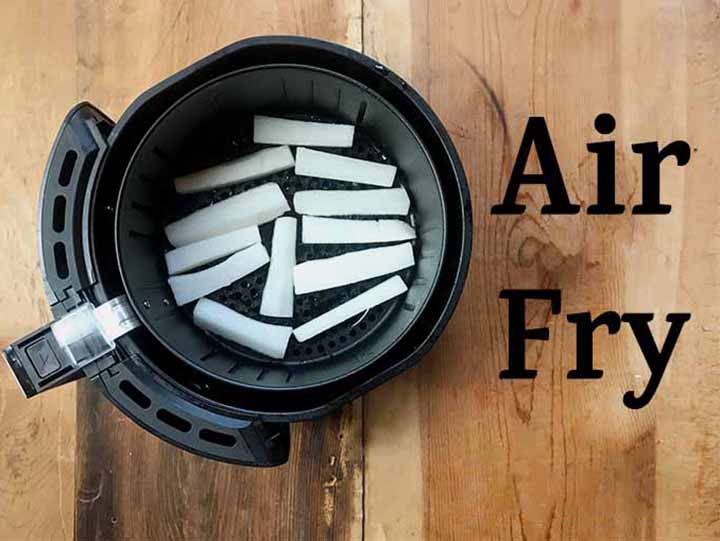 Be sure to give them a good dunk first.
You should submerge the cut daikon radish slices in cold water for at least 10 minutes before cooking them. This will release some of the starch from the tubers and allow the fries to crisp up more. Just make sure to dry them off well before moving on to the cooking stage.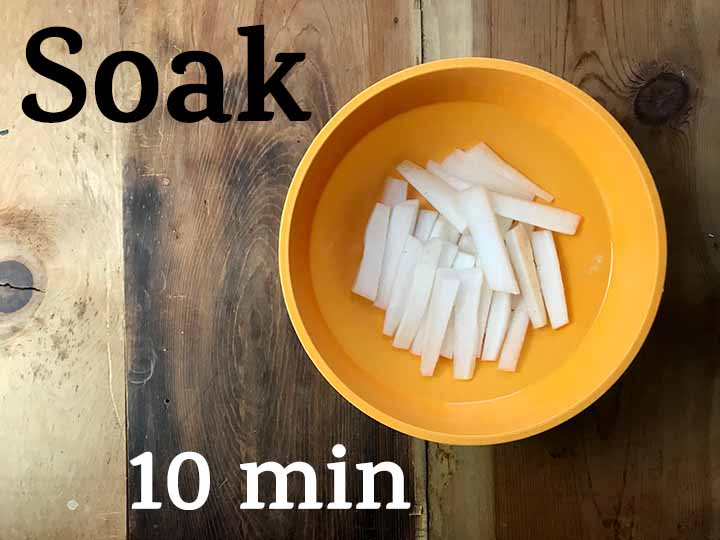 Low carb Condiments and such:
I've included a recipe for low carb gravy to go with these Daikon French Fries, just for a little added decadence.  Keto cheese sauce is always a good idea.  You can make a quick cheese sauce by bringing 1 ¼ cups of heavy whipping cream to a simmer, adding 8oz of shredded cheese and stirring until melted together.  And you can use store bought sugar-free ketchup or make your own.  You can also go European and eat these Keto fries with mustard or mayonnaise, which are both naturally low in carbs.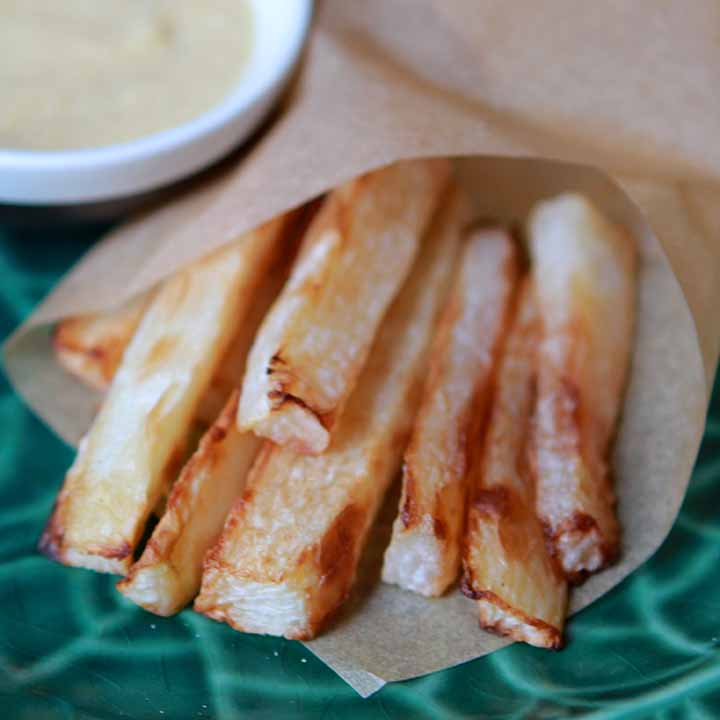 And that's about all I know about Keto French Fries.
Soon you too will have a batch of yummy, salty French Fries with only 40 calories and 3g net carbs. So the next time someone asks you, you'll say…
"Yes, yes I would like some fries with that."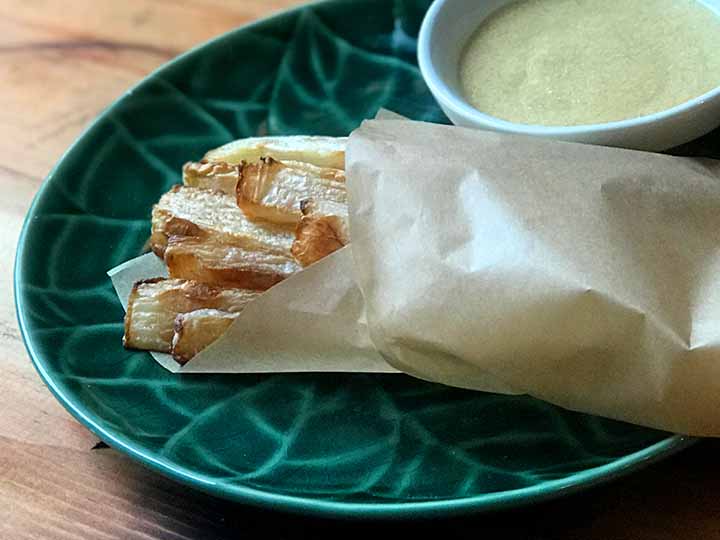 Print
Keto French Fries
Author: Emily Krill
Prep Time:

15

Cook Time:

17

Total Time:

32 minutes

Yield:

6 servings

Category:

Side Dish

Method:

Air Fryer

Cuisine:

American

Diet:

Diabetic
French Fries:
2 daikon radishes
1 tablespoon extra virgin olive oil
salt to taste
Gravy:
2 cups beef broth
½ cup onion, roughly chopped
2 large egg yolks, beaten
¼ teaspoon xanthan gum
¼ cup unsalted butter
Instructions
FOR THE FRENCH FRIES:
1. Peel the daikon radishes and slice them into ½  x 3 inch matchsticks. 
2. Add them to a medium sized bowl and cover with water. Soak for 10 minutes. (This will remove the starch on the radishes.) 
3. Drain the water through a colander and pat the daikon fries with paper towels until dried. 
4. Add fries to a medium sized bowl and add the olive oil. Toss until all surfaces are covered in oil. 
5. BAKED METHOD: Add oiled daikon radishes to a large cookie sheet. Bake at 400 degrees F for 40-50 minutes, flipping halfway through. 
6. AIR FRYER METHOD: Working in batches, place fries in the basket of an air fryer in a single later. Air fry at 375 degrees F for 9 minutes.  Open the air fryer and stir. Air fry for 8 minutes more.  Remove the fries and drain them on paper towel covered plates. 
7.  STOVE TOP METHOD:  Fill a large frying pan with 2 inches of cooking oil and heat to 400 degrees F.  Add ½ of the daikon matchsticks and cook for 55 seconds, agitating occasionally with a metal slotted spoon.  Remove and place on paper towels to drain the oil.  Return the oil to 400 degrees F and repeat with remaining matchsticks.
8.  Salt to taste.
FOR THE GRAVY:
1. Add beef broth to a medium sized saucepan and simmer for 10 minutes to reduce. 
2. Add onion and broth to a high powdered blender and blend for 1 minute. 
3. Return broth to the pan and simmer for 3 minutes. 
4. Remove ⅓ cup broth from the pan and quickly whisk into the beaten egg yolk. 
5. Whisk the egg yolk mixture back into the broth in the saucepan and stir until gravy thickens somewhat, 2-3 minutes. 
6. Sprinkle xanthan gum onto the pan and quickly whisk it into the the gravy. Cook until thickened more, 2-3 minutes. 
7. Stir in butter and mix until fully combined. 
Notes
Nutritional Info for Gravy:
Serving Size: ¼ cup Yield: 2 cups
Calories: 73 Fat: 7g Carbohydrate: 1g Fiber: <1g Protein: 1g Nutritional Info for Daikon French Fries below:
Nutrition
Serving Size:

⅙ of batch

Calories:

40

Fat:

2

Carbohydrates:

5

Fiber:

2

Protein:

1
Keywords: Keto French Fries, Low Carb French Fries, Daikon French Fries
If you liked this Daikon Fries recipe, then you might like my recipe for Keto Fish and Chips.