This is a quick low carb and Keto peanut brittle recipe that you can make in about 10 minutes.

Today I'm going to share a recipe for quick Keto Peanut Brittle that you make in 10 minutes.
But first I want to celebrate a very special anniversary. Eighteen years ago, SNL aired the "More Cow Bell" skit. And the world hasn't been the same since.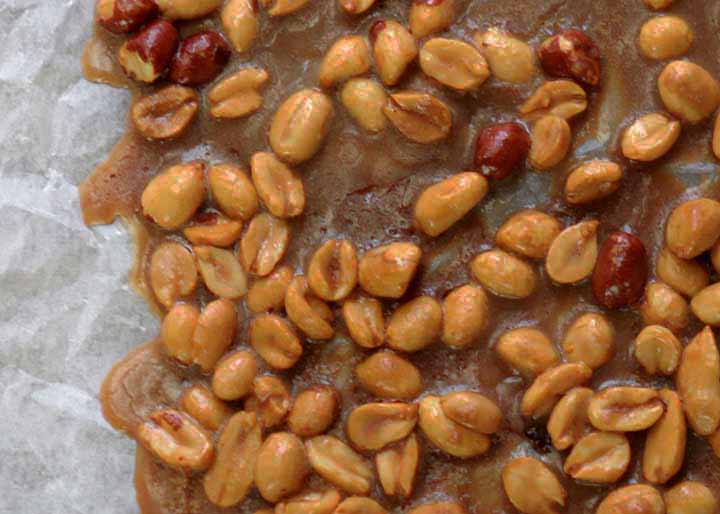 I can't believe it's been 18 years.
It seems like only yesterday when I first watched this classic SNL sketch about song that just needed a little more cow bell. It has been called the first meme of the twenty first century and they may be right. So if somehow, you've never seen the "More Cowbell" sketch, then now is the time. Because, as Christopher Walken says, "I've got a fever and the only prescription is more cow bell."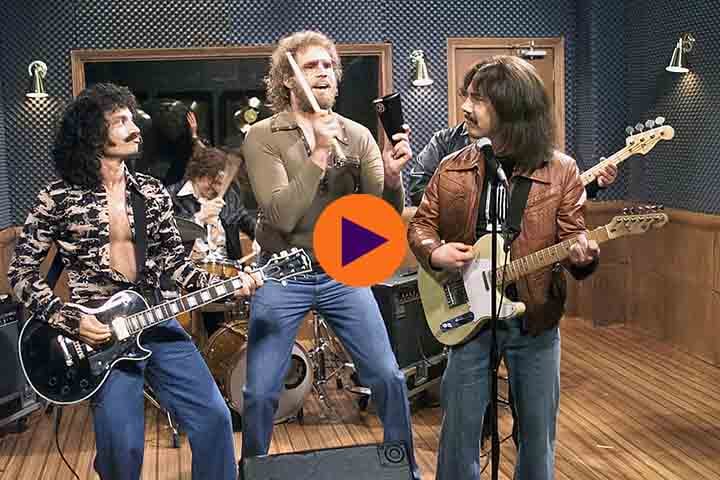 I'll tell what else I have a fever for: Keto Peanut Brittle, that's what.
I just had to move it away from my desk because I've eaten way too much of it. It is dangerously delicious. But this sugar free peanut candy only has 1g net carb per serving, so you can afford to splurge a little bit.
Go ahead, live a little.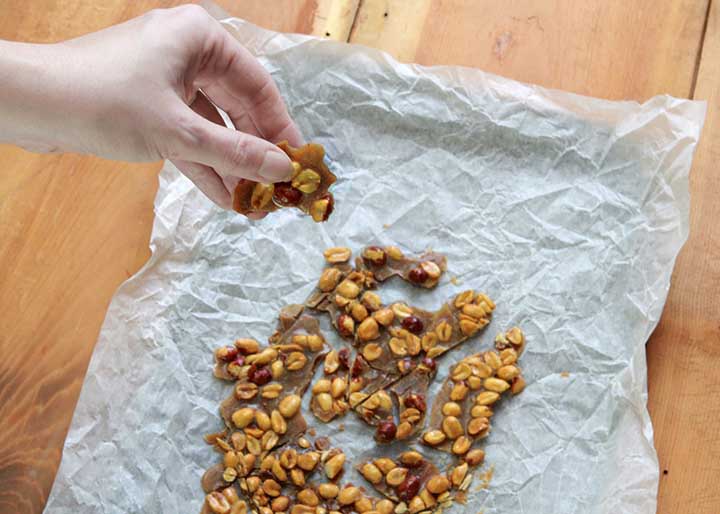 But I do have a warning that goes before this Keto Peanut Brittle recipe.
It's candy, so it's very tricky to get just right. And to further complicate things, you are making a caramel with erythritol, which doesn't behave the same way that good old sugar does. The color of the brittle mixture is everything. You want to stop cooking this mixture when it's a deep dark brown color. If it's a light or medium caramel color, then it will be grainy and crumbly. But if you cook it too long, it will be burnt.
You are walking a fine line, my friends.
But enough brittle talk, now I think I need just a little more cow bell.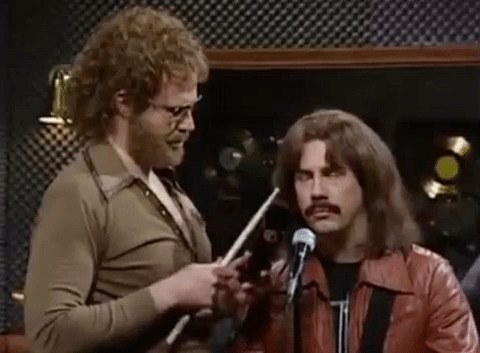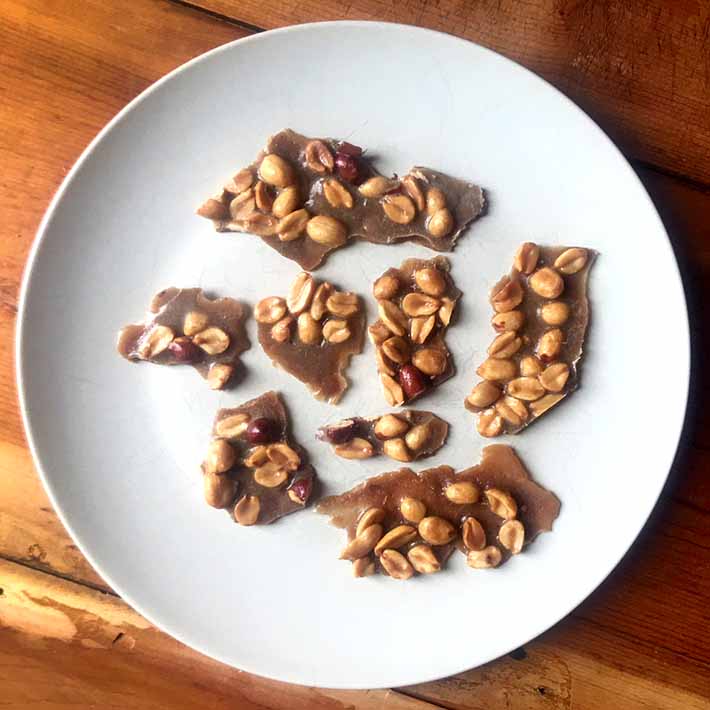 Print
📋 Recipe
Quick Low Carb Keto Peanut Brittle
This is a quick low carb peanut brittle recipe that you can make in about 10 minutes.
Author: Emily Krill
Prep Time:

5

Cook Time:

5

Total Time:

10 minutes

Yield:

8

1

x
Category:

Dessert

Cuisine:

American

Diet:

Diabetic
1

cup

salted dry roasted peanuts

¼

cup

butter

½

cup

Swerve Granular

2 teaspoons

vanilla extract (alcohol-free if possible)
Instructions
Step 1.  Line a 9 x 13-inch casserole dish or large rimmed cookie sheet with parchment paper.  Use a medium-sized, light-colored, or metal saucepan, if you have one because they will make it easier to gauge the color of the brittle mixture.  Make space in the fridge for the casserole dish or cookie sheet.
Step 2.  Add butter, sweetener, and vanilla to a medium-sized saucepan and cook over medium heat until fully dissolved and no longer grainy, stirring constantly.
Step 3.  Bring to a low simmer. Lower the heat to low and simmer for 1-3 minutes, stirring constantly, until the mixture reaches a deep brown color.  It's very easy to burn the caramel, so stop as soon as it starts to become brown.  It will happen quickly.  But don't take it off the heat if it is still tan in color, because that will make it crumbly and grainy.
Step 4.  Remove from heat, mix in peanuts and pour into the parchment-covered pan. Smooth out the nuts so they are evenly distributed.  Make sure that the brittle mixture is touching all the peanuts to hold the brittle together.
Step 5.  Chill in the refrigerator until set, about 1 hour.
Step 6.  Chop roughly.
Nutrition
Serving Size:

⅛ of the recipe

Calories:

161

Fat:

15

Carbohydrates:

3

Fiber:

2

Protein:

5
Keywords: Low Carb Peanut Brittle, Keto Peanut Brittle, Sugar-Free Peanut Brittle
If you liked this recipe for Peanut Brittle, then you might like my recipes for Caramels, Candied Pecans or Almond Brittle.